I am a haunted man. I don't mean haunted in a supernatural sense (although there was that house I rented in Rochester, New York, with an attic that burped strange noises). No, I am a man haunted by culinary specters — ghosts of meals past that linger longer, and more pleasantly, than the memories of most romances.
My recent visitation was by a sour cherry pie I had eaten on Martha's Vineyard. Not the pie, exactly, but the crust: tender, flaky and made with — gasp — lard. It came on gently, almost imperceptibly, at first. A craving here, a longing there. Soon, though, it was shamelessly seducing me with its memory of a crust that was, medically speaking, to die for.
I had only one option left: exorcism della torta. The only way to free myself from this phantom was to summon it in my kitchen, wrest the secret of its crust, and forever be its master. Read more "Fat, Fat Everywhere But Not a Drop of Lard" »
A century ago someone, much like yourself, was seated at a kitchen table, much like yours, perusing a morning paper, much like this one. The big difference? The meal. While you may be lapping up fat-free yogurt with a café latte and Sweet'N Low chaser, our fictitious centenarian, depending where he lived, filled his plate with porridge, flapjacks, mutton or a heart-stopping amount of home-cured bacon.
How did we in 10 decades go from gruel to Starbucks?
"Quickly," says Melanie Barnard, a Bon Appétit columnist and author of Short & Sweet (Houghton Mifflin, 1999). "Changes to the food we've eaten started slowly but then went into fast forward, mirroring the times."
This century, more than any other, has been one of staggering transformation. Our population has mushroomed by almost 200 million since 1900. Passenger travel zoomed from the horse to the supersonic. Computers accomplish in hours what took a turn-of-the-century factory crew days. And the foods we've eaten have taken an equally remarkable journey. Read more "Dining Through the Decades: 100 Years of American Food" »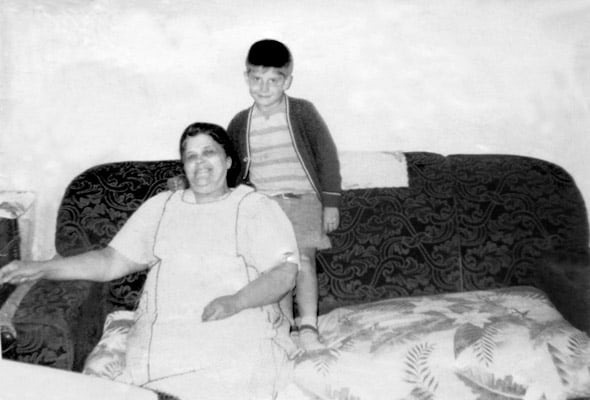 Little did I realize that I lost more than my grandmother, VoVo Costa, when she passed away. Gone, too, were recipes for many of her famous dishes. Sadly, she never wrote them down because, like most Portuguese women of her generation on the island of São Miguel (one of the nine Azorean islands off the coast of Portugal where my family's from), she was never taught to read or write. And although everyone in the family has their own version of VoVo's classics, they're merely that. To this day no one can match her Sopa de Galinha (chicken soup) or her often-copied Recheio com chouriço (spicy sausage stuffing), which were always the highlights of Sunday dinner.
Clearly, something had to be done. So I approached my mother and aunts with a sheepish grin on my face and a video camera in my hand. My goal: to film family favorites being prepared before they too were lost. I wanted a permanent record of the food that filled three tables every Sunday when we laughed and talked (which to other families sounded like fighting), and my mother and aunts buzzed about happily shoveling their specialties onto our plates. Read more "Capturing My Portuguese Family's Recipes" »