Recipes from Craft of Cooking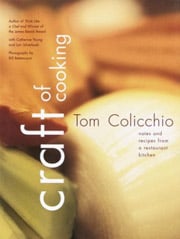 Craft of Cooking leads you through Colicchio's thought process in choosing raw materials—like what to look for in fresh fish, or how to choose the perfect mushroom—to show that good food is available to anyone with access to a good supermarket, farm stand, or gourmet grocery. The book also features "Day-in-the-Life-of-Craft" portraits, which offer a fascinating, behind-the-scenes glimpse at areas of the restaurant beyond the dining room. These segments allow the reader to peer into the fast-paced prep kitchen, to witness the high drama of reservations, and to get a taste of the humor and empathy necessary to serve New York's colorful visitors and foodies.
And then there are the recipes. Craft of Cooking presents 140 recipes that range from the simplest dish of spring peas to roasted fish; from lush but effortless braises to complex brining and curing of meat for homemade charcuterie, included to give the reader a "fly-on-the-wall" experience of visiting the Craft kitchen for themselves. Dishes are divided–like the Craft menu itself–into categories of meat, fish, vegetables, potatoes, grains, desserts, and pantry, and then further delineated by technique–roasting, braising, sautéing, etc.–with abundant suggestions and technical tips. Using Tom's straightforward and friendly voice, Craft of Cooking offers recipes suited to any purpose—from a quick family meal to a festive dinner party for twelve.
These pillowy puddings practically resonate with lemony loveliness. Someone pass a spoon, please.