Home »

Jacques Pépin Celebrates
Recipes from Jacques Pépin Celebrates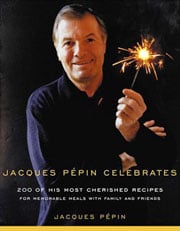 Here you'll find all the dishes that make up the celebratory menus Jacques demonstrates in his new twenty-
six-part television series—plus many more. Most of the recipes have been drawn from Jacques Pépin's The Art of Cooking (now out of print), with many of them updated and refined for today's home cook.
Although the book is organized in chapters from soups to sweets, many main-course recipes are offered with one or two accompaniments that are an integral part of the presentation—and Jacques carefully walks you through the preparations so everything comes out on time. Some are more ambitious, such as a splendid dinner of Chateaubriands with Madeira-Truffle Sauce, Mushroom Timbales, and Crêpe Shells with Corn Puree; others are simple family fare, like Tuna Steaks with Potato-and-Zucchini Salad. All are delicious, representing a range of exquisite and earthy flavors that you can, of course, mix and match at will to create
your own menus.
Sugar—well, molasses—and spice and everything nice. That's what pear chutney is made of.