Recipes from Pure Beef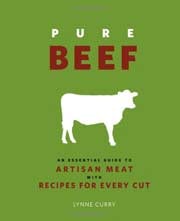 Leaping in sales by thirty percent each year, artisan beef—including natural, organic, and especially grassfed—is captivating everyone's attention. With all of these new choices on the market, Pure Beef answers home cooks' most pressing questions: Which beef should I buy? Where can I buy it? How should I cook it? Featuring an engaging beef cooking tutorial and a cook-friendly beef cut chart, Pure Beef instructs anyone how to grill, roast, stew, simmer, and sauté every cut of beef to their liking. With chapters organized by cooking methods and corresponding beef cuts, its 140 recipes are customized for leaner, heat-sensitive grassfed beef and model a healthful and sustainable approach to meat eating. A groundbreaking guide to artisan beef, this cookbook offers everyone the benefits of an informative and delicious ranch-to-table dining experience complete with a full-color photo recipe insert and landscape images throughout.
Wanna know how to stretch a single steak into supper for four without seeming skimpy? Your answer awaits.