Recipes from The Homegrown Paleo Cookbook
Quick. Easy. And anything but humdrum. That's these red curry mussels that make an unexpectedly perfect weeknight dinner solution.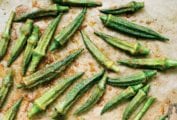 There's a subtle art to cooking okra and this recipe has mastered it. So flavorful and not slimy, you'll wonder why everyone doesn't cook it this way.