Recipes from The New American Olive Oil
A rustic Italian-inspired cake made with the ever-so-slight coarseness of semolina in contrast to the tender sweetness of grapes.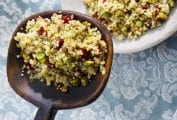 The nutty beigeness of quinoa creates a blank canvas for pistachios and cranberries to do their spirited dance in this holiday side. (Did we mention that it's both vegan and gluten-free?)
For caramelized onion and balsamic vinegar bruschetta, the onion is cooked until brown then drizzled with balsamic vinegar and piled on the bruschetta.