Great gravy doesn't just happen by chance. Here's how it does happen.
Some things are so simple as to seem almost plain—until you taste them. Hollandaise is one such perfectly simple staple.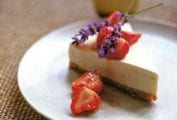 A simple and delightful dessert. Everyone loves cheesecake, and here lavender adds a touch of summer elegance. On top are strawberries steeped in lime.
Quick Glance
30 M
3 H, 30 M