For years we've been receiving notes from very happy winners thanking us for the prizes they've won. We wanted to take a moment and share some of them with you.
Click here to see a complete list of winners throughout the years.
Today I received a very nice prize I won in your giveaways. The knife set that was delivered is an excellent quality product. Thank you and I really do appreciate this prize!
— Connie C., Zwilling J.A. Henckels Flatware Opus 45 Piece Flatware Set
My awesome multicooker is here! Thanks so much! Can't wait to get cooking! You guys ROCK!
–Jennifer D., All-Clad Mutlicooker
Thank you for sending me the OXO Good Grips 3.5 Quart Covered Saucepan. This new saucepan is really getting a workout in my kitchen as I get ready for the holidays! I love it so much. Thank you, Leite's Culinaria! Also the holiday recipes you have right now on your opening page are so good!
–Jayne H., Cincinnati, OH, OXO Good Grips 3.5 Quart Covered Saucepan
Thank you very much for the super nice Braun Brew Sense coffee maker that I just received yesterday (on New Year's Eve !). I couldn't ask for a nicer or higher quality appliance to start the new year with. I'm a huge coffee drinker, so it found the right house. I play your sweepstakes daily. This is the proof that the old saying "perseverance pays" is true. Again, I sincerely thank you very much.
–Eugen N., Braun Brew Sense Coffee Maker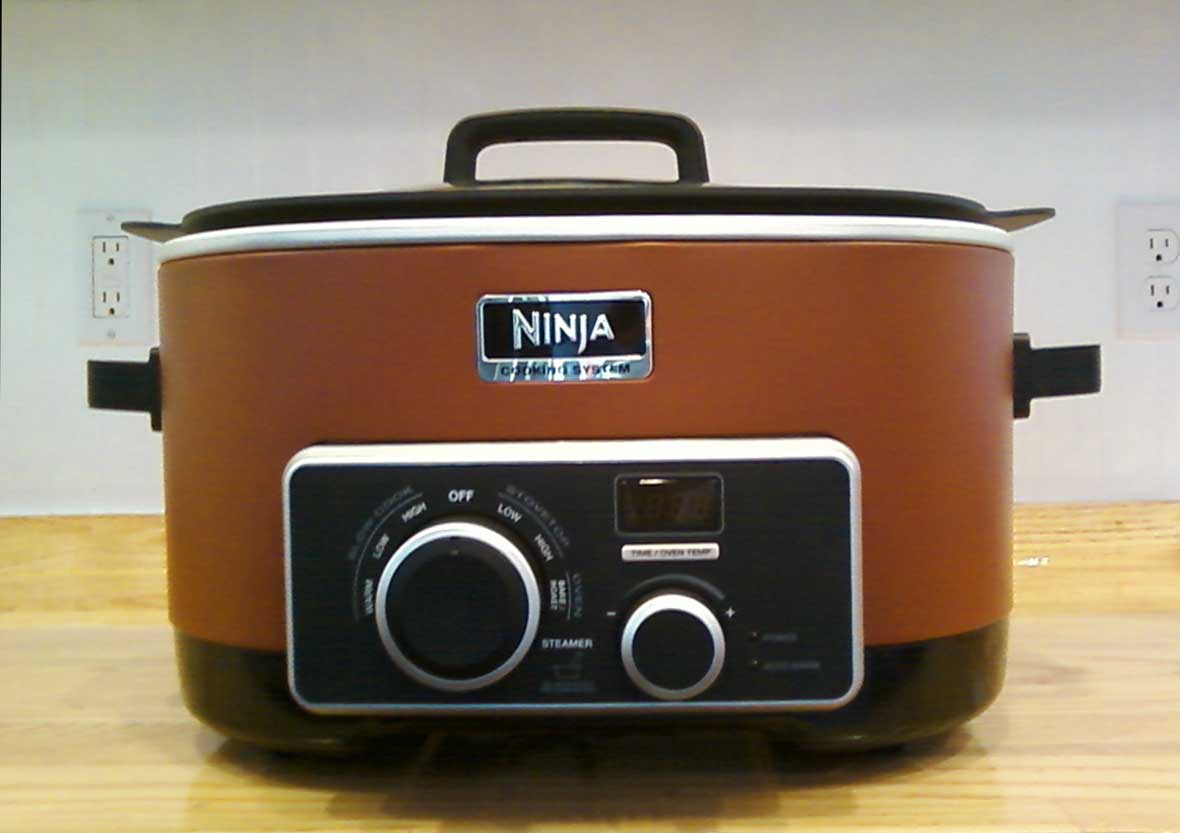 Thank you so much for my Soups cookbook! It has amazing recipes, and I usually don't care for soup! I am looking forward to making the Chunky Cheeseburger soup tonite but am omitting the celery, as I do not like the taste. THANK YOU!
Sandra K–Soups cookbook
Thanks so much. Enjoying it. Worked great for Thanksgiving.
–KaAnn B., Ninja Multi-Cooker
Thank you so much for selecting me as a winner for the Cuisinart Griddler Deluxe. I received this and it is fantastic!
–Barbara M., Cuisinart Griddler Deluxe
Just wanted to say a big THANK YOU for the gift card!
–Maritza, Loyal Sweeper Gift Card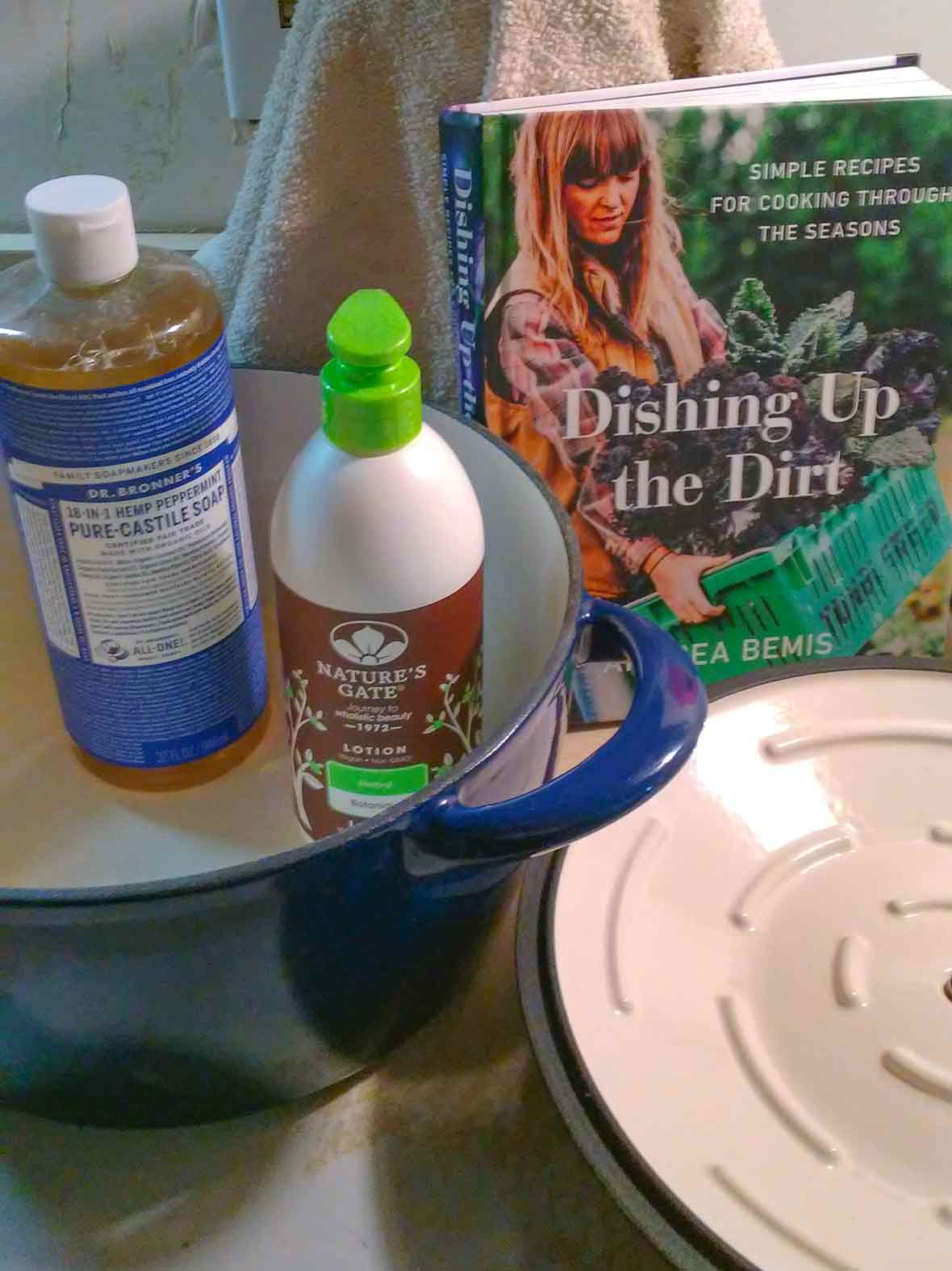 Look what just arrived in the mail. Everything I bought with my Sweeper Card. Thank you!!
–Elizabeth Z., Loyal Sweeper Gift Card
Thank you!! I won a La Cocotte pot, and I was surprised I did, as I have been trying for two years. I can tell you it is top quality. Thank you again.
–Jim M., La Cocotte
I won the Cookbook Book by Annahita Kamali and Florian Bohm and want to thank all the staff for the great job done with this cooking site. I look around here every day and test some recipes. I especially like the recipes link on the giveaway pages. I was surprised to see the book, Special Effects Cookbook by Michael E. Samonek, that I used when my children were in elementary school.  I loved the history of various recipes and the visual appeal of all the cookbook covers. I plan on sharing these recipes with my family and ordering a book online as a gift. Thanks again.
–Cindy S., Cookbook Book
Hi, Leite's Culinaria. I was the winner of a cookbook and want to thank you again!!!! I've even shared it and enjoyed all the tips it disclosed. You made my day(s) and I hope you all have a wonderful day(s) as well!!
–Chris Civitello, Breaking Bread by Martin Philip 
Many thanks, Leite's Culinaria for this wonderful prize. The knives will fit perfectly in my kitchen, and be put to very good use. Thanks again!
–Piero Giorno, Cuisinart Advantage 14-Piece Walnut Knife Block Set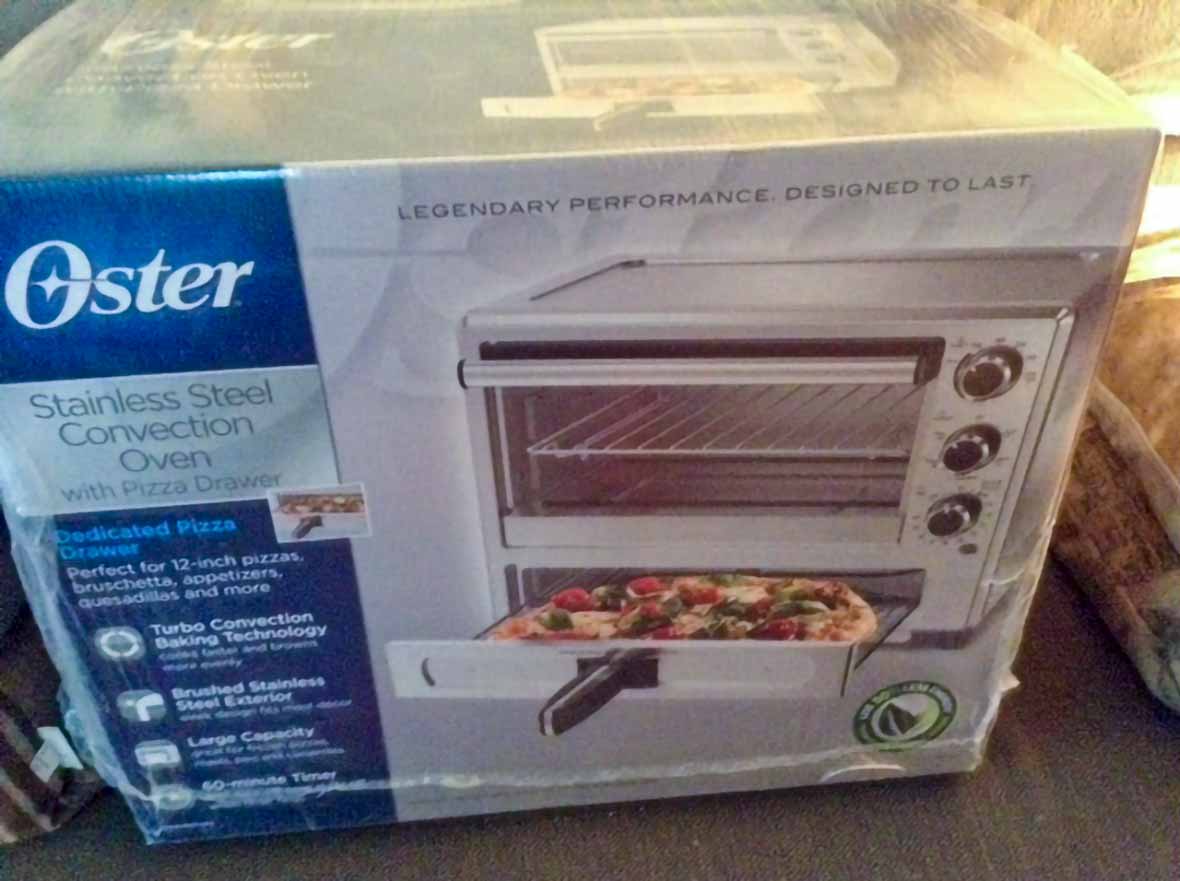 Thank you for my prize. My friend is going to use it while her kitchen is being redone, then I am taking it back. I will continue to enter, hoping that I get lucky again. And I have made many of the recipes on Leites Culinaria Recipe page. Thank you!
–Mary S., Oster Convection Oven with Dedicated Pizza Drawer
Just opened my prize and LOVE it! Thank you so very much, I was surprised how quickly I received it. Actually, I never thought I'd win on your site after trying so long. I love your site, keep up the good work and I'll keep on reading and entering.
–Christine A., Keurig Hot Coffee Maker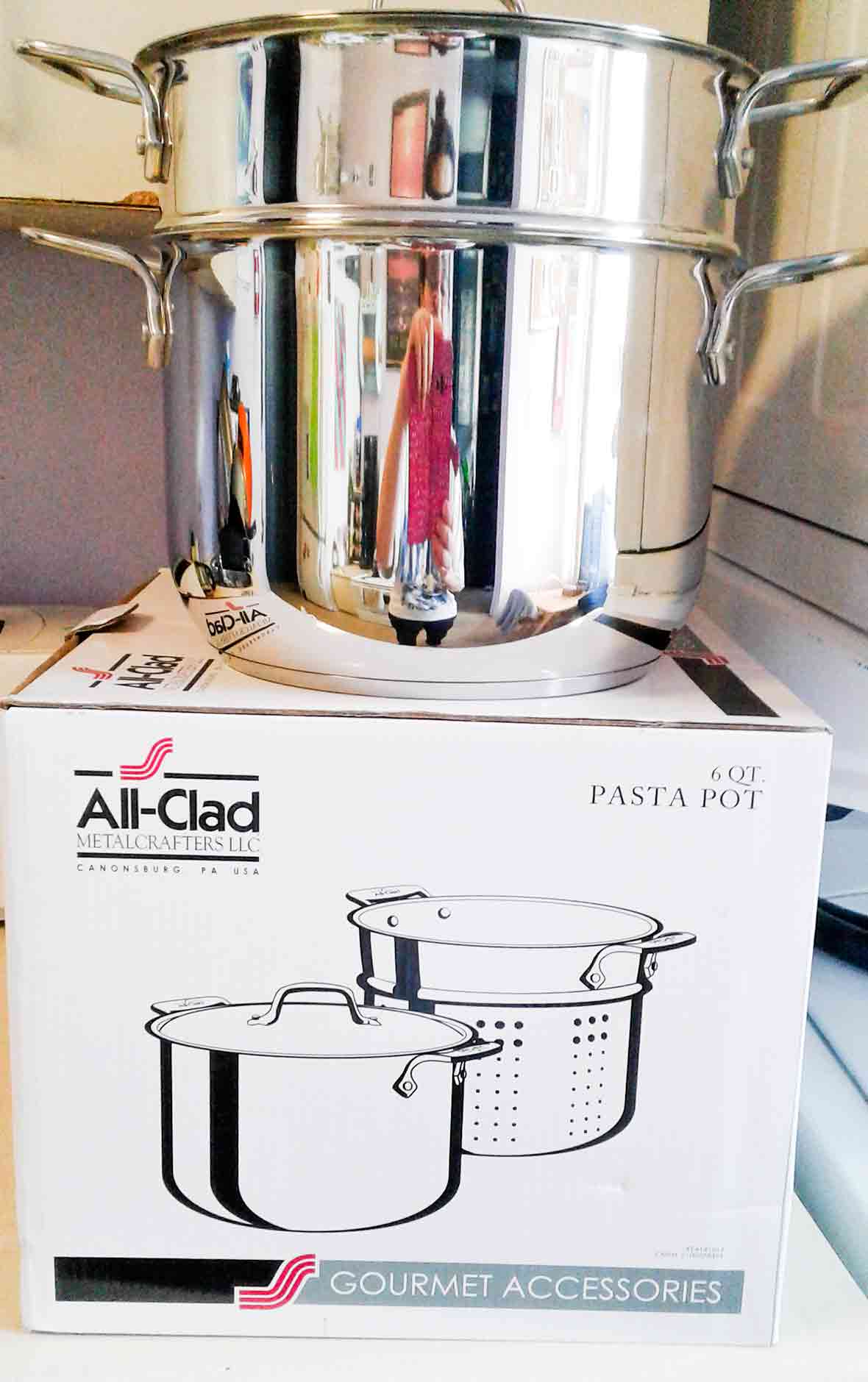 Thank you so much for this win which arrived super fast. I can't wait to make pasta in it. Thank You!!!!
–Margo B., All-Clad Pasta Pot
Thank you so very much for my new mixer!!! I love it!! I have told EVERYONE about your amazing site! Cheers.
–Debbie C.,  Kitchen Aid Artisan Stand Mixer
Thank you very much for the copy of Eat More Dessert, by Jenny Keller, that I won in the Giveaway!  It arrived last Friday, while I was away, and when I returned last night it was the first mail I opened.
I wanted to really read through it before sending this, and perused it this afternoon and evening.  What a beautiful book, and what delightful recipes!  Jenny Keller has written a terrific guide for modern bakers and cooks.  I'm especially impressed by the thorough lists of ingredients, supplies and implements needed for each recipe.  She also gives many helpful and informative tips about ingredients or brands that she favors and the reasons why some work better than others.  This lady really is an expert baker, and I can't wait to try at least one recipe to make something good for Halloween!
–Rose Marie W., Eat More Dessert, by Jenny Keller
My toaster prize arrived today, only 12 days since I first learned I won! I couldn't wait to open it and have already made a "test slice" of toast! It came out perfectly! I love it! Here it is in its new home. Thanks again!! You are the best!
—Pamela C., Cuisinart Custom Select 4-slice Toaster
Thanks to David Leite, Leite's Culinaria, you and all the staff for drawing my name for this prize!  I'm thrilled to have won this lovely book, and will continue entering the giveaways and reading the terrific recipes and stories on the website!
–Rose Marie W., Eat More Dessert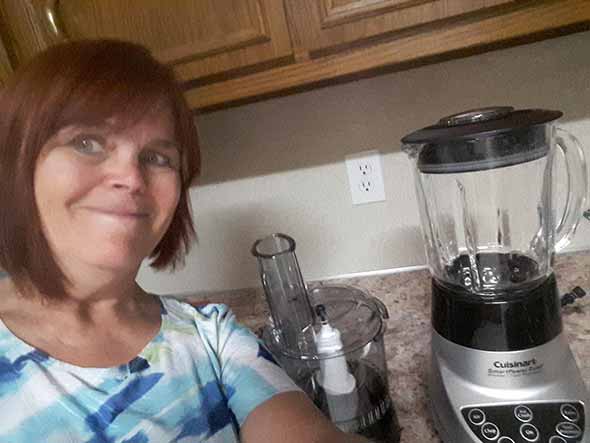 Thank you so much for the Cuisinart food processor. First thing on the menu: fresh salsa with ingredients from my garden.
–Julie P.,  Cuisinart SmartPower Duet Blender and Food Processor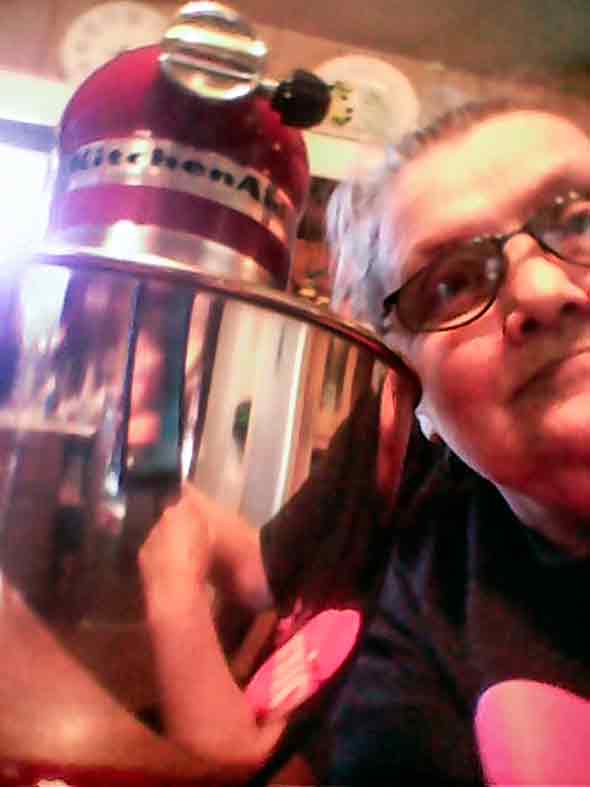 My KitchenAid mixer just came. I could not be happier. Thank you so mutch.
–Sandy M., 5-Quart KitchenAid Artisan Stand Mixer
I received my prize lasagna pan yesterday and am totally thrilled with it. I enter your contests almost daily, and I have had my eye on winning that pan for the last several months. It is a fantastic win! Thank you!
–Victoria G., All-Clad Stainless Steel Lasagna Pan with Lid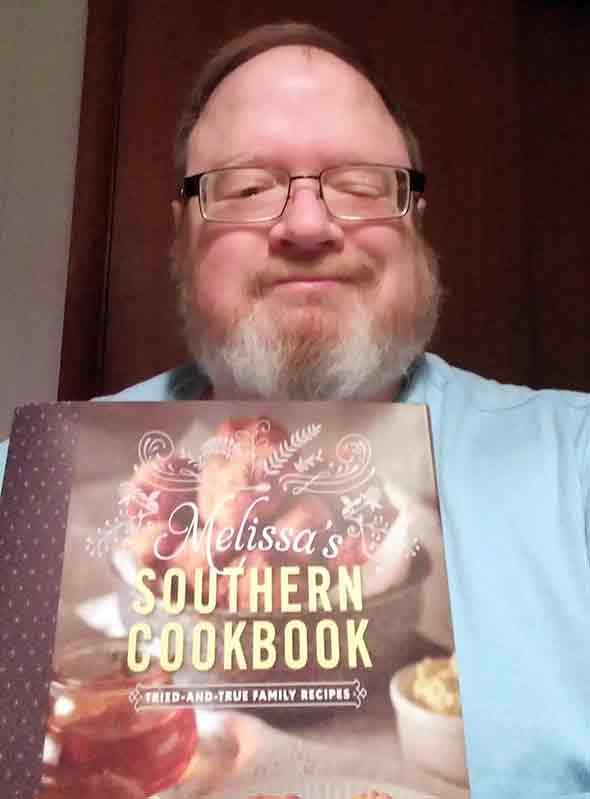 Thank You so very much. After years of entering online contests, I finally won something.
–Mark C., Melissa's Southern Cookbook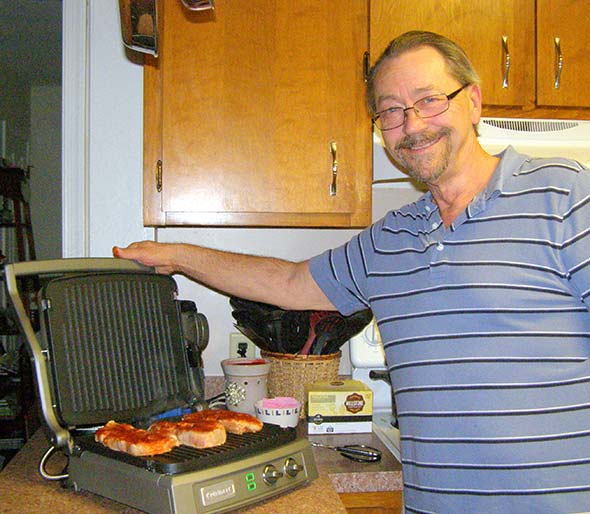 I wanted to send you a picture of my hubby the cook with the Cuisinart Griller Deluxe we won from you. Our first meal was thick, juicy pork chops which cooked in minutes! THANK YOU so very much! We will continue to share Leite's Culinaria with everyone we know!
–Linda K., Cuisinart Griddler Deluxe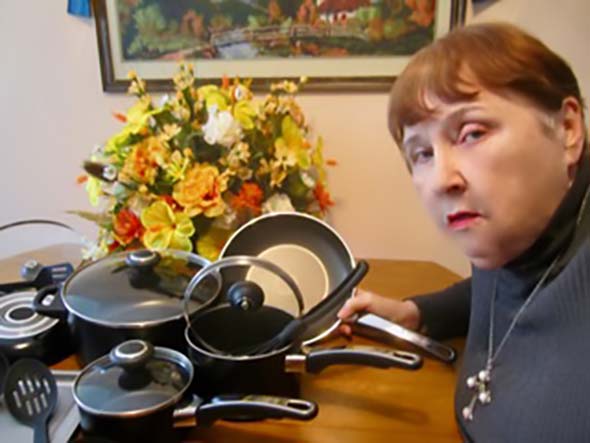 Soooo excited about the set of cookware. Every piece is nice, feels good in the hand while holding it, and is well balanced—not too heavy nor too light. We will enjoy using these for years to come!! Have even read all the literature of care, which is helpful. Thank you so very much!! Believe me—it is exciting to win a contest for such a nice gift!
—Barbara P., Farberware Non-Stick 17-Piece Cookware Set
Thank you so much for the Paula Deen cookware. I absolutely love it. Thank you again!
–Donna E., Paula Deen Nonstick 15-Piece Cookware Set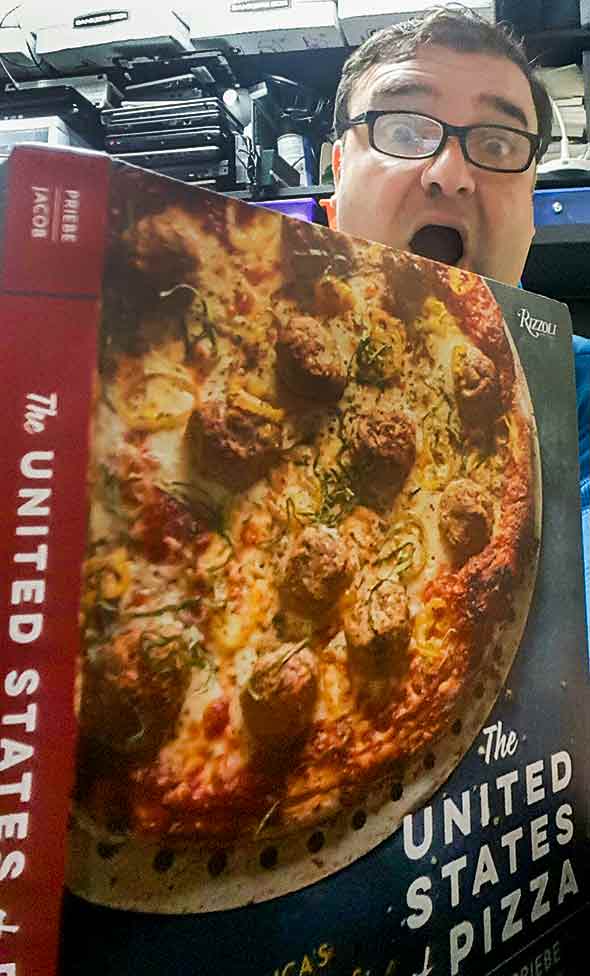 Got the book today. Thank you!  Here's a pic of me reading it! Delighted.
—David C., United States of Pizza
I recently received a cookbook "Tacos, Tamales and Tortillas" from you. I really enjoyed looking through it and can't wait to try some of the recipes. Thanks again.
—Judy G., Tacos, Tamales and Tortillas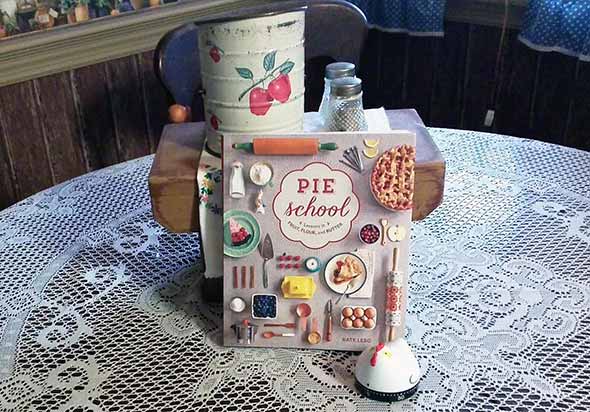 Love my new cookbook that I won from Leite's Culinaria. Thanks!
—Dianne T., Pie School
Attached is a short video of my daughter sealing up some hamburger for freezing. The Waring Pro Professional Vacuum Sealer works great and will be very useful in the future. Thank you again for the opportunity to win this great prize! It will get many years of use I'm sure! Thank you!
—Ken S., Waring Pro Professional Vacuum Sealer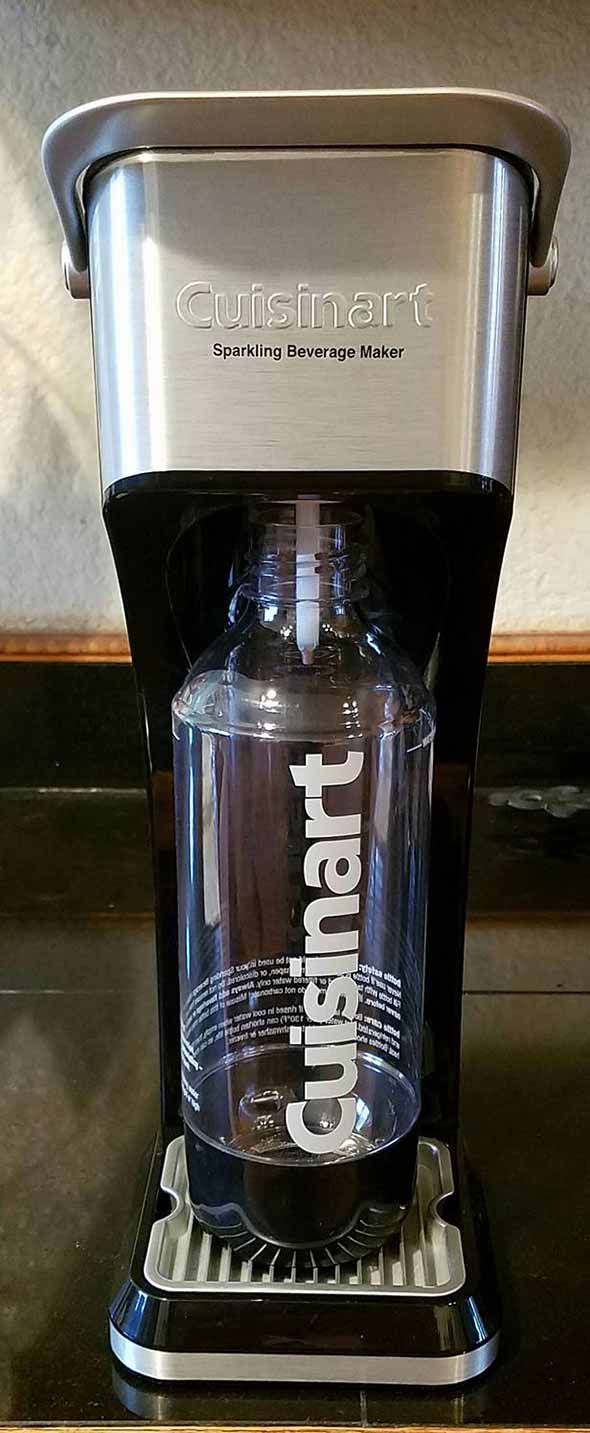 Loving my new beverage maker! Thank you so much.
—Erin M., Sparkling Beverage Maker
I received the OXO 30-Piece SNAP Container Set and am totally thrilled. Winning this on my birthday really made my day! It is a fantastic set and you can count me as a very
happy winner! I can't wait to start using the container set. Thank you again for a super set!
—Faye Fawley, OXO 30 Piece SNAP Container Set 
you so much for the OXO 30 Piece SNAP Container Set. Now I can finally get rid of the riff raff that has been building up in our cupboards and replace it with quality.
–Mike G., OXO 30 Piece SNAP Container Set
Thank you so very much for the nice prize. I was impressed by the ease of entering the giveaways, the ease of handling and turn around on the prize notification, and was blown away with how fast I actually got the prize. I had it in hand in less that a week. Wow!  The flatware is very nice and could not have come at a better time with the holidays coming up. Thanks again!
–Gloria T., Henckels Bellasera Satin Flatware Set
It arrived today and we are all excited. My daughter cannot wait for maple pecan milkshakes for tonight's dessert.
–Heather W., Waring Pro Professional Blender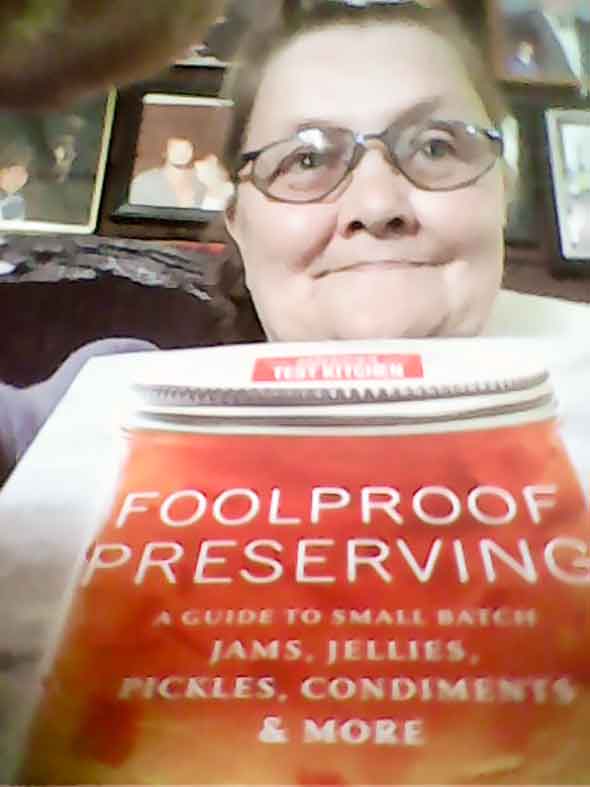 I am so pleased with the book I won, I want to take this time to tell you thank you. You have made me feel like one of the luckiest people in the world, I love it.???
–Sandy M., Foolproof Preserving
Thank you for your giveaways. Specifically, thank you for my recent win: the book Eat With Your Hands by Zachary Pelaccio. It arrived very quickly after my notification. I am very grateful.
–Sharon C., Eat With Your Hands
I just wanted to express my heartfelt gratitude for my shiny new book, Mug Cakes. The recipes look absolutely delicious and I'm looking forward to trying them out with my family this weekend, and every family get-together to come. My mother already wants to borrow it for herself–typical! Thanks again for everything, and have a lovely day.
–DP, Mug Cakes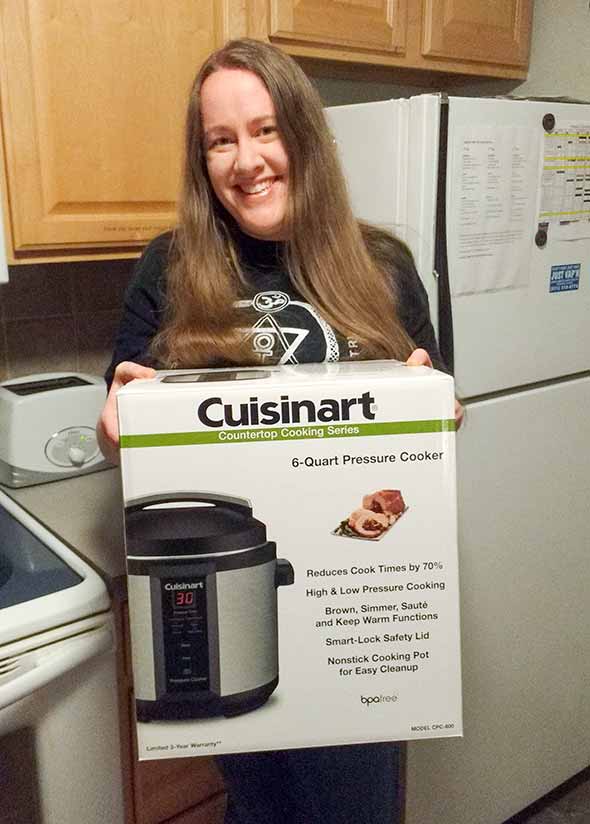 I just wanted to let you know that a week or so ago I received my prize. There were so many delicious-looking recipes in the book that came with it.  This week we will be making something with it for the first time, and we are very excited about it.  I've never had a pressure cooker before and this is going to be an exciting journey.  My husband loves to cook, and he, also, was very excited about my prize.  (It's so nice having a husband who loves to cook!) Thank you all SO much for this prize.  It has made me very happy to win it!
–Stacey, Cusinart Electric Pressure Cooker
I wanted to send this email to say thank you once again for the nice prize of the Kitchen Maestro Utensil Set.  The package arrived yesterday in the mail and I was able to surprise my wife when she came home from work. She was thrilled with the utensils.  Until learning about the giveaways that you host we had not been aware of your website, but since finding it we have enjoyed trying some of the recipes and enjoy reading the blog postings.  Thank you again for hosting the giveaways and for making such an informative website.
–Bill R., Kitchen Maestro Utensil Set
I received the book in the mail yesterday and am already planning meals. Thank you both for the book and for the opportunity to enter your contests. You have an exceptional website, great recipes, and I am very impressed. Thank you again.
–Kevin S, Cooking in Cast Iron

I just want to thank you guys so much. In the past few years, I have won a couple of cookbooks and wanted to let you know we have enjoyed them very much–thanks again.
–Patrick D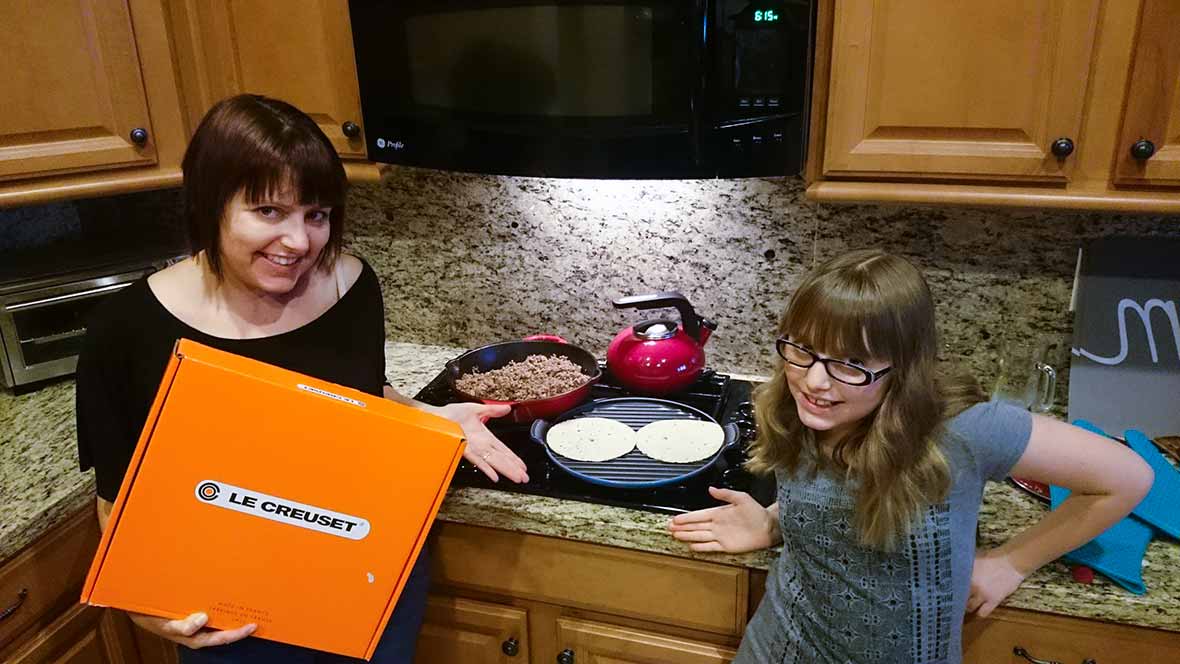 I received the grill pan today. It's beautiful, I love it, already putting to use. Thank you so much.
–Aaron T, Le Creuset Bistro Grill Pan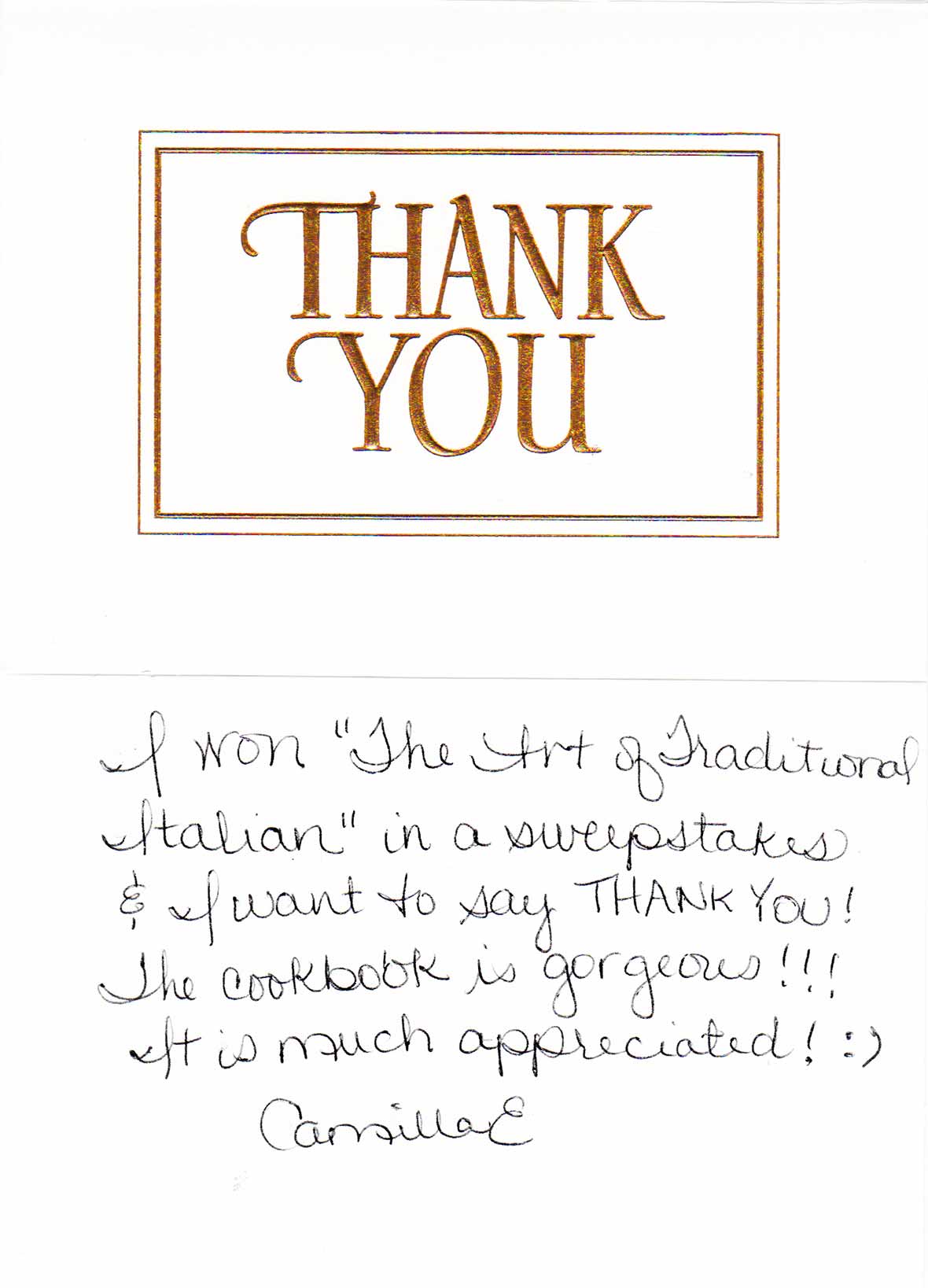 Now that was quick delivery! As you emailed to notify me, I received the Calphalon Contemporary Nonstick Everyday Pan late yesterday. It is super, larger than I expected and unlike the little Calphalon pan that I now have. My thanks to you and Leite's Culinaria for the opportunity to win such a useful and essential prize. This is definitely my new "everyday" pan. Thank you so very much!
–Linda Reaves, Calphalon Contemporary Nonstick Everyday Pan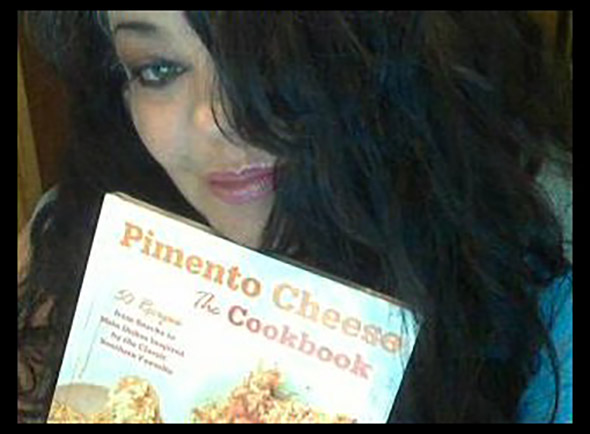 I am in love with my new cookbook that I won!! Thank you so much for the awesome giveaways, and I'm already planning my first meal to cook from it. Thank you again, You guys rock!!
–Marilyn H., Pimento Cheese: The Cookbook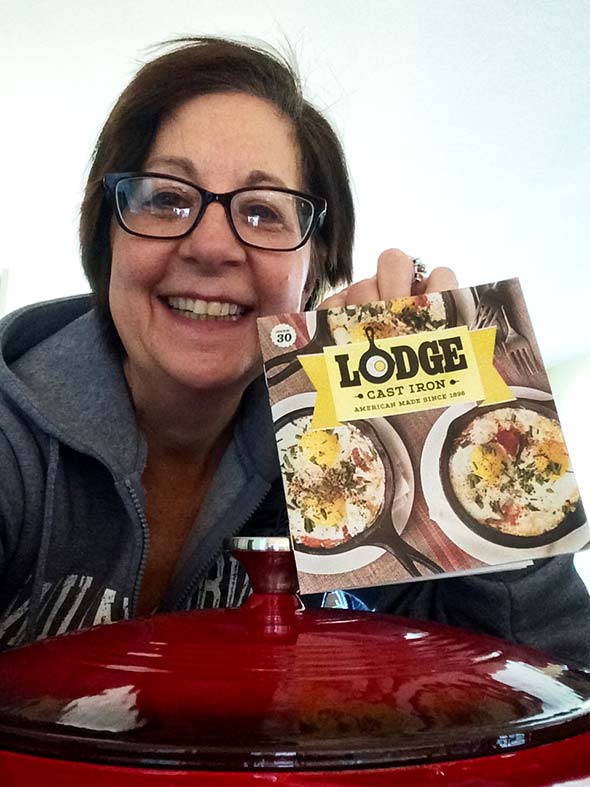 Just received my prize and I love it! Thank you so very much.
–Roberta S., Lodge Color Enameled Covered Casserole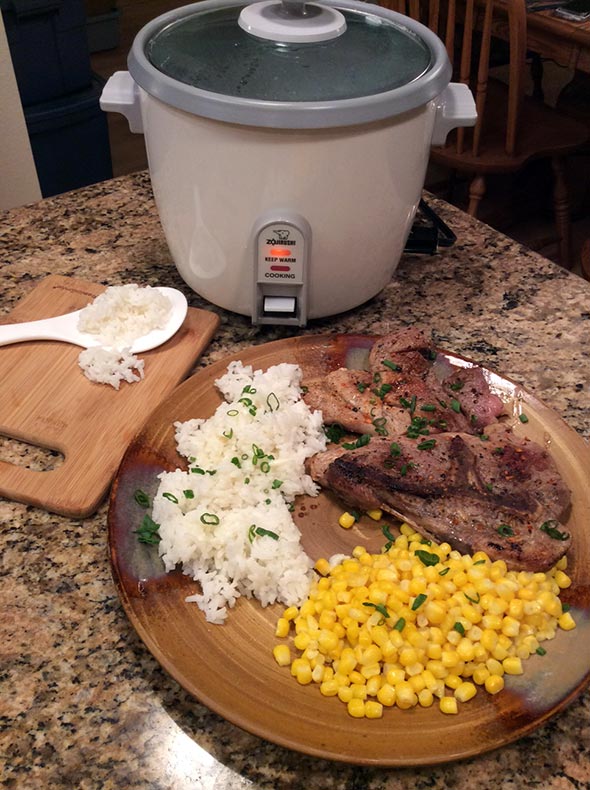 I received the Zojirushi 6 cup rice cooker/steamer and cooked up the easiest rice I have ever done. Came out perfect. Thank you Leites Culinaria for the perfect gift/giveaway.
–Eddie M., Zojirushi 6-Cup Rice Cooker/Steamer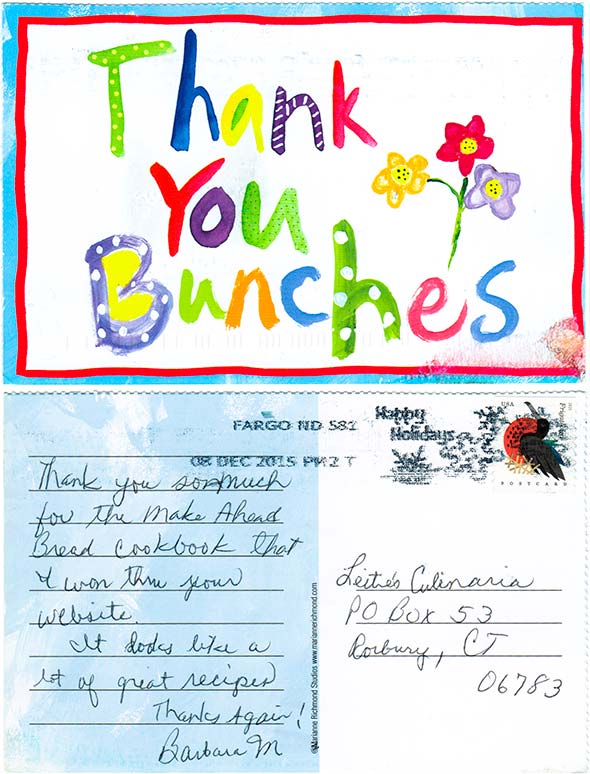 Please convey my sincere appreciation to the author and the entire LC staff.  I was hoping if I won a cookbook, that The Complete Chinese Cookbook by Ken Hom would be the one. Enamored with cooking since I was 5 years old, I delved into Chinese cuisine after the Southern cooking I was raised on.  Besides being able to brag about your site and winning something of great interest to me, this will become part of a culinary legacy I hope to one day pass on to my grandchildren. That is, of course, whenever my daughter decides to get with the program…no pressure.
—Wayne G, The Complete Chinese Cookbook
All of these just arrived today, with the gift card I won back in March: a 4-piece, high-heat use utensil set, 2 funnel pitchers, 2 sizes of burger presses, a mini loaf pan, and a digital thermometer. Thanks again for this great opportunity and prizes!!!!
—Jen Z., CHEFS Catalog Loyal Sweeper Gift Card
WOW! That was FAST DELIVERY! I received my new blender. It is BEAUTIFUL. Can't wait to use it. Margaritas tonight! Thank you VERY much. The first time I came upon the Leite's Culinaria site was due to a giveaway entry for the Waring Pro blender. It is crazy that I should win it now. I love your site. The recipes are amazing! Thanks to David for that. Also LOVE the Giveaways! Such HIGH-QUALITY prizes!  Still hard to believe I won the prize that initially drew me to the site. I just had to wait about a year!
—Clifford H., Waring Pro Professional Blender
Again, thank you so much. I am thrilled! I love your site. The recipes, the blog, the Ask David segment…I've learned so much, tried so many new things. It's my daily read. And the number of giveaways you have is nothing short of amazing. If there was only an "enter all" button. ;) Thank you.
—Lynn J., SousVide Supreme Vacuum Sealer
I received my 45-piece set of Henckels Opus Flatware. It is just beautiful and will make a lovely addition to my table setting. I am so happy that I can not wipe the smile off my face. Best to all.
—Janet W., 45-piece set of Zwilling J.A. Henckels Opus Flatware
YAY!!!! Thank you, thank you for the iPad Mini. David, do you remember our correspondence a couple of months ago? I'd been entering your giveaways regularly. I'm so happy that I've won something—and an iPad Mini no less! Thanks again for offering these fantastic prizes.
—Lilianne L., Apple iPad Mini

This is just to thank you very much for the chance to win an awesome prize—a Hamilton Beach Brew Station. I, along with my family, am enjoying it very much, and I hope to win other prizes because I am still entering daily. Thank you.
—Sherry F., Hamilton Beach BrewStation
Just wanted to let you know how much I love the cookbook I recently won, A Good Food Day by Marco Canora. I know it will go a long way to helping us improve our food routines as we finally "get it" that GOOD food can and should taste wonderful. We struggle with many of the food issues addressed by the author and it's inspiring to know that he has solved so many food "gotchas." And the photos!! Holy cow, I want to eat up the very pages they're printed on! Thank you very much. This prize made my day—and way beyond.
—Lorraine H., A Good Food Day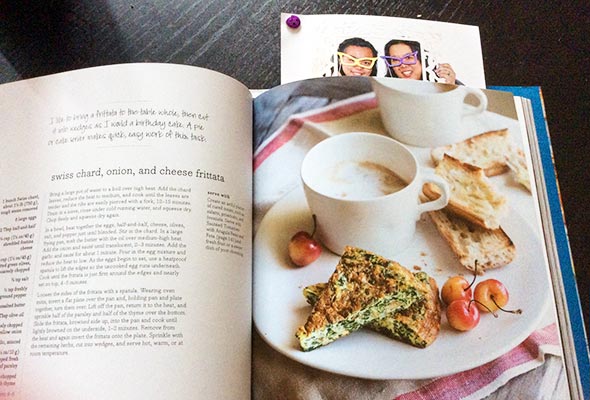 Hi there! Just want to thank Leite's Culinaria for this delicious book. I can't wait to make something for my daughter to eat.
Karen H–Let's Do Brunch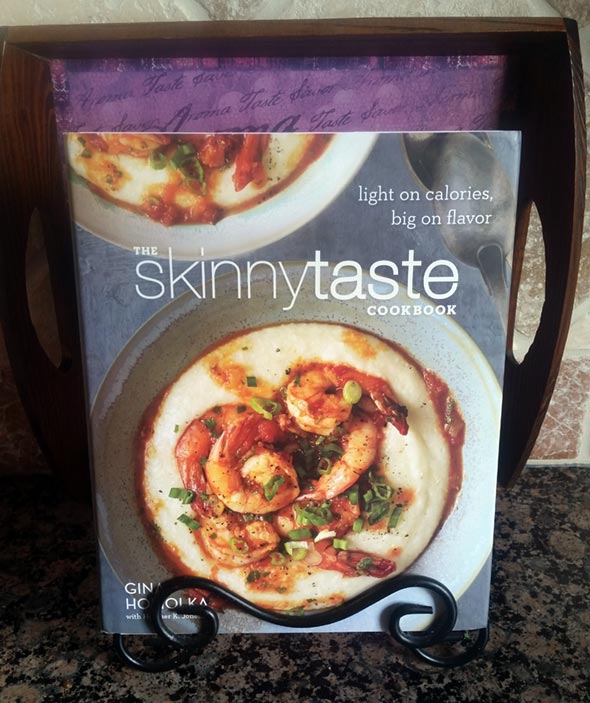 Dear Leite's Culinaria, this is my new cookbook in its new home. My favorite recipe so far is the pork carnitas!!! Thank you again, I love it!
Nicole F.–The SkinnyTaste Cookbook
Just wanted to let you know the panini grill is here and we are looking forward to giving it a workout. Can't wait to see what it can do with leftover Easter ham. Oh, and the wife is excited about the fact you can lock it in a partially open position for open-faced melts without firing up the oven or broiler. Also, it's light enough that she can handle it even with her troublesome wrists and hands. This looks like it may just be a great addition to our kitchen. Thank you again for this wonderful prize.
David D.–Breville Panini Duo
Dear Leite's Culinaria, I just wanted to send a quick note to say thanks very much for having the contest for the Cusinart Knife Block Set.  I am so excited to have won and absolutely love my prize.  This looks so great in my kitchen. This is a wonderful promotion and I am really thrilled to have been selected. I look forward to visiting your awesome website often and entering more contests!!
Margaret G.—Cuisinart Classic Graphix Cutlery Block Set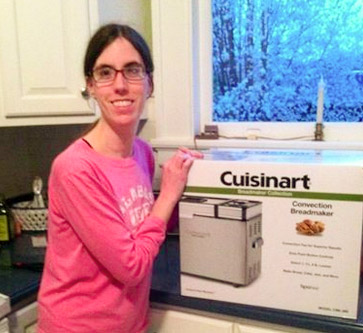 I was so thrilled to get my bread machine today! It was a very welcome surprise! I like entering your sweepstakes the best because of the quality items and equitable entry system. I have also sent you a photo of me with it. Thanks again.
—Anna H. Cuisinart Convection Bread Maker
It was a wonderful surprise to receive this email from you: "Congratulations, you're the winner of our special Leite's Culinaria 'Loyal Sweeper' reward!'" Thank you so much…I can't wait for my two items that I just finished selecting this morning to arrive from Chef's Catalog!!!!
—June J., monthly Loyal Sweeper Gift Card
I just wanted to let you know that I received the panini press yesterday and I cannot wait to use it. I'm so excited! :) Thanks for running such great giveaways. I love cooking and these giveaways are really fun. Thanks for keeping in touch with everything including the tracking number. It was packaged very well when it arrived. Looking forward to grilling! :)
—Jamie K., Breville Panini Duo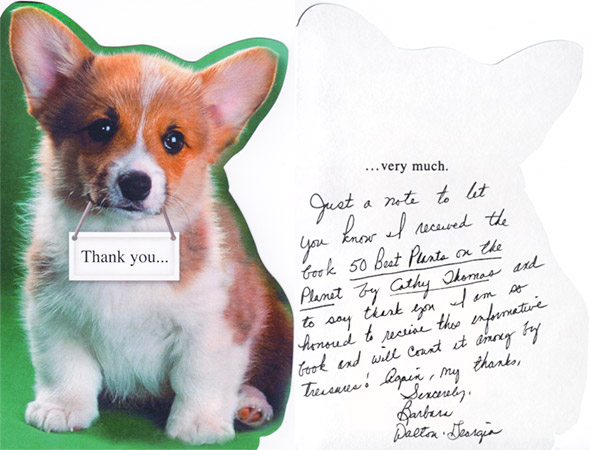 I just wanted to thank you and the gang at LC for the two cookbooks I won. I've not had the opportunity to try any of the recipes but they look absolutely delicious. Much thanks again!
—Lisbeth S. Pork Chop and Feast
Hubby won a KitchenAid slow cooker through Leite's daily contests, and it arrived today! Really happy with it. Going to make a big pot of bean barley soup! Yum.
—Nancerelli G., KitchenAid Slow Cooker (via Facebook)
I can guarantee that this prize will be well and frequently used. I am married to the best cook in the US…although I might be a bit prejudiced. My friends all know not to invite me to go to a restaurant when I get served much better food at home. I need only "ask" and she will try a new recipe or fix an old favorite. Am I a lucky guy? You bet! Thank you for your generosity. I really like your web site.
—Bob Q., The French Cook: Souffles by Greg Patent 
I have received the Waring Deep Fryer and I am happy as a clam. It's a beautiful product and I am looking forward to to to using it. Thank you so much for providing the site that allowed me to be able to win this.
—Paul C., Waring Deep Fryer
Wow! I'm thrilled to find I have been picked as the winner of a Leite's Culinaria giveaway. The Vortex 5-Speed Blender is a welcome surprise, and I'm delighted to have won it. I can hardly wait to give it a whirl! Thank you so much for providing the opportunity to win such nice prizes from Leite's Culinaria.com and the opportunity to learn more about appliances and cookware that I am interested in.
—Linda R., KitchenAid Vortex 5-Speed Blender
Thank you so much for the Cuisinart Griddler. It is my go-to kitchen appliance and I've used it multiple times since I won. I've made everything from steak to bacon, eggs to sandwiches. I am getting ready to make pressed Cuban sandwiches tonight for the second time. They are wonderful, just like you get in Tampa. Thanks again to you and Cuisinart for such a useful and great product.
—John S. Cuisinart Griddler
I'm not exaggerating when I say Leite's Culinaria's giveaways are consistently the best! I've been paging through the recipes and contest pages for years and have placed my fair share of entries hoping to win one of the latest in kitchen appliances. This news is very cool!
—Phillip T., Waring Pro Professional Blender
The absolutely fabulous Breville Mini Smart Oven arrived this morning and it is a brilliant piece of equipment. It works perfectly and will be such a help to me, so thank you for this incredible early Christmas present. I absolutely love it!
—Michelle S., Breville Mini Smart Oven
I am super-excited!! You guys rock! Your giveaways are the best on the planet. Everything is super-quality, top notch all the way. I worship you. I love you and will continue to follow LC as much as I can. Your prizes are without a doubt one of the best things out there! Thank you so much ! What a night! I appreciate LC. Please give everyone my regards. You rule!
—Joseph E., CHEFS Deep Lasagna Pan
My sauté pan arrived yesterday. It's so nice. Everything Cuisinart makes is high-quality and this pan does not disappoint. I am getting ready to use it right now. My pans are almost 40 years old, so this is a real treat for me. Thank you again. This is a wonderful prize that I will use often. Thank you again.
—Dorothy R., Cuisinart Green Gourmet Saute Pan
WOW!! You are sending out wonderful news this Labor Day. Thank you! I've been entering Leite's Culinaria "Loyal Sweeper" sweeps for several years, but this is my first win. My son just built an outside grilling area this year and he is teaching his daughter the joys of cooking. She's 6 and has her own standing chair so she can help (and learn) right next to her dad. I think I will use this $100 Gift Card to buy some tools just for her. This win is a positive gift to her development and keeps cooking a family function. Again, thank you for choosing me. And thank you for having a helpful and informative site.
–Doug W., August Loyal Sweeper
I would like to thank you and David for allowing me the opportunity to win such a nice prize. Your website is the most helpful for improving my cooking skills.
—Jon B., Le Pain Quotidien Cookbook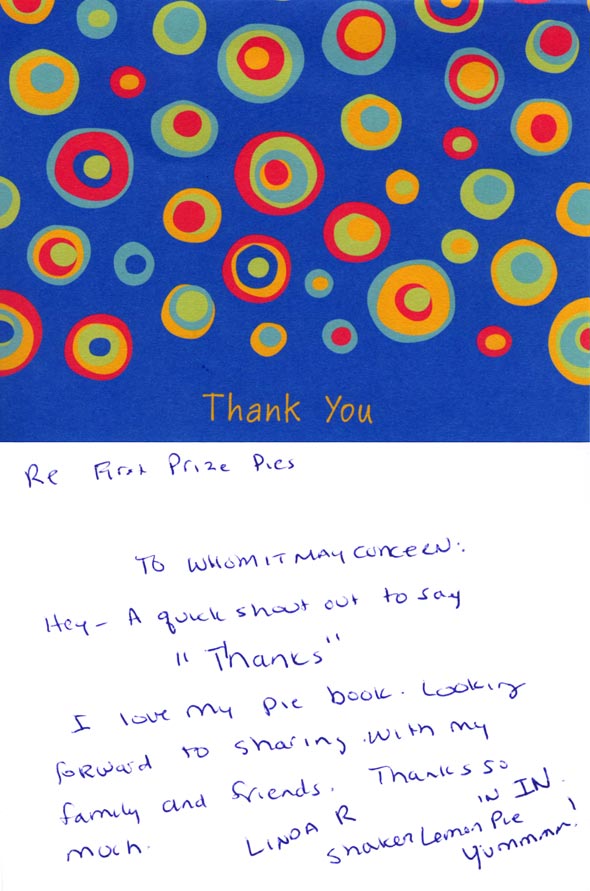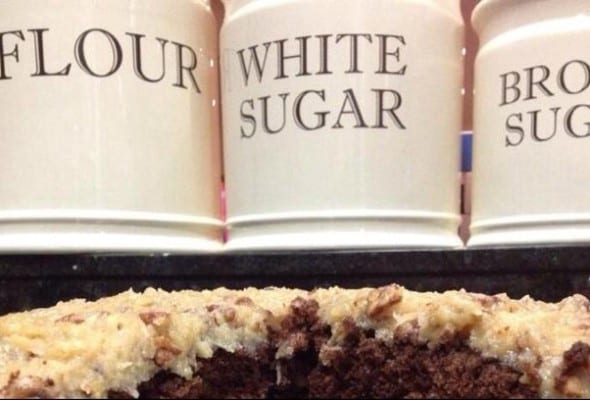 Thanks again for these bakers containers…I like them a lot!
—Thessa Delaney, Stoneware Baker's Canister (via Facebook)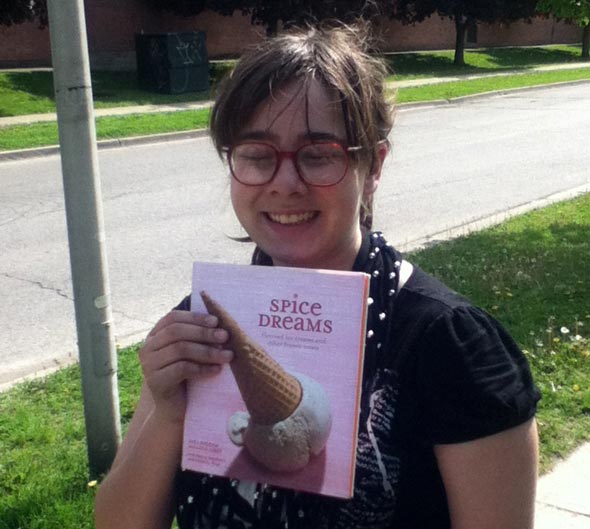 –Chris R., Spice Dreams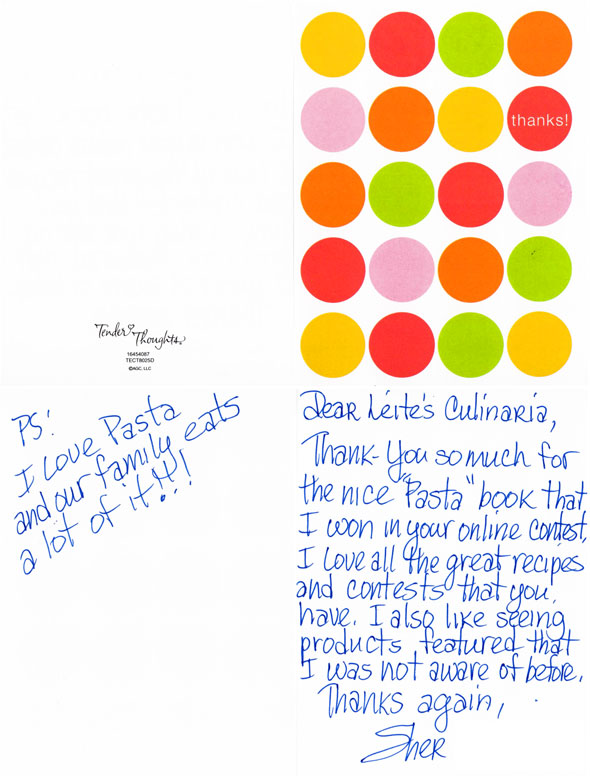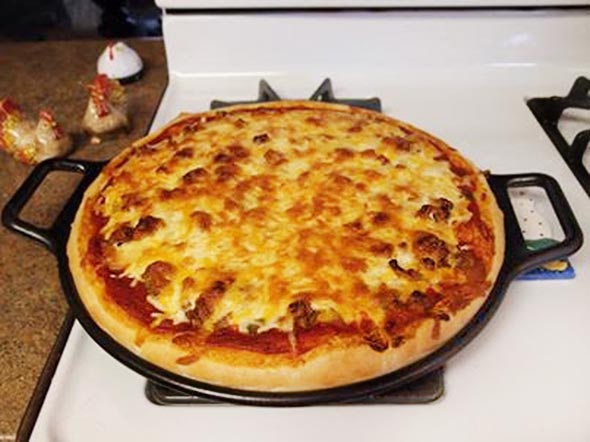 I made this pizza tonight for dinner with my new pizza pan I won from Leite's Culinaria. It was wonderful, and the pan cooked the pizza to perfection. It was great! Thanks Leite's!
—Dianne Rombke, Lodge Logic Professional Pizza Pan (via Facebook)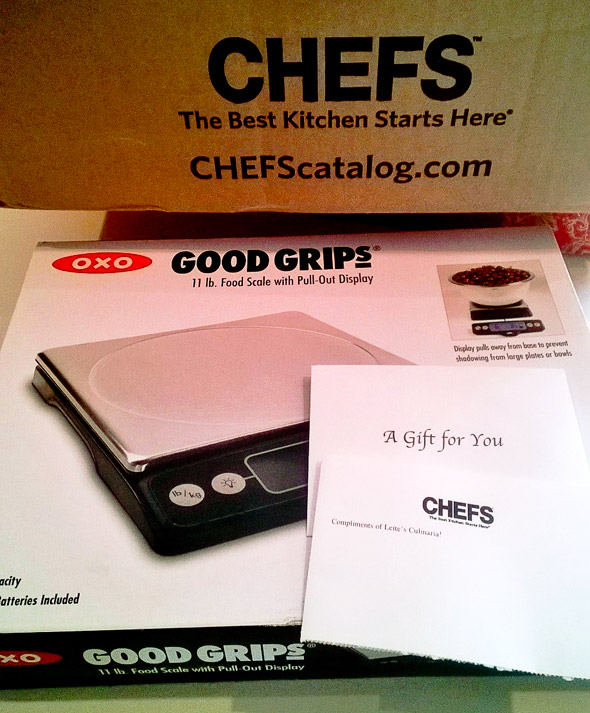 I received my fancy food scale the other day and wanted to thank you again for my sweepstakes win!
—Lori Laney, OXO Good Grips Scale (via Facebook)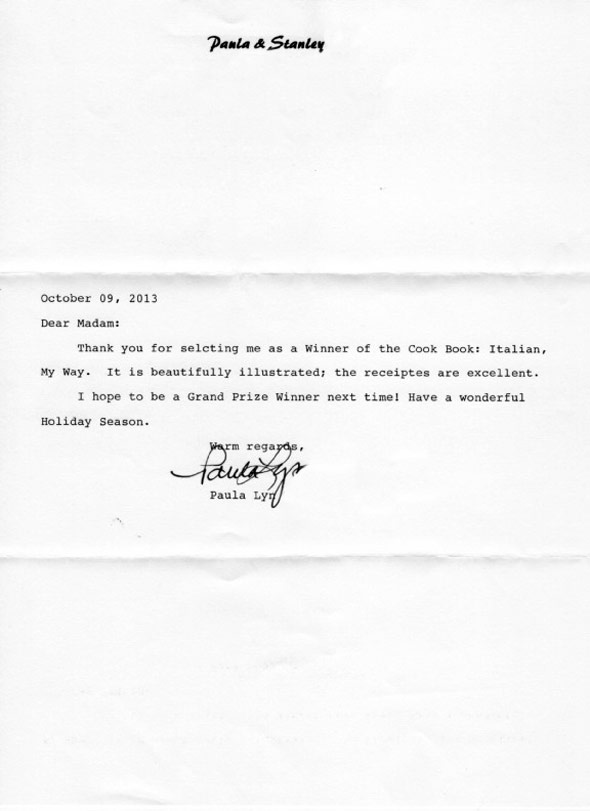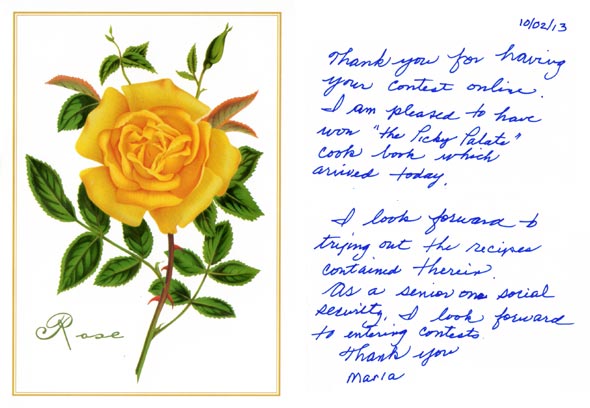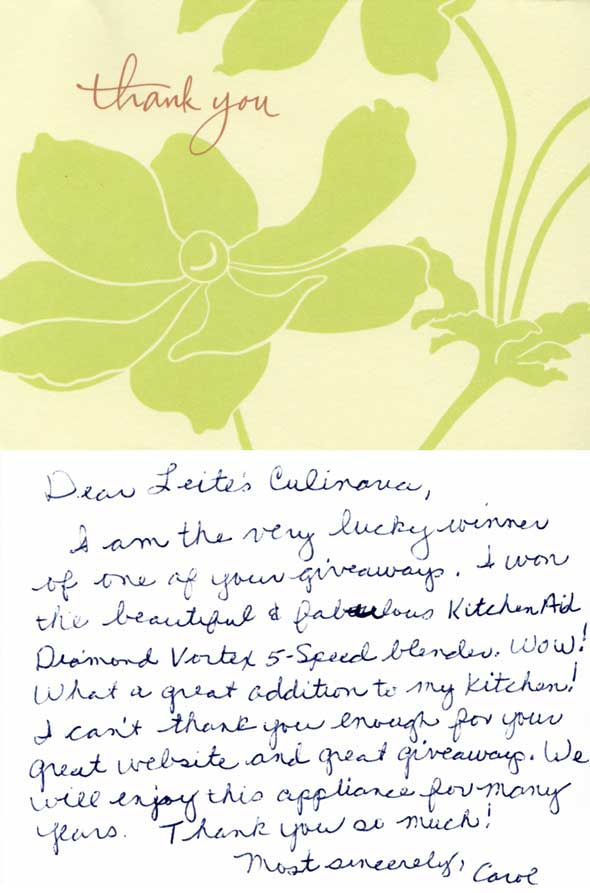 Oh my gosh! I received my prize today—so fast. Thank you so much. This has cheered me up so much. I have always wanted a set. Thank you again!
—Cindi Hansell, 5-Piece Lodge Cast Iron Cookware Set (via Facebook)
I am thrilled with the generosity of Leite's Culinaria and the publisher of Canal House Cooks Every Day. I didn't realize that the book received the James Beard Award. I am so excited. My husband, Jim, and I both love to cook and bake. The cookbook will be well loved and used.
–Chris F., Canal House Cooks Every Day
I have to say thank you very much for the recent win of my new toaster. I really, sincerely needed a new one, as mundane as that may seem! Very nice gift from your contests. Hopefully this one will last me till death do us part! Thank you!
—Stephen K., Magimix Colored Vision Toaster
I received my bread maker today! I am so thrilled! I'll never have to buy bread again! This is going to be so much fun!! Thanks!
—Tina P., Zojirushi Home Bakery Supreme Bread Maker
I would like to thank you, David, and all of Leite's Culinaria for allowing me the opportunity to win such a nice prize. Minnesota winters and soup naturally go together, and I will look forward to trying some new recipes.
–Jon B., Soups: More Than 50 Fresh and Easy Soup Ideas
I just wanted to let you know that I received my Bobby Flay's Bar Americain Cookbook that I won. It's a beautiful cookbook. I'll definitely be using it. You don't know how much I appreciate being allowed to enter your wonderful contests. I look forward to seeing what you have to enter every day. Thank you so much.
—Rene H., Bobby Flay's Bar Americain Cookbook
Wow! Thank you so very much! I am beyond shocked and so very grateful! Thank you, thank you, thank you!
—Deb W., Thanksgiving-Palooza Prize Package
Got my book from Leite's Culinaria: Slow Cooker Revolution. Used the recipe for Huli Huli chicken and it was a hit! Thanks!
—Nancy G., Slow Cooker Revolution (via Facebook)
Oh my goodness!!! You have to be kidding, right?!!!! I don't know what to say. I have been sweepstaking for many years, but overall, I'm not a very lucky person. I've been entering your various sweepstakes for a few years now. I had almost given up hope of ever winning, but I entered anyway because I really like your prizes. They are all high-quality items that anyone would be pleased to receive. Imagine my complete shock upon learning that I have won this fantastic prize! All the daily entries were definitely worth it! Thank you so very much! And thank you for continuing to participate in sweepstakes.
—Rhonda F., Waring Pro Rotisserie Turkey Fryer/Steamer
Thank you for getting my weekend off to a great start! It's two months until Christmas today, and I'm starting the celebration early. Again, thank you very much for this and for the great website, Leite's Culinaria. I enjoy trying many of the recipes.
—George P., Le Creuset Bistro Griddle
I received the gorgeous teak cutting board last week and absolutely love it! Your recipes and interesting and witty articles are so much fun that I would check in often even without the great giveaways. But I can't resist a good giveaway, either. Thanks so much!
—Chris B., Madeira Teak Edge-Grain Jumbo Chopping Block
Oh my goodness! Thanks soo much! I love all your recipes, and this Vitamix is going to help me make all the recipes I want! I would love it in BLACK! I can't wait for it to get here, and thanks all again for this wonderful prize!
—Lorie P., Vitamix CIA Professional Series Blender
This came a few days ago and I wanted to thank you and LC again for the great prize! It's very nice of LC to host these contest, and I have been singing your praises to all who will listen! Thanks again!
—David J., Babycakes Cookbook
I see you're posting responses from Very Happy Winners, and I want to tell you that includes me! I was surprised when I got the email from you, but I was absolutely floored when I received my candy-apple red KitchenAid professional mixer. It was honestly one of my favorite moments in my whole life. I love this thing! Thank you so much; I tell all my friends how great you guys are. Love your recipes and kitchen advice, too. Thanks again!
—Elizabeth S., KitchenAid 7-Quart Stand Mixer
That's awesome. Love your sweepstakes!
—Angela Q., Lello PastaMaster 3000 Pro Pasta Maker
Oh, this is exciting! I'm looking forward to receiving this lovely prize.
—Vicki B., Hamilton Beach Breakfast Sandwich Maker
Yoo hoo! Yay! Whoop whoop! I am so excited to receive your email. Thank you all so much. I started entering your giveaways about a year ago when I saw a Vitamix. Still no Vitamix, but I am super excited to win this Moroccan Tagine. With the cooler months coming I will be using my oven more, now more and more with my new tagine. Thank you. Thank you.
—Sharon C., Le Creuset Moroccan Tagine
Thank you so much! Great way to start the weekend! Maybe all my teams will win this weekend! I feel so lucky and blessed!
—Carol P., KitchenAid Diamond Vortex 5-Speed Blender
Wonderful! I am so excited! These are BEAUTIFUL knives and they will be well-used and well-loved!
—Malea C., Two-Piece New West Knifeworks Knife Set
Thanks for the great news! I especially like that this Zojirushi Home Bakery Mini Breadmaker has a small footprint for our kitchen counters. We look forward to many great loaves!
—Lori P., Zojirushi Home Bakery Mini Breadmaker
Thanks so much for the great news. I do not have an ice cream maker nor have I ever attempted to make ice cream but now I have a new hobby!! This is great. I am expecting my first grandchild in December and now I will be the favorrite grandmother.
—Fran B., Cuisinart Commercial Quality Ice Cream and Gelato Maker
Thank you for selecting me as the winner of this book, Favorite Family Recipes. Having lost all of our past generations (and their known-by-heart recipes, it will be fun to look at these and perhaps rediscover some of our own family recipes. We love your site and have actually purchased a few of the things you promoted but that we did not win. Thank you again for selecting me. I suspect we will find a couple of Grams and GG's lost recipes and will serve them up for our Thanksgiving and Christmas reunions.
—Doug W., Favorite Family Recipes cookbook
Thank you. I am absolutely thrilled! Not as thrilled as my wife will be once she sees it though. ;)
—Billy C., Cuisinart Mix-It-In Soft Serve Ice Cream Maker