Are you wondering when you should buy your Thanksgiving turkey? What size to get? How to store it? Or what the hell all those different labels mean? Fear not. We've got you covered.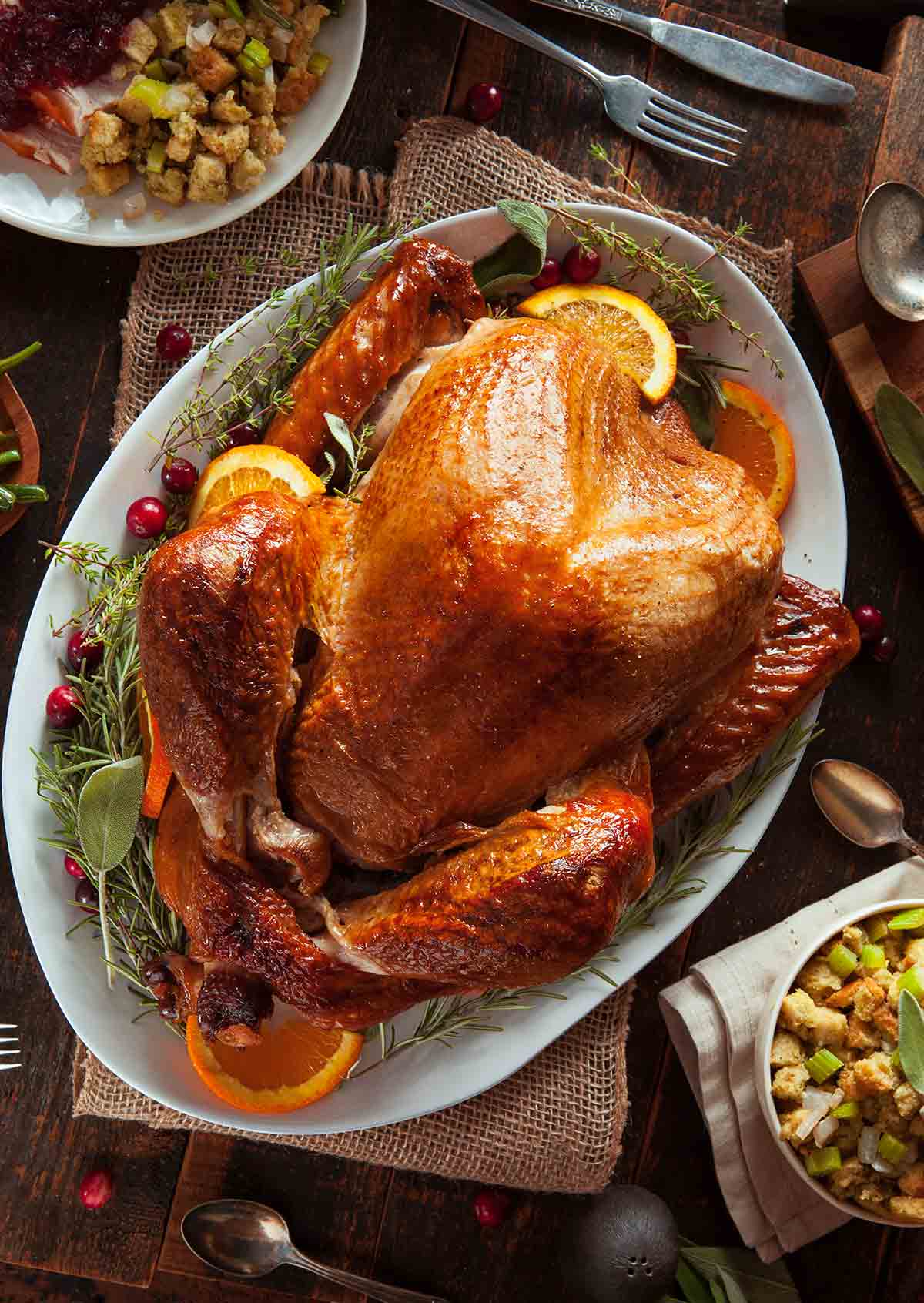 This month, millions of us will find ourselves standing, dazed and confused, at butcher shops, supermarkets, hoity-toity gourmet stores, and farmers' markets, wondering how to buy a turkey.
Once again we'll be confronted, as we are each November, with every conceivable type of turkey slapped with labels that seem logical…but are anything but. Read on.
What do all those turkey labels mean?
Fresh. Frozen. Free-range. Organic. Kosher. Natural. Heritage. Self-basting. Wild.
With such a litany of ill-defined and largely unregulated information bombarding us, the task of choosing a bird for that holiest of holy food days can range from haphazard to hand-wringing.
So I decided to find out once and for all what these damn terms mean, and which ones will cause spontaneous choruses of "We're having Thanksgiving at your house again next year!" from your guests.
Read more

"How to Buy a Thanksgiving Turkey"
Twenty years after writing this, David received a touching update of what happened to his first Viking stove, which he nicknamed Thor. Break out the handkerchief.
UPDATE:
Since 2002, countless people have asked me how Thor was holding up. For the past 16 years, I wasn't able to answer; we moved to the next town over in 2006.
Thor has often crossed my mind in the intervening time. The One and I have wondered out loud whether the current owners knew what a special, and, dare I add, famous stove they had. So you can imagine my delight when this weekend I received the following email. It's from Stephanya Bareham, the third owner of Thor. To know that he has blessed them as much as he blessed us was a gift. He was such an important part of my culinary growth and career (thanks to my anthropomorphizing tendencies) that I feel a wayward child has returned to the fold. Even if he is destined for the great Valhalla for cooking warriors.–David Leite
Read more

"A Man and His Stove"
How to tell if a tomato is perfectly ripe is a skill that we should all know, especially those of us that love to cook and consume them. Sit back and read David's tips for always picking the best of the best.
So you find yourself standing, motionless, in the produce department of your local grocery store or at the farmstand befuddled by the mounds of Big Boys, Early Girl mortgage lifters, bunches of Romas with their tangles of green vines. And you wonder, "How in the hell do I know which is a perfectly ripe tomato?"
You've come to the right guy because I have a long and checkered relationship with tomatoes. How can a person have a relationship with a tomato, checkered or otherwise, you ask? Easy.
When I was a maudlin 14 year old, my dad, a plain-talking, straightforward kind of man, believed that a lot of hard farm work, sunshine, and a few cases of poison ivy would lift my mood in no time. Bless his heart. Of course, he was wrong. No amount of sunshine, sore muscles, or bouts of an itchy ass were a match for bipolar disorder.
Read more

"How to Tell if a Tomato is Perfectly Ripe"