Hello!
I got to tell you, it's wicked weird (can you tell I'm from New England?) writing an About Me page after 23 years in the business. But every day more and more new readers discover Leite's Culinaria, and some ask, "Who's the big guy with the big hair?" So here goes.
I'm David Leite, a food writer, cookbook author, memoirist, and website founder. I've been all about food since I was a babe in arms. Just take a look at my first birthday photo. Yup, that's me with frosting all over my hands and face. Couldn't resist then, can't resist now.
Growing up Portuguese
I grew up in a Portuguese American family, with my parents, grandparents, and godparents living in three apartments in the same house in Fall River, Massachusetts. Some of my earliest memories are about food.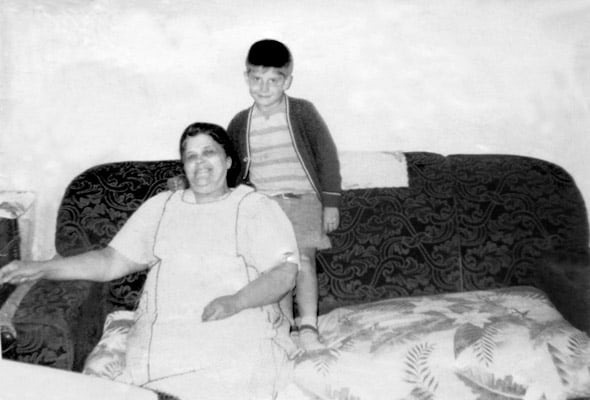 My grandmother Vovo Costa, would drag a chair over to the counter, drape my grandfather's shirt over me like a huge smock, and lift me up.
Standing on the chair, I'd help her stir soups, pop fava beans out of their pods, and make the only sweet she ever baked: buttery cornbread.
Creating Leite's Culinaria
In 1993, I created Leite's Culinaria, mostly as a way of posting the handful of articles I wrote for newspapers and magazines. Within a few years, the list of publications I wrote for grew, as did my website, and I decided to write about food full-time.
After that, I wrote for the New York Times, Martha Stewart Living, Saveur, Bon Appétit, Gourmet, Food & Wine, Yankee, Men's Health, Los Angeles Times, Chicago Sun-Times, The Washington Post, and Charlotte Observer, among others.

What you'll find on Leite's Culinaria
Thousands of recipes that have been tested by our more than 150 recipe testers
Tips, FAQs, ingredients notes, and thousands of tester reviews to make cooking our recipes easier
Humorous, award-winning articles from first-time writers to Pulitzer Prize winners
Episodes of our podcast "Talking With My Mouth Full"
A thoughtful, responsive group of folks who love chatting with you!

James Beard Awards and the NY Times
I've been blessed to have won three James Beard Awards, the Oscars of the food world. Two were for this website. (In 2006, I was lucky to be the first person to win a Beard Award for a website, an honor I received the following year.) In 2008, I also won for my New York Times article, In a '64 T-Bird, Chasing a Date with a Clam, which was about one of my all-time favorite foods: fried clams.
The internet's favorite cookies
If you've ever aged your cookie dough in the fridge for 36 hours or sprinkled it with sea salt before baking, chances are kinda maybe it had something to do with my New York Times article Perfection? Hint: It's Warm and Has a Secret.
For six months I researched how to make a better chocolate chip cookie, and spoke to some of the country's best bakers, cookbook authors, and chocolate makers.
The article compiled all my findings to create what some have said are the best chocolate chip cookies they've ever made. Of course, I'm biased, but I do think they're amazing.
My books
Through it all, I wrote two books. The first was a cookbook, The New Portuguese Table, that honors my classic Portuguese heritage while highlighting new and exciting foods, chefs, and recipes in contemporary Portugal. I was thrilled that it went on to win the 2010 IACP/Julia Child Award for first book.
I then try something different. I had a hard story to tell, but I wanted to tell it. I decided to open up about my struggle with manic depression, grappling with my sexual orientation, and the shame I felt about being Portuguese. It culminated in Notes on a Banana.
A Taste of Portugal spice blend
As a kid, I loved watching the women in my family cook. And for so many dishes, they used the same ingredients that created the incomparable, ubiquitous flavors of my childhood.
When I wrote The New Portuguese Table, it seemed to me there had to be an easier way to get the same flavors without having to start from scratch every time.
That's when I created a spice paste that evolved into A Taste of Portugal spice blend. It has all the familiar, comforting flavors of Portugal in one jar. The mix is an homage to my family's wonderful cooks and their dishes. You can order the spice blend at World Spice.
The One
What started as a joke at a cocktail party, turned into an enduring nickname for almost 30 years.
When I was an advertising copywriter, I took Alan, my then-boyfriend of several months, to a cocktail party for work. Trying to sound witty, I introduced him to my boss as, "The One Who Brings Me Love, Joy, and Happiness on a Daily Basis." She laughed, and the name stuck.
I joke that "daily basis" dropped off not long after, and that "love, joy, and happiness" depends on how much he annoys. But after 30 years, we're here and still cooking, eating, and traveling together.
What's even more heartwarming is that you all call him The One, even though you know his name. So thank you!
Some quick FAQs
Where can I buy your books?
First, thank you for asking! Both my cookbook and memoir are available at most major booksellers and online, such as Amazon, Barnes & Noble, Target, Walmart, Books A Million, Books a Million, and Powell's.
What is your favorite recipe from your cookbook?
That's like asking, which kid is your favorite child? But I guess I'd be a horrible father because I can name my two favorite recipes: pork and clams and my orange olive oil cake. Hands down.
How much do you really cook at home?
Have you been listening to our podcast Talking With My Mouth Full? In Ep 53: Our Better Halves Spill the Beans, Amy's husband, Scott, and The One joined us and told all.
The truth is, The One cooks more of our day-to-day meals. I slide into the kitchen for recipe testing (which is often), some weekend cooking, and when we entertain.
How long have you and The One been together?
Almost 30 years. Which is like 72 in straight years.
Why is a milkman LC's mascot?
Good question! My last name means "milk" in Portuguese. When I was a kid, my mother would tease, "Hey, kiddo! Do you know you're the milkman's son?"
Confused, I didn't understand how old man Lawton was my dad. It took a few more years, to get the joke. My dad, whose name was Manny, is the namesake behind our very own Manny the Milkman.
Our baby girl, Graycie
No, I'm not ashamed to say it: I'm an inveterate cat lady. Period.
And no discussion about my family wouldn't be complete without our beloved Graycie.
This bundle of felin-icious joy was rescued along the Long Island Expressway at only three weeks old. She was medically treated and then fostered.
We adopted her when she was six months old–skittish, skeptical, and introverted. But no longer. This girl rules da house!
UPDATE: Our new arrival, Georgie
Even though The One and I fought, sometimes bitterly, about getting another cat, I felt Graycie desperately needed a little brother. She was bonded to her real-life brother when they were rescued, who sadly passed away.
Eventually, I found this sweet-faced five-month-old love at the local shelter. His name was Cornbread, but we promptly changed it to Georgie. Those of you of a certain age will understand the George and Graycie reference…
These two are becoming the best of friends.