All your favorite nursery rhyme characters—all grown up, new to parenthood, and in desperate need of a stiff drink.
Thanksgiving has always been something of a mystery to me. I mean, as a Brit, I know the basics. I know it celebrates the Pilgrims sailing away from the motherland, only to name every town they founded after someplace British. I know about the turkey and the pumpkin pie, and I get the distinct impression […]
More than just a spoof on vegans and stereotypes, this humorous essay begs a little self-questioning.
Going for a pigskin theme for your next have-folks-over-to-crowd-in-front-of-the-game-on-the-flat-screen party? You need these.
Quick Glance
25 M
2 H, 40 M
And all through the house, not a creature was stirring…but what about the abandoned grill out back? David investigates.
David blogs his way through Paris, embracing wining, dining, and a magically slenderizing manner of thinking that just may offset all the foie gras, fromage, and frites.
Savvy, simple, and (mostly) commensense advice on grilling without sticking, the meaning of "reusable disposable," and safe barbecuing.
While in Indonesia, David discovers–and darn near swoons over–a savory little something known to locals as…well, it's a little misleading.
Our cooking columnists answer your questions on gift etiquette, how to get your hands on hatch chiles, and paper properties.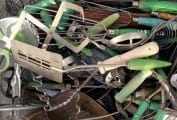 Rick Casner muses on the magic of certain inanimate objects after falling–hard–for an everyday utensil.
Our Never Cook Naked columnists, Mark Scarbrough and Bruce Weinstein, share lots more lessons than just proper cooking attire.
Chef Patrick O'Connell reflects on entertaining in a bygone era, musing about the real reason his mom entertained and why his approach differs so dramatically from hers.