Recipes from Sticky, Chewy, Messy, Gooey, Treats for Kids
Not just a hit with kids, this chocolate and peanut butter pudding is rich, creamy, and pretty darn irresistible.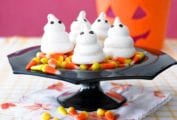 These—eek!—meringue ghosts couldn't be any easier. Beat egg whites and sugar until satiny and stiff, create some spooky blobs, and bake. See? Not so scary after all.
Peanut butter bonbons are filled with crunchy pretzels or toffee and rolled in all kinds of toppings to make bonbons with peanuts or bonbons with jimmies.