Imagine a world in which everyone could tuck into the same platter of nachos with gusto. World peace starts here, folks.–Renee Schettler Rossi
Vegan Nachos
These vegan nachos, made with layers of tortilla chips, creamy cashew queso, smashed avocado, seitan in place of taco meat, black beans, lime sour cream, and pickled red onions, are truly irresistible. Perfect party snack food for ALL your guests.
Ingredients
For the pickled red onions
1/2

medium

red onion

,

thinly sliced

2/3

cup

seasoned rice vinegar
For the lime sour cream
1

cup

silken tofu

1/4

cup

olive oil

2

tablespoons

fresh lime juice

1/2

teaspoon

sea salt
For the nachos
2

tablespoons

olive oil

8

ounces

seitan crumbles or ground seitan* (or substitute tempeh crumbles or ground tempeh*)

One

(15-ounce) can

black beans

,

drained and rinsed

1

tablespoon

taco seasoning

1/2

teaspoon

smoked paprika

1/2

teaspoon

chipotle powder

1/4

cup

cold water

Sea salt

1

avocado

,

diced

2

teaspoons

fresh lime juice

1

large

bag tortilla chips

Pickled Red Onions (see recipe above)

Lime Sour Cream (see recipe above)
For the cashew queso
Instructions
Make the pickled red onions
In a small bowl, toss together the red onion and the vinegar. Let rest at room temperature until the onions soften, 1 to 2 hours. (You can cover and refrigerate the pickled red onions for up to 1 week.)
Make the lime sour cream
In a blender or food processor, combine the tofu, oil, lime juice, and salt and blend until smooth. Cover and refrigerate for at least 2 hours. (You can cover and refrigerate the lime sour cream for up to 1 week.)
Make the nachos
Preheat the oven to 425°F (220°C).

In a large skillet set over medium heat, warm the oil until hot and shimmering but not smoking. Add the seitan, black beans, taco seasoning, smoked paprika, chipotle powder, and water and cook until heated through, about 5 minutes. Remove from the heat and season with salt.

In a small bowl, mash together the avocado and lime juice. Season with salt.

On a large rimmed baking sheet or in a roasting pan or 9-by-13-inch (23-by-33-cm) baking dish, scatter the tortilla chips in an even layer.
Make the cashew queso
Toss all the cashew queso ingredients into a blender and whiz until smooth. Transfer to a small saucepan set over low or medium-low heat and warm, stirring frequently to avoid scorching, until heated through and thickened, about 5 minutes. Keep a careful watch on it.

While the queso is warming, place the tortilla chips in the oven until warm and very lightly browned, about 5 minutes.
Assemble the nachos
Pour the warm cashew queso over the tortilla chips and top with the seitan mixture, mashed avocado, and any optional toppings, Serve immediately, passing the pickled red onions and lime sour cream on the side.
Notes
*How To Make Your Own Seitan Crumbles
If you can't find seitan crumbles or ground seitan, it's simple to make your own using seitan of any shape or size (strips, cubes, etc.). Drain the seitan well and then pulse it in food processor until finely ground. That's it. Just be careful not to overpulse. Same works for tempeh.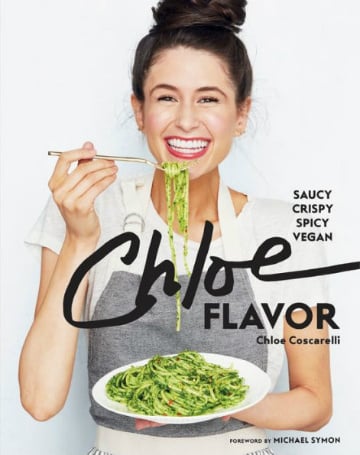 Nutrition
Serving:
1
portion
Calories:
644
kcal
Carbohydrates:
66
g
Protein:
25
g
Fat:
33
g
Saturated Fat:
5
g
Polyunsaturated Fat:
6
g
Monounsaturated Fat:
19
g
Sodium:
1235
mg
Potassium:
853
mg
Fiber:
11
g
Sugar:
4
g
Vitamin A:
546
IU
Vitamin C:
8
mg
Calcium:
129
mg
Iron:
5
mg
Nutrition information is automatically calculated, so should only be used as an approximation.
Recipe © 2018 Chloe Coscarelli. Photo © 2018 Christina Holmes. All rights reserved.
---
Recipe Testers' Reviews
I don't eat much dairy, so a vegan nachos recipe was a must for me! I found this recipe easy to make and delicious. My family loved this and I am thrilled to have a vegan nacho recipe in my collection!
I heated the nachos for 5 minutes, topped them with the yummy toppings, and enjoyed!
I used the leftover lime cream in a chilled cucumber soup.
Nachos have no excuse to be anything short of spectacular. Adding the word "vegan" to something as beloved as the nacho prompts a lot of questions, even skepticism, leaving you to either explain every element at length, or simply serve 'em up and see what happens! These chips are positively loaded with all those craveable, traditional Tex-Mex flavors. The cashew queso in particular is richly savory, and the seitan spices are super familiar.
I'm new to seitan, and I liked its chewy bite, but I'm really a bean-lover, so in the future might double them and add the same flavors on the stovetop.
On its own, the lime sour cream won't be mistaken for dairy, but on the nachos it's tangy, creamy, and complementary, as well as a snap to make.
Pile on the avocado, salsa, shredded red cabbage, cilantro, and a shake of hot sauce. Oh, and pass me a beer! Then the fun part: dig in and listen to your friends go silent—these nachos are indeed spectacular, no explanation required.
These nachos can be dinner or the beginning of a social evening. Make the Lime Sour Cream and Pickled Red Onions ahead and the rest can come together while the oven is heating. I made mine GF, using tempeh, and the combination of the black beans and spiced tempeh worked well with the not-shy Cashew Queso. The spicing is very adult and bold, which I think needs the bright notes of the pickled onion and the cool relief of the citrus crema.
I've made the Cashew Queso twice now, and each time I added more cayenne for a total of 1/2 teaspoon. It's so easy to make (and a lovely surprise that the cashews require no soaking yet yield a perfectly smooth, creamy sauce) and now belongs on all nachos in this household.
For two of us, I assembled a half batch (reserving the queso, lime cream, beans and tempeh for a second day), and it was more than we could eat for a hot summer dinner, so leftover nachos became lunch with a fried egg the next day for two. The queso can be very gently reheated and the "sour cream" keeps several days. The pickled onions stay nicely crisp for easily 1 week and are worth making a double batch on a regular basis.
The result is terrific guilt-free nachos that don't seem like you're missing cheese or meat at all. If you dislike tempeh or seitan but eat meat, I think ground turkey or some shredded roasted chicken would be lovely with this combination, still keeping it gluten-free and non-dairy.
This can be ready in 40 minutes is you prepare the lime cream and onions ahead. The complexity of the queso is great with the spicing and the perky brightness of the onions. The lime cream is essential—it gives just the right amount of cool relief. I left off the jalapeños as there is plenty of heat, and omitted the cilantro as my spouse is less fond of it than I am.
This recipe is such a keeper!