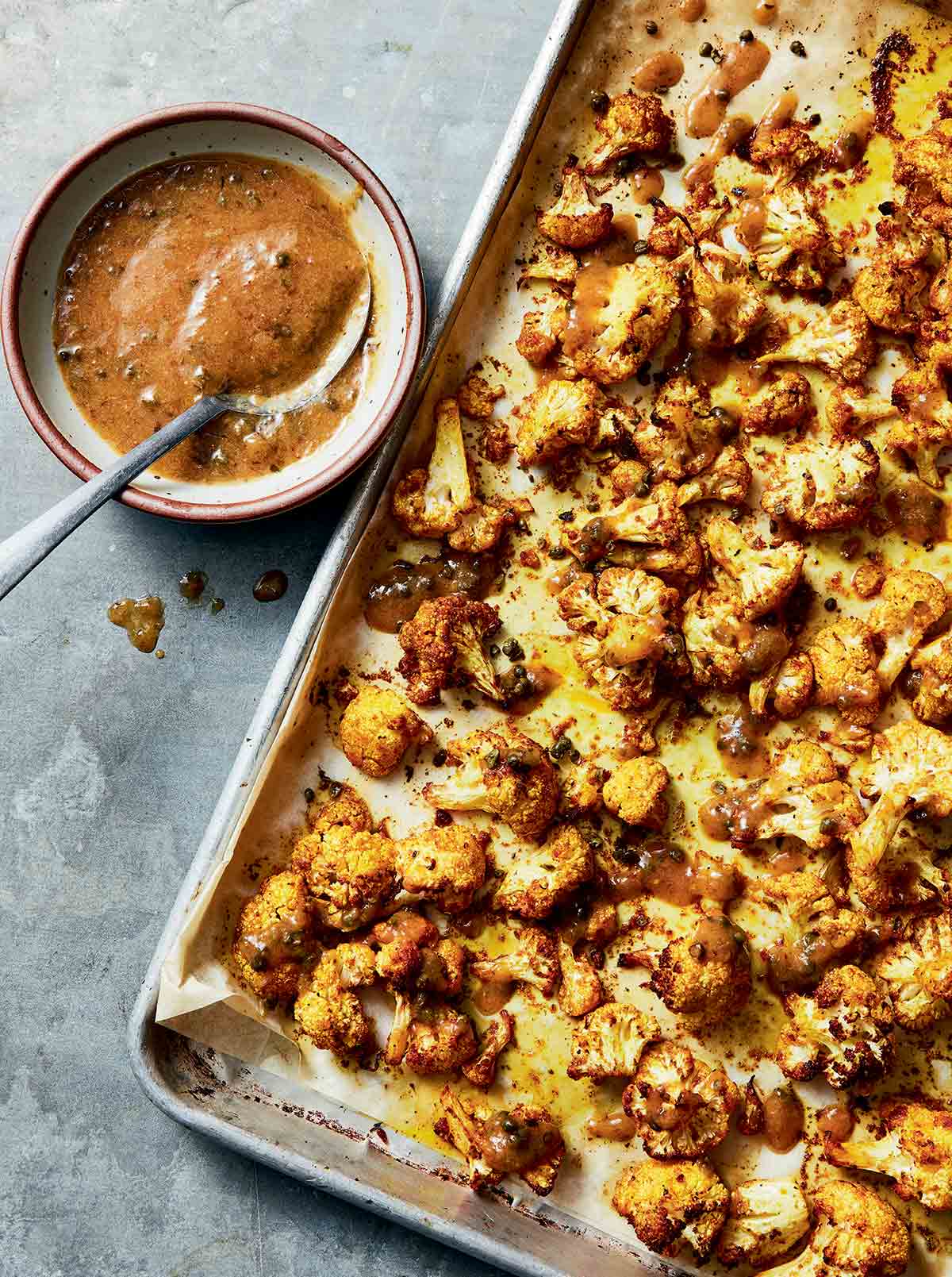 For hundreds of years between the ninth and eleventh centuries, Sicily was under Arab rule, the legacy of which is apparent today in the frequent use of ingredients like honey, pistachios, golden raisins, and cinnamon. We nod to that heritage in the flavor profile here, making a vibrantly spiced roasted cauliflower with a briny sweet-and-sour vinaigrette that hits all parts of your palate.—Angie Rito & Scott Tacinelli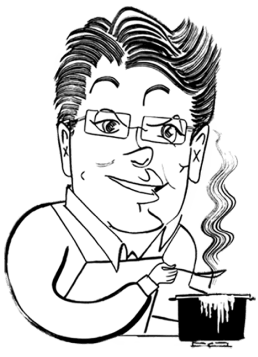 Why Our Testers Loved This
Our testers all agreed that the combination of earthy spices and tangy vinaigrette drizzled over crispy cauliflower florets made this Sicilian cauliflower recipe one that they'd make again and again.
Ruby F. really liked that it came together quickly and made use of pantry staples.
Notes on Ingredients
Ground fennel seed–Freshly ground fennel seed is preferable here since it adds so much flavor to the spice mixture. You can use a spice grinder or mortar and pestle to grind the seeds. If you only have ground fennel seed on hand, it will work fine, but the fennel flavor will be less pronounced.
Cauliflower–Choose a large, firm cauliflower without any soft or brown spots.
How to Make This Recipe
Preheat the oven to 450°F. Line two rimmed baking sheets with parchment paper.

Make the spice mixture. Combine all of the spices together in a bowl.

Combine the vinegar, honey, raisins, salt, and water and bring to a boil. Simmer until the raisins plump. Dump into a blender with olive oil and lemon juice and blitz until smooth. Add the capers.

Stir the olive oil into the spice mixture. Toss the cauliflower with the spice paste until thoroughly coated, then arrange it in a single layer on the prepared baking sheets.

Roast the cauliflower until golden brown and tender. Transfer to a serving platter and drizzle with the vinaigrette.
Recipe FAQs
How do I keep cauliflower from getting mushy when roasting it?
We know that it's a drag to have to wash more dishes than you need to. But in this case, using two sheet pans to spread out that cauliflower—rather than cramming it all onto one—will give you the crispy, roasted cruciferous veg of your dreams.
How do I cut and core a cauliflower?
The objective here is to waste as little as possible and to make sure that it all cooks evenly. Start by pulling off the leaves and cutting the cauliflower into quarters, from the top of the crown through the stem. Then, just lay the quarters on the cutting board and remove the florets from the core with angled knife cuts.
What should I serve with this Italian cauliflower?
As the authors suggest, this pairs well with a simple protein such as grilled meat or fish. Try grilled lamb chops or trout.
Helpful Tips
Store leftover roasted cauliflower in an airtight container in the refrigerator for up to 3 days. Reheat in a warm oven or in the microwave.
Serve leftover vinaigrette drizzled over salad greens, seared pork chops, or roasted lemon chicken.
This recipe is suitable for gluten-free and dairy-free diets.
More Great Roasted Cauliflower Recipes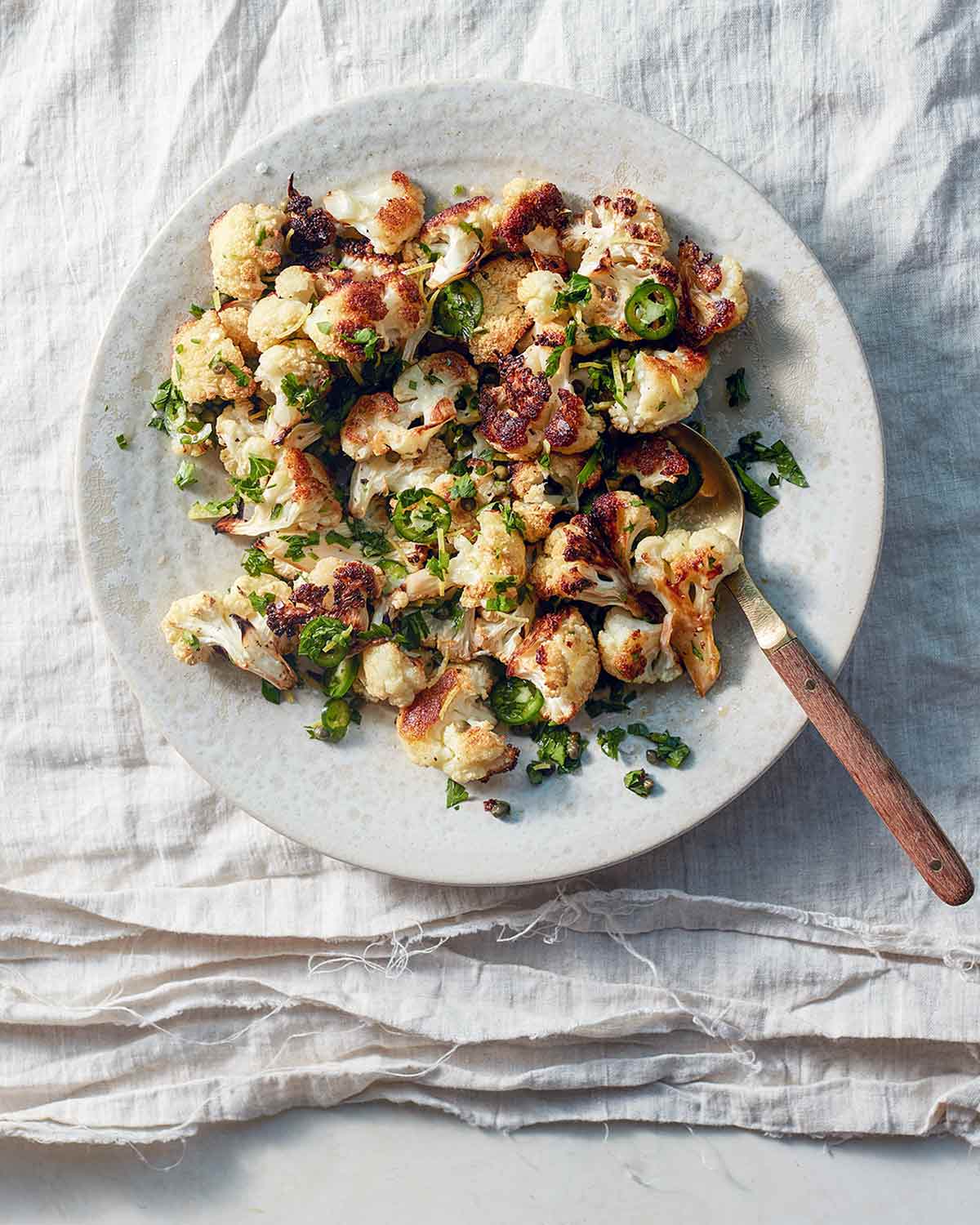 Write a Review
If you make this recipe, or any dish on LC, consider leaving a review, a star rating, and your best photo in the comments below. I love hearing from you.–David
Sicilian-Style Roasted Cauliflower
The result of all the earthy spices is a complex, eye-catching vegetable dish with a burst of bright color from the turmeric; it pairs best with simple mains, such as grilled meat or fish.
Ingredients
For the spice mix
1

teaspoon

kosher salt

3/4

teaspoon

ground turmeric

3/4

teaspoon

sweet paprika (preferably Hungarian)

3/4

teaspoon

freshly ground fennel seeds

1/2

teaspoon

dried oregano

1/4

teaspoon

ground cinnamon

1 1/2

teaspoons

granulated garlic

1/4

teaspoon

freshly ground black pepper
For the caper-raisin vinaigrette
1/3

cup

rice vinegar

1/3

cup

honey

1

teaspoon

kosher salt

2/3

cup

golden raisins

1/4

cup

water

1

tablespoon

fresh lemon juice

1/4

cup

extra-virgin olive oil

2

tablespoons

brine packed capers

,

rinsed, drained, and roughly chopped
For the cauliflower
1/4

cup

extra-virgin olive oil

2

pounds (about 1 large head)

cauliflower

,

trimmed into 2-inch (5-cm) florets

1/3

to 1/2 cup

caper-raisin vinaigrette
Instructions
Make the spice mix
Preheat the oven to 450°F (230°C). Line one or two rimmed baking sheets with parchment paper. You want enough space for the cauliflower to fit in a single layer.

In a large bowl, combine the salt, turmeric, paprika, fennel, oregano, cinnamon, granulated garlic, and pepper.
Make the caper-raisin vinaigrette
In a small saucepan over medium heat, combine the vinegar, honey, salt, raisins, and water. Bring to a boil, then reduce the heat to maintain a simmer and cook until the raisins soften and plump, about 1 minute.

Dump the mixture into a blender. Add the lemon juice and olive oil and blend on high until combined and smooth, about 30 seconds. Add the chopped capers and stir to combine. Leftovers keep for up to 1 week.
Make the cauliflower
Add the olive oil to the spice mix and whisk to combine. Add the cauliflower and toss thoroughly to coat the florets evenly.

Arrange the cauliflower in a single layer on the lined baking sheet(s) and roast until golden brown and fragrant and the thickest part of the floret can be easily pierced with the tip of a paring knife, 15 to 20 minutes.

Remove from the oven and move to a serving platter. Gently toss the cauliflower with 1/3 cup vinaigrette. Taste and add more vinaigrette, if desired.

Serve immediately. Leftovers keep, tightly covered in the refrigerator, for up to 3 days.
Notes
Storage–Leftovers can be stored in a sealed container in the fridge for up to 3 days.
Reheating–Warm up leftover cauliflower in a warm oven or in the microwave until heated through.
Dietary–This recipe is suitable for gluten-free and dairy-free diets.
Nutrition
Serving:
1
serving
Calories:
469
kcal
Carbohydrates:
56
g
Protein:
6
g
Fat:
28
g
Saturated Fat:
4
g
Polyunsaturated Fat:
3
g
Monounsaturated Fat:
20
g
Sodium:
1349
mg
Potassium:
923
mg
Fiber:
6
g
Sugar:
42
g
Vitamin A:
196
IU
Vitamin C:
112
mg
Calcium:
82
mg
Iron:
2
mg
Nutrition information is automatically calculated, so should only be used as an approximation.
Recipe © 2021 Angie Rito | Scott Tacinelli. Photo © 2021 Christopher Testani. All rights reserved.
---
Recipe Testers' Reviews
This Sicilian-style roasted cauliflower was one of those recipes that provided a lot of interesting flavours and satisfying texture, in not a lot of time. My cauliflower was extra-large, weighing in at 930 grams. My spice amounts still worked wonderfully but I did need a bit more vinaigrette.
In fact, by day two, the vinaigrette was all gone. I suspect it was because of its creaminess and tang, and not by fault of the recipe measurements.
You know how you're supposed to read a recipe at least 3 times before its execution? Don't be tempted to just skim through during preparation.
I slathered my cauliflower with the olive oil and then realized I was supposed to have made a paste. I then sprinkled my dry spice mix, and it generously coated every floret nook and cranny. In the end, I didn't feel that this affected the spice distribution or texture. I still had some darkened roasted bits and abounding flavour in each floret.
The colour, aroma, and flavour of this dish really did captivate all senses. I served mine as a starter on the first day.
The leftovers warmed up nicely in the microwave on the second day despite the dressing. I served these with more dressing and black lentils as a vegetarian option. This recipe will be making a come-back for sure.
Roasted vegetables in my kitchen typically involve, well, just roasting. What was new to me about this recipe for Italian roasted cauliflower was adding another layer of flavors after the vegetable comes out of the oven. Cauliflower and warm spices are great together, and in this recipe, the pairing marries well with the sweet and tangy vinaigrette, which is just perfect for clinging to the surfaces of the tender cauliflower.
I was happy to have some of the caper-raisin vinaigrette leftover because as soon as I tasted it I thought it would be wonderful with pork. The following day, I cooked thick-cut pork chops that were simply seasoned with salt and pepper, and served them with the reheated vinaigrette on the side—deeelicious!
This Italian roast cauliflower recipe takes cauliflower to incredible heights with flavors that will transport you as sweet and savory mix and mingle to create your new favorite side dish. The spice mix adds so much personality, and the vinaigrette delivers a luscious coating that you will want to put on everything after this.
It comes together quite quickly and uses pantry items you probably already have on hand, making it as accessible for weeknight cooking as it is worthy of a special occasion.
It is best served with simple accompaniments that really let the cauliflower sing, such as grilled meats or fish, and topping it on a bed of bitter greens contrasts the sweetness of the vinaigrette perfectly.
My only critiques are as much as I found the blending of the raisins in the vinaigrette an ingenious flavor hack, I would enjoy having some plump and golden jewels reserved for visual and textural contrast. Along that same thread, some fresh green herbs for garnish, parsley, or mint perhaps, would round out the flavors well and add a beautiful visual flair.
This is definitely a tester's choice and one I can see myself making again and again.