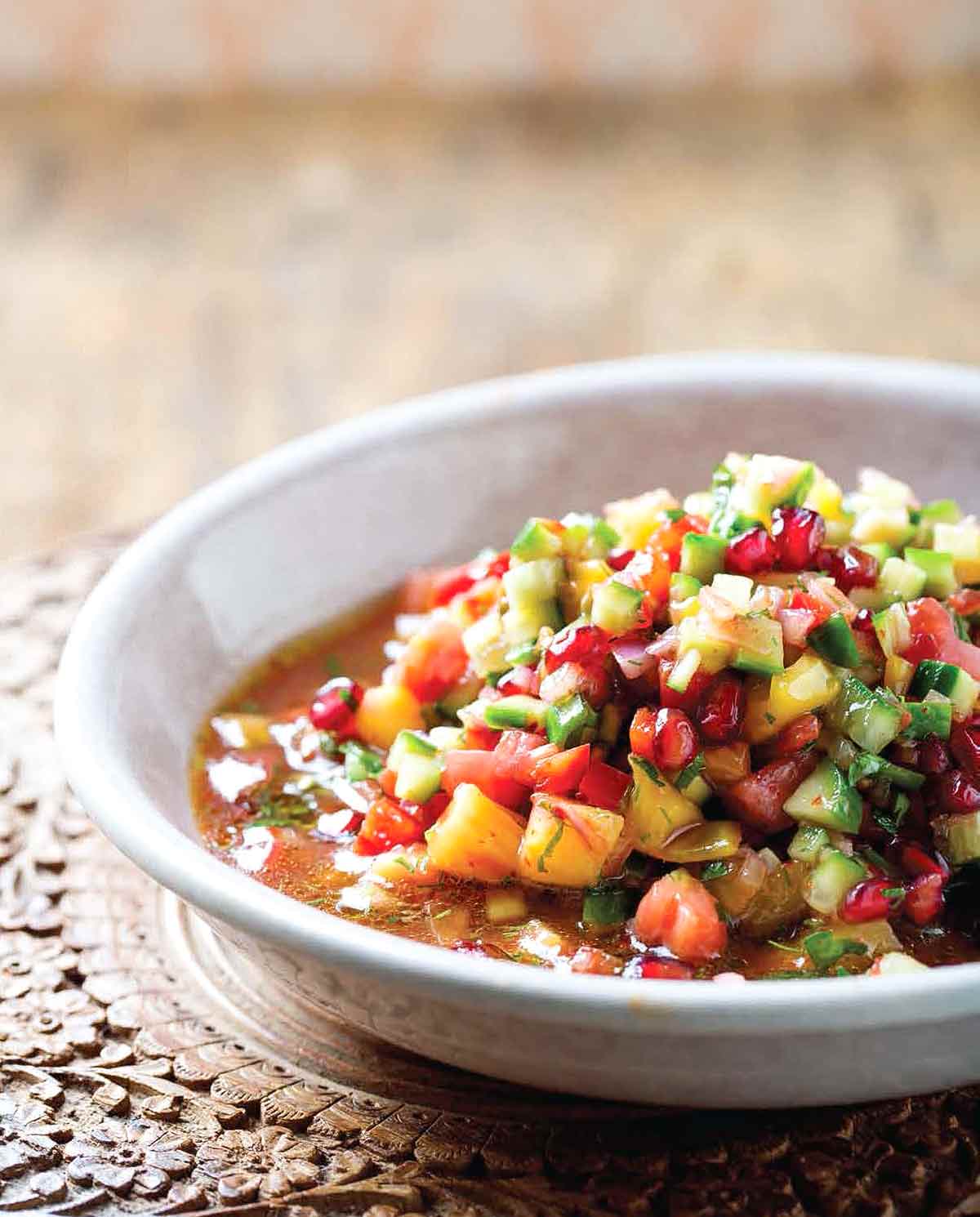 Adapted from Ana Sortun & Maura Kilpatrick | Soframiz | Ten Speed Press, 2016
There are a lot of opportunities to create different colors and textures in this salad by using yellow or orange peppers or a variety of heirloom tomatoes that might be in season in the early fall. If fresh pomegranates aren't available, you can leave them out or substitute finely chopped French breakfast or watermelon radishes. If it's summertime and hot, you can stir some ice cubes into the salad to quickly chill it and encourage more juices to form from the vegetables. It is delicious as is or served with yogurt, fried peppers, or grilled fish.—Ana Sortun & Maura Kilpatrick
Chopped Vegetable Salad with Pomegranate FAQs
What can I substitute for Aleppo pepper?
True Aleppo pepper hasn't been available since the crisis in Syria began. In southeastern Turkey, not far from the border of Syria, sweet oily Maras peppers thrive and are what is now imported and labeled as Aleppo pepper. You'll find a shaker of Maras red pepper flakes on the table in every kebab joint in Turkey. Bright red, brightly flavored, and oily, with a bittersweet, slow, mild heat, these peppers broaden all the other flavors in a dish. If you don't go through it as fast as we do, keep some on hand in the freezer. If you can't find either, you can make do with red peppers flakes.
What is pomegranate molasses?
Pomegranate molasses is a syrup made from the juice of sour pomegranates cooked down with a little salt and sometimes sugar. It's tart, sweet, and acidic and can be used in place of vinegar or lemon. Making it preserves the abundant pomegranate crops throughout the Middle East. Unfortunately, many commercial brands add too much sugar and coloring to offset the cost of labor and fruit. This pantry gem brightens a rich stew after it has been braised all day and adds intensity and acidity to meze dishes. It makes a wonderful dressing for fattoush and a great glaze for roasted lamb or chicken. Store in a cool, dark pantry once it's opened.
Chopped Vegetable Salad with Pomegranate
The ingredients for a spoon salad are chopped small so that they can be eaten with a spoon or on a leaf of romaine. Spoon salads remind me of traditional Spanish gazpachos in which, as the vegetables sit, they weep a beautiful clean vegetable juice that is delicious to slurp up or soak into pita bread.
Ingredients
1

pound (about 2 cups)

plum tomatoes

,

seeded and finely chopped

Kosher salt

1

small

red onion

,

minced, or 1/2 cup finely chopped scallions, mostly the white part

1

3 oz (about 1 cup)

Persian cucumber

,

halved, seeded, and diced small, or 1/2 large English cucumber

1

small (about 1/2 cup)

green bell pepper

,

stemmed, seeded, and diced small

4

to 6 tablespoons

extra-virgin olive oil

1 1/2

tablespoons

fresh lemon juice

1

tablespoon

pomegranate molasses

1/2

cup (3 oz)

pomegranate seeds (about 1/2 pomegranate)

1

tablespoon

chopped fresh flat-leaf parsley leaves

2

tablespoons

chopped fresh spearmint leaves

1

tablespoon

chopped fresh dill

1

teaspoon

Maras or Aleppo pepper

Freshly ground black pepper

8

romaine lettuce leaves

,

torn into large pieces (optional)
Instructions
Place the tomatoes in a fine sieve over a bowl and add 1/4 teaspoon of salt. Stir and let the water drain from the tomatoes for about 10 minutes.

In a large bowl, combine the onion, cucumber, green bell pepper, 4 tablespoons olive oil, lemon juice, pomegranate molasses, pomegranate seeds, parsley, mint, dill, and Maras pepper. Stir in the drained tomatoes. Taste, season with salt and pepper, and stir in the additional 2 tablespoons olive oil, if desired.

Serve at room temperature or chilled with the romaine leaves to scoop up the salad, if desired. The salad is best eaten the day it's made but it can be covered and stored overnight in the refrigerator.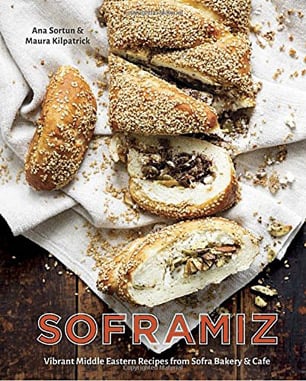 Nutrition
Serving:
1
servings
Calories:
206
kcal
Carbohydrates:
18
g
Protein:
3
g
Fat:
15
g
Saturated Fat:
2
g
Polyunsaturated Fat:
2
g
Monounsaturated Fat:
10
g
Sodium:
23
mg
Potassium:
614
mg
Fiber:
5
g
Sugar:
11
g
Vitamin A:
6297
IU
Vitamin C:
50
mg
Calcium:
54
mg
Iron:
1
mg
Nutrition information is automatically calculated, so should only be used as an approximation.
Recipe © 2016 Ana Sortun | Maura Kilpatrick. Photo © 2016
Kristin Teig
. All rights reserved.
---
Recipe Testers' Reviews
This chopped vegetable salad with pomegranate was such a refreshing, crunchy salad and delightful to look at as well! The combination of so many red and green vegetables, along with the vibrant pomegranate seeds seemed to shout 'Christmas'.
We've always loved gazpacho, and this was similar in texture, though the flavor profile was quite different, thanks to the variety of herbs and the sweet pomegranate molasses. The only thing we didn't love was trying to eat it with the romaine leaves. It was just a bit too wet and runny and the romaine couldn't quite stand up to it. I'd perhaps use endive, or just eat it with a spoon as the title suggests.
This chopped vegetable salad with pomegranate is crisp and tangy, with sour/sweet and a healthy mix that is perfect for holidays or year-round since you can swap seasonal ingredients. I had fresh pomegranates, and although heirloom tomatoes are fading from the markets, I did have decent Campari tomatoes (about 2-3" diameter). The only ingredient that presented a challenge was dill—it just isn't well appreciated in our kitchen, so I doubled the parsley. A generous hand with the Maras (also sometimes labeled Marash) and this was a great winter salad worth the chopping time.
It is very pretty as well as delicious. I was worried about how "wet" the salad was going to be, despite draining the excess tomato juices, so I added 4 tablespoons of the olive oil, tossed the salad with the other ingredients, and tasted, deciding that was enough.
This chopped vegetable salad with pomegranate took a little time to put together but was delicious with some fish and roasted vegetables. Pomegranate in a salad is one of my favorite winter additions. I made half a recipe as it was just my husband and me and I didn't want much leftover.
We ate the salad right away but I had some leftovers for lunch. It was still good but not as crunchy and fresh. This recipe seems very adaptable and would be even better with tomatoes that are in season.
Originally published December 6, 2021