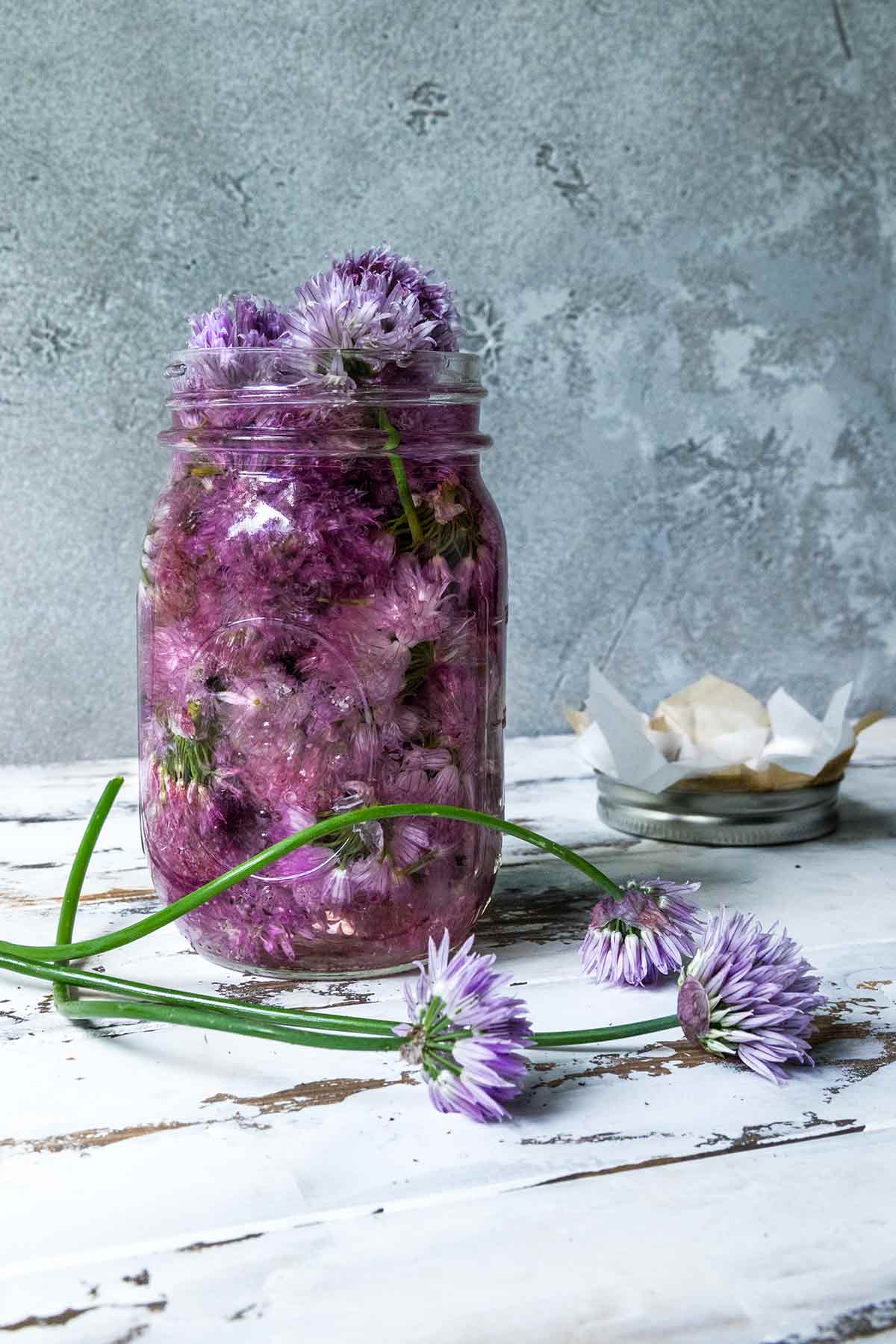 Chive blossoms are a bittersweet flower for me. Sweet because their lavender dandelion-like pompoms herald warmer weather–and after the blunt-force snowstorm we had last October, they certainly are a welcome sight. Bitter because our backyard garden bed has been the site of countless murders, our Devil Cat escorting less nimble animals to their maker.
Deaths aside, The One and I have grown chives for 15 years. At first, we used to hurry to eat them early in the season before their annoying puffs started to bud. We mistakenly thought the plants were spent when that happened, and so left them to the wildlife.
A few years later, we went to On Rue Tatin Cooking School, headed up by La Dame Susan Herrmann Loomis. One afternoon while I tossed a salad for the class, she pulled me into the herb garden and instructed me to pluck those puffy lilac blossoms.
"You mean you eat them?" I asked.
"Oh, David," she said, looking at me as if I were a mentally challenged cocker spaniel. "Bien sûr."
Since then, every May, The One and I practically pull our chairs up to the side of the garden and wait for the blossoms. Once they burst, we sprinkle them over green salads, spritz them on potato salads, and toss a single puff into a Gibson (when we have a Gibson lover visiting).
This year, inspired by my spate of DIY projects, we're steeping them in vinegar to lend a hint of onion to all kinds of dishes. And every time we shake the infusion on fries or make a vinaigrette, we say a little prayer for the dearly departed.
Notes on Ingredients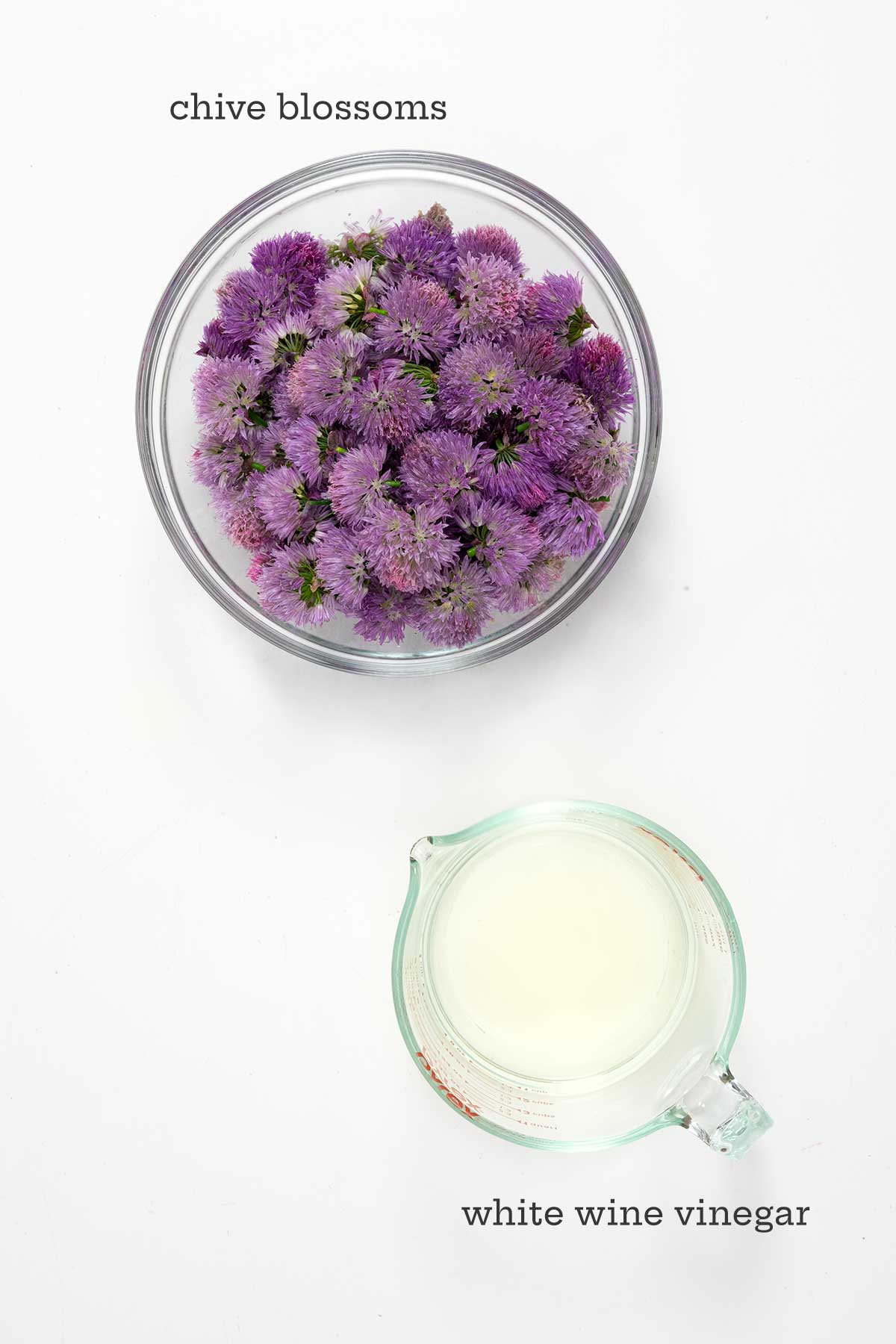 Vinegar–For the best flavor, use Champagne or white-wine vinegar.
Chive blossoms–These pretty purple flowers are best picked right after they've opened before they begin to fade. Don't include any of the stems in your vinegar.
How to Make This Recipe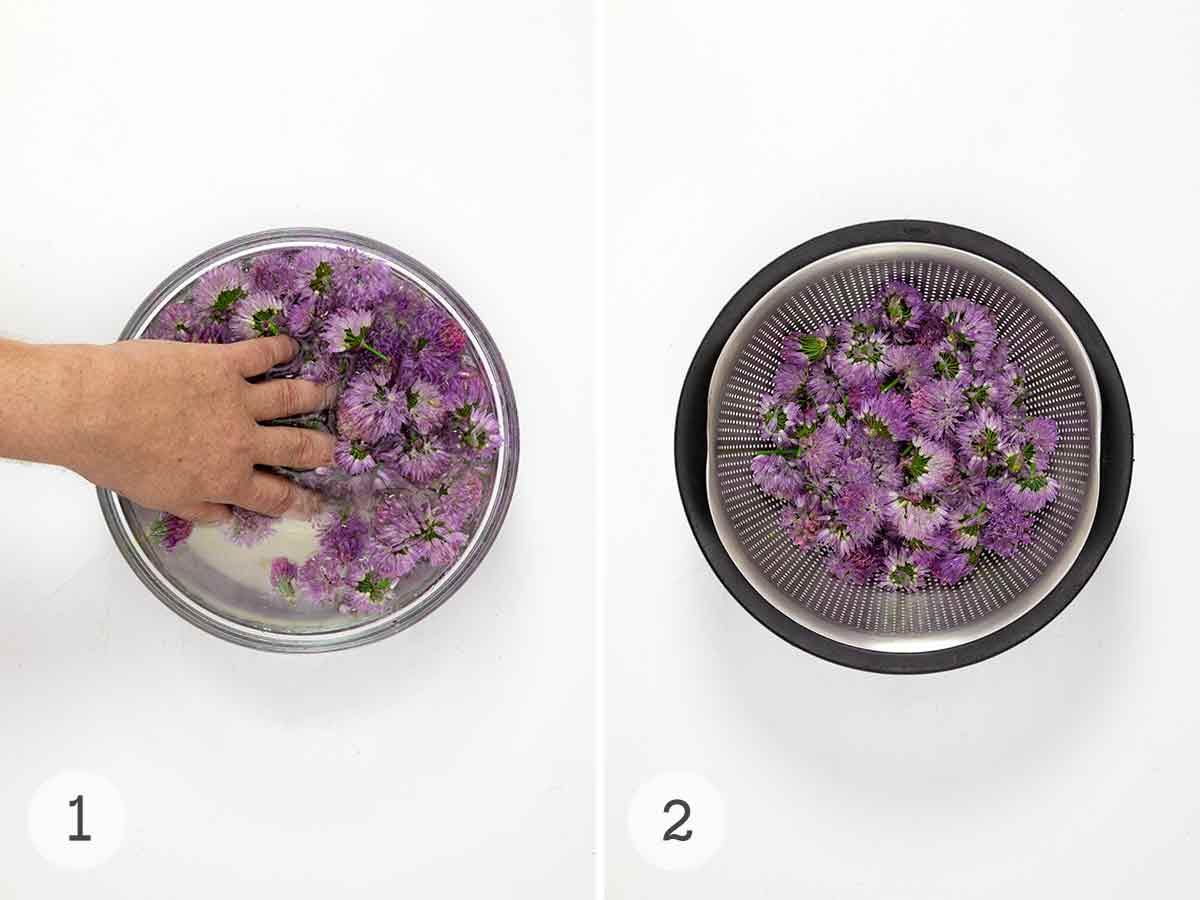 Place the chive blossoms in a bowl of cold water. Gently swish to remove any dirt.

Drain the flowers. Give the colander a firm tap against the sink to remove any extra water.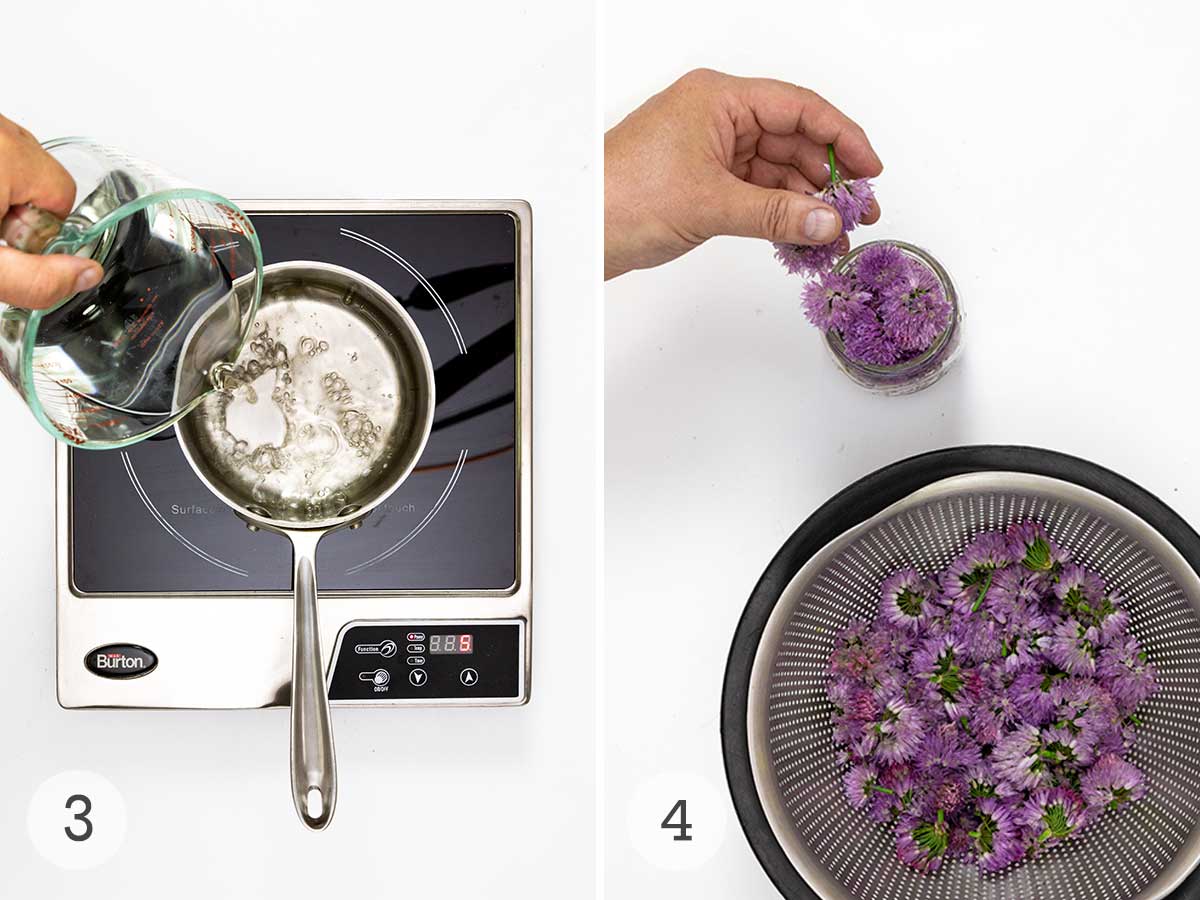 Heat the vinegar in a metal saucepan over low heat just until warm.

Transfer the chive blossoms to a jar.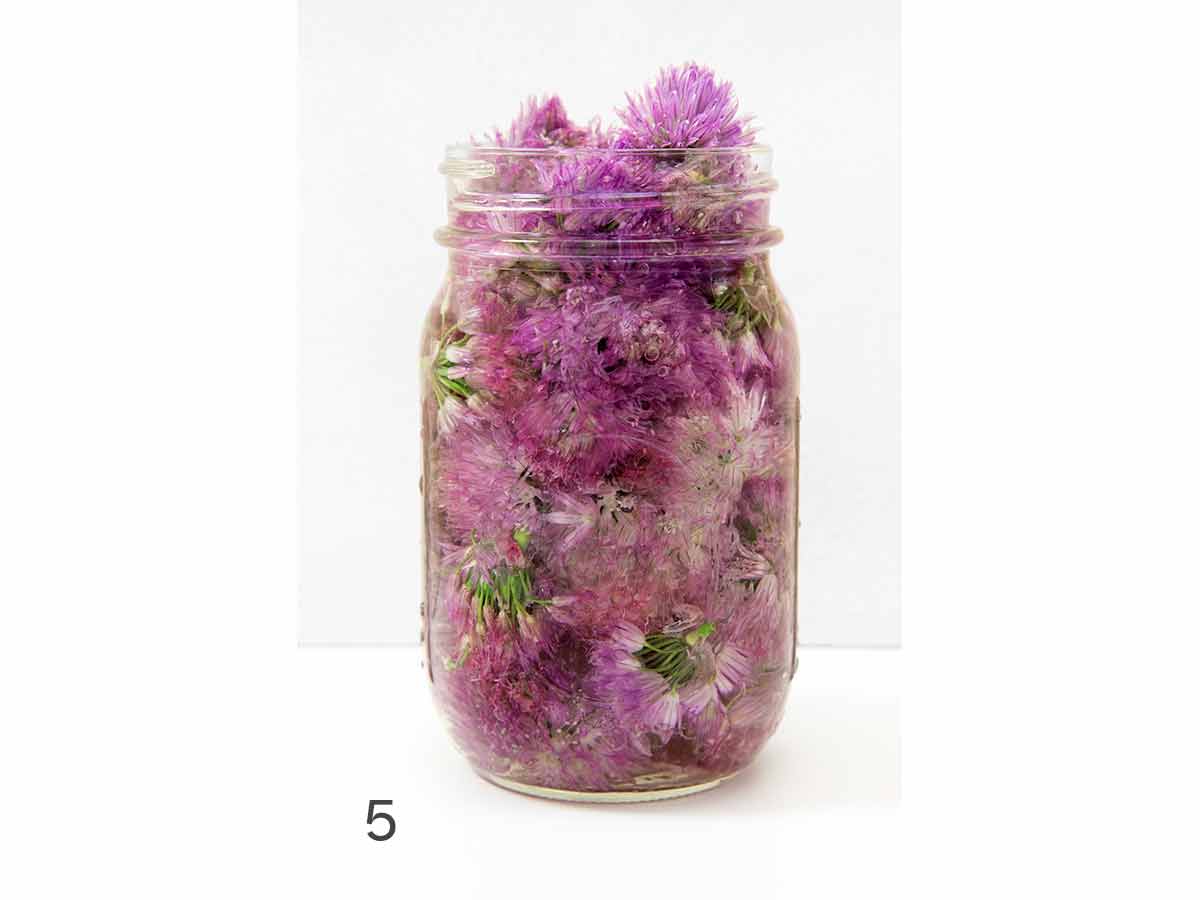 Pour the warm vinegar over the blossoms in the jar. Cool completely before covering and storing in a cool, dry place for two weeks.

Strain the vinegar into a clean jar.
Recipe FAQs
Do I need to refrigerate my infused vinegar?
No, refrigeration isn't necessary if you plan to use it within 3 months. Simply store in a cool, dark place, away from direct sunlight.

If you'd like to prolong the life of the vinegar, store it in the fridge for up to 8 months. The flavor of it will fade over time.
How should I use my chive blossom vinegar?
Use it anywhere you'd use white wine vinegar, particularly if you'd like a hint of onion flavor. It is particularly well-suited to salad dressings and marinades, and we love it in this marinated lentil salad.
when do chives blossom?
Chive plants bloom in late spring or early summer, depending on the region.
what else can i do with chive flowers?
Chive blossoms can be used any way you would typically use chives. Try adding them to a cheese omelet, tossing them into a salad, or mixing them with butter to create a stunning compound butter.
Helpful Tips
Plastic canning lids or self-sealing jars with rubber rings also work well for storing the vinegar while it infuses.
This chive flower vinegar makes a wonderful homemade food gift.
Write a Review
If you make this recipe, or any dish on LC, consider leaving a review, a star rating, and your best photo in the comments below. I love hearing from you.–David
This was such a beautiful way to use my chive blossoms before they faded away! It's a great thing to dress up salads, and the color is just SO pretty. Thanks for this recipe!

ashley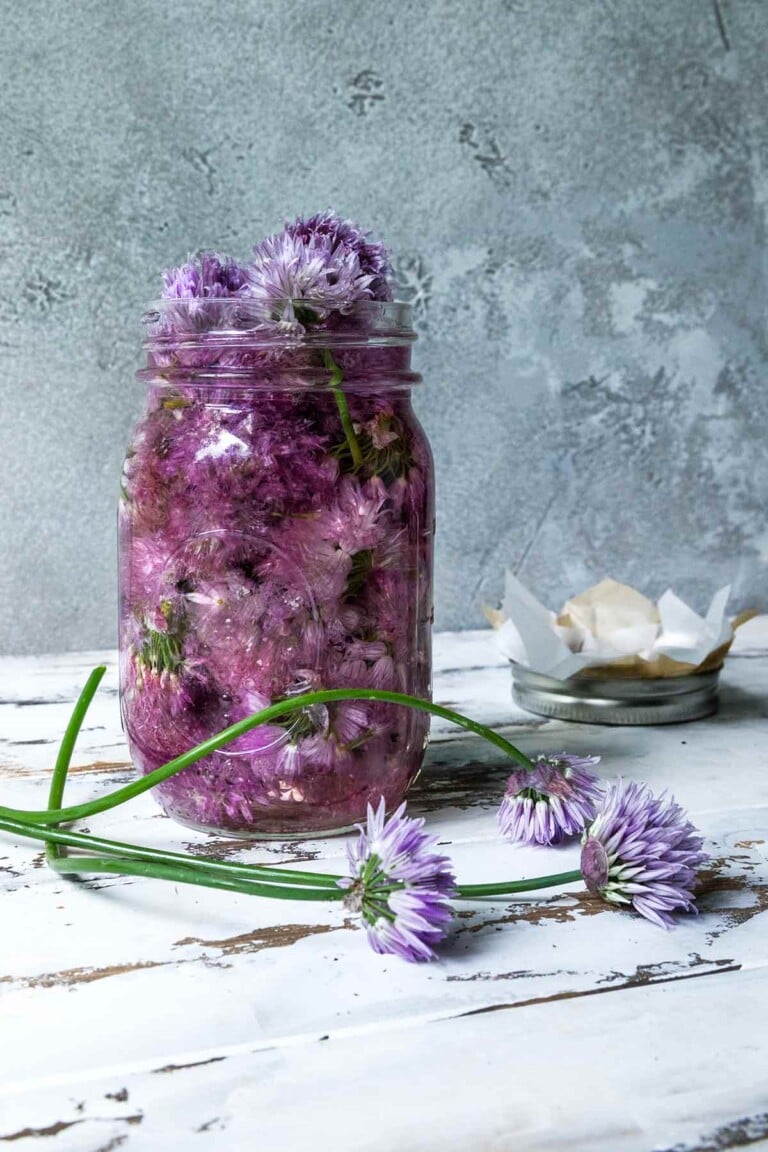 Chive Blossom Vinegar
It's easy to make sweet, delicately flavored chive blossom vinegar. The blossoms are cleaned and placed in canning jars, and warm white-wine vinegar is poured over. Once cooled, the vinegar is left in a cool dark spot to infuse and turn a blushy-pink.
Equipment
a sterilized 1-pint canning jar
Ingredients
1 1/2

cups

Champagne or white wine vinegar

2 1/2

cups

chive blossoms

,

snipped right beneath the head
Instructions
Heat the vinegar in a small saucepan over low heat until just warm. Keep an eye out so that it doesn't boil; you want the warmth of the vinegar to seduce the coy, subtle flavor out of the blossoms, not immolate them.

Meanwhile, plunge the flowers in a bowl of cold water and gentle swish them around to flush out any dirt and bugs that have taken up residence. Dump the flowers into a colander and thwack it against the side of the sink to shake off the excess water.

Stuff the pint jar with the blooms. Don't be too Martha about this. It's okay if the blossoms get crushed a bit.

Pour enough of the warm vinegar into the jar just to submerge the blossoms, using a metal spoon to push down any errant blooms that want to float up over the top. You might not need all of the vinegar.

Let the vinegar cool, then place a square of parchment paper over the opening of the jar and screw on the top. You want to make sure the vinegar doesn't come in contact with the metal lid, as the acid will erode the finish of the cap and do nasty things to the taste of your infused vinegar. Of course, you can make short work of this by using a glass-lidded canning jar–I just can never find them. Place the container in a dark, cool spot that's so hidden you'll forget about it. This infusion benefits from a long steep–1 to 2 weeks minimum. Trust me, the vinegar will bless you abundantly for your patience–or your forgetfulness.

When you're happy with the chive-y strength of the brew, strain it through a fine sieve and toss the spent blossoms. Pour the vinegar into your favorite (preferably glass) sterilized bottle with a rubber stopper and display prominently. Its hue–the blush of a very embarrassed Rosé–is a great conversation starter. Just don't forget to use it.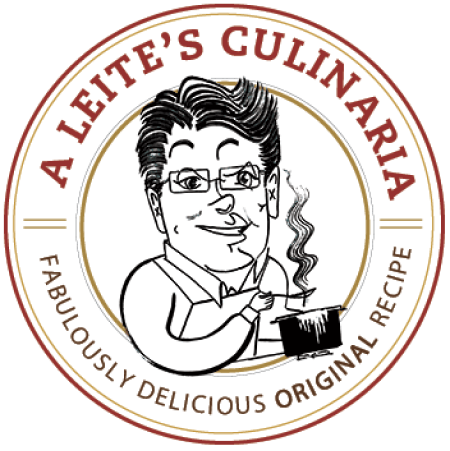 Nutrition
Serving:
1
tablespoon
Calories:
4
kcal
Carbohydrates:
1
g
Protein:
1
g
Fat:
1
g
Saturated Fat:
1
g
Polyunsaturated Fat:
1
g
Monounsaturated Fat:
1
g
Sodium:
1
mg
Potassium:
18
mg
Fiber:
1
g
Sugar:
1
g
Vitamin A:
181
IU
Vitamin C:
2
mg
Calcium:
5
mg
Iron:
1
mg
Nutrition information is automatically calculated, so should only be used as an approximation.
Recipe © 2012 David Leite. Photos © 2023 David Leite. All rights reserved.
---