When I first opened Sullivan Street Bakery, with Roman baking in mind, this slightly pungent olive bread immediately became my signature loaf.
For this no-knead olive bread recipe, any pitted olive will yield something worth eating. (You don't want to go to the trouble of pitting them yourself, because it is tedious and the results will not be as neat.) But what I turn to most often are pitted kalamata olives soaked in a pure salt brine—nothing else, just salt. A commonly available kalamata that I'm very fond of is made by Divina and can be found at many supermarkets and gourmet stores. You might think that because they're black they will change the color of the bread, but they won't, unless you carelessly dump some of the brine into the dough. Green Sicilian colossals, sometimes called "giant" olives, packed in pure salt brine, are another good option; they're often available at Italian food stores. As a result of the brine the olives release during baking, this recipe calls for no salt.–Jim Lahey
LC What Jim Lahey Has To Say Note
Curious what famed breadmaker Jim Lahey has to say about his olive bread? On the Sullivan Street Bakery website, he describes it as possessing "a golden brown crust and an open, airy crumb with large pieces of green olive. Slightly sour with an intense olive flavor." (Did anyone else just go wobbly in the knees?) We're ogling this olive bread recipe as a conversation-starting nosh with wine prior to a dinner party, as an idyllic accompaniment to a cheese plate, or as just an all-around pass-it-at-the-table-and-grab-a-hunk type of bread. We're crossing our fingers for leftovers, too, seeing as we think a slice or two of this would be inspired in grilled cheese, as a base for bruschetta, even as croutons. Stay tuned…
Jim Lahey's No-Knead Olive Bread
Quick Glance
15 M
1 H, 15 M

Makes one 10-inch round loaf
Print Recipe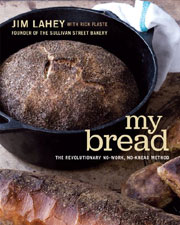 Ingredients
3 cups bread flour

About 1 1/2 cups roughly chopped pitted olives

3/4 teaspoon instant or other active dry yeast

1 1/2 cups cool (55 to 65°F) water

Wheat bran, cornmeal, or additional flour, for dusting
Directions
1. In a medium bowl, stir together the flour, chopped olives, and yeast. Add the water and, using a wooden spoon or your hand, mix until you have a wet, sticky dough, about 30 seconds. Cover the bowl and let sit at room temperature until the surface is dotted with bubbles and the dough is more than doubled in size, 12 to 18 hours.

2. When the first rise is complete, generously dust a work surface with flour. Use a bowl scraper or rubber spatula to scrape the dough out of the bowl in one piece. Using lightly floured hands or a bowl scraper or spatula, lift the edges of the dough in toward the center. Nudge and tuck in the edges of the dough to make it round.

3. Place a tea towel on your work surface and generously dust it with wheat bran, cornmeal, or flour. Gently place the dough on the towel, seam side down. If the dough is tacky, dust the top lightly with wheat bran, cornmeal, or flour. Fold the ends of the tea towel loosely over the dough to cover it and place it in a warm, draft-free spot to rise for 1 to 2 hours. The dough is ready when it is almost doubled. If you gently poke it with your finger, it should hold the impression. If it springs back, let it rise for another 15 minutes.

4. Half an hour before the end of the second rise, preheat the oven to 475°F (245°C), with a rack in the lower third. Place a covered 4 1/2-to-5 1/2-quart heavy pot in the center of the rack.

5. Using pot holders, carefully remove the preheated pot from the oven and uncover it. Unfold the tea towel and quickly but gently invert the dough into the pot, seam side up. (Use caution—the pot will be very, very hot). Recover the pot and bake for 30 minutes. Remove the lid and continue baking until the olive bread is a deep chestnut color but not burnt, 15 to 30 minutes more. Use a heatproof spatula or pot holders to gently lift the bread from the pot and place it on a wire rack to cool thoroughly before slicing.
Recipe Testers Reviews

This Jim Lahey bread is absolutely STUNNING, from the crunchy, dark crust to the shiny crumb with nice, big holes. I used green and black olives and I also took the liberty of grinding some fresh rosemary from our garden and kneading it throughout the dough. The dough had more than doubled in about 10 hours, but if you wait a few extra hours, the flavors will be WONDERFUL. I also recommend patience in leaving the lid on the Dutch oven for the entire 30 minutes. The idea behind Jim Lahey's method is to create a soft, airy crumb surrounded by a CRUNCHY, dark, almost nutty crust. Take your time and adjust for the depth of color AFTER the first 30 minutes when you remove the lid. My oven browns things quickly, and I checked the loaf after 15 minutes uncovered and it still needed another 5 minutes to reach perfection. As the loaf cools, listen to it crack and groan and enjoy the wonderful scent of olive and wheat while patiently waiting for the loaf to cool enough to slice. Take your time with this recipe and you will reap RICH rewards.

This is an easy-to-make bread with simple ingredients that doesn't require a lot of expertise to put together. I liked that I could assemble the dough and let it rise overnight and during the day. It also freezes well.

I'm an experienced bread baker and used to teach bread-making. This olive bread recipe was so fool-proof, simple to make, and delicious that I will definitely make it again and again. It's an especially good recipe for a neophyte to breakmaking. It had an excellent crust and crumb structure. The recipe calls for baking it 30 minutes covered and then 15 to 30 minutes uncovered, until it's a deep chestnut color. When I uncovered it after the initial 30 minutes and tested it with an instant-read thermometer, it had already reached 190°F, which is when bread is fully done. I'd suggest checking it after about 20 minutes and then uncovering it.
Jim Lahey's No-Knead Olive Bread Recipe © 2009 Jim Lahey. Photo © 2009 Squire Fox. All rights reserved. All materials used with permission.
If you make this recipe, snap a photo and hashtag it #LeitesCulinaria. We'd love to see your creations on Instagram, Facebook, and Twitter.