These gratin recipes are creamy, cheesy, and by far the most comforting way to take your daily dose of vegetables.
Old-fashioned potato gratin, or potatoes au gratin if you want to be technical about things, is a traditional, indulgent, frugal manner of keeping yourself warm come cold weather. We've never been so grateful for winter.
Recipe
Belgian endive gratin is a classic French dish. Endive and prosciutto (or ham) are covered in cream and topped with cheese and bread crumbs. It makes a wonderful cold-weather comfort dish.
Recipe
This asparagus and Asiago gratin couldn't be quicker or easier. Asparagus is roasted in the oven and then bread crumbs, lemon zest, cheese, and parsley are sprinkled over the asparagus and roasted just until everything is crisp and buttery and lightly browned.
Recipe
This root vegetable gratin, made with turnips, rutabaga, celeriac, and potatoes that are cooked in a cheesy cream sauce, tastes so comforting and indulgent you'll find it hard to believe it's full of vegetables.
Recipe
This sweet potato gratin recipe is made with russets, cream, cheese, and sage. A perfect Thanksgiving side dish.
Recipe
This fennel potato gratin, made with layers of thinly sliced fennel and potatoes, and a thick creamy white Cheddar sauce, is one of the most comforting side dishes we've ever experienced.
Recipe
This macaroni au gratin is no ordinary macaroni and cheese. Not at all. It's still pasta in cheese sauce but blanketed with a layer of ooey, gooey blend of three cheeses. Easy and on the table in less than an hour.
Recipe
Celery root, perhaps one of the ugliest looking vegetables on the planet, gets a makeover in this luscious gratin.
Recipe
Broccoli and blue cheese gratin is a simple comforting casserole that makes the perfect Thanksgiving side dish.
Recipe
This cheesy pumpkin potato gratin is a perfect holiday side dish that layers tender potatoes with a creamy delicate pumpkin sauce that gives the dish a burnished autumn color. And with two types of cheese, how can you miss? Speaking of cheese, you can replace the Gouda with more Cheddar, or vice versa, if you wish.
Recipe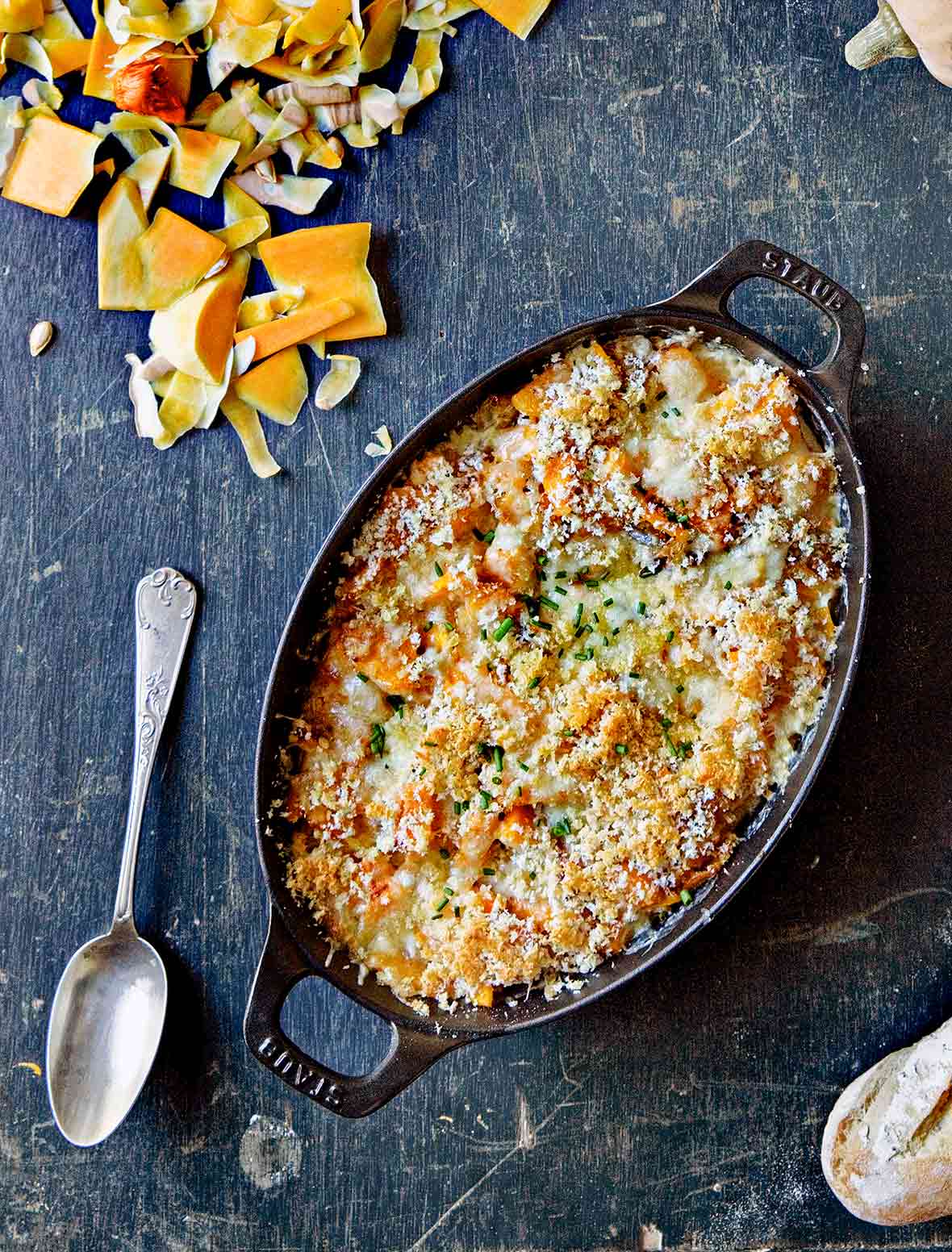 This butternut squash gratin is a lot like like a scalloped potato casserole except it's made with winter squash instead of spuds along with onions, garlic, butter, heavy cream, cheese, and bread crumbs. A simple–and simply elegant–side for Thanksgiving as well as a random weeknight.
Recipe
For this great Thanksgiving side dish, Brussels sprouts are nestled in a cheese sauce that bubbles brown when baked. Even the kids will love 'em.
Recipe
This creamy Parmesan potato gratin is a rich and creamy side dish made with potatoes, butter, cream, cheese, nutmeg, and thyme. Not only is it satisfyingly indulgent, but you can make it ahead of time, making it a godsend for entertaining or harried weeknights.
Recipe
© 2020 Leite's Culinaria. All rights reserved. All materials used with permission.