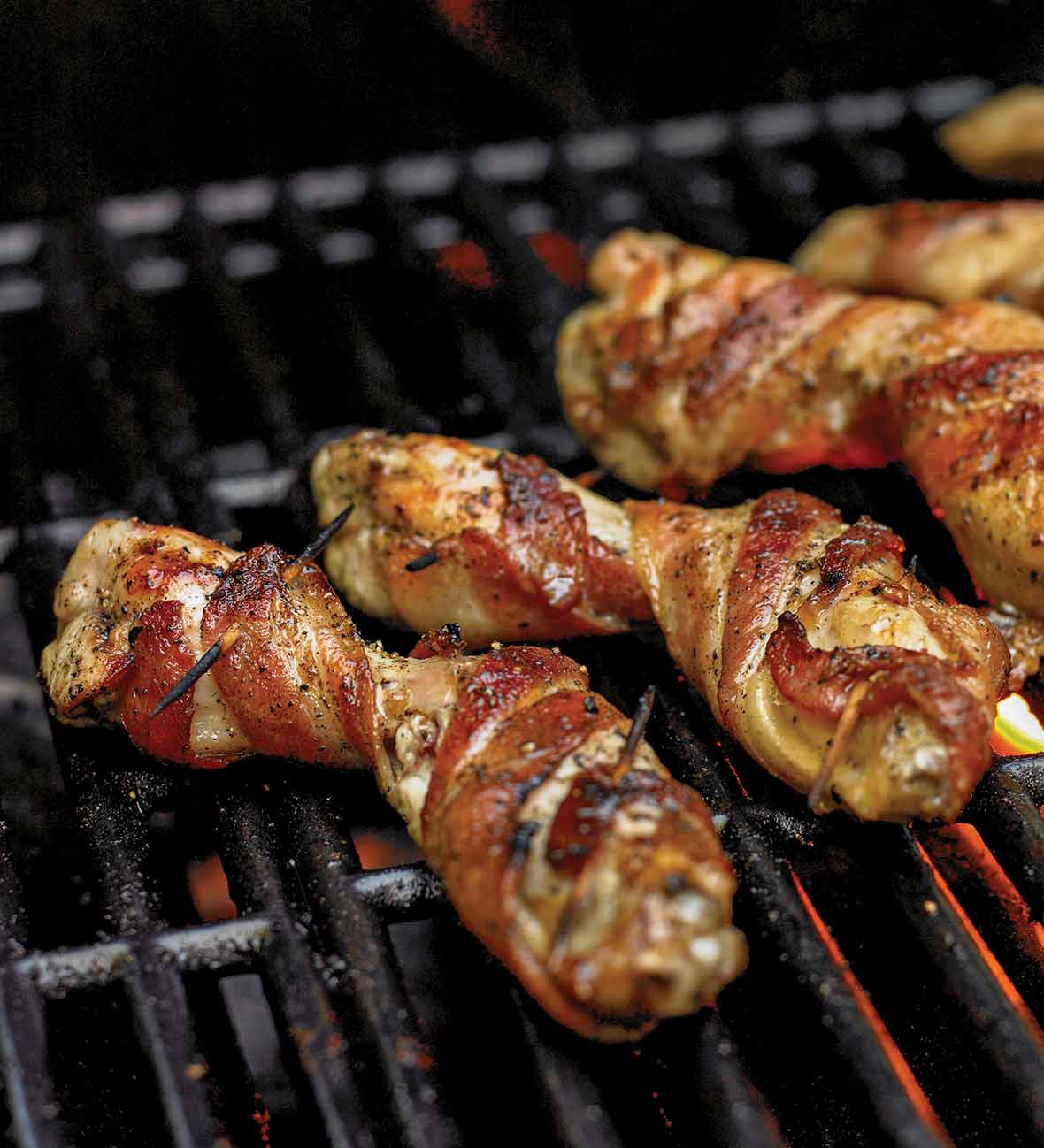 The thing that amazes me about this chicken wing recipe is that I got to this point in my life without thinking of it before. It's just a natural for the grilling carnivore because, as we all know, everything tastes better wrapped in bacon. So you simply straighten out the chicken wing, wrap it in bacon, and cook it slowly until the bacon is cooked. Magically, the chicken wing is done perfectly at the same time—like some kind of cosmic convergence. Makes you think that these two meats were meant to be together and we just never figured it out before. For me, just a little pepper is all they need, but if you'd like to brush them with a little barbecue sauce during the last few minutes or splash a little hot sauce on before eating, I think either would work well. It would be hard to do anything that would hurt this wonderful combination.–Ray Lampe
LC Behold, The Beauty of Bacon Note
There's a time and place for slabs of ridiculously thick-cut, smoky-to-the-point-of-choke-inducing bacon. This isn't it. This is the time and place for restraint, for daintily thin-sliced, only-mildly-smoked-not-even-to-the-point-of-cough-inciting bacon. Trust us. That's what you want wrapped around your wings before you toss them on the grill and step back as piggy perfection slowly imbues those benign little poultry wings. Behold, the beauty of bacon.
Bacon-Wrapped Chicken Wings Recipe
Quick Glance
30 M
1 H, 30 M

Serves 10
Ingredients
10

fresh whole

chicken wings

10

slices

thinly sliced bacon

Freshly ground black pepper
Directions
1. Soak at least 20 toothpicks in water for an hour.

2. With a sharp knife, cut the tips off the chicken wings and save them for stock. Slash the inside of the wing joint but don't cut all the way through. You just want to help them cook more evenly. Working with 1 wing at a time, straighten it and then wrap it with a slice of bacon, starting at the top and spiraling to the bottom. Secure it with a couple of toothpicks. Season the bacon-wrapped wings liberally with the pepper.

3. Prepare the grill for cooking over indirect heat. Grill the wings for 30 minutes. Flip and cook for another 30 minutes, until the bacon is crisp and the wings are fully cooked. (In what can only be acknowledged as a serendipitous act on the part of the universe, the two are done at almost the exact same instant.) Transfer the wings to a platter and let rest for 5 minutes.

4. You may serve the wings whole or you could serve them in individual segments by cutting them apart, taking care to keep the bacon in place. Remove the toothpicks and serve.
Hungry for more?
Chow down on these:
Bacon-Wrapped Chicken Wings Recipe © 2010 Ray Lampe. Photo © 2010 Leigh Beisch. All rights reserved.
Hey, there. Just a reminder that all our content is copyright protected. Like a photo? Please don't use it without our written permission. Like a recipe? Kindly contact the publisher listed above for permission before you post it (that's what we did) and rewrite it in your own words. That's the law, kids. And don't forget to link back to this page, where you found it. Thanks!