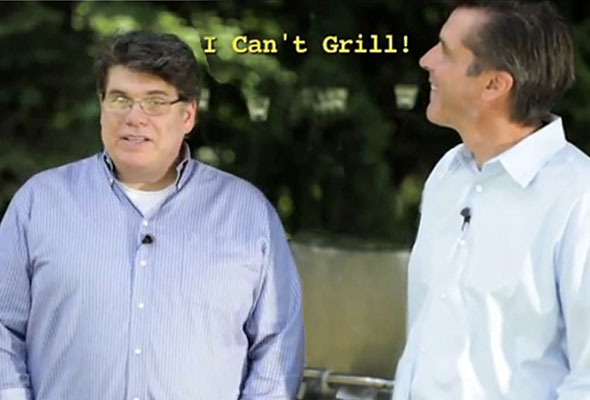 In  chapter two of  the continuing saga of my backyard grilling session with Jamie Purviance, I learned the tricks and subtleties of making a rotisserie chicken. The reason I insisted Jamie divulge all of his poultry pointers is that The One and I have been devouring rotisserie chickens (AKA RoChix) from Citarella in New York, two blocks from our apartment, for years. They're so tender and packed with flavor, we knew we had to figure out how to cook them—even better.
After tucking into RoChix from other places for comparison, one major difference surfaced: Citarella brines their birds. So that's what we wrassled with first. We tried all kinds of combinations of herbs and spices, as well as varying salt amounts, until we finally hit upon what comes closest to (and some of our NYC guests swear is even better than) Citarella's: lots and lots of thyme, a handful of garlic cloves, a bit of rosemary, a pittance of whole black peppercorns, salt, and sugar. (Interestingly, Jamie commented that adding sugar is unusual for chicken brining, but we found that it helps give the bird an incredibly crispy golden-brown skin.)
After we seared the brine recipe into our brains, we began knocking these suckers out of the oven left and right. But we realized a lot of chicken-y goodness was being left in the pan. (We took a page from Ina Garten's book—literally—and tossed homemake croutons with the pan drippings to great affect and copious rounds of applause.) But still that didn't solve our dilemma: The more fat and juices that dripped off the chicken into the pan, the less juicy and flavorful the bird. Plain old physics, right?
Weber Summit S-670, I made sure it was kitted out with a rotisserie.
On the appointed day, with rotisserie saber in hand and forks at the ready, Jamie showed me how to truss the chicken, slide it onto the saber, secure it with the forks, and let it rip. Because it's a horizontal rotisserie, it bastes the bird in a continual bath of goodness from stem to stern as it rotates.
After about two hours in the Weber "sauna of flavor," theRoChix was evenly cooked, bursting with juices, and had crispy, beautifully browned skin. And this was no one-off. Since Jamie's visit, The One and I have made RoChix again and again and again—to even greater applause. (Flowers have yet to be thrown at my feet, though.) While the bird is resting on the cutting board, all that's needed is to pop an excellent bottle of wine, grill some veg-edibles, drag the table into the middle of the backyard, and dinner is served.
P.S. All right, I'll admit it, I'm showing off a bit here. (But you would, too, if you had a rotisserie worthy of the gods.) I can assure you don't need one to make fabulous grilled chicken. Try Bacon-Wrapped Chicken Wings, Grilled Chicken and Red Onion Quesadillas, Grilled-Roasted Chicken. But do yourself a favor and brine it first. It makes a whopping difference.