For this grilled roasted chicken, a little smoked paprika, chili powder, butter, and salt and pepper are all it takes to make a sensational dinner. Crisp and insanely flavorful skin. Tender, juicy meat.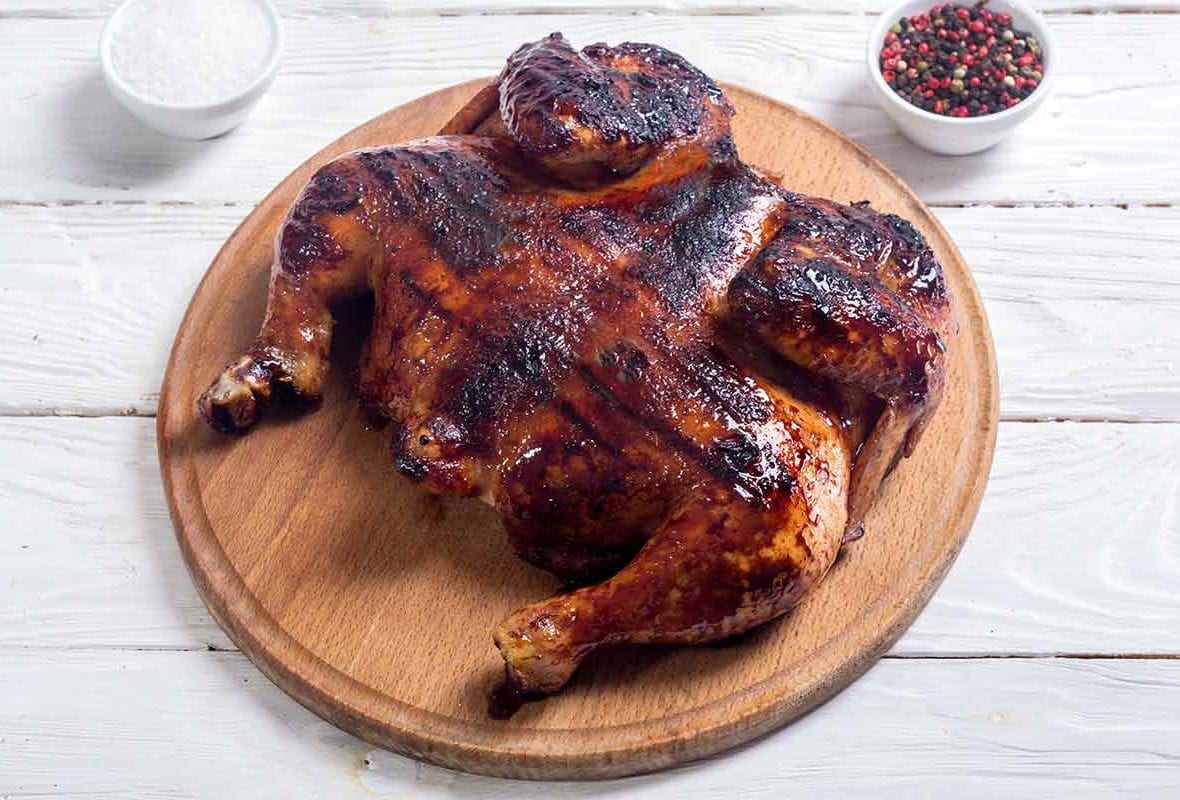 As most of you know, there tends to be a little guesswork involved while standing at the grill. This grilled roasted chicken recipe sidesteps that by relying on covered grilling, which dispels a lot of the guesswork in terms of how high a flame and how long to leave something over the flame by essentially turning your grill into an oven. As such, a steady temperature can be maintained even on a grill. And yes, this recipe for grilled roasted chicken offers actual specific temperatures and times that you can easily approximate. How easy is that?!–Cheryl and Bill Jamison
Grilled Roasted Chicken
Quick Glance

(2)

10 M
2 H, 45 M
Serves

2

to 4
Print Recipe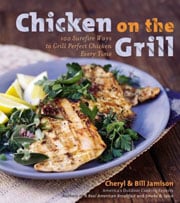 Ingredients
Email Grocery List
Directions
Print Recipe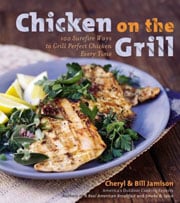 Recipe Testers Reviews

This is an excellent grilled roasted chicken recipe. Rubbing the spices under the skin in addition to putting them on and in the chicken added an extra zip to the recipe. The chicken cooked up juicy and flavourful with a very nice, crispy skin.

This was a quick, simple roasted chicken recipe to put together with tasty results. The ingredients for the rub are spice-rack staples, no need to rush out to the store for extra ingredients. The chili powder gave a little bit of bite that gives this recipe a different taste than most other grilled chicken recipes. The indirect grilling produced moist chicken with a crisp skin.

It was effortless and straightforward. No fuss and absolutely delicious. I think if I served this for a dinner party my guests would think I spent way more time and effort. The skin was tasty, crisp, and not too spicy.
I always start by cleaning a whole bird (any bird I make) with salt and wine vinegar in the cavity and body, rinse well with cold water, and dry. It makes the skin nice and crispy. I was taught to do this always by my grandmother. I think maybe because she used to buy a chicken in the outdoor market where they would butcher it right there. I just automatically do it that way, not even something I think about. Given the crazy in the world, that may not be the worst idea. LOL Then I simply followed the recipe. It's foolproof, actually. I often save empty spice jars. I liked this and want to use it again so I made up a batch, put it in a recycled spice jar, and labeled it. I used coarse kosher salt. I find I use that or the Morton's Sea Salt when I want things a bit milder.
My only issue was that my Weber Gas Grill wouldn't get exactly up to 400°F. I gave up after an hour and just put the chicken on. The temp I got to was 375°F. I left it there for 40 minutes then flipped it over. I didn't really have to make any major adjustments to get it down to 350°F. I left it on for about 45 minutes more. Here's where knowing your grill is essential. It's tricky if you don't but I found I didn't need to worry if the temps and timing weren't exactly exact. You just want a nice crispy skin and for it to be done on the inside. You want the meat to be fully cooked and your skin not burnt. So I let it go and take as long as it needed. I found that if you let it cook a little too long, it will start to dry out. Luckily, I caught it before that happened.
My husband is not a spice person. He would have preferred maybe a little less kick. I think I would go a little easier on the fresh ground black pepper for him next time. I think the other spices are perfect especially when they mix with the butter and the crispy skin. It mellows them.
Grilled Roasted Chicken Recipe © 2004 Cheryl and Bill Jamison. Photo © 2004 whitestorm. All rights reserved. All materials used with permission.
If you make this recipe, snap a photo and hashtag it #LeitesCulinaria. We'd love to see your creations on Instagram, Facebook, and Twitter.