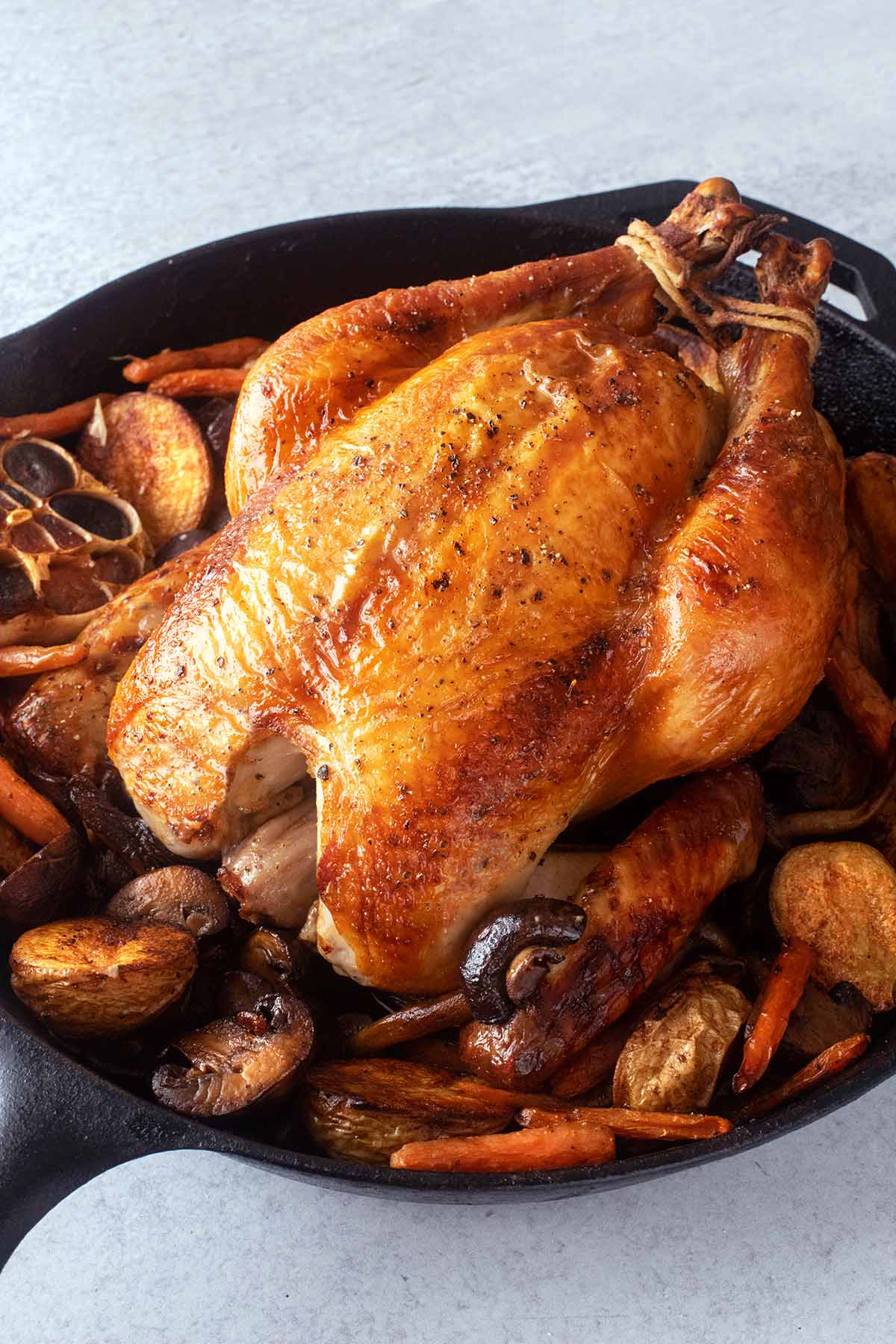 This roast chicken recipe makes brining worth the effort. Honest. It results in some of the most flavorful roasted chicken The One and I have ever made.
The volume of kosher salt varies greatly from brand to brand due to the size of the crystals. The two brands mentioned in the recipe–Diamond Crystal and Morton–which are the two most widely available, will give you perfect results. Don't even think of using sea salt or table salt.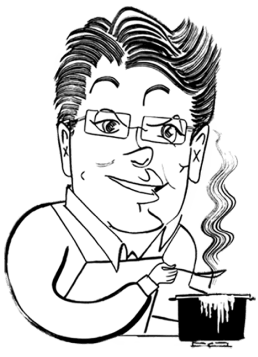 Why Our Testers Loved This
There are a whole bunch of reasons our recipe testers gobbled this up. They found it to be exceeding juicy, which is saying a lot–especially for chicken breast, which is notoriously dry. Patty Fabian also found the bird to be "perfectly seasoned" and named it the "most flavorful roast chicken that's ever come out of my oven!"
Annie A. chimed in with, "There are almost no words to describe its succulence, chicken-soup-like depth of flavor, and buttery, roasted presentation." Nuff said.
Notes on ingredients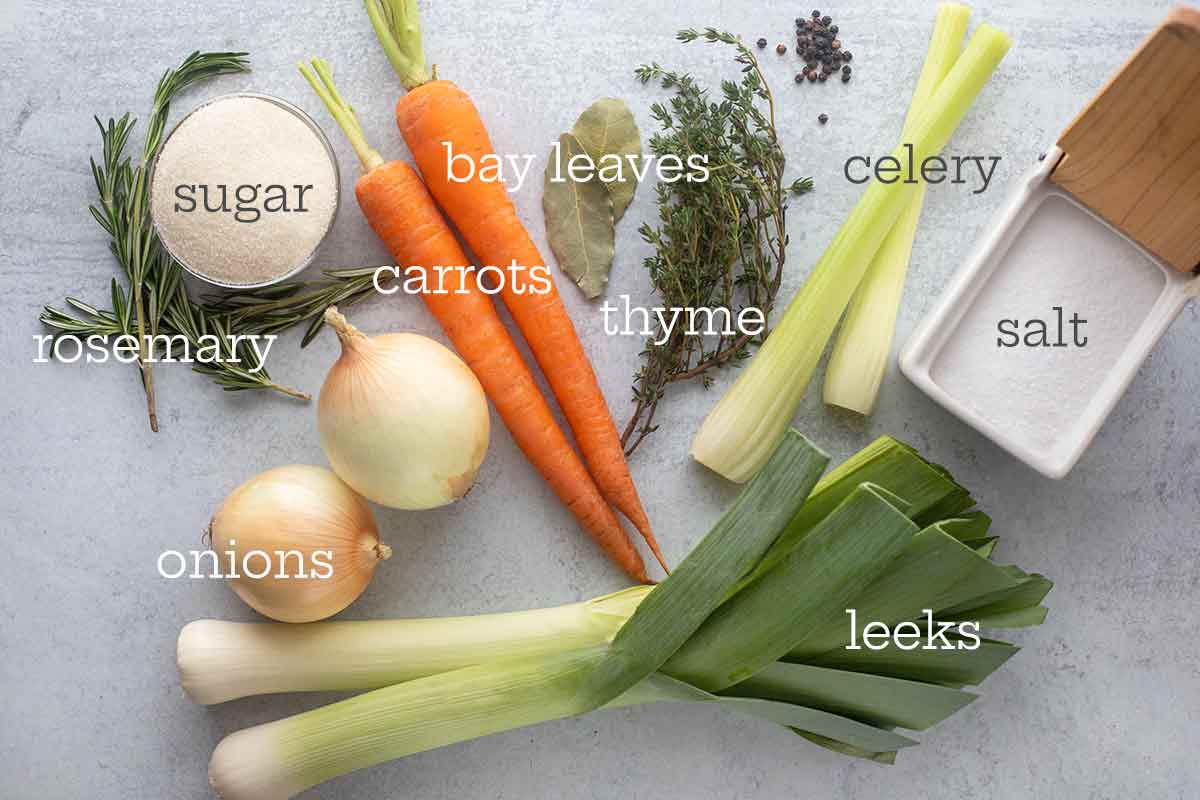 Whole chicken–(not pictured) A 4-to-5-pound bird is perfect for the recipe. You don't need the giblets or gizzards. Freeze them then pull them out when making chicken stock or chicken gravy.
Kosher salt–Depending on the brand of kosher salt you're using, you may need to adjust the amount of salt added to your brine. Crystal sizes in kosher salt vary dramatically. So if you're using Diamond Crystal kosher salt, use 1 1/2 cups, and if you're using Morton kosher salt, use a heaping 3/4 cup. If you're uncertain of the brand, weigh your salt. You should have 7.5 ounces or 215 g.
Granulated sugar–The addition of a little sugar to your brine improves the flavor of your roasted chicken and helps to give the chicken a golden-brown color.
How to Make This Recipe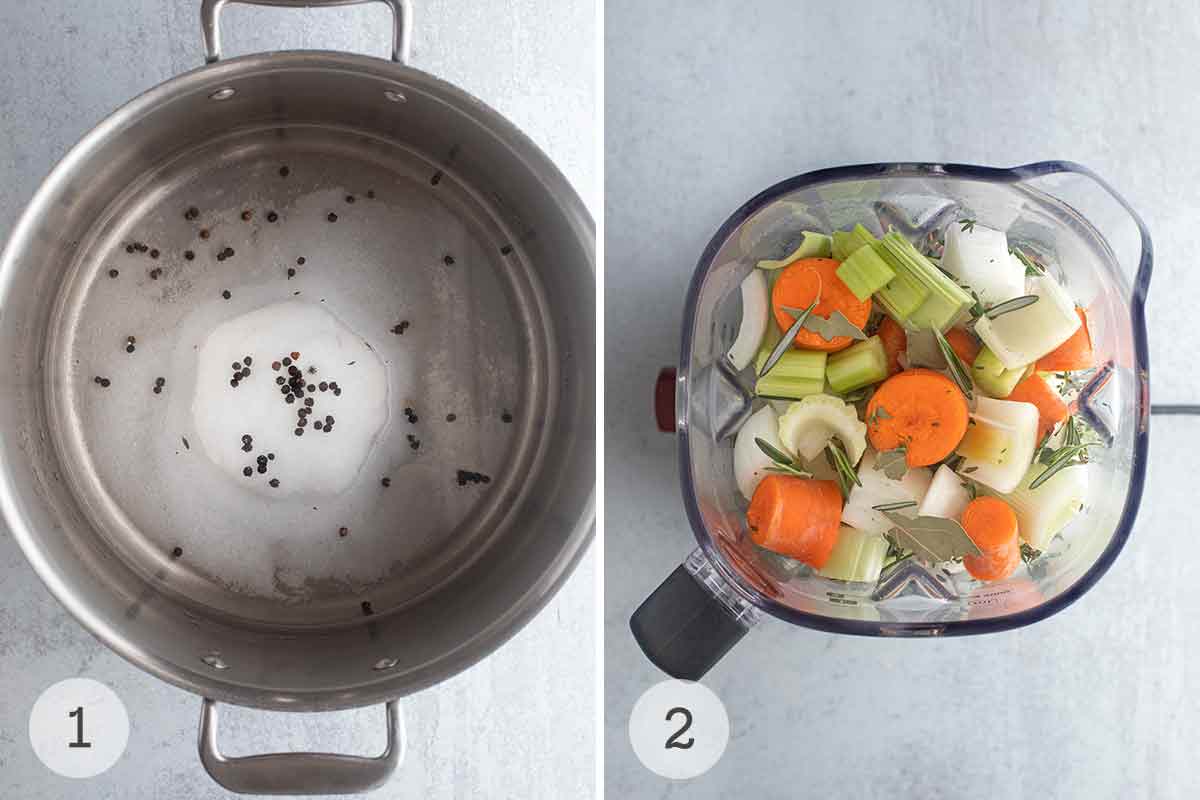 Boil the salt, sugar, and peppercorns in water. Boil until the salt and sugar dissolve. Let cool.

Dump the onions, leeks, carrots, celery, bay leaves, and fresh herbs in a blender. Add the vegetables to a high-powered blender. Make sure that all the vegetables are roughly the same size.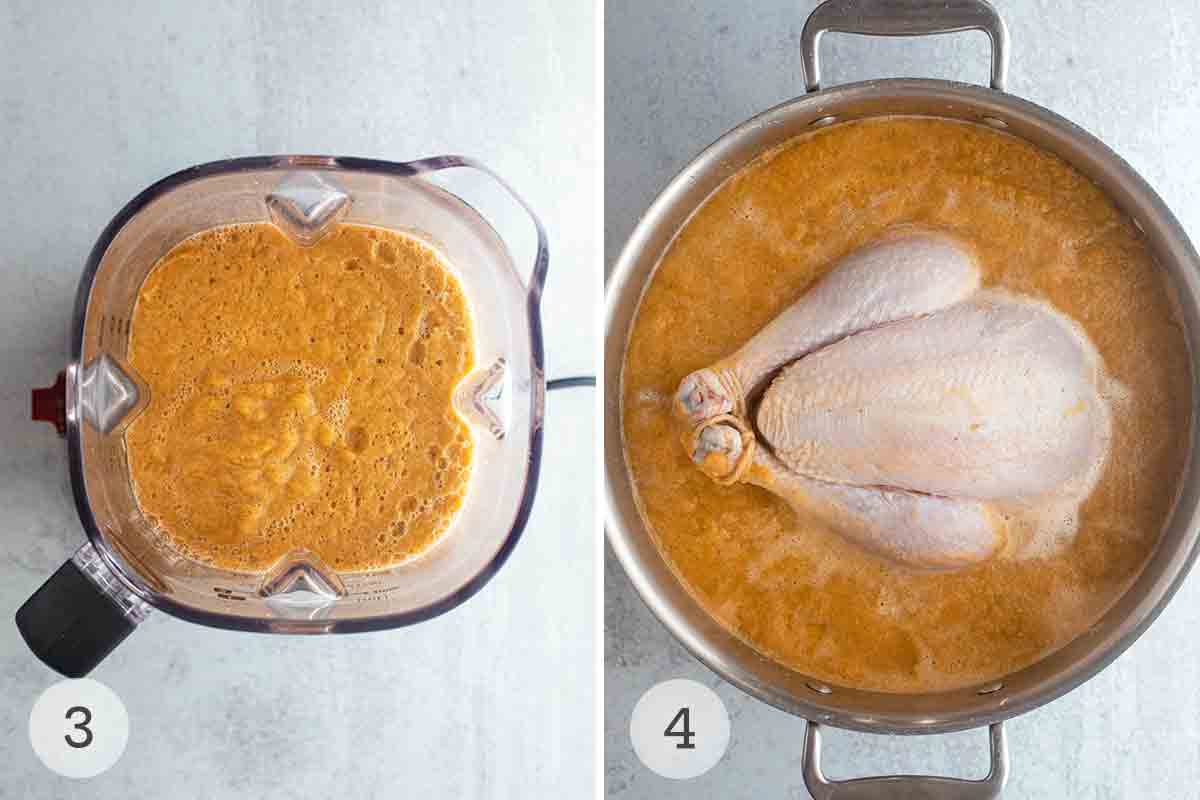 Buzz the onions, leeks, carrots, celery, bay leaves, and herbs. Blend until the vegetable puree is smooth.

Add the ice cubes and the water to the pot. Stir until the ice cubes are melted. Stir in the vegetable puree. Nestle the chicken in the pot. Cover and refrigerate for 24 hours.

Heat the oven to 425°F. Set a rack inside a large roasting pan.

Remove the chicken from the brine. Rinse and pat it dry.

Roast the chicken. Place the chicken on the rack. Brush with melted butter. Roast until cooked through to an internal temperature of 165°F (74°C).

Rest. Let the bird sit, covered loosely with foil, before carving the chicken.
Common Questions
What does brining do for a chicken?
The overnight soak in a brine ensures that your roasted chicken is juicy. The herbs and vegetables added to the brine give the roasted chicken a boost of flavor. It's definitely worth the extra effort to brine your chicken and something I do almost all the time.
Can I use this method for turkey?
Yes, you can. Depending on the size of your turkey, you may need to double or triple the brine mixture. You want enough brine so that your turkey can be fully submerged.
What other herbs or spices can I use in this?
You can add or swap in other fresh herbs such as sage or parsley for the thyme and rosemary in this recipe. You could also replace the peppercorns with whole allspice.
Helpful Tips
To clean your leeks, remove the root end, slice the leeks lengthwise, and then crosswise into 1-inch pieces. Place them in a bowl, cover them with cool water, and let them sit for 15 minutes to allow any dirt and grit to settle. Use a slotted spoon to remove the leeks from the bowl, leaving the dirt and water behind.
If you don't have a pot large enough to accommodate the chicken and brine, use a strong, good-quality resealable 2.5-gallon bag. Stash the filled and sealed bag inside a large pot or bowl, in case it springs a leak.
If your chicken is browning too quickly while roasting, cover it loosely with aluminum foil.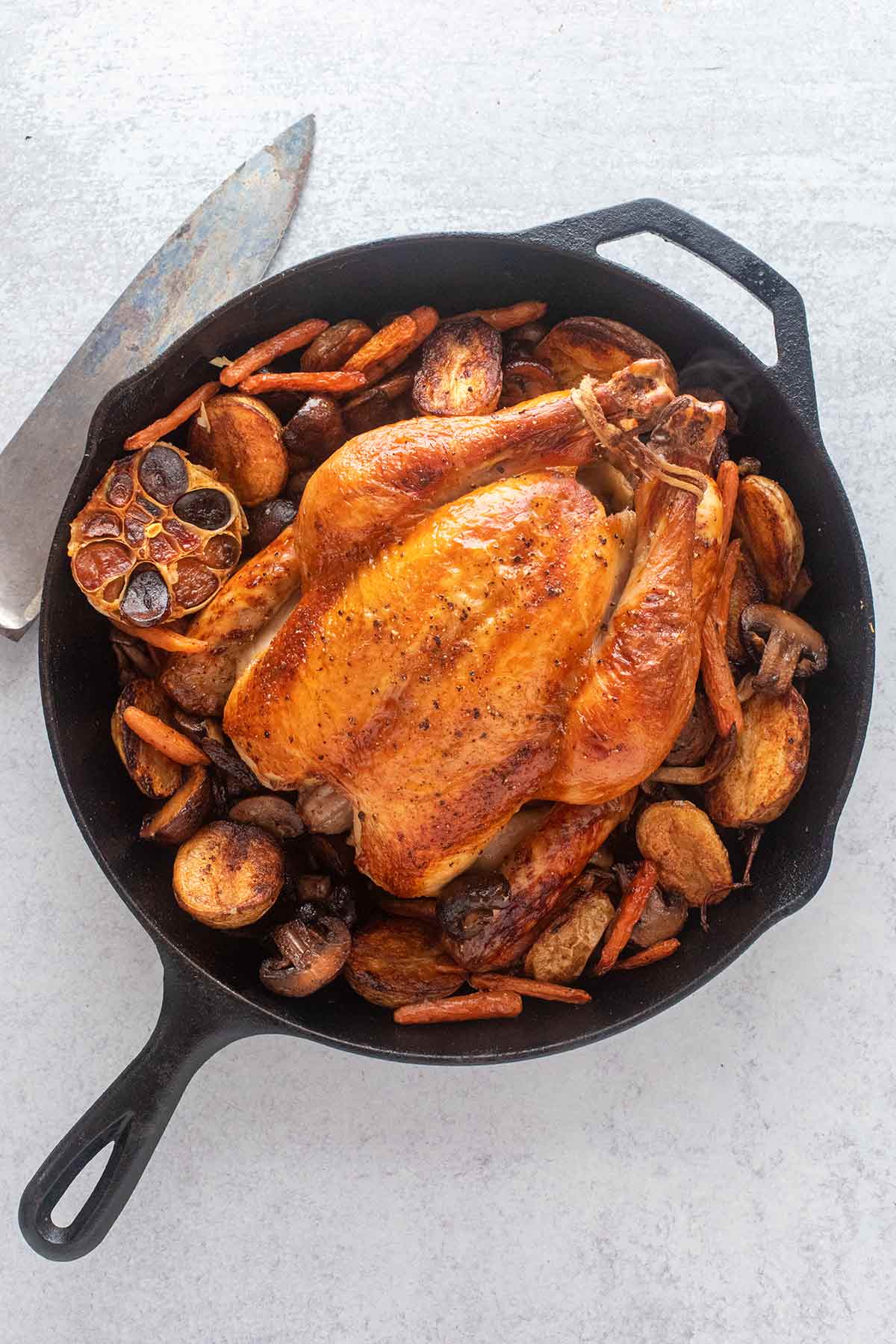 More Delectable Roast Chicken Dishes
Write a Review
If you make this recipe, or any dish on LC, consider leaving a review, a star rating, and your best photo in the comments below. I love hearing from you.–David
This was so succulent and herbaceous! Easily the best roast chicken I've had in recent memory. And as far as my food memory goes, "recent" covers a long time. I followed the recipe exactly, and it came out perfectly. Thank you!

Rich
David Leite's Best Brined Roast Chicken
This best brined roast chicken is the best method for brining your chicken, as far as I know. It blends aromatic vegetables and herbs to the brining solution before adding your chicken. The meat gets infused with lush flavors and juiciness beyond the average brined chicken.
Ingredients
For the brine
11

cups

cold water

1 1/2

cups

Diamond Crystal kosher salt OR a heaping 3/4 cup Morton's kosher salt

3/4

cup

granulated sugar

1

tablespoon

whole black peppercorns

2

medium

yellow onions

,

coarsely chopped

2

medium

leeks

,

cleaned and coarsely chopped

2

medium

carrots

,

scrubbed well and coarsely chopped

2

ribs

celery

,

coarsely chopped

2

dried bay leaves

Leaves from 6 stems thyme

Leaves from 6 sprigs rosemary

9

cups

ice cubes

One

(4-to-5-pound)

chicken

,

giblet/gizzard packet removed
Instructions
Make the brine
Add 3 cups of the cold water to a large Dutch oven or pasta pot. Pour in the salt, sugar, and peppercorns. Bring to a boil over high heat, stirring until the salt and sugar dissolve, and then turn off the heat.

Meanwhile, add 2 cups of the water to a high-powered blender or food processor. Working in batches as needed, add the onions, leeks, carrots, celery, bay leaves, thyme, and rosemary.

Add the ice to the pot along with the remaining 6 cups of cold water. Stir until the ice cubes melt and the water is cold. Add the puréed ingredients. Submerge the chicken, cover the pot, and refrigerate for 24 hours.
Roast the brined chicken
Preheat the oven to 425°F (218°C). Place a rack in a roasting pan.

Rinse the chicken and pat dry with paper towel. Discard the brine.

Place the bird on the rack in the pan and tie the legs together with kitchen twine, if desired. Brush with the melted butter and season generously with pepper. Roast (middle rack) for about 1 hour and 10 minutes, or until an instant-read thermometer inserted into the thigh meat (away from the bone) registers 165°F (74°C). The skin should be brown and crisp. If it starts to overbrown, loosely cover with a large sheet of aluminum foil.

Let the chicken sit, loosely tented with aluminum foil, for 15 minutes before carving.
Notes
Salt–If you're uncertain about the brand of your kosher salt, weigh it. You want to use 7.5 ounces or 215 g of kosher salt in your brine.
Leeks–Clean the cut leeks by letting them sit in a bowl of ice water for 15 minutes so the grit can settle. Lift the leeks out, letting the grit remain in the water.
Pot options–If you don't have a pot large enough to accommodate the chicken and brine, use a strong, good-quality resealable 2.5-gallon bag. Stash the filled and sealed bag inside a large pot or bowl, just in case it springs a leak.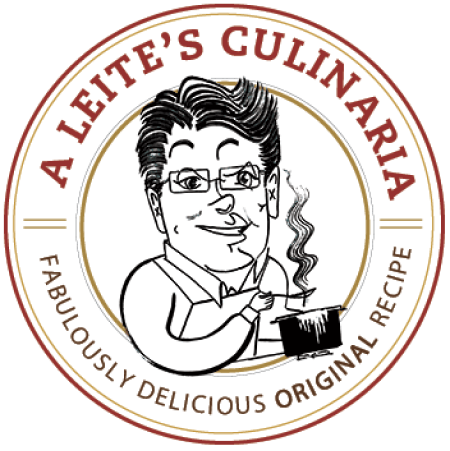 Nutrition
Serving:
1
portion
Calories:
274
kcal
Carbohydrates:
0.01
g
Protein:
19
g
Fat:
21
g
Saturated Fat:
8
g
Polyunsaturated Fat:
4
g
Monounsaturated Fat:
8
g
Trans Fat:
0.3
g
Cholesterol:
93
mg
Sodium:
74
mg
Potassium:
199
mg
Sugar:
0.01
g
Vitamin A:
321
IU
Vitamin C:
2
mg
Calcium:
13
mg
Iron:
1
mg
Nutrition information is automatically calculated, so should only be used as an approximation.
Recipe © 2019 David Leite. Photos © 2019 David Leite. All rights reserved.
---
Recipe Testers' Reviews
Wow. This chicken is INCREDIBLE. There are almost no words to describe its succulence, chicken-soup-like depth of flavor, and buttery, roasted presentation. This would be such a great dish to make in winter (it'll fill your house with a rich, rosemary-tinted aroma like Thanksgiving). Honestly, I don't see why everyone shouldn't make this FOR Thanksgiving. I think once you did, you'd be hard-pressed to find a reason to make any other recipe again.
Also…I can't wait to make chicken sandwiches with the leftovers!
This unique brining method was a great hit! I've never taken the time to brine a chicken for 24 hours before, so I definitely wanted to try this recipe. As promised, it certainly did produce the most juicy, tender, and flavorful roast chicken that's ever come out of my oven!!!
I understand the use of salt, sugar, and herbs in brines, but I couldn't wait to see how the pureed veggies affected the flavor. The result, a perfectly seasoned flavor permeated the meat all the way through to the bone, but I couldn't detect what specific flavor it came from, it was just simply really good! While one might think it would be salt forward, it wasn't, there was the slightest hint of sweet and savory at the same time, which I suspect came from the veggies. The sugar, of course, created the uniformly beautiful brown and crisp skin.
Preparing the brine was a very easy process, especially with the assistance of my food processor. The pureed aromatics smelled wonderful as they were all whizzed together! The biggest challenge for me was finding a pot big enough to hold all the brine this makes along with the chicken. I ended up using my Dutch oven for the brine and after adding the ice cubes and additional water, the pot was completely filled. I put a 2.5-gallon Hefty zip lock bag into a tall pasta pot and added the cold brine and the pureed veggies into the bag to combine. Fortunately, there was still room for the chicken, so I plopped it in the bag and extracted the air out before zipping the bag up, so this kept the chicken completely submerged in the liquid. This all went into the fridge for 24 hours to do its thing.
The chicken was beautifully brown with a crispy skin at 50 minutes, so I tented it with foil so it wouldn't burn during the remaining 20 minutes it was in the oven. The roasting time at 1 hour, 10 minutes was spot on for an internal thigh temperature of 165 degrees. I let the chicken sit, tented, for 15 minutes while preparing my side dishes.
It does take some planning, time, and fridge space to prepare this roast chicken, but the effort is certainly worth it, and you will be rewarded with a really great tasting chicken dinner!
The skin was beautifully browned and crisp at 50 minutes, so I tented it with foil for the remaining time in the oven so it didn't burn.
Roast chicken was a Sunday staple growing up. Unfortunately, it wasn't until I was an adult with several culinary classes under my belt that I realized the secret to moist, succulent chicken (and most importantly breast) is brining it. My husband was worried when he saw the amount of salt I put into the boiling water, but after one taste he went from using utensils to hands!
I've done many different methods, with the salt and buttermilk being one of my favorites. Unfortunately, buttermilk is difficult (impossible) to find in Italy. So finding a new way to infuse both flavor and moisture piqued my interest! Finding the best produce in Italy is never a problem, but the genius of this recipe is that you can use vegetables that are on their last legs (I hate waste!).
My only obstacles were locating kosher salt, so I substituted it with Sale Grosso (a coarse salt) and the dried bay leaves became dried salvia leaves.
The instructions were pretty spot on…..and simple (boil water: ✔️. Dump veggies in a blender: ✔️).
After the chicken was submerged in its brine bath for 22 hours, I removed the pot from the fridge for the last 2 hours to remove some of the coldness, in order to help it cook more consistently.
The chicken was then drained, patted dry with paper towels, and placed on the rack inside of my roasting pan. Melted butter and cracked pepper soon followed.
The chicken was a beautiful brown color, and the meat easily pulled away. Most importantly, the meat was beyond juicy and moist with so much flavor!