This best brined roast chicken is the best method for brining chicken we've ever experienced as featured in The Washington Post. Created by David Leite, it brilliantly blends aromatic vegetables and herbs before adding them to the brining solution. We think of it as a refined brine.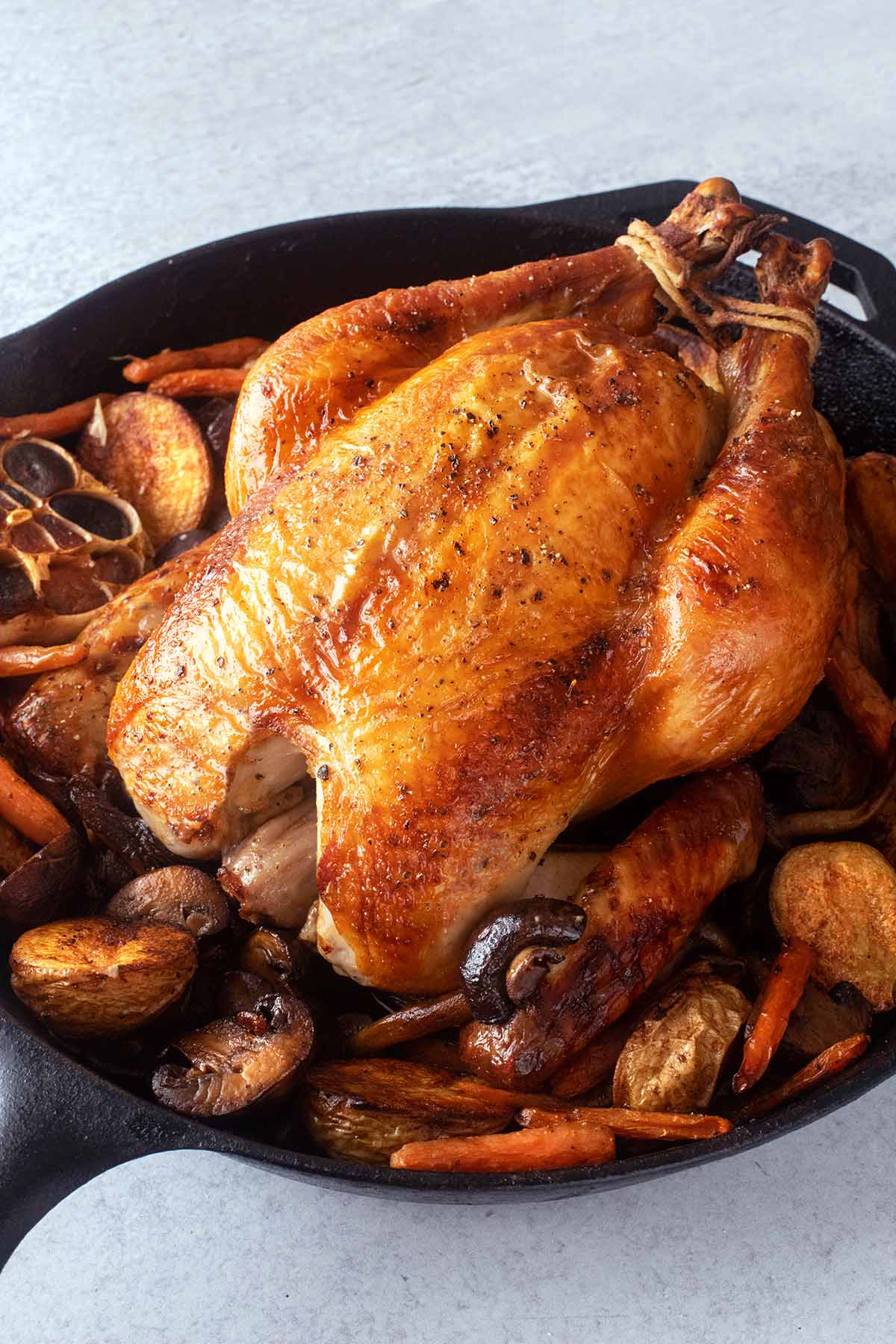 This best brined roast chicken recipe makes brining worth the effort. It results in some of the most flavorful roasted chicken we've ever made. The volume of kosher salt varies greatly from brand to brand due to the size of the crystals. The two brands mentioned in the recipe, which are the two most widely available, will give you perfect results. Don't even think of using sea salt or table salt.–David Leite
David Leite's Best Brined Roast Chicken
This best brined roast chicken is the best method for brining chicken we've ever experienced as featured in The Washington Post. Created by David Leite, it brilliantly blends aromatic vegetables and herbs before adding them to the brining solution solution. We think of it as a
refined brine
.
Ingredients
For the brine
11

cups

cold water

1 1/2

cups

Diamond Crystal kosher salt OR a heaping 3/4 cup Morton's kosher salt (see headnote)

3/4

cup

granulated sugar

1

tablespoon

whole black peppercorns

2

medium

yellow onions

coarsely chopped

2

medium

leeks

cleaned* (see *NOTE below) and coarsely chopped

2

medium

carrots

scrubbed well and coarsely chopped

2

ribs celery

coarsely chopped

2

dried bay leaves

Leaves from 6 stems thyme

Leaves from 6 sprigs rosemary

9

cups

ice cubes

One

(4-to 5-pound)

chicken

giblet/gizzard packet removed
For the roast brined chicken
3

tablespoons

unsalted butter

melted

Freshly ground black pepper
Directions
Make the brine
Add 3 cups of the cold water to a large Dutch oven or pasta pot. Pour in the salt, sugar, and peppercorns. Bring to a boil over high heat, stirring until the salt and sugar dissolve, and then turn off the heat.



Meanwhile, add 2 cups of the water to a high-powered blender or food processor. Working in batches as needed, add the onions, leeks, carrots, celery, bay leaves, thyme, and rosemary. Purée until liquefied.





Add the ice to the pot along with the remaining 6 cups of cold water. Stir until the ice cubes melt and the water is cold. Add the puréed ingredients. Submerge the chicken, cover the pot, and refrigerate for 24 hours.


Roast the brined chicken
Preheat the oven to 425°F (218°C). Place a rack in a roasting pan.

Rinse the chicken and pat dry with paper towel. Discard the brine.

Place the bird on the rack in the pan and tie the legs together with kitchen twine, if desired. Brush with the melted butter and season generously with pepper. Roast (middle rack) for about 1 hour and 10 minutes, or until an instant-read thermometer inserted into the thigh meat (away from the bone) registers 165°F (74°C). The skin should be brown and crisp. If it starts to overbrown, loosely cover with a large sheet of aluminum foil.

Let the chicken sit, loosely tented with aluminum foil, for 15 minutes before carving.
Notes
*What you need to know about cleaning leeks
Clean the cut leeks by letting them sit in a bowl of ice water for 15 minutes so the grit can settle. Lift the leeks out, letting the grit remain in the water.
Show Nutrition
Serving:
1
portion
Calories:
427
kcal
(21%)
Carbohydrates:
36
g
(12%)
Protein:
22
g
(44%)
Fat:
22
g
(34%)
Saturated Fat:
8
g
(50%)
Polyunsaturated Fat:
4
g
Monounsaturated Fat:
8
g
Trans Fat:
1
g
Cholesterol:
97
mg
(32%)
Sodium:
139
mg
(6%)
Potassium:
406
mg
(12%)
Fiber:
2
g
(8%)
Sugar:
29
g
(32%)
Vitamin A:
4237
IU
(85%)
Vitamin C:
9
mg
(11%)
Calcium:
78
mg
(8%)
Iron:
2
mg
(11%)
Recipe Testers' Reviews
This unique brining method was a great hit! I've never taken the time to brine a chicken for 24 hours before, so I definitely wanted to try this recipe. As promised, it certainly did produce the most juicy, tender, and flavorful roast chicken that's ever come out of my oven!!!
I understand the use of salt, sugar, and herbs in brines, but I couldn't wait to see how the pureed veggies affected the flavor. The result, a perfectly seasoned flavor permeated the meat all the way through to the bone, but I couldn't detect what specific flavor it came from, it was just simply really good! While one might think it would be salt forward, it wasn't, there was the slightest hint of sweet and savory at the same time, which I suspect came from the veggies. The sugar, of course, created the uniformly beautiful brown and crisp skin.
Preparing the brine was a very easy process, especially with the assistance of my food processor. The pureed aromatics smelled wonderful as they were all whizzed together! The biggest challenge for me was finding a pot big enough to hold all the brine this makes along with the chicken. I ended up using my Dutch oven for the brine and after adding the ice cubes and additional water, the pot was completely filled. I put a 2.5-gallon Hefty zip lock bag into a tall pasta pot and added the cold brine and the pureed veggies into the bag to combine. Fortunately, there was still room for the chicken, so I plopped it in the bag and extracted the air out before zipping the bag up, so this kept the chicken completely submerged in the liquid. This all went into the fridge for 24 hours to do its thing.
The chicken was beautifully brown with a crispy skin at 50 minutes, so I tented it with foil so it wouldn't burn during the remaining 20 minutes it was in the oven. The roasting time at 1 hour, 10 minutes was spot on for an internal thigh temperature of 165 degrees. I let the chicken sit, tented, for 15 minutes while preparing my side dishes.
It does take some planning, time, and fridge space to prepare this roast chicken, but the effort is certainly worth it, and you will be rewarded with a really great tasting chicken dinner!
The skin was beautifully browned and crisp at 50 minutes, so I tented it with foil for the remaining time in the oven so it didn't burn.
Wow. This chicken is INCREDIBLE. There are almost no words to describe its succulence, chicken-soup-like depth of flavor, and buttery, roasted presentation. This would be such a great dish to make in winter (it'll fill your house with a rich, rosemary-tinted aroma like Thanksgiving). Honestly, I don't see why everyone shouldn't make this FOR Thanksgiving. I think once you did, you'd be hard-pressed to find a reason to make any other recipe again.
Also…I can't wait to make chicken sandwiches with the leftovers!
Roast chicken was a Sunday staple growing up. Unfortunately, it wasn't until I was an adult with several culinary classes under my belt that I realized the secret to moist, succulent chicken (and most importantly breast) is brining it. My husband was worried when he saw the amount of salt I put into the boiling water, but after one taste he went from using utensils to hands!
I've done many different methods, with the salt and buttermilk being one of my favorites. Unfortunately, buttermilk is difficult (impossible) to find in Italy. So finding a new way to infuse both flavor and moisture peaked my interest! Finding the best produce in Italy is never a problem, but the genius of this recipe is that you can use vegetables that are on their last legs (I hate waste!).
My only obstacles were locating kosher salt, so I substituted it with Sale Grosso (a coarse salt) and the dried bay leaves became dried salvia leaves.
The instructions were pretty spot on…..and simple (boil water- ✔️, dump veggies in a blender- ✔️).
After the chicken was submerged in its brine bath for 22 hours, I removed the pot from the fridge the last 2 hours to remove some of the coldness, in order to help it cook more consistently.
The chicken was then drained, patted dry with paper towels, and placed on the rack inside of my roasting pan. Melted butter and cracked pepper soon followed.
The chicken was a beautiful brown color and the meat easily pulled away. Most importantly, the meat was beyond juicy and moist with so much flavor!
Originally published September 28, 2019
Recipe © 2019 David Leite. Photos © 2019
David Leite
. All rights reserved. All materials used with permission.
If you make this recipe, snap a photo and hashtag it #LeitesCulinaria. We'd love to see your creations on Instagram, Facebook, and Twitter.