For this Christmas Eve dish, calamari is simmered in a sauce of stewed tomatoes, vinegar, onions, garlic, pepper flakes, and sprinkled with parsley. A simpler version of Feast of the Seven Fishes.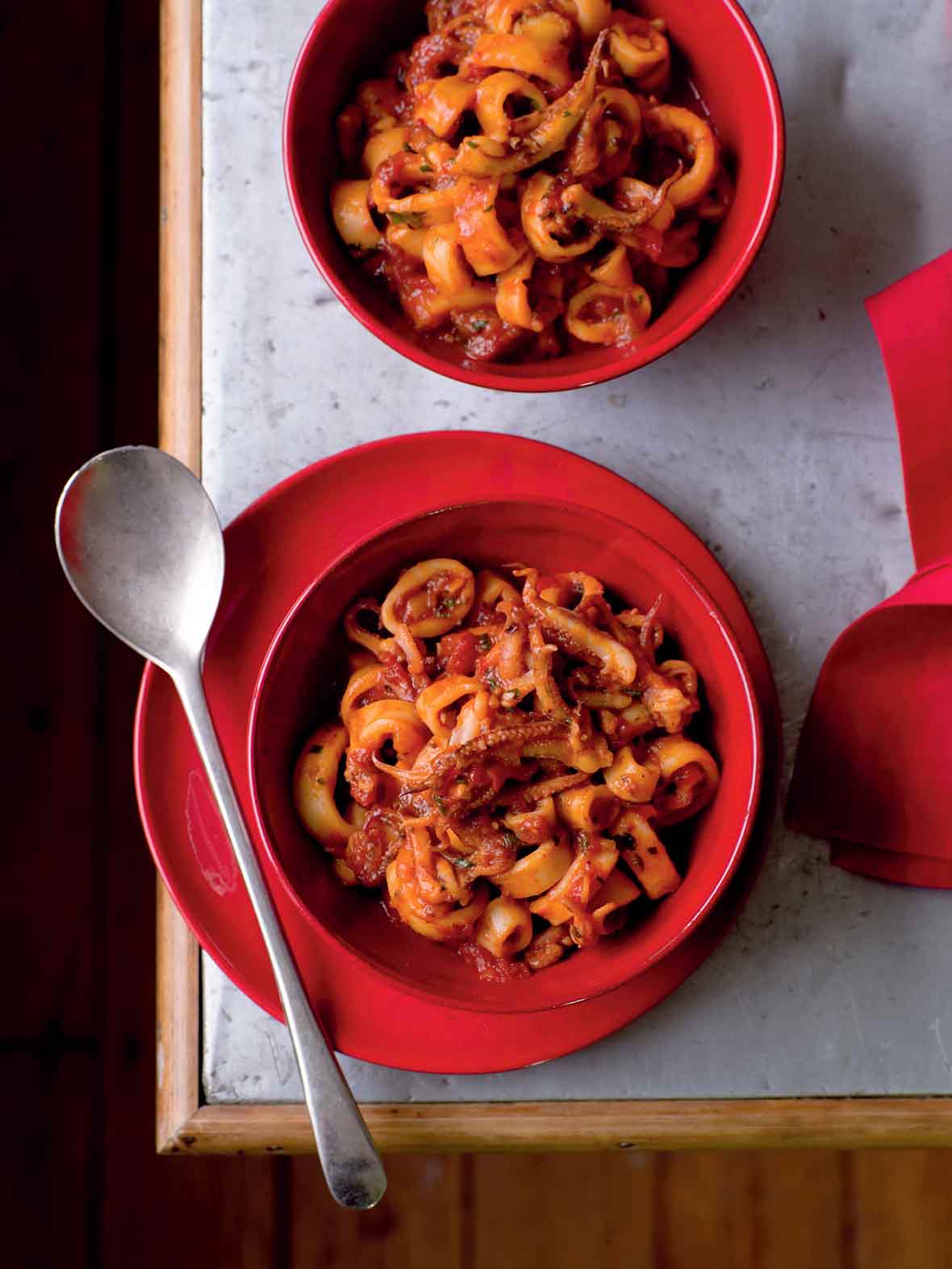 What does Christmas smell like to you? Maybe it's the sharp, resinous scent of freshly cut pine trees or the warm, enveloping fragrance of cinnamon and nuts in freshly baked cookies. But to me, Christmas smells like squid.
We did not do the famous Feast of the Seven Fishes at our house when I was growing up. My mother, who was born and raised in Chieti, in Abruzzo, Italy, had never even heard of this ritual until after moving to the U.S. in the 1950s. She's convinced it's just one more Italian-American mistranslation of her beloved homeland's culinary traditions, much like bologna, stuffed shells, and red clam sauce. That's not to say we didn't eat fish and seafood on Christmas Eve—we just never knew we were supposed to count them.
Many seafood dishes have come and gone from our celebratory table over the decades. We typically serve fedelini with tuna and tomato sauce as a first course, although once or twice we've made linguini with clams instead. There was a sautéed whiting streak in the '70s, an oysters-on-the-half-shell era during the '80s, and a flirtation with skate, both fried and sautéed, in the '90s. And during the last decade or two we've seen a dalliance with shrimp cooked retro-style with white wine and garlic. My mother also cooked eel two ways—broiled as well as agrodolce style with olives, raisins, and vinegar—for quite a few years simply because it was something her mother had cooked on Christmas. (Mom gave up after nearly a decade, finally admitting she was the only one who liked them.)
But no matter what else my mother brought to the table, there was always her luscious, richly sauced Calamari in Umido per la Vigilia di Natale, or Christmas Eve calamari. Everything else took a backseat to it. I haven't had a Christmas Eve without it.
In the 1960s and 1970s, before squid were popular in the Unites States, my mother would place her order well ahead of time at the fish market. The squid were sold whole and not cleaned, so early every Christmas Eve morning she'd set about these messy, time-consuming tasks. I can still see her standing over the kitchen sink, meticulously peeling off every last bit of gray skin with her fingernails, working out the thin interior bone, snipping the sacs into rings, and slicing the creepy tentacle crowns into bite-size pieces.
As kids, my sister and I would watch her tend to the squid, transfixed by the creatures' curly tentacles. Did we ever offer to help? Hell, no. We wouldn't have touched those slick, tubular bodies or alien tentacles in a million years, though we somehow had no problem devouring the "creepy crawlers," as we called them, once they were bathed in Mom's sauce (and after we'd tirelessly poked and prodded them with our forks).
And these calamari are all about the sauce, which requires no exotic ingredients, just onion and garlic, a little chopped tomato, wine, parsley, and a hit of vinegar at the end. The making of it certainly isn't complicated, although the results suggest otherwise. As the calamari braise, they turn from pearly white to clay red and become exceptionally tender and infused with flavor. They, in turn, impart a wonderful, nutty sweetness to the sauce, which takes on the perceptibly briny taste of the ocean as it thickens. It was—and still is—just the perfect thing to mop up with a chunk of crusty bread.
Mom's calamari has remained a constant on our Christmas Eve table. However, now that my sister and I have grown up, things have changed a little. A few years ago my mother finally allowed me to take over the Making of the Calamari. I, of course, buy the squid already cleaned, as they're still quite a lot cheaper than most seafood. Truth be told, I feel a little like I'm cheating by avoiding the hard labor. My mother seems to feel this way, too, given that she always feels compelled to sift through the package when we get home, as though looking for imperfections. And even though she's constantly singing my culinary praises to her friends and neighbors, I can tell she's always a little surprised when my calamari turns out just as good as hers.
We've also begun to count the number of fish and seafood dishes at the table. For this we have my sister's husband, Tony, to thank. He grew up with the practice and insists that we abide by it, too. As much as my family loves to eat, none of us can quite stomach the thought of preparing and eating seven (seven!) fish courses. So I make a very un-Italian smoked salmon spread and we end up opening a tin or three of sardines or smoked clams, and we're usually able to hit the magic number. But as far as I'm concerned, we could open six tins of fish. Because when it comes to our Christmas Eve feast, if you do the math, there's only one seafood dish that counts. Originally published December 20, 2010.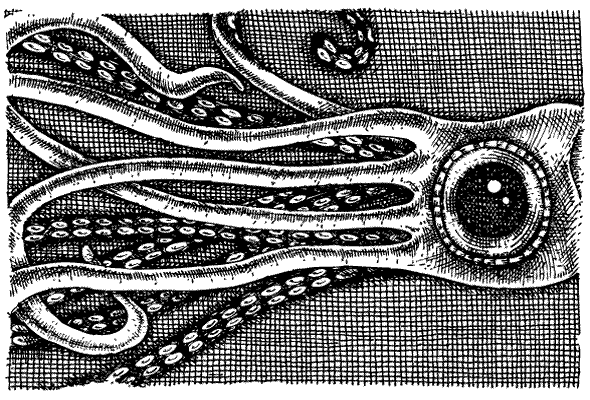 Christmas Eve Calamari
*How to Buy and Store Calamari
The creepy, otherworldly tentacles Domenica mentions above are still commonly available, along with their accompanying sacs, at many seafood counters. To select impeccable calamari, look for white, shiny specimens that look slick and smell like the sea. Store them on ice in your fridge for no more than a day. Although fresh is lovely, frozen squid can sometimes be fresher in the sense that it's not been sitting around unfrozen for that long and compromises little, if anything, in taste or texture. Simply thaw under cool running water immediately prior to using.
Christmas Eve Calamari
Quick Glance

(1)

45 M
1 H, 45 M

Serves 4
Ingredients
Email Grocery List
Directions
Using kitchen scissors or a sharp knife, cut the calamari sacs (bodies) into 1/2-inch-wide rings. Cut each crown of tentacles in half lengthwise to yield bite-size pieces.
In a large sauté pan with a lid, heat the olive oil over medium heat. Add the onion and sauté, stirring from time to time, until softened and translucent, 7 to 8 minutes.
In a small bowl, mix together the garlic and the salt to form a paste. Add the paste to the onion in the pan and then stir in the red pepper flakes and oregano, mixing everything thoroughly. Add the calamari and stir to combine. Sauté for a minute or two. Raise the heat to medium-high, add the wine, and let the mixture bubble for 2 minutes. Pour in the tomatoes and their juices, reduce the heat to medium-low, cover partially, and simmer gently until the calamari are tender, 30 to 45 minutes.
Uncover and continue to simmer gently until the sauce has thickened somewhat, up to 15 minutes. Stir in the vinegar, increase the heat to medium-high, and cook, uncovered, for 2 more minutes. Taste and season with salt if desired. Remove from the heat and stir in the parsley. Spoon the calamari and sauce into shallow bowls and serve with the bruschetta or bread.
Recipe Testers Reviews
Christmas Eve Calamari Recipe © 2006 Domenica Marchetti. © 2018 All rights reserved. All materials used with permission.
If you make this recipe, snap a photo and hashtag it #LeitesCulinaria. We'd love to see your creations on Instagram, Facebook, and Twitter.