Marcella Hazan's Bolognese sauce recipe is the only Bolognese sauce recipe you ever need. It's classic, authentic, Italian, easy, and delicious.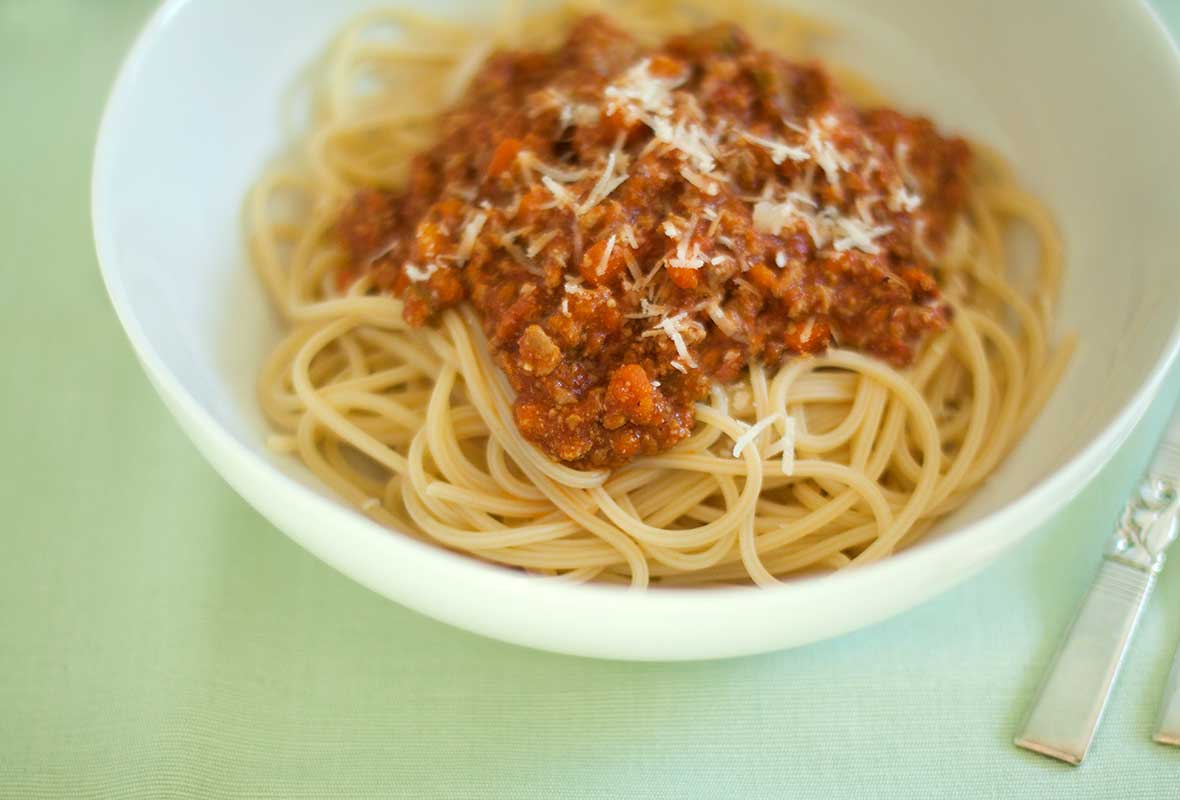 I come from stirring stock. That is to say, my people are stirrers. It's how my grandmother, avó Costa, cooked. She stood, facing the stove, for hours in her pink housecoat and pink slippers, her tiny hand planted on her hip, singing in her thin, reedy voice. She stirred all kinds of Portuguese comestibles: spicy stuffing with chunks of homemade chouriço; her famous pink (of course) chicken, rice, and potato soup; and vats and vats of kale soup. When she grew too old to stir her soups and stews for long, I'd do it for her. By then, age had stolen a few inches from her, but she still managed to peer over the tops of the pots and instruct, "Mais devagar, queirdo, mais devagar." Slower, sweetheart, slower.
I think it's genetic. When the temperature outdoors nosedives, all I want to do is hover over a simmering pot and stir. And what I've been craving lately is a long-simmered, deeply flavored Bolognese sauce recipe. The kind that takes no prisoners. The kind that makes your guests plead for the secret. (Are you reading this, Kate Jackson?) The kind that leaves you on the couch unable to move because you didn't have enough sense to stop after your second helping of seconds. I'm certain if vovó had discovered Marcella Hazan's ragu Bolognese in her lifetime, she would've petitioned the Pope to make us Italian. It's her kind of dish.
So my hunt was on for a Portuguese-grandmother-approved Bolognese sauce–rich, meaty, slow-cooked, constantly stirred–to quench that nagging craving. This narrowed the field exponentially. Anything from a 30-minute-meal proselytizer was clearly out of contention, as were recipes from TV chefs and hosts. I found—and promptly rejected—a recipe in Cook's Illustrated that got the job done in two hours. (Two hours? I can't find my way out of our pantry in two hours.) Then, while sitting in front of my cookbook collection, I was reminded of another short, sturdy woman who also comes from stirring stock: L'Imperatrice—The Empress—Marcella Hazan.
I immediately downloaded The Essentials of Classic Italian Cooking. (Why I didn't already have a copy is a question for another day.) Flipping through the book revealed a woman who spoke her mind, knew right from wrong, and who, if you disagreed with what she had to say, well, that was your problem. (Not at all unlike Momma Leite.) I knew The Empress wouldn't let me down. And she didn't. Her Bolognese sauce clocks in at a whopping six hours. That's longer than some relationships I've seen.
As I leaned against the stove with my iPad in its kitchen condom, a gorgeous sauce burbling down to sweet goodness in the pot, I was connecting to my past—to my stirrers. And to a craving even deeper, to be with my avó just one more time.
Marcella Hazan's Bolognese Sauce Recipe
Marcella Hazan, in her inimitable fashion, offers the home cook an authentic Bolognese sauce recipe, the kind my grandmother would approve of, thank you very much. Following are some techniques and tricks to ensure the most classic Italian Bolognese. The more marbled the meat, the sweeter the ragu. The most desirable cut of meat is the neck portion of the chuck. (You may have to special order it from your butcher.) Marcella doesn't call for veal, but I used it. To be authentic, omit it. It's also important to salt the meat as soon as it hits the pan. This draws out the juices and imparts flavor to the Bolognese. Last, use a heavy pot that will retain heat. I use my Le Creuset 5-quart Dutch oven. Avoid using cast-iron, as the acid can interact with the metal and turn the sauce a blech color.  Originally published January 31, 2012.–David Leite
Marcella Hazan's Bolognese Sauce
Quick Glance
20 M
6 H

Makes 4 cups
Print Recipe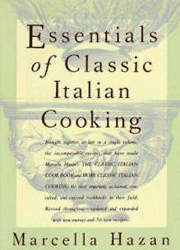 Ingredients
2 tablespoons vegetable oil

8 tablespoons unsalted butter, divided

1 cup chopped onion

1 1/3 cups chopped celery

1 1/3 cups chopped carrot

1 pound ground chuck (I used 1/2 pound chuck and 1/2 pound veal)

1/2 pound ground pork

Kosher salt and freshly ground black pepper

2 cups whole milk

1/8 teaspoon freshly grated nutmeg, or ground if you're bereft of fresh

2 cups dry white wine

3 cups reduced homemade tomato purée or canned imported Italian San Marzano tomatoes, crushed by hand, with their juice

As much pasta as you wish (Marcella prefers tagliatelle, I used spaghetti, which she does say is verboten), cooked and drained

Freshly grated Parmigiano-Reggiano cheese, at the table
Directions
1. Heat the oil and 6 tablespoons butter in a heavy 5-quart Dutch oven over medium heat until the butter melts and stops foaming. Toss in the onion and cook, stirring frequently, until the onion is softened and translucent, about 5 minutes.

2. Dump in the celery and carrot and cook, stirring to coat them with the oil and butter, for 2 minutes.

3. Add the ground chuck (veal, if using) and pork, a very healthy pinch of salt, and a goodly amount of pepper. Crumble the meat with a wooden spoon and cook, stirring occasionally, until the meats have lost their raw red color.

4. Reduce the heat to low. Pour in the milk and simmer gently, stirring frequently, until the liquid has burbled away completely, about 1 hour. Stir in the nutmeg. Pour in the wine and gently simmer, stirring frequently, until it has evaporated, about 1 1/4 hours.

5. Add the tomato purée or crushed tomatoes and stir well. When the tomato puree begins to bubble, turn down the heat so that the sauce cooks at the laziest of simmers with just an intermittent bubble breaking through the surface.

6. Cook, uncovered, for 3 hours or more, stirring from time to time. While the sauce is burbling away, there's a chance that it'll start drying out somewhat. To keep the sauce from sticking to the bottom of the pot and scorching, add 1/2 cup water if necessary, just know that it's crucial that by the time the sauce has finished simmering, the water should be completely evaporated, and the fat should separate from the sauce. Take a spoonful—or two. Season with salt and pepper to taste.

7. Add the remaining 2 tablespoons butter to the hot pasta and toss with the sauce. Serve with freshly grated Parmigiano-Reggiano on the side.
Recipe Testers Reviews

This is the perfect recipe to make if you are stuck in the house doing chores and can't leave. A little prep work and a little stir every now and then gives you a wonderful smell throughout your house and a nice, thick sauce for your pasta. I love that there isn't a strong tomato taste to this sauce, unlike most commercial jar sauces. This is pure, hearty, stick-to-your-ribs comfort food. All you need is some warm bread and you have a meal. The next time I make it I will probably omit the vegetable oil, as I felt there was a little too much oil floating on top when it was ready to serve.
Marcella Hazan's Bolognese Sauce Recipe © 1992 Marcella Hazan. Photos © 2012 David Leite. All rights reserved. All materials used with permission.
If you make this recipe, snap a photo and hashtag it #LeitesCulinaria. We'd love to see your creations on Instagram, Facebook, and Twitter.