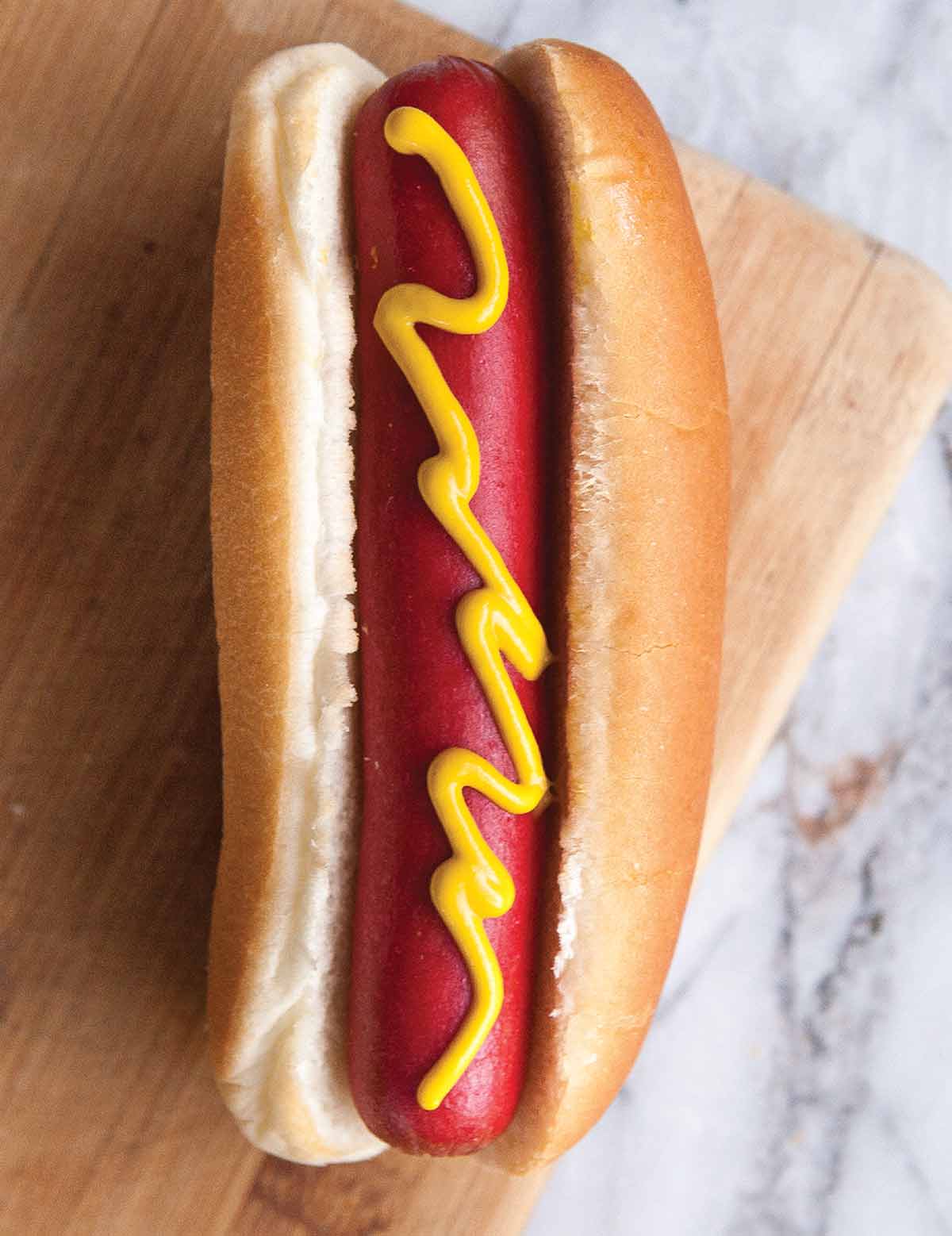 Swooning over the consummate hot dog in that centerfold-worthy photo above? Yeah, so are we. So get thee a bun, nestle a frankfurter within it, and squeeze on a zigzag of yellow mustard or whatever other condiments you fancy after heeding the words of advice below. Keep in mind, though there are many ways to cook a hot dog, each creates a distinctly different eating experience, whether the crunchy snap of a fire-charred dog or the mouthwatering bite of a tense, juicy, simmered frankfurter. Recipe methods are ordered from quickest to longest cooking time so you can know, at a glance, which to try when your craving just can't wait.–David Leite
WHAT'S THE BEST WAY TO COOK HOTDOGS FOR A CROWD?
Out of all the methods that we tried, roasting is the best way to go for serving up a large number of wienies as it's fairly easy and worry-free. Preheat the oven to 350°F (177°C). Place the hot dogs on a rimmed baking sheet lined with parchment paper. Roast for 10 to 20 minutes, or until hot dogs are heated through to 160°F (71°C). Hot dogs can be placed in a prewarmed slow cooker to keep warm, or just in the oven with the temperature lowered.
How to Cook the Perfect Hot Dog
The best hot dog means knowing the perfect way to cook a hot dog, whether you roast, grill, simmer, microwave, or turn it over an open campfire. Here's everything you need to know.
Ingredients
1

hot dog (or as many more as you need)

1

hot dog bun (or as many more as you need)

Other condiments, as desired

,

(pickle relish, ketchup, sport peppers, sauerkraut, onions, cheese, and so forth)
Instructions
Choose your cooking method from the recipe options below, plonk the hot dog in a bun, slather it with mustard and any other desired condiments, and then take a moment to behold this greatness before demolishing it.
Notes
CHOOSE A METHOD
Microwave:
Is it as good as grilling or cooking on a stovetop? Not even close. But it's darn quick and, if done right, it can make a decent, if not great, dog in a pinch.
First, wrap the hot dog tightly in a dry paper towel, tucking the ends under the dog so they don't flip open.
Place the wrapped hot dog on a plate and microwave on 80 percent power for 30 to 45 seconds or until heated through.
Open Flame
Technically similar to grilling but a lot more fun. Perfect for campfires and cold evenings around a fire pit or fireplace. It creates a charred, wonderfully crisp skin and a juicy, piping hot interior.
First, prepare a fire.
Grab long-handled tongs, which are ideal, or a long-handled skewer made for roasting dogs and marshmallows. Hold the hot dog a few inches above the tops of the flames. Slowly rotate the dog while cooking until the skin is charred and crisp and the interior is cooked through 2 to 5 minutes.
Grill and Broil
Direct dry heat will magnificently crisp the skin on dogs made with natural casings. If you don't have a grill, no worries. Broiling is essentially the same process except that it uses top-down heat instead of bottom-up heat.
If using a gas grill, preheat the grill to its hottest setting for at least 30 minutes. Just before tossing on the dogs, lower the heat to medium (about 400°F/205°C). Grill the dog for 3 to 4 minutes, until charred but not blackened. Flip and cook for another 3 to 4 minutes.
If using a charcoal grill, heat the charcoal for 30 to 45 minutes, or until the coals ash over. Spread the coals over the bottom of the grill. Grill the dog for 3 to 4 minutes, until charred but not blackened. Flip and cook for another 3 to 4 minutes.
If using a broiler, place the dogs on a broiler rack and broil for 3 to 4 minutes, until charred but not blackened. Flip and cook for another 3 to 4 minutes.
Simmer
Compared to boiling, simmering incurs less risk of overcooking or splitting the dogs.
In a saucepan over medium-high heat, bring enough water to cover the dogs to a simmer.
Place hot dogs in the water and simmer for 8 to 10 minutes, or until they reach an internal temperature of 160°F (71°C). If you need to keep the dogs warm, you can turn the heat off and leave the hot dogs in the warm water—so long as it's above 160°F (71°C)—for a short while.
Nutrition
Serving:
1
hot dog with bun
Calories:
229
kcal
Carbohydrates:
30
g
Protein:
9
g
Fat:
8
g
Saturated Fat:
3
g
Cholesterol:
20
mg
Sodium:
520
mg
Potassium:
120
mg
Fiber:
1
g
Sugar:
3
g
Vitamin A:
1
IU
Vitamin C:
1
mg
Calcium:
84
mg
Iron:
3
mg
Nutrition information is automatically calculated, so should only be used as an approximation.
Recipe © 2014 Russell van Kraayenburg. Photo © 2014 Russell van Kraayenburg. All rights reserved.
---