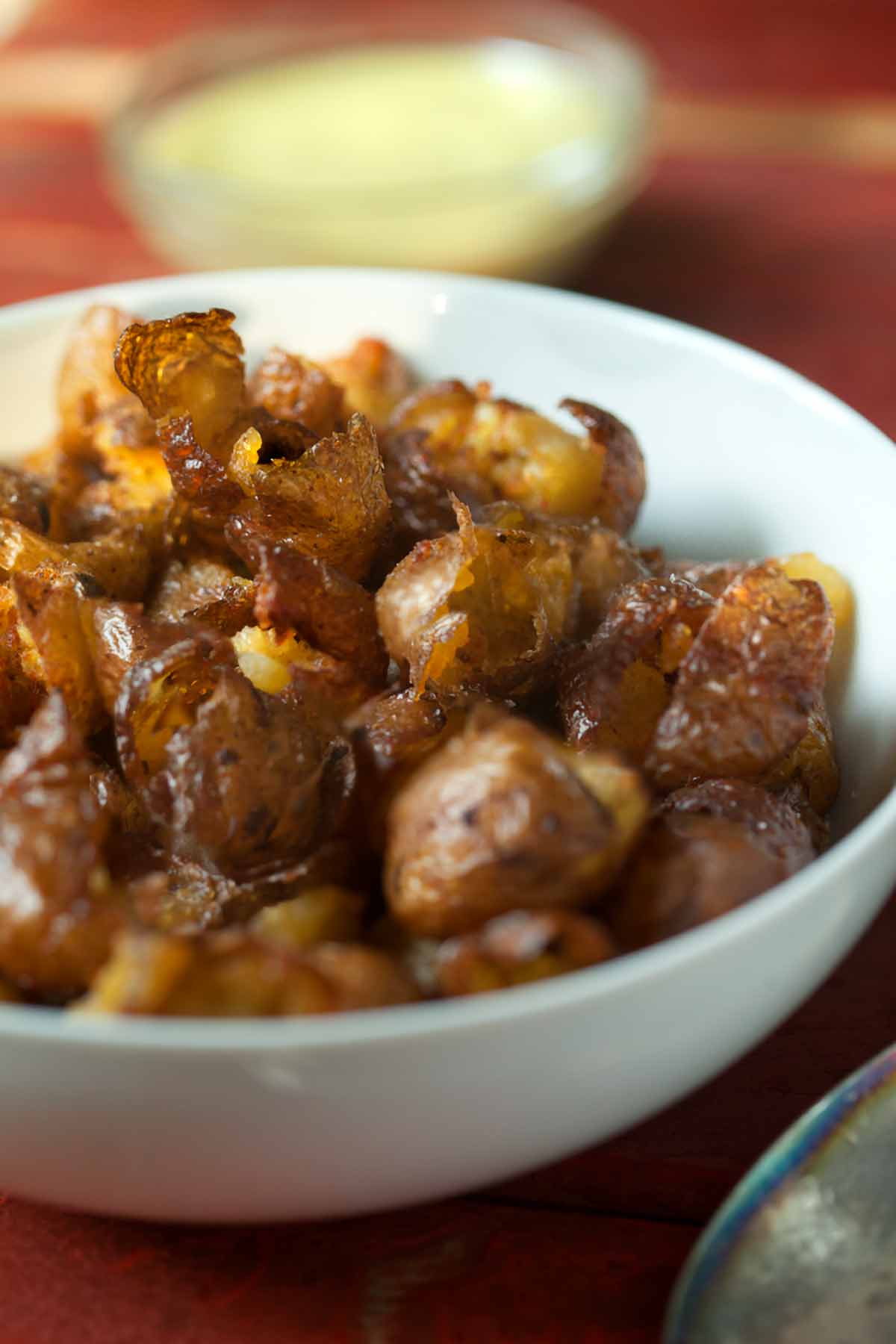 Let's cut to the chase, people: These smoked pickled potatoes are crazy love. They're the kind of food that you taste just once and can't get out of your mind. The kind of side dish that makes you hoard some in the kitchen before guests arrive so that every time you "forget" something and have to go back in, they're patiently waiting for you. The kind of thing that, for just a brief moment, makes you seriously consider eating off guests' plates when you're cleaning up.

Yes, these crunchy globettes of smoky tartness are that kind of food.
Why, you ask? They're just spuds. Potatoes. Batatas. Earth apples. Right? Not quite, my friend. These suckers go through a gauntlet of cooking techniques that render them impossibly irresistible. Yes, as the title says, they're pickled. And smoked. But best of all they're then smashed and…wait for it…wait for it…deep-fried. Yes, deep-fried. All those nooks and crannies get crusty. And the skins, which slip off a bit, become shatteringly crisp and seemingly shellacked. So as you eat these, you first get the crunch, then the earthy smokiness, and just as you're reaching for another one, a vinegary tickle in the back of your throat. And, of course, the aioli (in which you do not taste the anchovies—really) is the gilding on the lily. Or in this case, on the potatoes.
I can't take credit for the idea. I first had smoked pickled potatoes when I took my assistant, Annie, to dinner at Community Table in Washington, Connecticut, as a thank you (and as a getaway from playing mommy and wife for a few hours). Community Table is a modern but warm Scandinavian-inflected restaurant on Route 202, where the old Le Bon Coin, the town's only French restaurant, used to be. In the 17 years that The One and I have been eating all over western Connecticut and hoping for a great meal (and being mightily, mightily disappointed), we were elated when we found CT—what we locals call Community Table. (Get it? CT, Connecticut, Community Table? Clever.)
After our first meal at the restaurant, cooked by head chef Joel Viehland, we rushed back to see if it was a fluke. Thankfully, it wasn't. Ever since, Joel has continued to best himself.
But it was these smoked pickled potatoes that prompted me for the first time to ask Joel how to make one of his dishes. I simply had to cook them at home.
I'm going to stop here because all I'm doing is getting in the way of you and your future illicit affair with these potatoes. Go and buy potatoes, haul out the smoker (or fashion a jury-rigged one as mentioned in the instructions and in the Testers Choice review), and see for yourself if I am not, indeed, a soothsayer.

Smoked Pickled Potatoes
Once you've made these exquisite smoked pickled potatoes, you'll find all kinds of ways to serve them. So far—and by "so far," I really mean the past week or so, as they're that new to me—I've served them alongside Swedish meatballs, salmon, and steak. And they're going in my rotation as a superior substitute for french fries, potato salad, and chips. The great thing is you can double the recipe and keep the unfried potatoes in the fridge, and then just pop them in the oil when you're ready for them. If refrigerating is your plan, just make sure to smoke the potatoes a little longer—up to 1 1/2 hours or so more—as insurance against the smoke flavor mellowing out with time. A spritz or two of vinegar over the fried potatoes just before serving wouldn't hurt, either.–David Leite
Why this recipe is so darn easy to make…
Before you roll your eyes and think, "There goes David again with an amazing over-the-top recipe," let us assure you that this smoked pickled potatoes recipe is crazy easy. How easy? 1. You boil potatoes. (You've done that a million times.) 2. You pickle potatoes. (This is tantamount to doing nothing. You dump some vinegar over the potatoes and let them sit there and soak overnight.) 3. You cold-smoke potatoes. (All that involves is smelling like a fireman for a day—which, depending upon your predilections, ain't half bad.) 4. You fry potatoes. (You have made french fries before, right?) But the magic of this recipe is in the sum of its parts. C'mon, have we steered you wrong yet?
Smoked Pickled Potatoes with Anchovy Aioli
These smoked pickled potatoes are made by brining new potatoes in malt vinegar, deep-frying them, and serving them with homemade aioli.
Equipment
Wood sawdust, chips, chunks, pellets, or bisquettes; deep-fry or candy or instant-read thermometer
Ingredients
For the anchovy aioli
3

garlic cloves

,

minced

1

tablespoon

kosher salt,

plus more to taste

6

anchovy fillets

,

minced

2

teaspoons

fresh lemon juice

2

large egg yolks

,

at room temperature

1

cup

extra-virgin olive oil

,

or 1/2 cup extra-virgin olive oil plus 1/2 cup grapeseed oil
For the smoked pickled potatoes
2

pounds

small red new potatoes

,

1 to 1 1/2 inches (25 to 36 mm) in diameter, scrubbed

4

cups

malt vinegar

Peanut oil

,

for frying

Sea salt and freshly ground black pepper,

to taste
Instructions
Make the anchovy aioli
Sprinkle the garlic with a bit of salt and, using the flat side of your knife's blade, rub the salt back and forth into the garlic to make a paste.

Scrape the garlic and anchovies into a medium bowl and add the lemon juice and egg yolks. Give the mixture a good whisking until everything is well combined.

Slowly drizzle a few drops oil into the bowl while whisking vigorously. (Think Meryl Streep in Julie & Julia.) Continue this drop-by-drop drizzling and whisking pas de deux until the mixture is thick and homogenous. You can now add the rest of the oil in a very thin thread, all the while whisking energetically until the aioli is lusciously smooth and light yellow. Season with salt. (The aioli can be refrigerated for up to 3 days.)
Pickle, smoke, and fry the potatoes
Toss the potatoes in a large pot and add enough cold water to cover by 2 inches. Add the salt, cover, and bring to a boil over high heat. Reduce the heat to medium and cook gently until tender, 10 to 12 minutes or longer if your potatoes are larger.

Meanwhile, fill a large bowl halfway with ice and water. When the potatoes are done, drain them and then plop them into the ice water. Let them chill until cooled completely.

Drain the potatoes again and prick each potato with a toothpick or thin metal skewer numerous times—a couple dozen pricks per potato doesn't seem unreasonable to me.

Pour the vinegar into a medium nonreactive bowl and slip in the potatoes. Cover the bowl with plastic wrap. Let the potatoes hang out on the counter in their pickling bath overnight or for at least 8 hours.

Following the manufacturer's instructions, set up your smoker, smoker box, charcoal grill, or gas grill for cold smoking using wood sawdust, chips, chunks, pellets, or bisquettes. Hell, you can even get a cast-iron skillet screaming hot on your stovetop, place it on your turned-off grill, toss in some wood chips, and close the cover. Voilà, instant cold smoker.

Smoke the potatoes, making sure to keep the temperature under 100°F (38°C), for 1 hour. Since the potatoes are already cooked, you're just trying to give them that great smoke flavor. Keep an eye on the heat, because if it goes higher, you'll dry out the potatoes. Remove the spuds from the smoker and blot any moisture from their skins. You can refrigerate the potatoes for several hours or you can immediately move on to the best part of this recipe, which is the frying.

Pour enough peanut oil into a heavy pot so that it reaches a depth of 2 inches. Heat the oil to 375°F (190°C) using a deep-fry or candy or instant-read thermometer to monitor the temperature. While the oil is heating, place the potatoes on a flat work surface and smash them with the palm of your hand just until they crack—you don't want to completely flatten the potatoes, but you do want to use enough pressure to burst the skins and create nooks and crevices.

Fry the potatoes in batches, making sure the heat never dips below 350°F (180°C), until the potatoes are golden brown and any loose skins that have pulled away from the potato are marvelously burnished and translucent, 7 to 9 minutes. Transfer the potatoes to paper towels to drain and season with sea salt and pepper. Serve the spuds pronto alongside plenty of the aioli.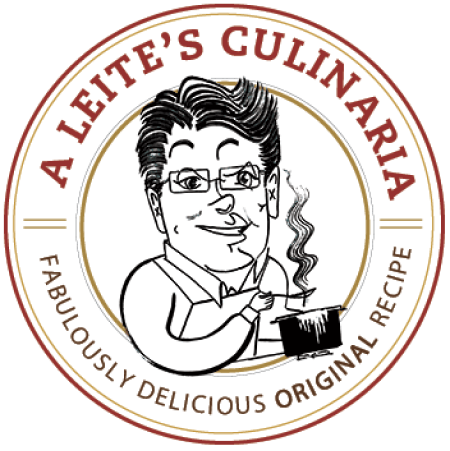 Nutrition
Serving:
1
portion
Calories:
492
kcal
Carbohydrates:
27
g
Protein:
5
g
Fat:
38
g
Saturated Fat:
6
g
Polyunsaturated Fat:
4
g
Monounsaturated Fat:
27
g
Cholesterol:
68
mg
Sodium:
1183
mg
Potassium:
670
mg
Fiber:
3
g
Sugar:
1
g
Vitamin A:
92
IU
Vitamin C:
31
mg
Calcium:
46
mg
Iron:
2
mg
Nutrition information is automatically calculated, so should only be used as an approximation.
Recipe © 2014 David Leite. Photo © 2014 David Leite. All rights reserved.
---
Recipe Testers' Reviews
When you see this recipe, you may think, like me, that there's a lot going on here. You may even wonder, "Can this REALLY work?" Let me just say…ABSOLUTELY!
I used mini red potatoes called Enchanted Rose. I boiled them until they were JUST fork-tender, which took about 25 minutes. Then I put them in an ice bath. After about 8 minutes, I drained the potatoes, and I punctured each one deeply with a toothpick between 20 and 25 times. I put the potatoes in a medium bowl and poured over about 30 ounces malt vinegar—for me it was enough to cover them by an inch–and refrigerated them overnight.
The next morning, I created a cold smoking chamber from a cardboard box and a wire cooling rack set in a rimmed cookie sheet. I simply connected it to my bullet smoker with tubing. Too much heat while smoking will dry out the potatoes, so you really need the cold smoke with as little heat as possible. I pulled the pickled potatoes directly from the refrigerator and put them in the smoking chamber, which was already filled with smoke. I smoked them with a mixture of peach and applewood for exactly 1 hour. The potatoes took the smoke VERY well. I refrigerated them for nearly 5 hours, and when I removed them, the smoke taste was still very strong.
Next, you want to smash each potato between your palms. Don't be afraid to apply a little pressure so as to expose a bit of the potato beneath the skin. I fried the potatoes in 3 batches—don't overload your oil because you want the potatoes to crisp up quickly and nicely. Each batch took a little more than 7 minutes at 375ºF, which means I completed the frying in just over 20 minutes.
I made the simple aioli sauce with a fruity extra-virgin olive oil, a pinch of white pepper, and, finally, the anchovy fillets smashed to a fine paste with the blade of my knife.
At first glance, this recipe may seem daunting, but trust me, it's really VERY simple. By boiling and pickling the potatoes the evening before, smoking the next day and then frying the potatoes and taking 5 minutes to prepare the aioli, you will end up with a WONDERFUL, FLAVORFUL dish that has a little bit of everything. I was taken by the fact that I could taste the smoke, the malt vinegar, the aioli sauce, AND the fried potato.