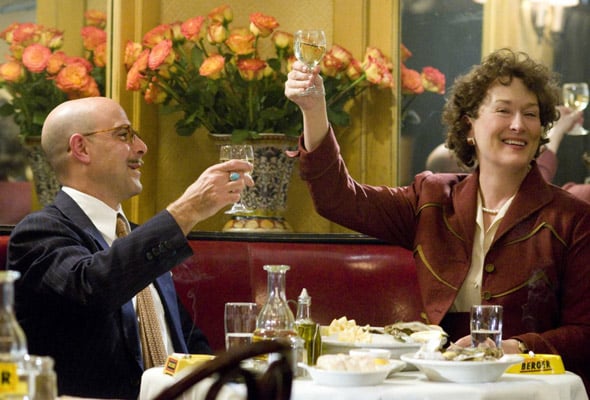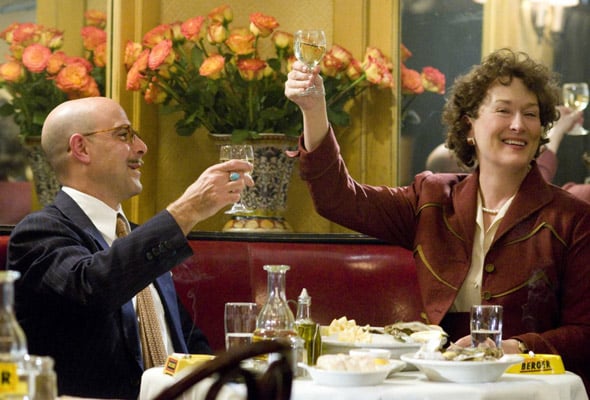 Editor's Note: We first shared this collection of what we heard from readers to be the best food scenes in movies years ago. But we find them just as heartening and, at times, hilarious as we did then. Maybe more so these days.
The Oscars tend to make us sorta nostalgic. Not just for any moving pictures, though. For those food scenes in movies that you just can't get out of your mind. Like the last scene in Big Night. The opener to Eat Drink Man Woman. Countless moments in Chocolat. Every single scene with Meryl Streep—and Stanley Tucci, too—in Julie & Julia. That one scene in, well, you get the idea. We're talking touching, witty, outrageous, or otherwise unforgettable food-minded moments. In the spirit of Oscars week, we tapped into your collective movie memories, requesting the most memorable moments in film that pertain to food. You didn't let us down. In fact, we gotta say, your responses astounded us. Not just in terms of their numbers and diversity, but in what they revealed about you. As it turns out, you're romantics. You're gourmands. You're closet trash talkers. You're kind. You're kooky. And, at times, you're even kinky. More than anything, though, you're the sort of souls who, like us, appreciate the countless everyday ways in which food intersects life. Without further ado, here are all the most memorable food scenes in movies we could muster. (Mind you, we said "memorable," not "award-winning," though some of them are that, too.) No need to ever again wonder what next to put in your Netflix queue. All that's left is to pour yourself some bubbly, settle down, and raise a glass with us. Here's to these moments of brilliance.—Renee Schettler
I love the scene in Babette's Feast when her food transforms all the grumpy locals.
—Beth Price
Babette's Feast when she relaxes with wine between courses.
—Maggie Perkins
Babette's Feast—the feast!
—David Leite
Charlie Chaplin in The Gold Rush doing the dinner-roll dance. [Editor's Note: Let's not forget the remake of this food scene in Benny and Joon. (With thanks to Leah Schultz for the reminder!)]
—Elsa Jacobson
Fave of mine—the opening of Eat Drink Man Woman.
—Michael Ruhlman
Eat Drink Man Woman. The love of a parent poured into the meticulousness of prepping a delicious Chinese meal.
—Way-Ting Chen Hill
The most memorable scene for me is the opening sequence in Eat Drink Man Woman. It reminds me of Taiwan and how much I miss the food there. No other movie food scene has evoked as much emotion for me.
—Irvin Lin
Kevin Kline eating Michael Palin's fish in A Fish Called Wanda.
—Mary Elizabeth Weil
Cool Hand Luke. The eggs.
—Rhonda Hesser Thomson
The opening of Big Night, naturally.
—Trevor Kensey
Big Night. The entire movie.
—Jon Pine
The completely silent last scene in Big Night and the making of humble eggs.
—Doug Goudie
The food fight in Animal House!
—Robbie Doores
Animal House, when John Belushi says, "Guess what I am!" and puts mashed potatoes in his mouth and then blasts them out by smacking his hands against both sides of his face. "I'm a zit…get it?"
—Dan Kraan
The chocolate tasting scene in Romantics Anonymous. [Editor's Note: We'd not heard of this French flick but we just swooned—seriously, we swooned—to its trailer. What can we say? We're romantics.]
—Mark Harvey Levine
La Grande Bouffe. All of it. The Silence of the Lambs, the scene in which he says he'll have the guy's liver with a nice chianti. The scene in Like Water for Chocolate when everyone starts falling in love—oh, and the scene with the farts.
—Sofia Reino
The diner scene in Groundhog Day when Bill Murray stuffs a large slice of cake in his mouth, looks at Andie MacDowell, and says, "What?"
—Carlos Rodriquez
A Christmas Story and the Chinese Christmas dinner.
—Jyll Richburg
The scene from A Christmas Story when Ralphie's little brother eats his mashed potatoes like a little piggy.
—Many, many, many of you [Editor's Note: Me included.]
The turkey disaster scene in A Christmas Story. Meryl Streep chopping all those onions as Julia in Julie and Julia.
—Joan Osborne
Edward Scissorhands when he tries to eat peas with his hands. Must Love Dogs and arguing with the butcher over ordering a single chicken breast. In Waitress, the making of all the different pies with fantastic names like "Bad Baby Pie." Forgetting Sarah Marshall and the massive bowls of cereal he eats throughout the film when he's alone. Baking a solo cupcake and the total destruction of the massive heart cookie at the bridal shower in Bridesmaids. The butter scene in The Women, when Meg Ryan dips an entire stick of butter into sugar and eats it just like that. The movie is meh, but that scene is great. And I feel like Marie Antoinette should be in here somewhere for all those decadent pastries, but I can only really remember seeing them, not an actual scene.
—Kate Knapp
The restaurant scene with Mr. Creosote from Monty Python's The Meaning of Life. BOOM!
—Brian Davis
Young Frankenstein. "You haven't even touched your food." (Touches food.) "There. Now I've touched it. Happy?"
—Ilda Carreiro King
Isn't it in Fellini's Roma where the young man walks through the piazza and there is a huge terrace restaurant where everyone is eating spaghetti? And The Big Chill with the mayo on Wonder bread.
—Jamie Schler
I like the scene in Kramer vs. Kramer where the newbie single dad with a full-time job makes breakfast with his son. He could have given his son cereal, but no, he made French toast. I thought it showed how comfortable he was with taking care of his boy (earlier in the film he burns whatever he's trying to make and loses his temper) and how hard he was trying to be a good dad. It's so wonderful that they cook together. A whole lot of love in that French toast.
—Chiyo Ueyama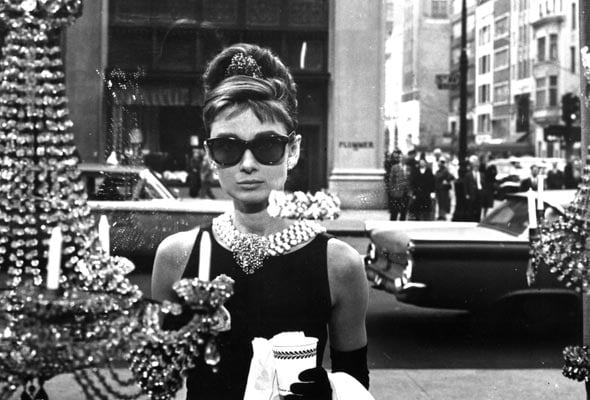 Audrey eating and drinking outside Tiffany's in Breakfast at Tiffany's.
—Diane Pallini
I love the blue birthday soup from Bridget Jones's Diary. It reminds me that every new cook has a mishap at some time or another—some edible, others tossable, maybe memorable.
—Karen Lynch
Oscar offering his poker buddies a choice of brown sandwiches or green sandwiches in The Odd Couple.
—Myles McDonnell
The Apartment, when Jack Lemmon makes spaghetti and meatballs and uses a tennis racket as a colander. When Steve Martin and Meryl Streep make croissants in It's Complicated. [Editor's Note: Weren't they stoned…?] Soul Food, and how Big Mama never follows a recipe, just her instincts. The raisin scene in Benny & Joon. "They're just humiliated grapes." The whole grits scene in My Cousin Vinny. "No self-respectin' Southerner uses instant grits. I take pride in my grits." 9 1/2 Weeks, when Mickey Rourke blindfolds Kim Basinger and feeds her items from the fridge and she has to identify them by taste and texture.
—Kim Venglar
Definitely the fridge scene in 9 1/2 Weeks.
—Emily Blinder
9 1/2 Weeks. Refrigerator scene. So erotic.
—Laura McLaughlin O'Brien
9 1/2 Weeks. Gahhh!
—Maggie Perkins
9 1/2 Weeks.
—Dawne Elaine
Mostly Martha, a German film that's a love story about a female chef, food, and the hard work of raising a kid. Oldboy, the Korean original, which is a rough, violent film but has at least two memorable food scenes, one involving an octopus.
—Elie Nassar
Willy Wonka & The Chocolate Factory, when they drink pop and float to the fan in the top of the building.
—Frances Benton Holden Tutt
Did anyone mention Willy Wonka & The Chocolate Factory? The part that always got me was when Wonka drinks out of a tiny tea cup and then eats the cup. Why doesn't this exist yet?! And Ratatouille—I love the scene where Ego takes a bite of food and is transported back in time to his mother's kitchen. It always chokes me up.
—Adriana Pecunia
All of Ratatouille. John Goodman enjoying his coffee in The Big Lebowski. James Cagney and the grapefruit scene in The Public Enemy. The soup sequence in The Birdcage when he forgot the "shrimps."
—Nancy Floyd
The diner scene in Five Easy Pieces when Jack Nicholson's character tries to order toast.
—Jackie Gorman
Watching whatsherface make all of the gorgeous confections in Chocolat.
—Cyndi Martin
I like when everybody gets all giddy in Chocolat.
—Sarah Ognie Page
The scene in Chocolat when the guy who is always asleep eats chocolate and suddenly wants to be with his wife. And this is a weird one, but in the movie Pan's Labyrinth, that freaky monster is sitting at the table with that huge feast in front of him. (It's actually a scary scene—the girl is told not to eat any food from the table—but it's very enticing.)
—Kelly Mescher Collins
Without a doubt, the dinner scene in Alien. Pretty unforgettable.
—Kylie Johnston
Clemenza teaching Michael to make meatballs with spaghetti sauce in The Godfather.
—Karel ter Kuile
The scene in The Help with the famous chocolate pie with that "little something extra." Also, the scene where Minny shows Celia how to fry chicken while explaining all the uses for Crisco. Crocodile Dundee when he roasts the iguana over the open fire, then he gives it to the reporter and eats a can of yams himself.
—Julie Fortier Houser
The restaurant scene in the 1986 French film Betty Blue. Cigarette ashes and trash on the pizza. Waitress stabs customer in the breast.
—Simón de Swaan
The food fight in Fried Green Tomatoes.
—Heather Gulino
The Royale with Cheese conversation in Pulp Fiction.
—Robert Wise
The Lady and the Tramp. I love the part when they eat the spaghetti!
—Tina Marques
Lady and the Tramp sharing a strand of spaghetti.
—Faleen Fedol
Every time I watch Lady and the Tramp, I think
"SHE'S HAVING SOME OF YOUR PASTA!"
"QUICK! EAT IT ALL! EAT IT ALL NOW!!!"
"GROWL! BARE YOUR TEETH! DO SOMETHING!"
"OH, DON'T GIVE HER THE MEATBALL! THERE'S MEAT IN IT!"
"IDIOT!"
But then again I'm not the romantic type
—Francesco Marciuliano in I Could Chew on This and Other Poems By Dogs
When a drunk Tom Hanks falls face down in a bowl of bar snacks and lifts his head up with pretzels stuck all over. I think the movie was Splash.
—Karen Pepper Resciniti
I once saw this Asian movie where this man and woman were passing a raw egg, out of the shell, back and forth with their mouths. I guess it was supposed to be erotic, but it seemed a little disgusting to me. Still, your question was "most memorable," and this was pretty memorable. I was impressed that the yolk didn't break, and wondered how many takes it took before they could get that.
—Martin A. Goldberg
Pretty much every scene from the movie Tampopo…the scene where the noodle master teaches his apprentice to really look at the meat and give thanks for the animal's sacrifice… the scene where the mother gets up from her deathbed to cook a last meal for her family…the scene where Tampopo falls asleep at her counter and has a nightmare about her broth boiling over and being ruined (I can so relate)…the gangster remembering his favorite meal as he's dying…
—Micaela Torregrosa-Mahoney
Tampopo has so many…the ramen-eating lesson…the oyster…the spaghetti…and, of course, the egg.
—Nathaniel O.
Tampopo egg scene.
—Laura Hartman
Tampopo!
—Gypsy Lovett, Liz Whyte, and many, many others
In Terms of Endearment, when Flap eats Aurora's salmon spread at the brunch while she's still putting the finishing touches on it.
—Anne Hill
When Harry Met Sally!
—Brandy King
When Harry Met Sally. Diner scene.
—Jym Brittain
Sally's ordering style in When Harry Met Sally.
—Adita Corrales
When Harry Met Sally. All the food scenes, from Sally's insistence to everything on the side to the miserable double date to Sally's unforgettable "display" in the deli.
—Alice D. Abbatte
The wedding cake in Bad Grandpa.
—Brenda Cushman
In Fatso, when Dom DeLuise's support buddies come over and they end up sitting around discussing all kinds of food and eventually rip the doors off the locked cabinets and go nuts making and ordering food. I was very young the first time I saw this, but I can totally relate now as an adult who has battled the call of food in the cabinets while trying to be "good" to maintain my weight loss.
—Jennifer McIntyre Schulz
Brad Pitt tasting peanut butter for the first time in Meet Joe Black.
—Vivienne Clégnac
The Breakfast Club lunch scene with a Rice Krispies-and-sugar sandwich on white bread.
—Frances Benton Holden Tutt
The deflated turkey dinner scene in National Lampoon's Christmas Vacation.
—Karen Daubmann
Tom Jones and his lady eating dinner.
—Rebecca Evers
The couple's feast scene in Tom Jones. I saw it when I was very young and suddenly food was somehow connected to sex as well as being connected to hunger and the pleasures of eating.
—Robin Carpenter
Tom Jones!
—Gere Schwert and many, many others
August: Osage County and the scene where Julia Roberts wants her mother, played by Meryl Streep, to eat fish at the dining room table.
—Marlene Smith
The scene in Radio Days when Danny Aiello's mom feeds Mia Farrow while searching for bullets so that he can kill her. Their discussion of where to dump her body while plying her with food is hysterical and a great snapshot of Italian-American foods and, indeed, hospitality.
—James D. McDonald
When E.T. eats Reese's Pieces!
—Dave Rueckl
Paul Sorvino cutting the garlic with a razor blade in Goodfellas. The eat-that-damn-steak scene in Mommy Dearest. Cloudy With a Chance of Meatballs has a ton of scenes. The gruel scene from Oliver! The campfire beans scene in Blazing Saddles. Katharine Hepburn trying to make breakfast in Woman of the Year. When Scarlett O'Hara digs up the potato.
—Debbie Koenig
Brad Pitt in Mr. & Mrs. Smith, the kitchen scene after the gunfight when he licks his lips. (And no, I don't remember what he was eating.)
—Maria Ines Ramos Suchojad
The Great Pie Fight in The Great Race.
—Diana Mencel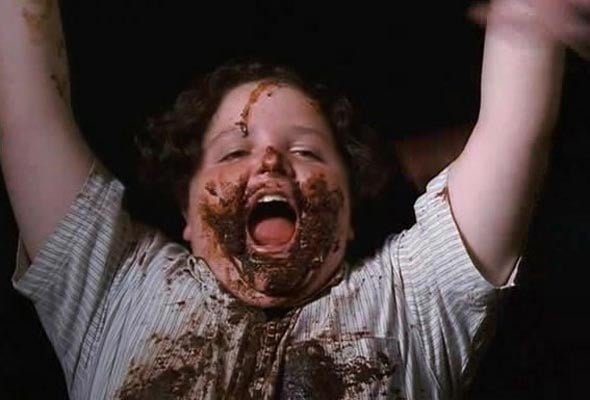 In Matilda, when the kid eats the giant cake. Soylent Green and "It's people! Soylent Green is made out of people!" [Editor's Note: Ew.]
—Kinsey Justa
Uncle Buck's mega stack of pancakes and sausage.
—Lisa Mescher-Schlueter
The pie-eating contest in Stand By Me. The after-credits scene from The Avengers when they're all sitting around eating shawarma. Oh, the mashed potatoes in Close Encounters!
—Carol Anne Grady
The five-dollar milkshake scene in Pulp Fiction.
—Michael Shoup
The opening sequence in Goonies, when Chunk squishes his pizza and milkshake against the window of the store as the outlaw Fratellis lead the police chase through town. Chunk gets a face full of strawberry shake and, in his frustration, uses a naughty word. The opening sequence of Saturday Night Fever, with Tony (John Travolta) strutting down 86th Street. He stops into Lenny's Pizzeria for a slice. (Lenny's was our neighborhood pizzeria growing up, and it was delicious.)
—Jo Ann Brown
Eat Pray Love—amazing food scenes all over the place. What's Love Got to Do with It and that scene where Ike says, "Eat the cake Anna Mae!" In Last Holiday, where she thought she was dying so she traveled to this exclusive resort and one evening ordered the entire menu from this froufrou French restaurant. That armadillo groom's cake in Steel Magnolias!
—Ayanna Fews
All the pie-making scenes in Waitress.
—Maria Averion
I love the scene in Enchanted April when the English ladies are trying to eat pasta in their rented Italian castle and they have absolutely no idea how to do it. Also, there's the great scene in Heartburn when Meryl Streep's character has learned that her husband, played by Jack Nicholson, has been cheating on her. Her pain and anger well up during a dinner party until, just as she's about to serve dessert, she instead hits him in the face with the pie she's about to slice and plate.
—Carol Penn-Romine
The breakfast scene in Moonstruck. "Do you love him, Loretta?" "Yeah Ma, I love him awful." "That's too bad."
—Maureen Abood
The "secret cupcake eating scene" in This is 40. Alice in Wonderland and the "Eat Me" cake. The Thanksgiving foibles in Pieces of April. Mrs. Doubtfire and the whipped cream face mask. And then there's the scene from Into The Wild where he tries to smoke the bear and it goes horribly wrong—heart crushing.
—Kristel Poole
The raw eggs in Rocky. Boiling the lobsters in Annie Hall. And, my personal favorite, Inglourious Basterds and the strudel with cream close-up.
—Linda Pacchiano
Okay, if no one is going to say it, I will. The warm apple pie scene in American Pie. [Editor's Note: I was going to say it if you didn't…]
—David Leite
Harry Potter and the Sorcerer's Stone. When the kids arrive at Hogwarts. Dumbledore says, "Let the feast begin," and all the tables are covered with all kinds of foods.
—Allison Wilson Magee
Indiana Jones and the Temple of Doom…monkey brains….still gives me shivers.
—Keith Fjellman
One word. Foodfight!
—Tom Rainey
In Easter Parade, when Jules Munshin, playing the waiter, describes the making of a Caesar Salad to Judy Garland and Peter Lawford. There was no food in sight, but it's a great scene.
—Jill Raison
The imaginary dinner in Hook. [Editor's Note: Let's not forget the imaginary food fight in Hook.]
—Lisa Zlody
In How to Marry a Millionaire, starring Lauren Bacall, Betty Grable, and Marilyn Monroe, the final scene, where they're in the diner with their husbands having a wedding dinner of hamburgers and beer. It Happened One Night, starring Clark Gable and Claudette Colbert, and the scene where she's hungry and they have no money so he gets carrots from a garden and she's appalled that he'd eat them raw. When Winnie the Pooh eats all of Rabbit's honey and gets stuck in Rabbit's hole. But my favorite is when I asked my husband his favorite movie food scene, he thought for a moment and then replied, "I've always liked the hot dogs at the drive-in theater."
—Helen Doberstein
We had a lot of other entries from a lot of other film fans. Here's a glimpse at those movies and food scenes which also deserve honorable mention, including
The Cook, The Thief, His Wife and Her Lover
Dinner Rush
The World's Greatest Sandwich scene in Spanglish. [Editor's Note: If you have a thing for late-night sandwiches, you gotta check out this food scene with Thomas Keller and Adam Sandler making The World's Greatest Sandwich.]
Pretty Woman (so many scenes!)
Castaway on the Moon
Big (Tom Hanks eating the baby corn)
The Family Stone (the strata disaster)
Two Weeks Notice (the discussion about tofu cheesecake with the dad)
Just about any James Bond flick (and the ordering of a martini)
Leaving Las Vegas (oof!)
The Blues Brothers and the scene where they order dry white toast, four fried chickens, and a Coke
There's also the swell spaghetti-eating scene from Un Americano a Roma, or An American in Rome
And, not surprisingly, we also heard many, many mentions of Lucy and Ethel in the chocolate factory, which is technically a television show, though we love it, too.
Got more memorable scenes that we missed? Kindly let us know in a comment below! Originally published February 26, 2014.