A Taste of Portugal, my first spice blend, is bursting with the flavors I grew up with: smoked paprika, garlic, citrus, bay leaf, piri piri chiles, coriander, red wine, and more. It'll amp-up any of your dishes with just a spoonful or two.
I've been sitting on this for almost a year and was THIS CLOSE to becoming apoplectic from holding it in. But I can finally share the great news with all of you. Leite's Culinaria has put out our first spice blend. It's called A Taste of Portugal. We partnered with the wonderful spice company World Spice Merchants, which handcrafted the blend from my recipe.
Why Did You Create A Taste of Portugal?
As a kid, I loved watching the women in my family cook. And for so many dishes, they used the same ingredients that created the incomparable, ubiquitous flavors of my childhood. When I wrote my cookbook, The New Portuguese Table, it seemed to me there had to be an easier way to get the same flavors without having to start from scratch every time. That's when I created a spice paste that evolved into this spice blend. It has all the familiar, comforting flavors of Portugal in one jar. The mix is an homage to my family's wonderful cooks and their dishes.
Visit World Spice Merchants (and only World Spice Merchants) to get your share of this Portuguese flavor bomb. And if this is your first time buying from them, you'll get 10% off your entire order. A perfect time to stock up on all your favorite kitchen staples.
What's in A Taste of Portugal Spice Blend?
The ingredient list reads like one of Mama Leite's shopping lists: tomato powder, sea salt, paprika, parsley, smoked paprika, coriander, garlic, bay leaf, red-wine vinegar powder, lemon, white pepper, and dried piri piri peppers. You'll notice there are no weird or hard-to-pronounce ingredients. Everything in the jar is all-natural and pure.
Not only that, but all the ingredients are directly sourced by Amanda Bevill, the owner of the company. The blend is artisanally made, which means is ground, blended, and bottled by hand. And unlike other spice blends manufactured by big companies, which–by law–can sit on warehouse shelves for three years, my blend is made in very small batches so it couldn't be fresher if you made it yourself.
How Do I Use the Spice Blend?
It's easier to ask how not to use it! Each 4-ounce jar packs about 1 1/2 cups (or 24 tablespoons) into it. One of my all-time favorite uses (above) is to saute large shrimp in olive oil and butter. Just when they're done, add a few more tablespoons of butter and two tablespoons of ATOP. Swirl the skillet and it's dinner time. Make sure to have plenty of crusty bread on hand for dipping!
I've also used the spice blend in marinades for Portuguese pork and clams or my mom's carne assada, swirled it into olive oil for a dipping sauce, and rubbed it on meats that I smoked or grilled. You can spoon some into broths, such as my clams and sausage in a cataplana, and brines for extra flavor.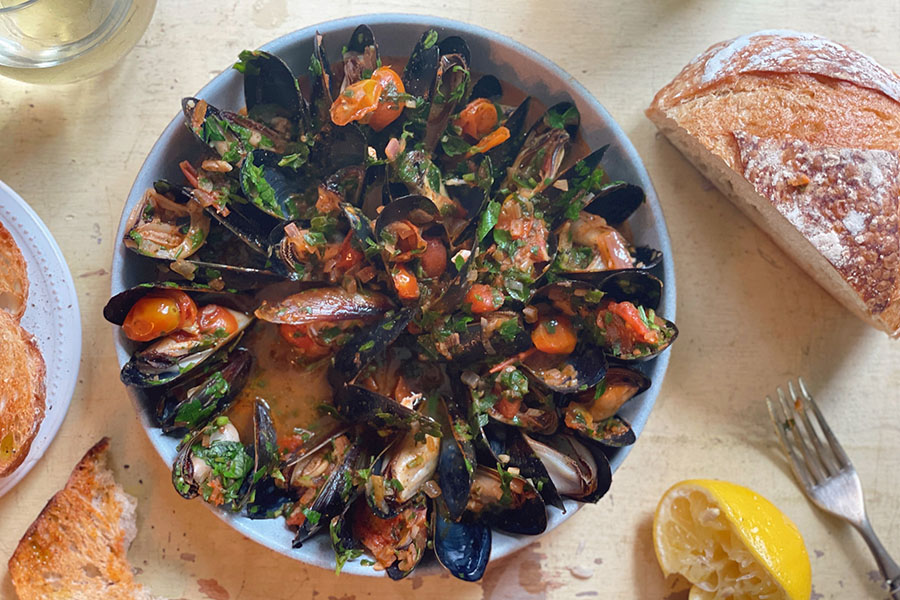 Portuguese Vinho Verde Mussels
Crisp and fresh Vinho Verde is a classic Portuguese wine, an ideal choice to pair with A Taste of Portugal.
Recipe
Jamie Aragonez, the chef at World Spice Merchants, came up with the amazing vinho verde mussels above.
As she writes, "This bowl is full of fresh summer ingredients and the robust flavor from A Taste of Portugal brings it all together. Tomato and smoky paprika combine with parsley and bay leaf to make a base accented with citrus and a kiss of heat from Portuguese piri-piri chiles.
"The flavors infuse the sauce, so don't skimp on the crusty bread! This easy recipe is great for a quick weeknight meal for two people, or it can be batched for a crowd.
The sauce, with its smokiness and mild heat, brings everything together. In the unlikely event that you have leftover mussels, shell them and use the sauce on pasta or rice."
What Dishes Have You Made with the Spice Blend?
Have you bought your bottle of A Taste of Portugal? If you have, thank you! Now, tell me what you've made with it? Send your inspiration, photos, and recipes. I want to see them all!