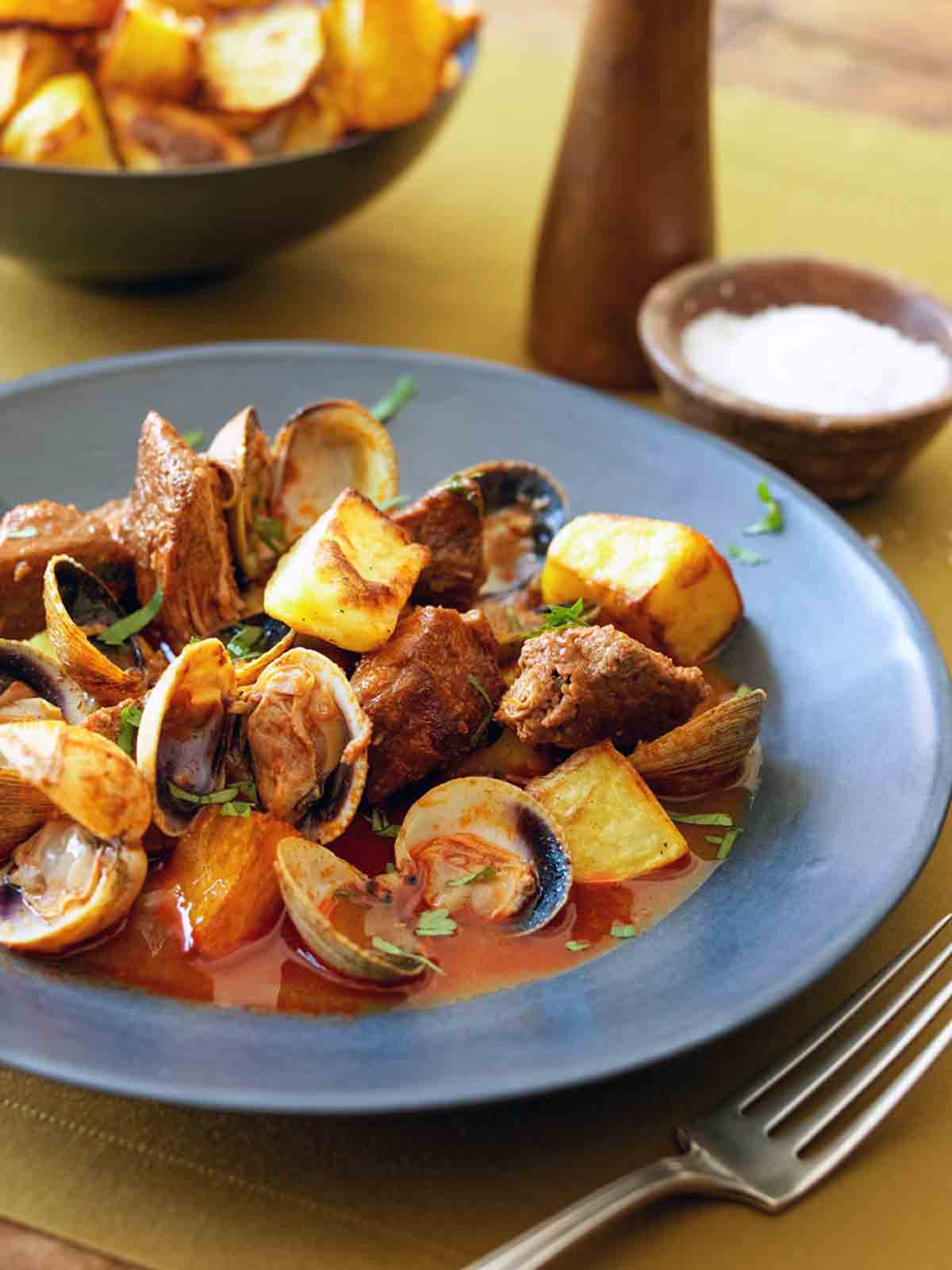 Portuguese pork and clams is from the Alentejo, the country's vast plains region, but my version bears only a passing resemblance to the original. Portuguese cooks typically fry the marinated cubes of pork loin in lard, making for some tough chewing, even with Portugal's tender pork.
The version I was weaned on was braised, requiring hours of cooking so that the meat would soften and break down. I use pork shoulder (aka pork butt), an excellent choice for juicy, tender morsels—with significantly less time on the stove.–David Leite
Pork and Clams FAQs
Can I use a leaner cut of pork, such as pork loin?
We don't recommend it. The lean cuts of pork will be tough and chewy after the long braise. Stick with pork shoulder or butt here.
How do I choose the freshest clams?
Always look for clams with closed shells when buying live, and always buy from a licensed and reputable supplier. Fresh clams (and other shellfish, for that matter) should have a "Harvested in the USA" label, and the supplier/fishmonger should be able to tell you exactly when and where they were harvested.

You may notice that there's a bit of dirt and sand on your clams. No worries at all, the muck around it actually helps keep the clam moist until you're ready to use them. Just soak the clams and give them a good brush before cooking.
Why didn't my clams open?
Generally speaking, a clam that doesn't open is probably dead. While you could still eat it, don't. You don't know why it died (and there are lots of reasons…none of them good) before you got your hands on it, so don't tempt fate.

This also goes for open clams that don't close when you tap them on the counter before cooking. As well, some clams are just so tightly joined to the shell that they're not going to open—they're alive but tough enough that you wouldn't want to eat it anyway. Stubborn bast*rds!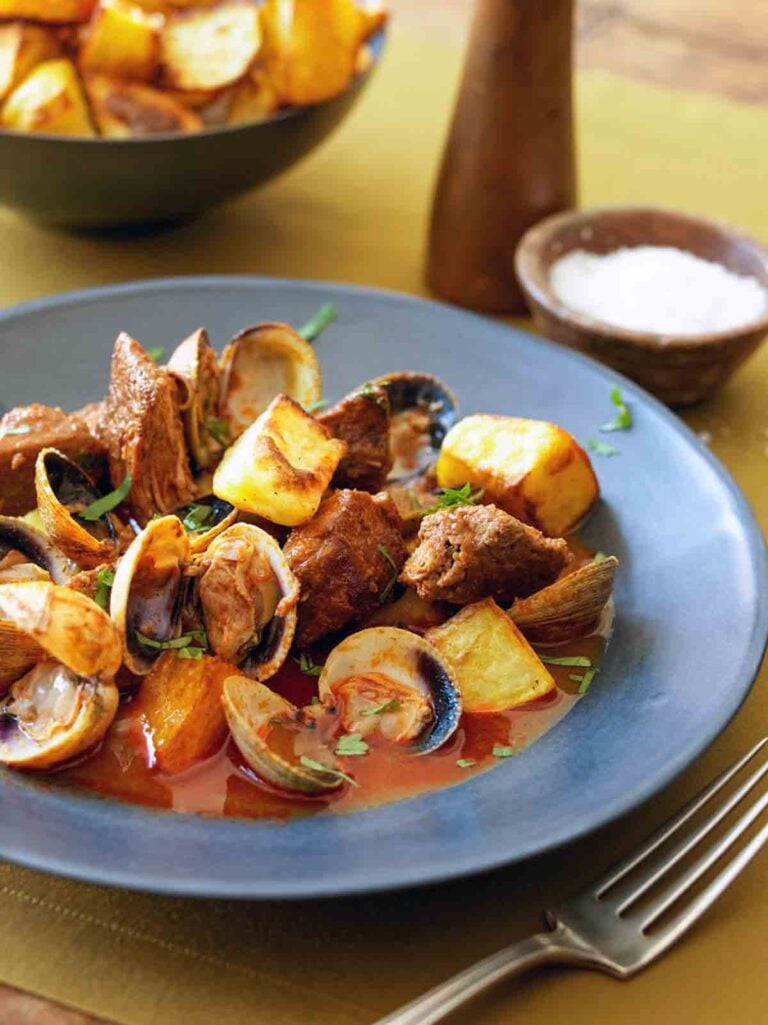 Portuguese Pork and Clams | Porco Alentejana
This combination of Portuguese pork and clams, also known as porco Alentejana, is a superbly comforting and oh-so-satisfying dish of marinated pork shoulder and briny clams in a white wine and red pepper sauce.
Ingredients
3

pounds

boneless pork shoulder or butt

,

cut into 1-inch (2.5-cm) chunks

1/4

cup

red pepper paste

1 3/4

cups

dry white wine

6

tablespoons

olive oil,

plus more if needed

2

medium

yellow onions

,

coarsely choppped

3

cloves

garlic

,

minced

2

pounds

Yukon gold potatoes

,

peeled and cut into 1-inch (2.5-cm) cubes

Kosher salt and freshly ground black pepper

3 1/4

pounds

small clams

,

such as cockles, manila, butter, or littlenecks, scrubbed and rinsed

1/4

cup

chopped fresh cilantro leaves
Instructions
In a medium bowl, toss the pork chunks with the red pepper paste. Add the wine and toss again. Cover with plastic wrap and refrigerate for at least 24 hours or up to 36 hours.

Position a rack in the middle of the oven and crank up the heat to 400°F (200°C).

In a colander set over a large bowl, drain the pork, reserving the marinade. Pat the pork dry with paper towels.

In a large pot over medium-high heat, warm 3 tablespoons olive oil. Working in batches, add the pork and cook, stirring occasionally, until browned on all sides, 5 to 7 minutes. Add more oil in between batches, if needed. Transfer the pieces to a plate using a slotted spoon. If the bottom of the pot develops a dark coating, tip in some water in between batches and scrape it up.

Lower the heat to medium, add the onion, and cook until soft, about 5 minutes. Add the garlic and cook for 1 minute more.

Pour in the reserved marinade, return the pork to the pot, and cook, covered, over low heat until the meat is tender, 1 to 1 1/2 hours. If it looks as if the liquid will burble away, spoon in a bit of water.

Meanwhile, in a large bowl, toss the potato cubes with the remaining 3 tablespoons oil, season lightly with salt and with plenty of pepper, and scatter in one layer on a rimmed foil-lined baking sheet. Roast, flipping them once or twice, until golden brown, about 45 minutes.

Discard any clams that feel heavy (which means they're full of sand), have broken shells, or don't close when tapped.

Raise the heat under the pork to high, stir in the clams, cover, and cook until they open, 7 to 10 minutes. Toss out any that refuse to pop open. Taste the broth and season with salt and pepper if needed.

To serve, remove half the clams from their shells, and return them to the pot. Toss out the shells. Line the bottom of the serving bowls with the potato cubes, top with the pork and clams and broth, and sprinkle with the cilantro. Have a large bowl at the ready for the shells.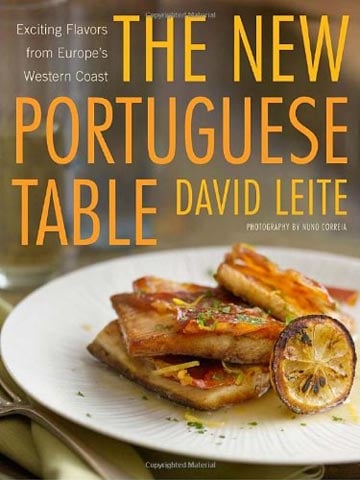 Nutrition
Serving:
1
serving
Calories:
670
kcal
Carbohydrates:
28
g
Protein:
39
g
Fat:
41
g
Saturated Fat:
12
g
Polyunsaturated Fat:
4
g
Monounsaturated Fat:
21
g
Trans Fat:
1
g
Cholesterol:
129
mg
Sodium:
289
mg
Potassium:
1183
mg
Fiber:
3
g
Sugar:
3
g
Vitamin A:
140
IU
Vitamin C:
27
mg
Calcium:
70
mg
Iron:
4
mg
Nutrition information is automatically calculated, so should only be used as an approximation.
Recipe © 2009 David Leite. Photo © 2009 Nuno Correia. All rights reserved.
---
Recipe Testers' Reviews
This hearty meal was so satisfying and comforting, and our whole family loved it. The pork was meltingly tender, and the clams gave a pleasant brininess to the spicy broth. Even my kids were fighting over the last clam in the pot. It was an enjoyable weekend project and well worth the effort.
I used inexpensive Pinot Grigio and Manila clams. I didn't need to add any additional oil between batches of meat or any water while searing or braising the meat.