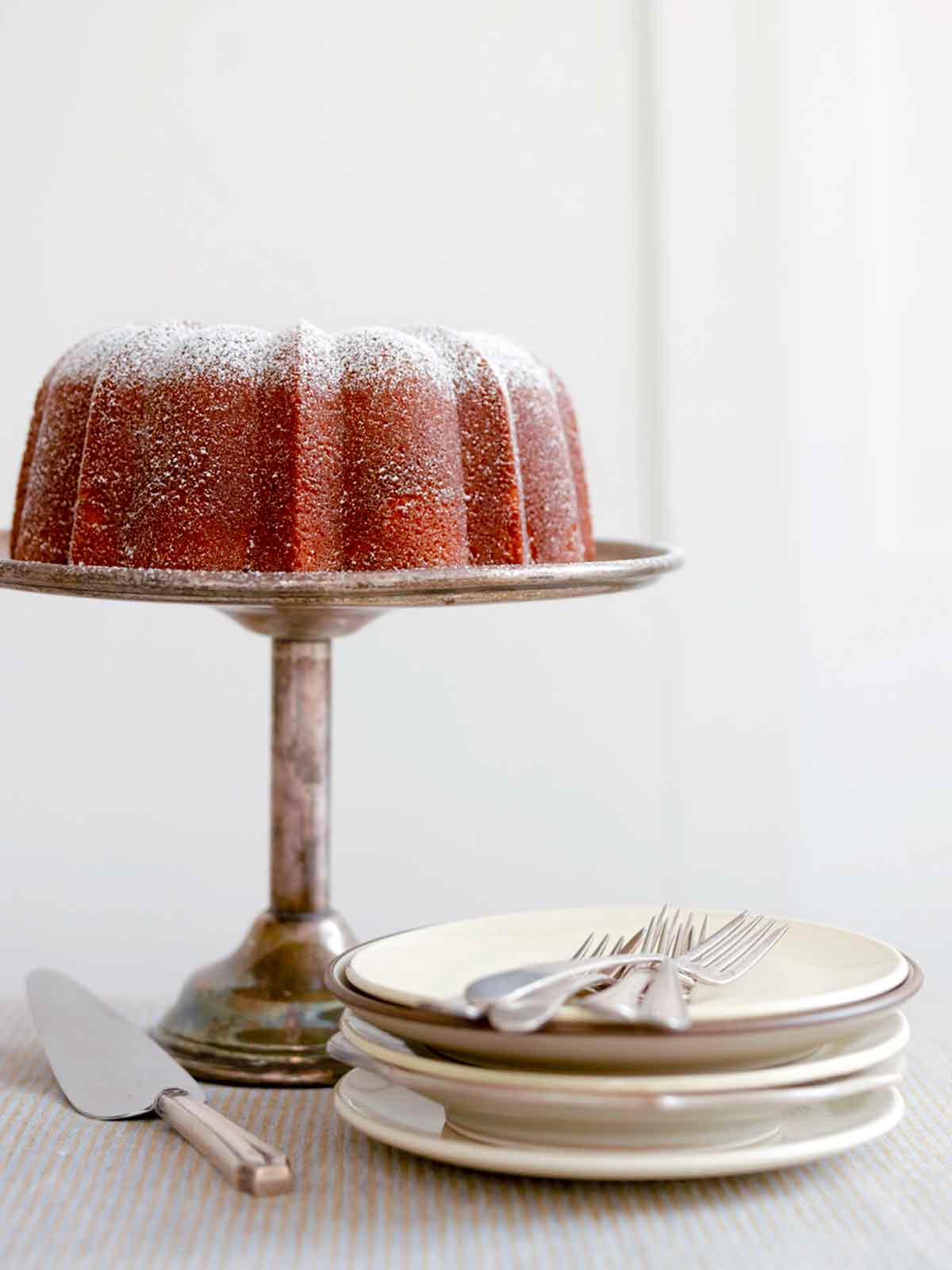 It may not look it, but this orange olive oil cake recipe was, without a doubt, the hardest recipe to develop for my first cookbook, The New Portuguese Table. We made 13 versions of it until I knew it was as good as the recipe I got at Papas, the tiny restaurant up the hill from my apartment in Lisbon. The problem was—and I have no idea if this was intentional—but they gave me a recipe for a classic chiffon cake. Yet their mighty bolo de laranja was dense and rich, and just one slice could satisfy even my appetite.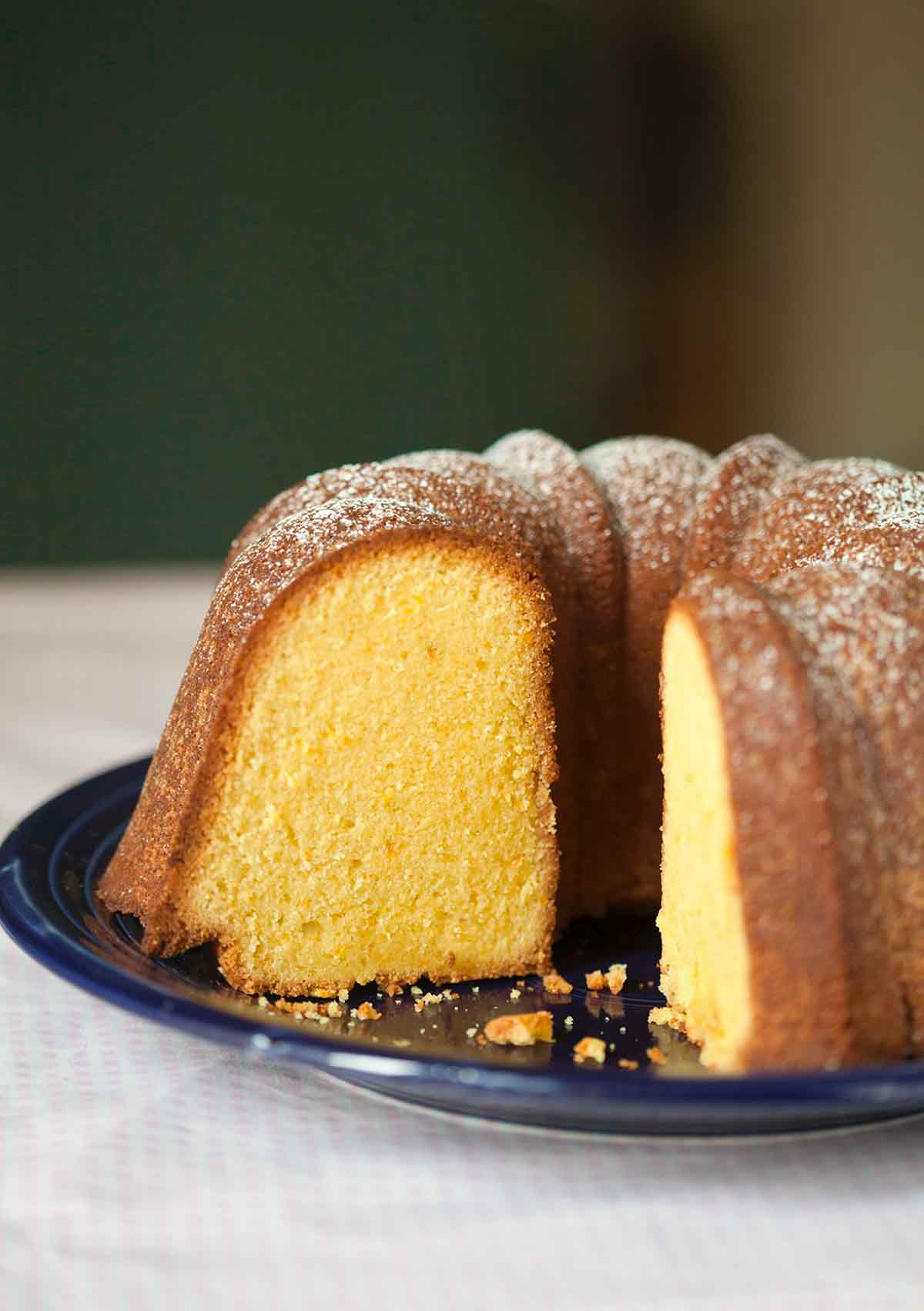 Friend and Portuguese food scholar Janet Boileau was also smitten with Papas' orange olive oil cake and went to work with me and my recipe tester, Cindi Kruth, trying to figure it out. In the end, it took a call to Lisbon chef Fausto Airioldi to help me get a handle on the dessert. He agreed with me that this was no stinking chiffon cake. It was too full of the bold flavors of Portugal. That's when Cindi and I started from scratch. Several weeks later, we came up with this cake.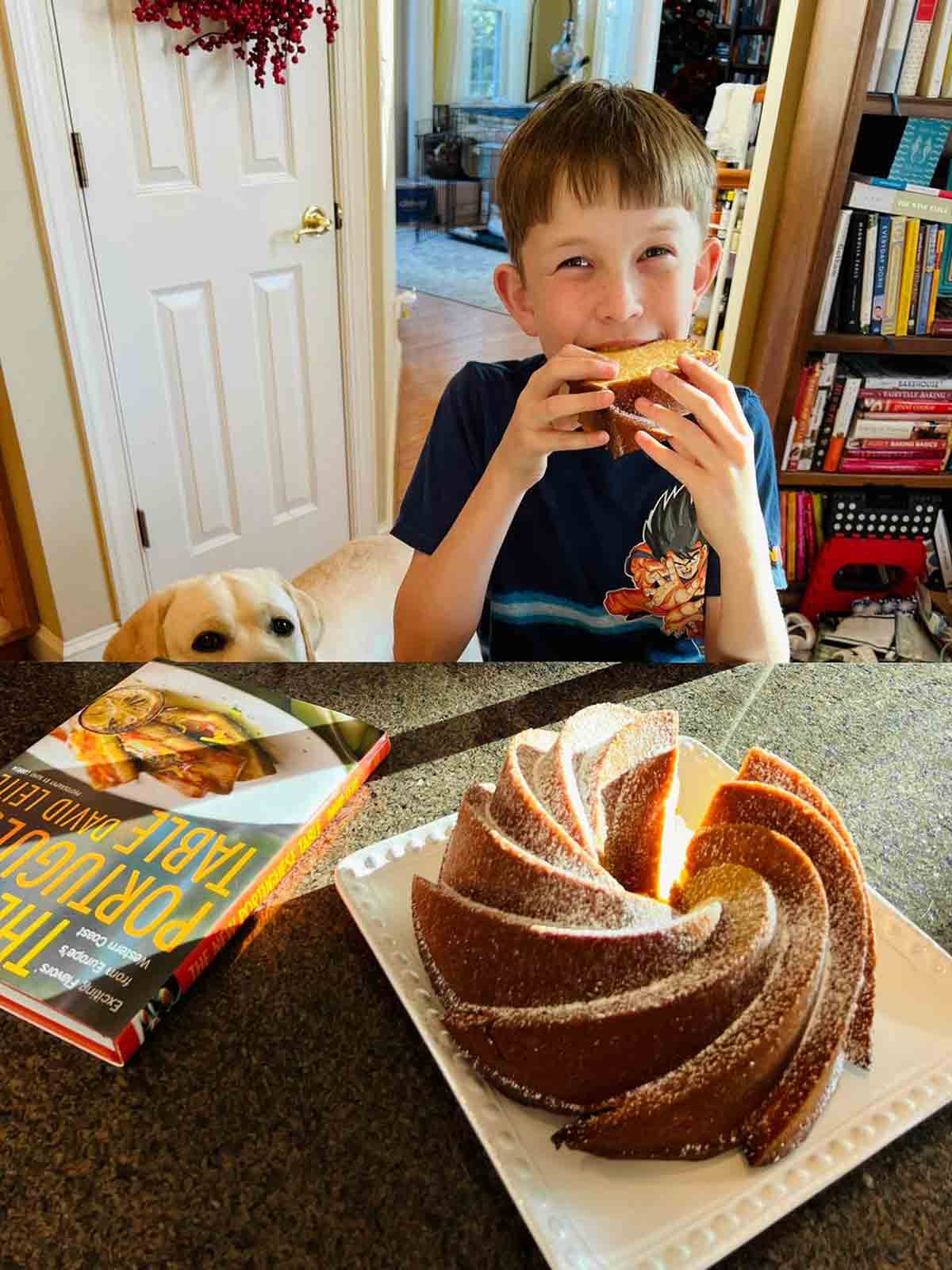 Over the years, I've been mightily blessed with all sorts of compliments and accolades for this cake. Some folks have won baking contests with it. One reader used it as the base for her wedding cake. And it's even featured in a Parisian bakery. (In a smaller, more twee version, naturellement!) But perhaps the compliment I love the most came from 10-year-old Hilton. He'd just woken up and had sat down to breakfast. After a few bites of the cake, he turned to his mother and said…
This is the best thing I ever ate. And I'm already 10!

Hilton
Portuguese Orange Olive Oil Cake FAQs
What is a "fruity" olive oil?
Considering olives are fruits, all olive oils would technically be "fruity." But technicalities aside, olive oils can range in flavor from grassy and buttery to peppery and the sought-after fruity. Finer-quality extra-virgin olive oils tend to be perceived as fruity with aromas and notes of tart apple, apricot, pineapple, or banana. There are even olive oils infused with orange. But you don't need to go crazy trying to find the perfect oil for this cake. Just make sure the one you choose isn't peppery.
Do I really have to wait 24 hours before digging into this cake?
Of course not. But if you want the best possible bite, then, yes, hold your horses. Consider the overnight rest a kind of honeymoon, where the newly-wed flavors have a chance to go from shy and unsure to wildly satisfying. The result? A sexier cake blooming with the blush and aroma of orange.
Portuguese Orange Olive Oil Cake
This Portuguese orange olive oil cake has an unforgettably tender crumb and a citrus smack thanks to fruity olive oil, winter navel oranges, and orange zest.
Equipment
12-cup Bundt or tube pan (Make sure to use a light-colored Bundt pan. A dark one will turn out a cake that sticks and is unpleasantly brown. The pan David uses is Nordic Ware's Anniversary 15-Cup Bundt Pan.)
Ingredients
Nonstick baking spray with flour

4 to 5

large

navel oranges

3 1/2

cups

all-purpose flour

1 1/2

teaspoons

baking powder

1 3/4

teaspoons

kosher salt

5

large

eggs

3

cups

granulated sugar

1 1/2

cups

mild, fruity extra-virgin olive oil

Confectioners' sugar

,

for sprinkling
Instructions
Position a rack in the middle of the oven, remove any racks above it, and crank up the heat to 350°F (180°C). Coat a 12-cup Bundt or tube pan with baking spray and set aside.

Finely grate the zest of 3 oranges and then squeeze the juice from 4 of them. You should have 1 1/2 cups orange juice; if not, squeeze the 5th orange.

In a large bowl, whisk together the flour, baking powder, and salt.

In the bowl of a stand mixer fitted with a paddle attachment or with a handheld mixer in a large bowl, beat the eggs on medium-high speed until well combined, about 1 minute. Slowly pour in the granulated sugar and continue to beat until thick and pale yellow, about 3 minutes.

Switch to low speed and alternate adding the flour mixture and the oil, starting and ending with the flour and beating until just a few wisps of flour remain. Add the zest and slowly drizzle in the orange juice, with the mixer on its lowest setting, to bring the batter together.

Gently scrape the batter into the prepared pan and bake until a cake tester comes out with a few moist crumbs clinging to it, about 1 1/4 hours. Check the cake occasionally and if the top begins to brown a touch too much, loosely cover it with foil.

When the cake is done, place the pan on a wire rack and let the cake cool in the pan for 15 minutes. (Don't forget to come back after 15 minutes. Seriously. If the cake remains in the pan too long, the sugars begin to cool and stick to the pan.)

Turn the cake out onto the wire rack and let it cool completely. (We know. Resist the temptation.) Place the cake on a covered cake stand and let it sit overnight. (Seriously. This dense, moist, fruity cake only gets better with age. Don't even think about taking a bite until the day after you make it—or even the day after that.) Just before serving, dust with confectioners' sugar.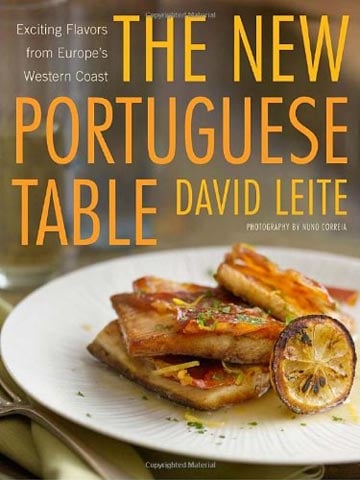 Nutrition
Serving:
1
slice
Calories:
530
kcal
Carbohydrates:
72
g
Protein:
6
g
Fat:
25
g
Saturated Fat:
4
g
Polyunsaturated Fat:
3
g
Monounsaturated Fat:
18
g
Trans Fat:
1
g
Cholesterol:
66
mg
Sodium:
318
mg
Potassium:
169
mg
Fiber:
2
g
Sugar:
46
g
Vitamin A:
195
IU
Vitamin C:
24
mg
Calcium:
51
mg
Iron:
2
mg
Nutrition information is automatically calculated, so should only be used as an approximation.
Recipe © 2009 David Leite. Photo © 2009 Nuno Correia. All rights reserved.
---
Recipe Testers' Reviews
This orange olive oil cake is an epiphany. It is literally the most fantastic, wondrous creation to ever grace my kitchen. The smell while it's baking tantalizes, the taste when it's removed from the oven mesmerizes. Thank you, David, thank you. I cannot wait to make this for everyone I know and let the worshiping begin!
I made the recipe exactly as written. Has anyone tried this with another citrus?
After reading the description of this orange olive oil cake, I couldn't wait to make this recipe. The cake turned out just as wonderfully delightful as I had imagined. I waited the full 2 days before cutting into it and I'm glad that I did. It's moist and decadent.
I made this cake for Easter brunch and I was nervous the cake may be too sweet for a few of my guests who don't eat sweets, so I cut the sugar down to just under 2 1/2 cups with great success. Surprisingly, I could have enjoyed the cake a bit sweeter, and I usually don't like cakes too sweet, so I imagine the 3 cups would make a perfectly sweet and fabulous cake.
The cake was displayed on our counter in a glass-covered cake dome for about 5 days and it remained moist until it finally completely disappeared.
Here's the hit of a recent charity bake sale! Easy and a real keeper—the note advising not to cut into the cake on the first day was my first clue how perfect it would be for a bake sale or other need to plan ahead.
I did cut into it on the first day, though, and it was very moist, but not at all in a negative way. It was equally wonderful and perfectly moist on the second day, and I cannot report further, as it was completely devoured on day two—or sold, as it went to a bake sale.
Customers loved the cake and specifically inquired about it. If I make this for a public event again, I'll attach little tags with a link to the recipe on this site! It's easy to make and quietly delicious.
I noted the 12-cup Bundt pan specified and divided the recipe into a 9-cup Bundt pan, four mini-Bundts, and a 3-cup "garden bug" Bundt pan that makes five different varieties, including a dragonfly and a ladybug. The bugs were not only charming but tasty. They and the mini Bundts, attractive and impressive, were both standouts at the bake sale for their visual appeal as well as their taste.
The first time I made the cakes, I poured all the batter into these two pans; on my second test batch, I didn't fill the molds quite as full and made a second set of the bugs in the 3-cup pan. I had no trouble reducing the baking time down for these smaller cakes, and, in fact, the quick bake time for them added to the appeal of this cake. And on top of the delicious flavor and charming Bundt shapes, it's a lovely yellow color, sunny, upbeat and attractive.
It took the full 5 oranges to make the required amount of juice. I used a handheld mixer with successful results. After the 15-minute cooling period, the cakes turned out perfectly from the light-colored Bundt pans I used.