Say hello to the chocolate chip cookies that started an Internet craze and made bakers rethink how to make cookies. They originally appeared in the July 9, 2008 edition of the New York Times in an article written by our Fearless Leader, David Leite. What makes them so damn special is the dough is refrigerated for 24 to 36 hours for a more complex flavor and greater variation in texture. Sea salt is the finishing touch.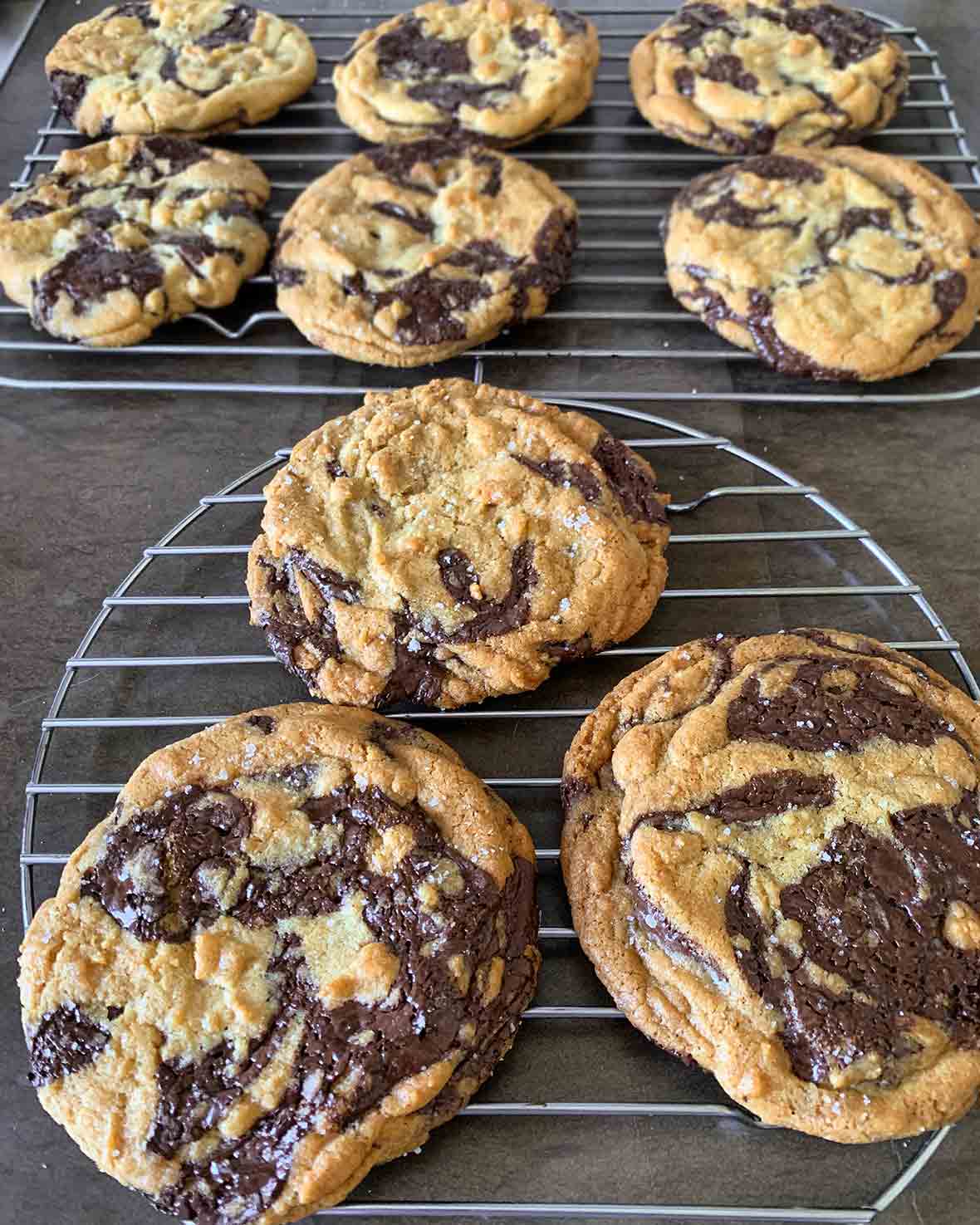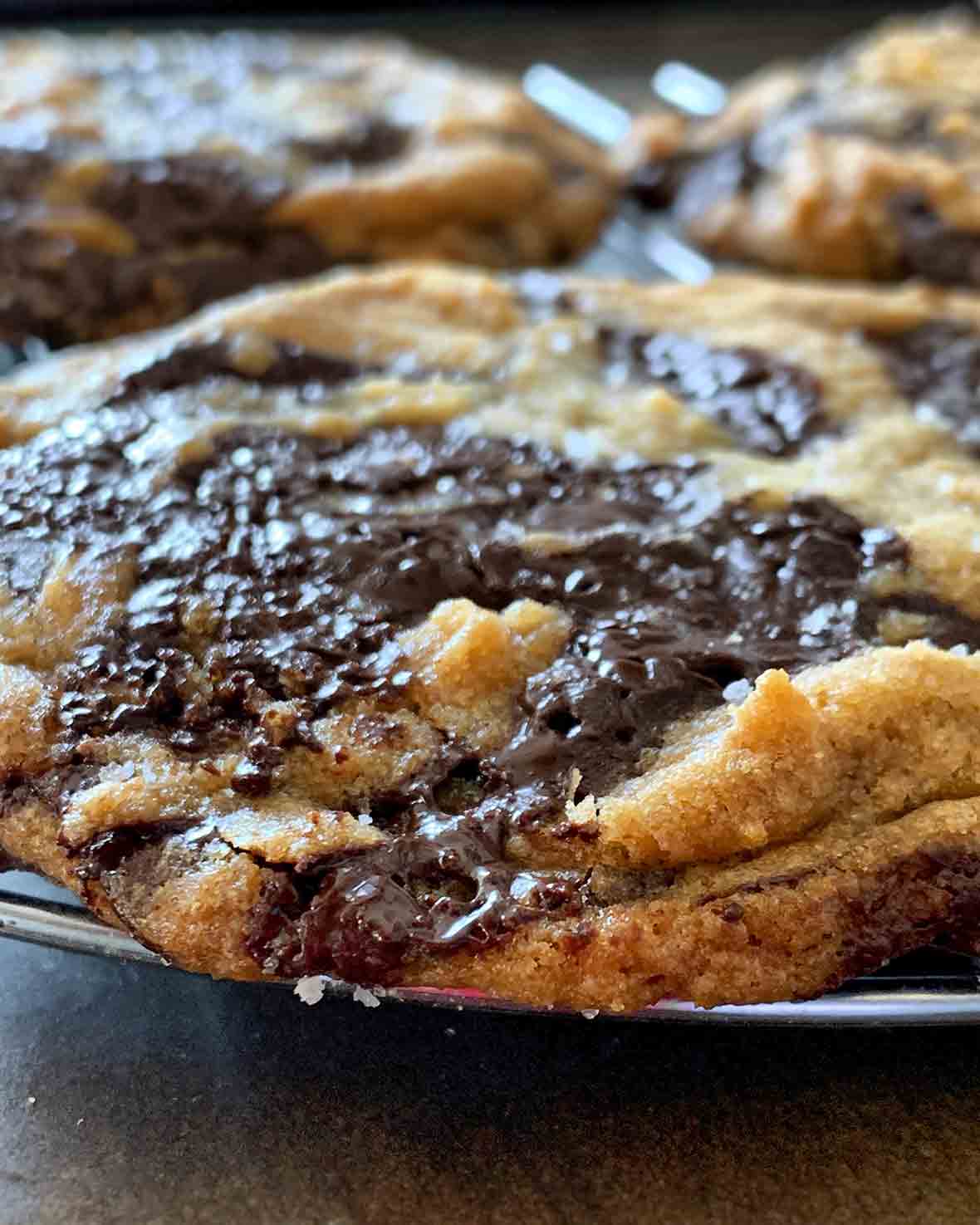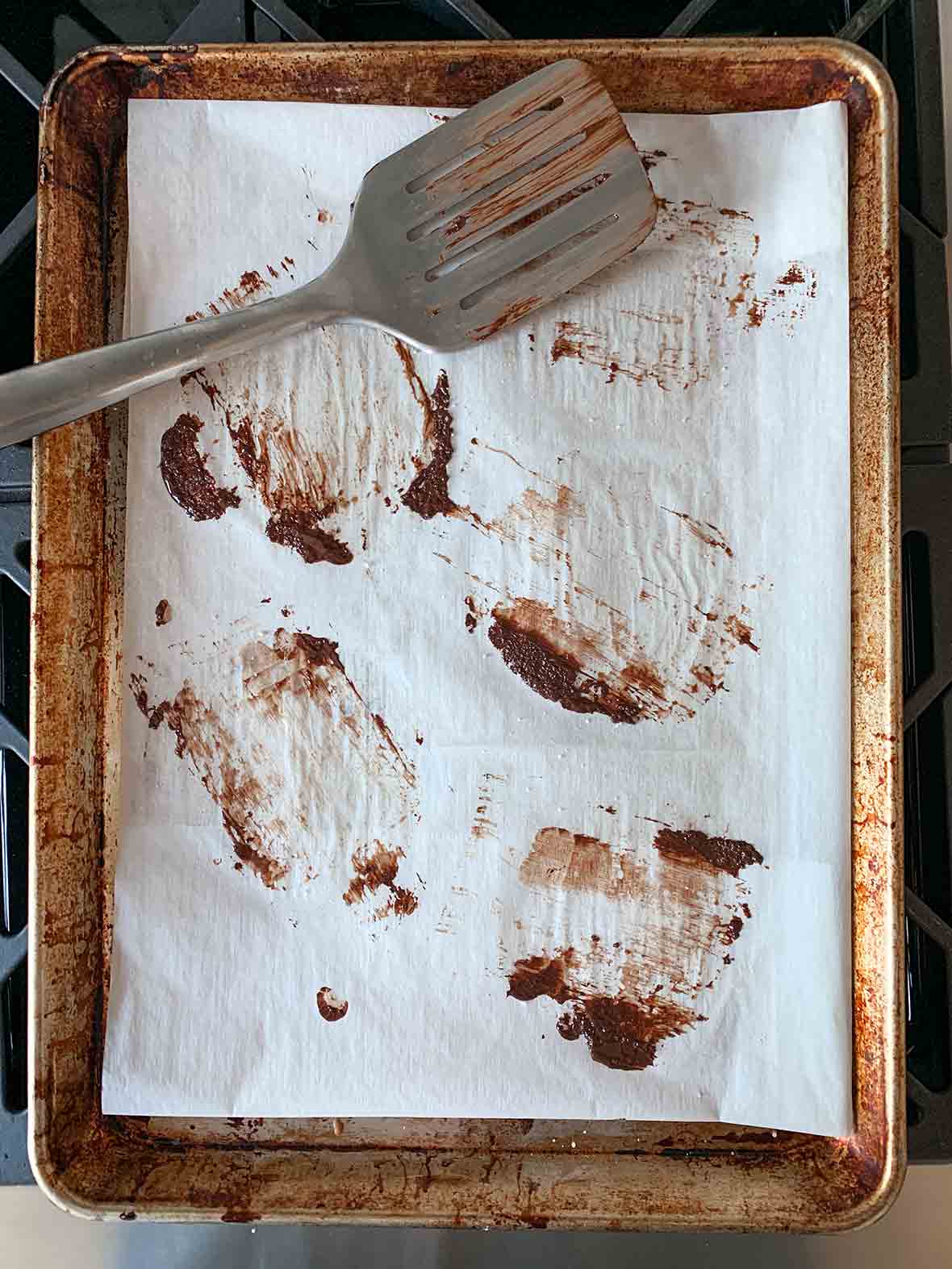 Video: How to Make NY Times Chocolate Chip Cookies
Video courtesy of New York Times
David Leite's Chocolate Chip Cookies
Quick Glance

(58)

15 M
1 D, 12 H

Makes about 18 cookies
Print Recipe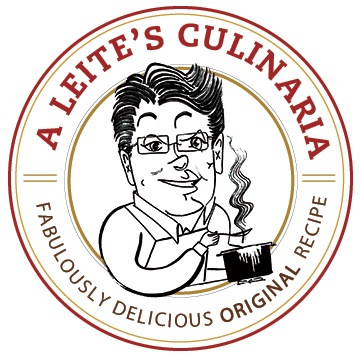 Ingredients
Directions
Sift flours, baking soda, baking powder and kosher salt into a bowl. Set aside.
Using a mixer fitted with paddle attachment, cream butter and sugars together until very light, about 5 minutes. Add the eggs, one at a time, mixing well after each addition. Stir in the vanilla. Reduce speed to low, add dry ingredients and mix until just combined, 5 to 10 seconds. Drop the chocolate pieces in and incorporate them without breaking them. You may have to do this by hand with a spatula. Press plastic wrap against dough and refrigerate for 24 to 36 hours. (I vote 36 hours.) Dough may be used in batches, and can be refrigerated for up to 72 hours.
When you're ready to bake, fire up the oven to 350° (176°C). Line a baking sheet with parchment paper or a nonstick baking mat. Set aside.
Scoop six 3 1/2-ounce mounds of dough (the size of generous golf balls) onto baking sheet, making sure to turn horizontally any chocolate pieces that are poking up; it will make for a more attractive cookie. (You can also freeze the balls in a resealable plastic bag.) Sprinkle lightly with sea salt and bake until golden brown but still soft, 18 to 20 minutes. You'll know the cookies are done when the tops have the caramel folds of a Shar Pei.Transfer sheet to a wire rack for 10 minutes, then slip cookies onto another rack to cool a bit more. Repeat with remaining dough, or reserve dough, refrigerated, for baking remaining batches the next day. Eat warm, with a big napkin.
Print Recipe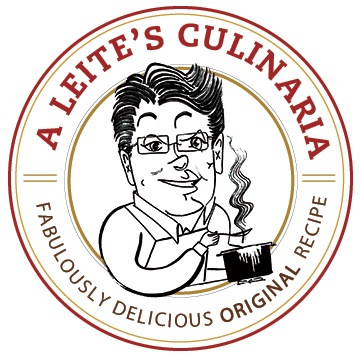 How To Make Gluten-Free Ultimate Chocolate Chip Cookies
Lusting after these cookies but groaning and bemoaning over being gluten-free? Dry your tears and try Shauna James Ahern's gluten-free version of the cookies. If only we could fix all your problems so easily!
Recipe Testers Reviews

I've searched high and low for several years trying to find the greatest chocolate chip cookie recipe. Thankfully, David Leite has done the footwork for us. I've made this recipe several times now, and the very first time I made it, I knew I had encountered some otherworldly magic.
This chocolate chip cookie is THE cookie against which all cookies should be measured. I've made these to impress friends and colleagues and even to help me woo my new wife. When you give these cookies to friends or family, expect EVERY comment to be overwhelmingly positive. Every single person who has tried one of these cookies has had the same reaction: "OMG! This is the best cookie EVER!"
When I make this recipe exactly as it's written, it makes huge 3 1/2 ounce cookies—just 1 perfect cookie per person is a great dessert, nothing more needed.
Exactly one month ago, I made these cookies for my annual Christmas cookie exchange at my friend Anita's in Cincinnati. I started by making 40 pounds of cookie dough. (I decided to make 1 1/2 ounce cookies, which are a normal size. I had to adjust the baking time because the cookies were less than half the size the recipe called for. Exactly 13 minutes at 350ºF worked perfectly. My yield was between 40 and 42 cookies per batch.) Needless to say, I won the cookie exchange. I made far more dough than was needed, so I divided the leftover dough into 1-pound batches, rolled the dough into 12-inch logs, and tightly wrapped them in the plastic wrap. Next I filled 1-gallon resealable plastic bags with the cookie logs, forcing the air out, and stacked the logs in the freezer. The cookies I made with the frozen dough tonight are as perfect as the cookies I made from the unfrozen dough a month ago.
On a final note, the cookies are wonderful warm, but they're delicious a few days later, cold. I promise you, if you make these cookies, you'll soon find yourself referring to them as "My Cookies."

I will go to this recipe again and again because these are the best I have ever baked. I had some fleur de sel I used to sprinkle on the top. This sure did bring out the sweetness of this ultimate cookie! Nice and gooey right out of the oven. Of course, this is the only way to have them. Yum….Thanks, David.

I rarely give a recipe a 10, but having made this recipe for the last 6 years, literally hundreds of times, I can say above and beyond all other recipes, this one deserves a 10. This is my tried-and-true, fail-safe, go-to, wow-them cookie recipe.
But last month, to my shock and horror, my batch of these cookies spread out thin and did not have the same amazing texture as all the previous batches. Baffled, I made them again with the same poor results. Truly a crisis! I sent out a 911 email to my fellow Leite's Culinaria recipe testers. After confirming I was using the same brand of chocolate, flour, and butter as always, David Leite asked me to call him. David went through each ingredient and asked a lot of questions, about my scale, my ingredients, including was my baking powder still good (who knew you could test your baking powder by adding a spoonful to hot water, if it fizzes it is good), and everything was fine. He then picked up on the fact I keep my huge Sam's Club bag of flour in the garage. With the current heavy rains and humidity, it had definitely picked up moisture. He then explained how if my flour had added moisture and I am weighing my flour, I was not only adding less flour than intended (part of the weight is water weight), but I was adding undesired water to my dough. I purchased new flour that I now store inside the house and attempted the recipe again. Perfection.
Thank you, David, and all the testers who continually help me improve. Hope this information helps someone else.
David Leite's Chocolate Chip Cookies Recipe © 2008 David Leite. Photos © 2008
David Leite
. All rights reserved. All materials used with permission.
If you make this recipe, snap a photo and hashtag it #LeitesCulinaria. We'd love to see your creations on Instagram, Facebook, and Twitter.