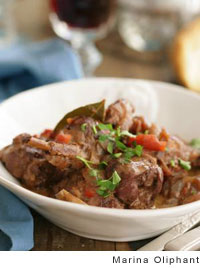 Although rabbit and hare dishes are enjoyed all over Portugal, they're most associated with the Estremadura and Ribatejo regions. This hearty dish, perfect for autumn, originally called for the blood of the rabbit, granted a bit tough to find at your supermarket these days. Instead, I use the liver to add a bit more dimension and body. If you're squeamish about the thought of rabbit, you can use 3-pound butchered chicken, but, alas, the flavor won't be same.–David Leite
Atenção
Don't be afraid to get the mushrooms really dark or to char the onions a bit. This is a rustic, woodsy dish, after all.
Portuguese Rabbit Hunter Style
Quick Glance
1 H
2 H, 30 M

Serves 4
Print Recipe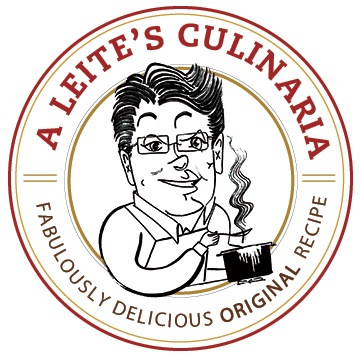 Ingredients
1/2 pound thick-sliced slab bacon, cut crosswise into 1-inch pieces

One 3-pound rabbit, cut into 8 pieces, liver finely chopped and reserved

Kosher salt and freshly ground black pepper

Olive oil, if needed

10 ounces mixed mushrooms, thinly sliced

3 medium yellow onions, cut in half and then into thin half moons

2 Turkish bay leaves

3 garlic cloves, minced

1 cup dry red wine

One 28-ounce can whole peeled tomatoes, preferably San Marzano, with their juice

2 sprigs flat-leaf parsley, plus chopped leaves for garnish

1 tablespoon chopped oregano leaves

1 teaspoon chopped sage leaves
Directions
1. Heat a large pot over medium-low heat until hot. Add the bacon and let it sizzle until the fat is rendered and the meaty bits are crunchy, 18 to 20 minutes. Transfer to paper towels to drain.

2. Generously season the rabbit with salt and pepper. Raise the heat to medium high and sear the rabbit in the fat, working in batches if needed, until golden brown, 6 to 8 minutes per side. Transfer to a plate and set aside.

3. If the pot is dry add a drizzle of olive oil. Lower the heat to medium, add the mushrooms, onions, and bay leaves and cook, stirring occasionally, until deeply colored, 18 to 22 minutes. Add the garlic and cook for 1 minutes more.

4. Pour in the wine and let it burble for 30 seconds, then nestle in the rabbit pieces. Squash the tomatoes with your hands over the pot and add them along with their juice, the 2 parsley sprigs, oregano, and sage.

5. Bring the mixture to a boil, reduce the heat to low, add the reserved liver, and simmer, covered, until the rabbit is cooked through, about 1 hour. Toss the parsley and bay leaves. Taste the liquid and season with salt and pepper, if needed.

6. If you're so inclined, transfer the rabbit to a platter and with a slotted spoon scoop the vegetables into a small bowl. Turn the heat under the pot to high to thicken the liquid. Otherwise, arrange the rabbit in the middle of the platter and spoon the mushrooms, onions, and tomatoes on top. Sprinkle with the bacon. Pour a bit of the liquid over the top and serve the rest on the side. Shower the dish with parsley just before serving.
Portuguese Rabbit Hunter Style Recipe © 2009 David Leite. Photo © 2009 Marina Oliphant. All rights reserved. All recipes and photos used with permission of the publisher.
If you make this recipe, snap a photo and hashtag it #LeitesCulinaria. We'd love to see your creations on Instagram, Facebook, and Twitter.