This risotto alla Milanese, from Lidia Bastianich, is a classic Italian recipe made with Arborio rice, beef stock, saffron, onions, shallots, butter, white wine, and Parmesan cheese.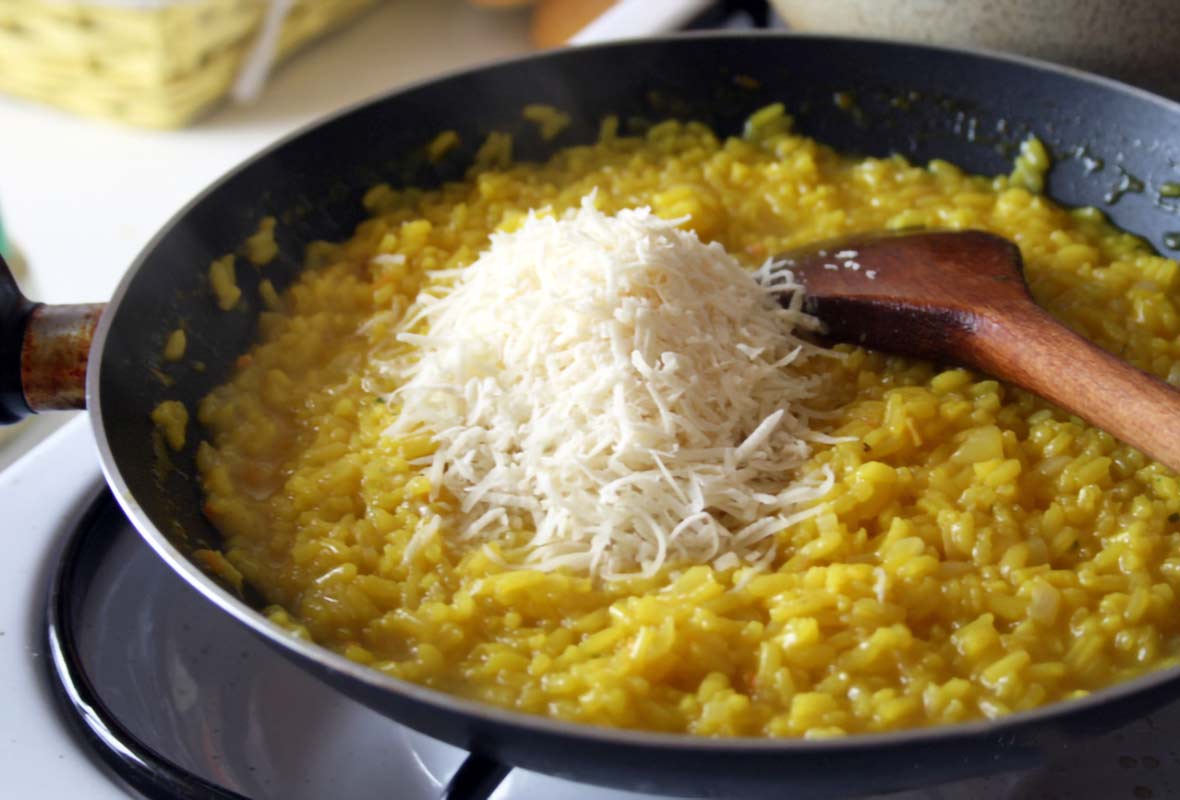 "I think risotto's popularity has to do with the fact that it's the kind of food that embraces you and holds you tight," coos Lidia Bastianich. "It comforts the soul."And this recipe's no exception. Lidia remains truthful to the dish while adding her own special touch. The rule of thumb is, no matter what some newfangled techniques or cooks who like shortcuts in the kitchen may take, risotto takes time and lots of stirring. After a hard day at work, we find it therapeutic to stand facing the stove stirring a big pan of the stuff. Originally published April 18, 1998.–David Leite
How To Cook Marrow Bones
Few butchers sell beef marrow separately anymore, but it is easy to come up with your own. For about 2 ounces marrow, start with half a dozen 1- to 1 1/2-inch beef marrow bones. (Your butcher can supply them and cut them to the correct size.) Heat the stock for the risotto and warm the bones in the stock, a couple at a time, for 3 minutes. Remove the bones with a slotted spoon and let them stand just until cool enough to handle. Try to push the marrow through the bone with your finger; it should come right out. If not, use a small spoon to scoop it out. The marrow may be soft around the edges, but the center should still be firm enough to chop.
Risotto Alla Milanese
Quick Glance
1 H
1 H

Serves 6
Ingredients
Email Grocery List
7 cups homemade beef stock or canned low-sodium beef broth

1/2 teaspoon saffron threads

3 tablespoons extra-virgin olive oil

1 cup minced onion

2 tablespoons minced shallots

2 cups Arborio or Carnaroli rice

1/2 cup dry white wine

1/2 teaspoon salt, or as needed

2 ounces beef marrow, cut into 1/4-inch pieces (see How to Cook Marrow Note above; optional)

2 tablespoons unsalted butter (1 oz), cut into bits

1/2 cup freshly grated Parmigiano-Reggiano cheese

Freshly ground black or white pepper, to taste
Directions
1. In a small heatproof bowl, pour 1/2 cup hot stock over the saffron and let it stand until the strands soften.

2. Meanwhile, in a heavy, wide 3- to 4-quart casserole or pot, heat the olive oil over medium heat. Cook the onions and shallots together until golden, stirring often, about 8 minutes. Add the rice and stir to coat with the oil. Toast the rice until the edges become translucent, 1 to 2 minutes.

3. Pour in the wine and stir well until evaporated. Add 1/2 cup of the remaining hot stock and 1/2 teaspoon of the salt. Cook, stirring constantly, until all the stock has been absorbed. Stir in the beef marrow, if using. Continue to add hot stock in small batches—just enough to completely moisten the rice—and cook until each successive batch has been absorbed. About 10 minutes after the first addition of stock, stir in the saffron mixture. Stir constantly and adjust the level of heat so the rice is simmering very gently until the rice mixture is creamy but al dente. This will take 16 to 20 minutes from the time the wine was added.

4. Remove the casserole from the heat. Beat in the butter until completely melted and then beat in the cheese. Adjust the seasoning with salt, if necessary, and pepper. Serve immediately, ladled into warm shallow bowls.
Risotto Alla Milanese Recipe © 1998 Lidia Matticchio Bastianich. Photo © 1998 Christopher Hirsheimer. All rights reserved. All materials used with permission.
If you make this recipe, snap a photo and hashtag it #LeitesCulinaria. We'd love to see your creations on Instagram, Facebook, and Twitter.