My sausage is suffering from an identity crisis, and it irks me. Mention chorizo, and pungent Mexican links filled with ground meat that's redolent of garlic and chile powder spring to mind. But mention chouriço (pronounced sho-rdeet-soo), the musky smoked sausage of Portugal, and "Isn't that just another kind of Spanish chorizo?" usually follows.
Well, I'm tired of this culinary confusion, and I'm not going to take it anymore.
How is chouriço usually served?
I was weaned on chouriço (for some folks a similar sausage, linguiça, was mother's milk), as every good Portuguese child should be. The sausage held sway at every meal. At breakfast, my mother served instead of bacon. At lunch, it insinuated itself into soups and tortilhas (frittatas). And at dinner, she orchestrated whole meals around it. Favas guisadas com chouriço (fava bean and sausage stew), cozido à Portuguesa (Portuguese boiled dinner), and the inflammable chouriço à bombeiro—sausage doused with aguardente and set afire at the table with a great whoosh. My grandmother often accompanied it with fat, orangish batatas fritas, potato wedges that had been fried in corn oil infused with the sausage's flavor and color.
All we needed to begin was a quick prayer, then a nod from my father.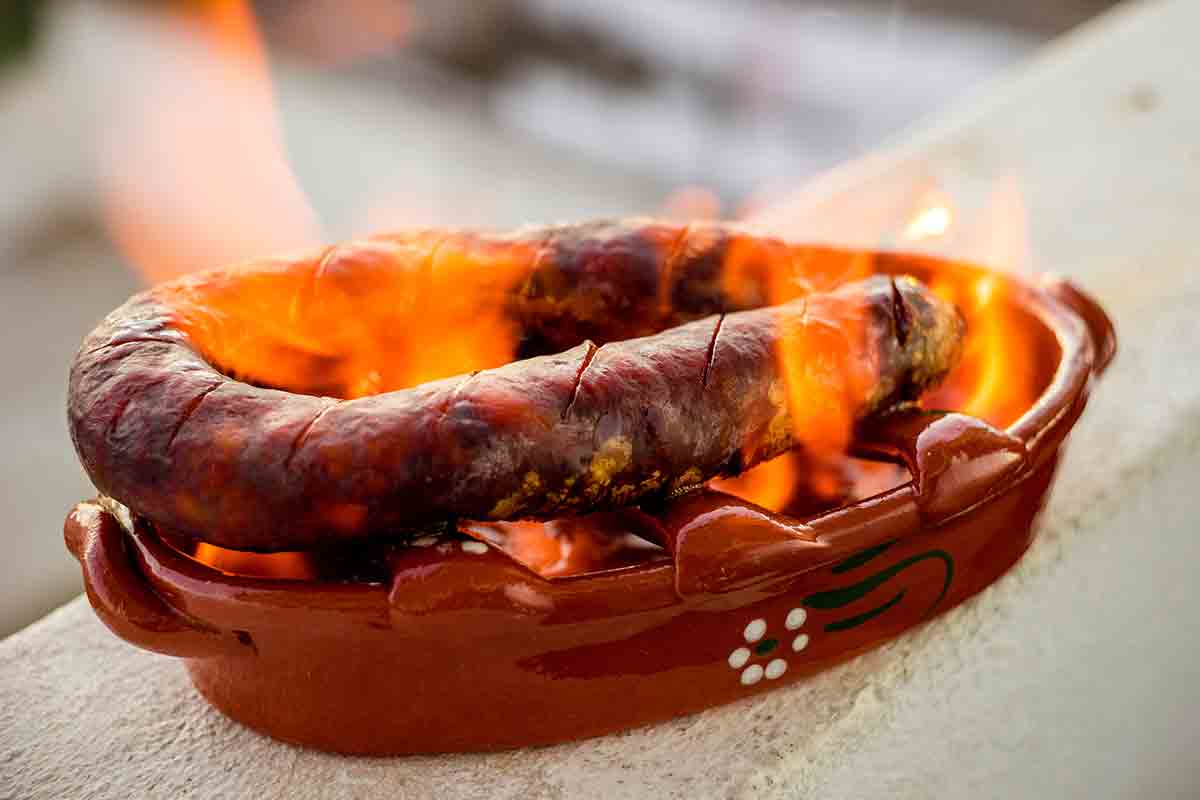 Is Portuguese chouriço the same as Spanish chorizo?
But after a lifetime of insensitive comments from others, I began having doubts: Was chouriço merely a chorizo knock-off—a Portuguese Payless to a Spanish Manolo Blanhik?
To settle the matter once and for all, I called Herminio Lopes, owner of Lopes Sausage Company in Newark, NJ. Besides making some of the best chouriço I have ever tasted, he plays both sides of the Iberian border by also selling Spanish chorizo.
According to Lopes, me makes both sausages with pork shoulder, paprika, garlic, black pepper, and salt, but an astonishing 20 percent of Spanish chorizo's weight is paprika. Chouriço, on the other hand, has considerably less paprika and much more garlic and black pepper. In addition, lots of Portuguese red wine is splashed in to round out the flavor. In short, it's got a bigger bite that can hold its own in lots of dishes.
Feeling a superiority dance coming, I called back and asked a clerk which sausage is more popular.
"In terms of sales, chouriço," she said.
Yes! Portugal rules, even if no one knew it but me. But my smug self-satisfaction was short-lived. Lopes got on the line and told me that one of his biggest chorizo customers was none other than the White House. (Was that swagger I heard in his voice?) Apparently, Bill Clinton had some of Lopes's chorizo at a fundraiser in 1996, and from then on he ordered 50 to 60 pounds a month, used to impress world leaders. When George W. Bush took office, he kept the chorizo coming. All I have to say is, "That's okay, Washington. My campaign to put a chouriço in every pot has just begun."
Source
Lopes Sausage Co.
304 Walnut St., Newark, NJ 07105
(973) 344-3063
(They ship nationwide)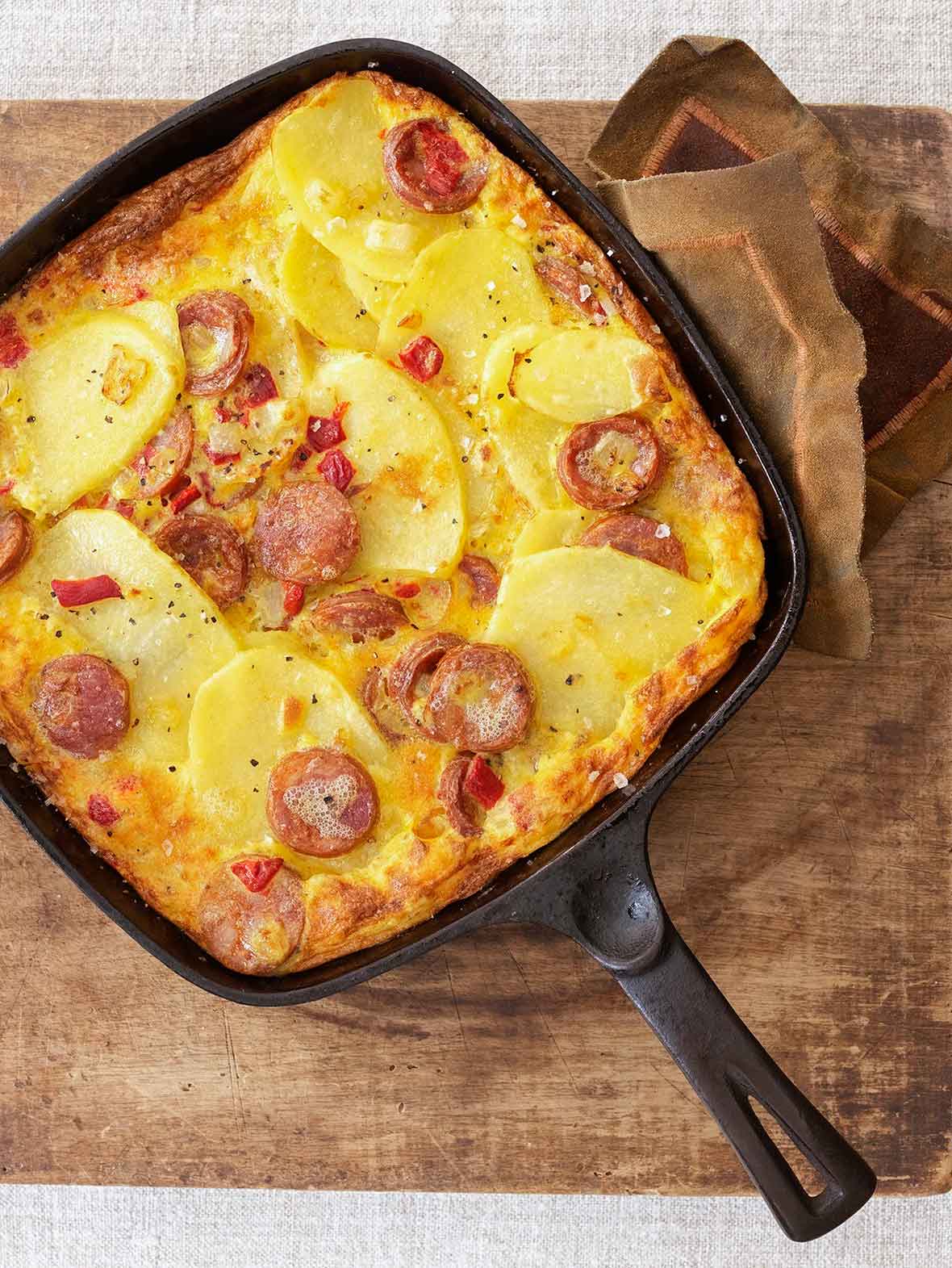 This Portuguese sausage frittata calls for eggs, chorizo or chouriço (Portuguese pork sausage with garlic), onions, and potatoes. Serve it for breakfast, late supper, or cold as a snack.
Recipe
For these chouriço and potato balls (bolinhas de chouriço com batata), sauteed Portuguese sausage, onions, and mashed potatoes are rolled and deep-fried. An excellent hors d'oeuvre, cocktail party nibble, or snack.
Recipe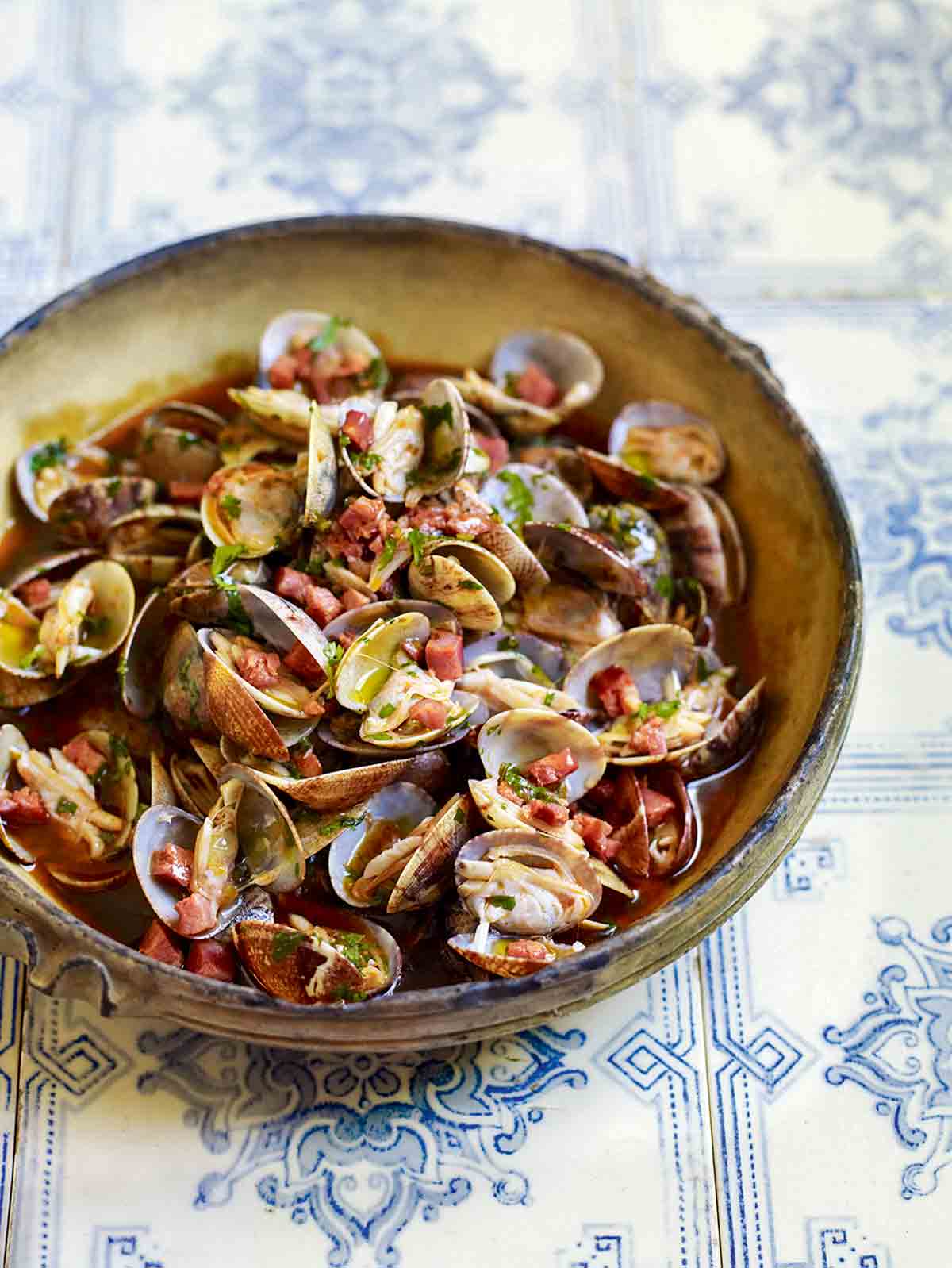 Clams with Portuguese sausage, garlic, and cilantro is a beloved and ubiquitous dish throughout all of Portugal. Simple to prepare, the dish is made of sausage that's sizzled in a skillet along with garlic and clams.
Recipe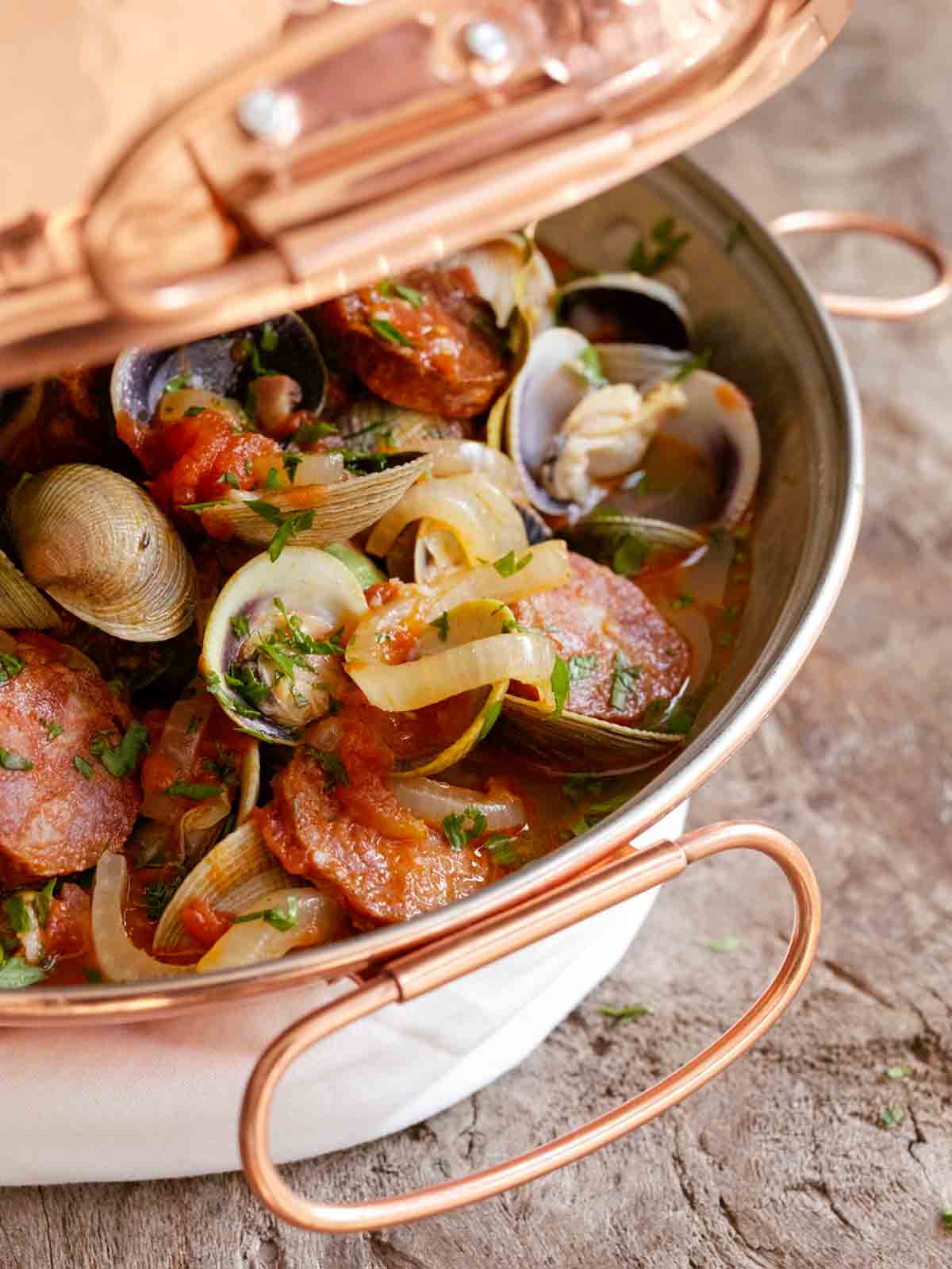 These Portuguese clams and sausage are slowly cooked with chouriço, onions, garlic, tomatoes, and spices in a cataplana, the Portuguese precursor to the wok.
Recipe
Originally published October 25, 2003
© 2020 Leite's Culinaria. All rights reserved. All materials used with permission.