Why is this called "best burger?" For a very good reason. The patties are made with a mix of short ribs, brisket, and chuck for a juicy, mouthwatering bite. Dress up these burgers with your favorite condiments or serve them naked.
This burger, made from short ribs, brisket, and chuck, illustrates a larger point about effort and technique. There's no reason something should be cooked a certain way just because that's the way it's usually done. When I think back on all those burgers I formed by hand, slapping ground beef thoughtlessly back and forth, back and forth, I weep with shame. Only an ambitious home cook will go the whole nine yards and make something as complex as the best burger, what we call a granulated burger. [Editor's Note: Uh, we didn't know what "granulated" meant in terms of the best burger, either. So we looked it up on the Mission Street Food blog. Here's what it had to say: "Granulation is our term for the process popularized by Heston Blumenthal, a Michelin 3-star chef based in London. Blumenthal combines strands of ground meat to create a loosely grained "meat column", then slices the column into patties. The result is, well, a delicacy." We're not going to argue.]
Never grill the best burger, because all of the fat and moisture will drip right out. Instead, searing the burger in a generous amount of fat creates an all-important moisture-sealing crust. Originally published  August 6, 2012.–Anthony Myint and Karen Leibowitz
LC Best Burger Note
This isn't just any burger. This is an exquisitely complex burger, the best burger. Carefully hand-ground from short ribs and brisket and chuck, oh my, it's then oh-so-gently shaped, expertly sizzled, and handily assembled by the folks at Mission Street Food in San Francisco to create 16 of these burgers. (Uh, you can halve the recipe if you prefer.) If you like, you can also go beyond replicating just the burger part, slapping the patty with a slice of Monterey Jack cheese, smothering it with sliced onions coaxed to submission in hot beef fat, and sandwiching it with a pillowy yet sturdy toasted bun slathered with homemade mayo, just like the Mission folks do. Or do your own thing. Hungry? Us too.
Best Burger
Quick Glance
50 M
1 H

Makes about 16 burgers
Special Equipment: Meat grinder
Print Recipe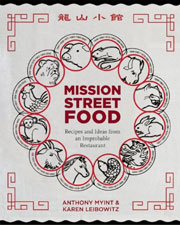 Ingredients
4 1/2 pounds chuck, untrimmed

3 1/2 pounds brisket, untrimmed

3 pounds short ribs, untrimmed

4 tablespoons Morton's kosher salt OR 5 tablespoons of Diamond kosher salt
Cheese, if desired
Pickles, homemade or store bought, if desired
Condiments of your choice, homemade or storebought
Directions
1. Using a sharp knife, remove any "silver skin" and any tough, gristly parts from the chuck, the brisket, and the short ribs. Reserve the skin and gristle for making beef stock or, if you find them to be offputting, discard them.

2. Using your knife, slice off any large pieces of visible fat from the three different kinds of meat. Some fat may-and, in fact, ought to-remain. Reserve the trimmed fat.

3. Cut the chuck, brisket, and short ribs into 1-inch cubes, keeping the three kinds of beef separate. Weigh the beef, still keeping the kinds separate. You should end up with a total of about 7 pounds.

4. Salt the cuts of beef, using 1/2 cup of salt for 7 pounds of meat. (If you have more than 7 pounds of meat, use a little more salt; if you have less than 7 pounds, use a little less salt. You need just under a tablespoon of kosher salt per pound of beef.) Place the meat on a wire rack set over a rimmed baking sheet, still keeping the three kinds separate. Refrigerate, uncovered, for 2 days. Cover and refrigerate the reserved fat.

5. When you're ready to grind the meat, cut 1 1/2 pounds of the reserved fat into 1/2-inch cubes. (If you have more than 7 pounds of meat, use a little more fat; if you have less than 7 pounds of meat, use a little less fat.) Reserve the remaining chunks of fat.

6. Set up your meat grinder, whether it's the old-fashioned sort that clamps onto your counter or an attachment for your fancy schmancy food processor or stand mixer.

7. Grind the 1 1/2 pounds of cubed fat with the brisket and the short ribs and let it fall into a large bowl. Now fashion a wide landing strip of sorts from plastic wrap on your work surface, using multiple overlapping layers of plastic wrap. Pass the mixture of ground brisket and short ribs and fat through the grinder again, this time adding the chuck to create a textural variation. As the ground meat emerges from the grinder, carefully let the columns of ground meat fall alongside one another on the plastic wrap in a parallel formation. Then stack the meat columns to create a single large column of ground meat that's 5 inches in, uh, girth. Gently wrap the ground meat in plastic wrap, pressing firmly enough so the column holds together but not so firmly that you compress it too much. For ease of slicing, refrigerate the ground meat for at least an hour. (At this point you can wrap the column of meat in several layers of plastic wrap and refrigerate it for a couple of days or freeze it for up to three months.)

8. When you're ready to cook the best burger, unwrap the column of ground meat and, using a sharp knife, slice it to form as many best burger patties as you like, each 3/4 to 1 inch thick. Melt some of the reserved fat on a griddle or in a large, preferably cast-iron skillet over medium-high heat. At the same time, heat another large but ungreased griddle or skillet over medium heat. Sear each patty, without budging it, for 60 to 90 seconds. A crust should form. Using a thin metal spatula, flip the patties and carefully sear the other side for 45 to 60 seconds. Transfer the patties to the ungreased skillet over medium heat to finish cooking to the desired doneness and to allow some of the grease to drain. The exact amount of time depends on how you like your burger. Transfer the burgers to a warm spot for another 2 minutes to rest and drain. (At Mission Street Food they use a wire rack set about an inch or so above the griddle. We think a wire cooling rack set on a rimmed baking sheet in a low oven will also do the trick.)

9. Assemble your burger however you darn well please.
Recipe Testers Reviews

Another 10. However, the recipe should really be cut in half. I am great friends with my butcher, and he willingly ground the meat for me. I came home with seven pounds of meat, cooked it up for three of us and still have lots in the freezer. So we did a side-by-side taste test. The Best Burger versus a freshly ground chuck burger, no frills. The Best Burger won, hands down. Without a doubt, it is the best burger I have ever eaten (there was moaning involved). Disclaimer: My butcher only sells local, grass-fed meat (aren't I lucky:)

I don't rate many recipes a "10," but this certainly warrants it. The different cuts of meat and the ability to adjust the fat content to your personal preference makes this recipe worth the effort. This also allows you to keep the grind coarse, so your burger isn't packed too tight, which makes it tough when you cook it. I quartered this recipe and still had large burgers and way more than the four I was expecting. I ended up with almost three pounds of meat. These are BIG burgers. It is important to follow the cooking instructions. Resist the urge to press your burgers, as this pushes the fat and moisture out and you'll end up with dry burgers. Letting the burger rest keeps them moist, just as with resting a steak or any other kind of meat.

Thank you, thank you! I've been searching for the perfect burger recipe for decades! This knocked our socks off...my husband's eyes literally rolled back into his head when he took his first bite. It was juicy, toothsome, and epically delicious! I halved the recipe and still had 6 rather large burgers; 3 to grill and 3 to freeze. I'd highly recommend serving these beauties on homemade hamburger rolls (you'll conveniently find an excellent recipe here!) with your favorite toppings. Or naked. They're perfect naked, and let's face it, not much is!
Best Burger Recipe © 2011 Anthony Myint | Karen Leibowitz. Photo © 2011 Alanna Hale. All rights reserved. All materials used with permission.
If you make this recipe, snap a photo and hashtag it #LeitesCulinaria. We'd love to see your creations on Instagram, Facebook, and Twitter.