This Portuguese piri-piri hot sauce is made with bird's eye chiles, which can be used on chicken, shrimp, pork, or just about any dish in Portugal.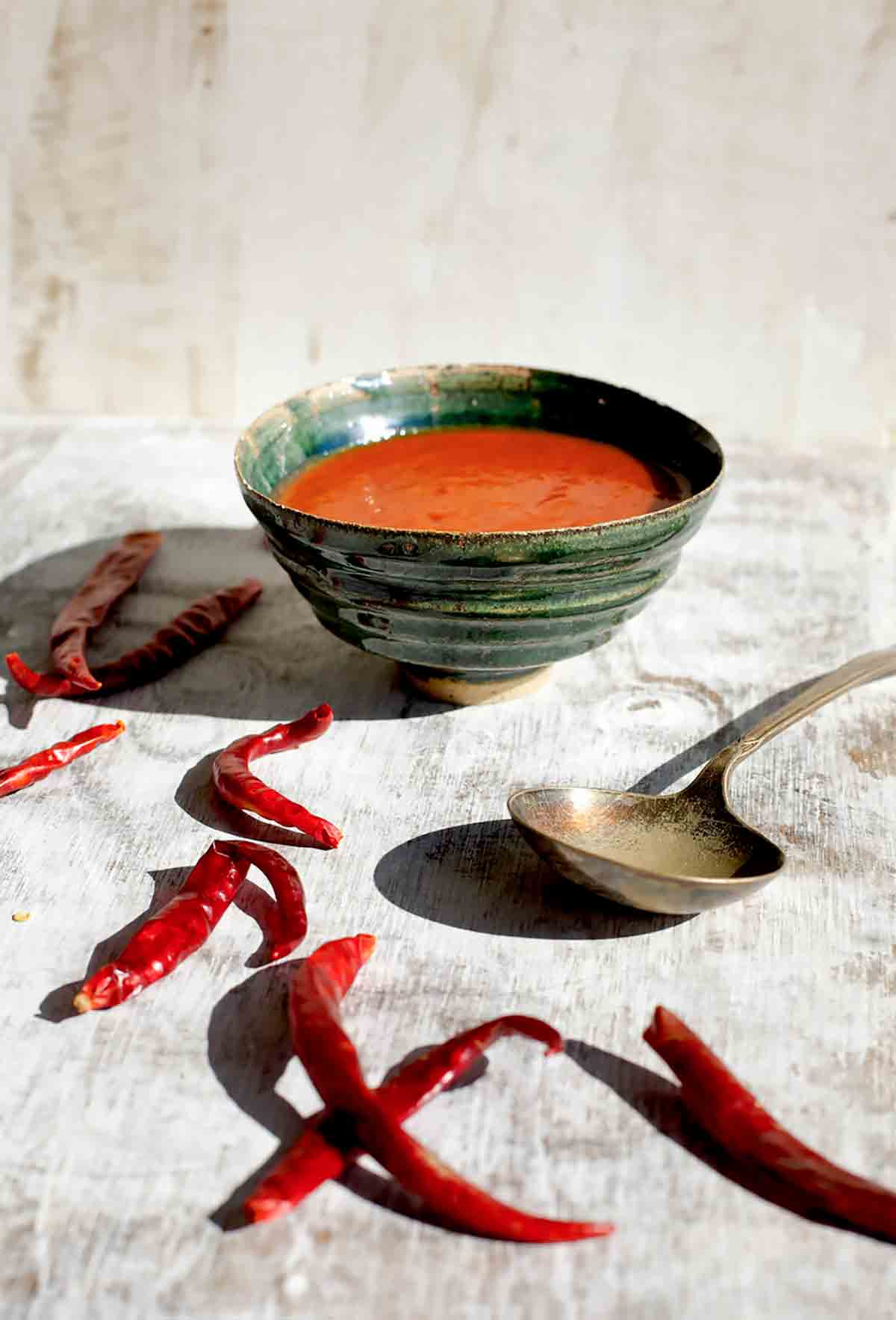 The torrid piri-piri pepper, known as peri-peri in Africa, has been a staple of the Portuguese table since the Age of Discovery beginning in the 14th century.
After Columbus brought the fiery fruit back to the continent from the New World in 1493, it was the Portuguese who carried it throughout the globe. In fact, the chili, including relatives of the African piri-piri peppers, has become so ubiquitous, it's put to use in more than one-quarters of the world's cuisines.
This sauce, found everywhere in Portugal and several of its former colonies, specifically Angola and Mozambique–is a must-slather on any kind of poultry, smoked spare ribs, and even grilled shrimp.–David Leite
LC Stepping In For Piri-Piri Peppers Note
Uh, the only trick is, you won't find fresh piri-piri hot peppers stateside. Stepping in for piri-piri peppers are Thai bird (top two photos), red jalapeño, santaka, arbol, cayenne, or Tabasco, depending on availability as well as personal heat preference and tolerance. You can find dried piri-piri peppers. They pack a wallop, so experiment with the amounts so that you get the sauce you deserve.
For those concerned about the health risks of allowing raw garlic to steep in olive oil, Shirley O. Corriher, food scientist and author of Cookwise: The Hows and Whys of Successful Cooking, says that due to the sauce's high acidity, there's no problem. In fact, she added: "I'd be tempted to eat it myself."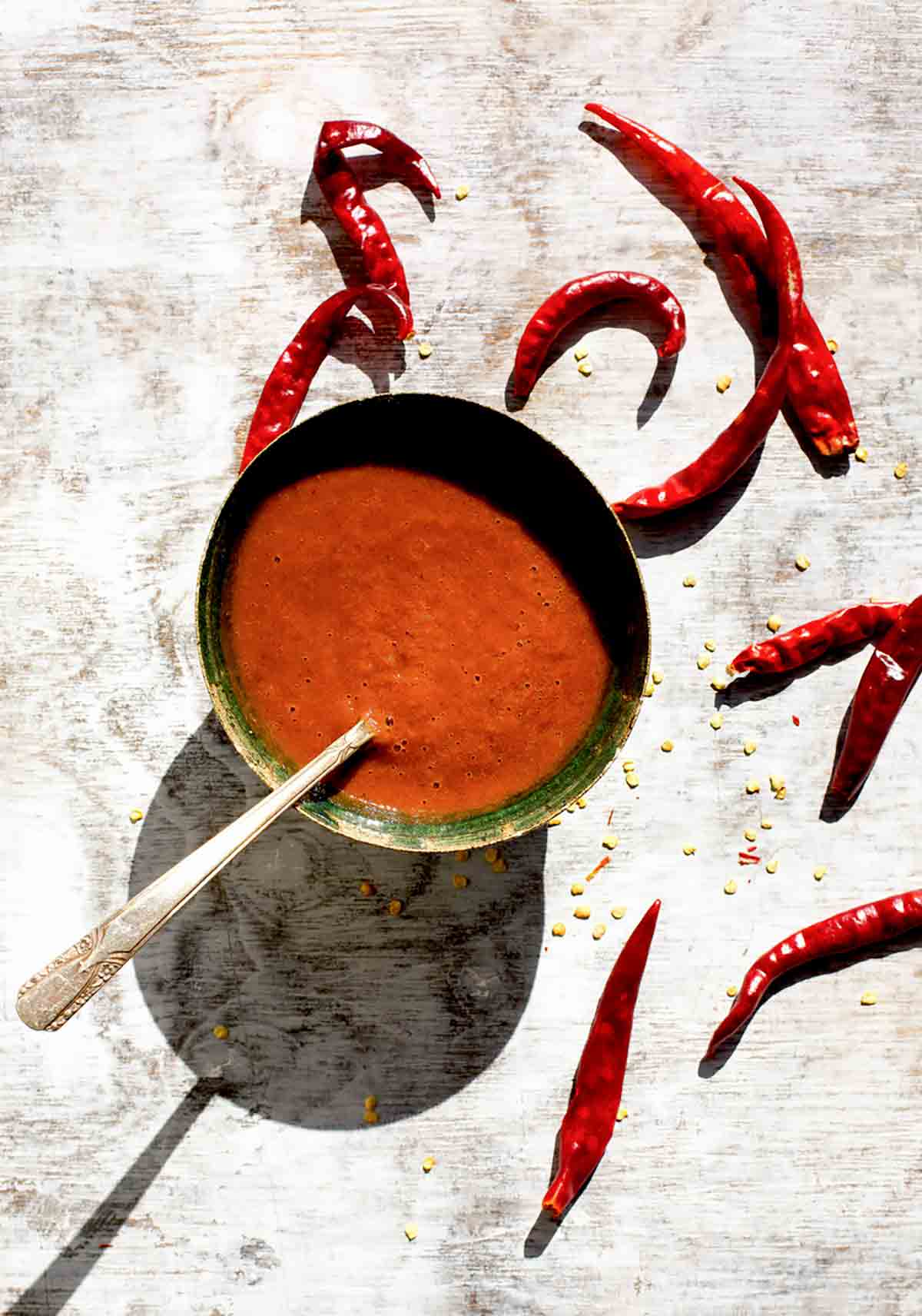 Portuguese Piri-Piri Hot Sauce
This Portuguese piri-piri hot sauce is made with bird's eye chiles, which can be used on chicken, shrimp, pork, or just about any dish in Portugal.
Ingredients
4 to 8

fresh hot chilis

depending on the heat (see LC Note above)

2

garlic cloves

minced

Juice of 1 lemon

Pinch of salt

1/2 to 1

cup

extra-virgin olive oil

depending on how thin you want it
Directions
Coarsely chop the peppers and discard stems.

Place the chilis and their seeds, the garlic, lemon juice, salt, and as much of the oil as you wish in a food processor fitted with a metal blade and purée. Pour the mixture into a small glass jar and let steep for several days in the fridge.

You can strain the mixture and return it to jar, but I like mine with a bit of texture. Sauce will keep in the refrigerator for 1 month.
Show Nutrition
Serving:
1
tablespoon
Calories:
66
kcal
(3%)
Carbohydrates:
1
g
Protein:
0.3
g
(1%)
Fat:
7
g
(11%)
Saturated Fat:
1
g
(6%)
Polyunsaturated Fat:
1
g
Monounsaturated Fat:
5
g
Sodium:
4
mg
Potassium:
43
mg
(1%)
Fiber:
0.3
g
(1%)
Sugar:
1
g
(1%)
Vitamin A:
108
IU
(2%)
Vitamin C:
18
mg
(22%)
Calcium:
3
mg
Iron:
0.2
mg
(1%)
If you make this recipe, snap a photo and hashtag it #LeitesCulinaria. We'd love to see your creations on Instagram, Facebook, and Twitter.
David Says
The photo in the lower left says it all: In Portugal, piri-piri peppers are seen as macho, a rite of passage, ubiquitous, and a must-have condiment. It won't put hair on your chest, but some of the old guard, who sit in the shade watching the goings-on in the praças of the Algarve, swear it keeps badness at bay.
The peppers on the right were on sale in a weekly market in Loulé, in the south of Portugal. These piri-piri peppers are squat, fat, and large--about 2 inches in length. I've seen them barely an inch long.
That's a long way of saying "piri-piri" is both a specific pepper and a general term to denote a whole group of hot peppers.
Whenever I make this, I try to find a blend of fresh hot peppers, and if I need to goose the heat, I'll toss in some dried ones. The most important thing is you do NOT want something so hot it blows your head off. Yes, these are hot, but they have complexity and fruitiness. For chiliheads, they top out at around 175,000 on the Scoville scale--well below that of the 2,000,000 of the Carolina Reaper, the hottest pepper out there.
Originally published August 10, 2020
Recipe © 2000 David Leite. Photos © 2002
Stephanie McKinnie
. Photos © 2006
David Leite
. All rights reserved. All materials used with permission.