This curried pork ramen is made with spice ground pork, soy sauce marinated eggs, a broth flavored with miso, and, natch, ramen noodles. A truly slurp-worthy, satisfying, and Instagram-able ramen bowl that'll satiate any noodle craving.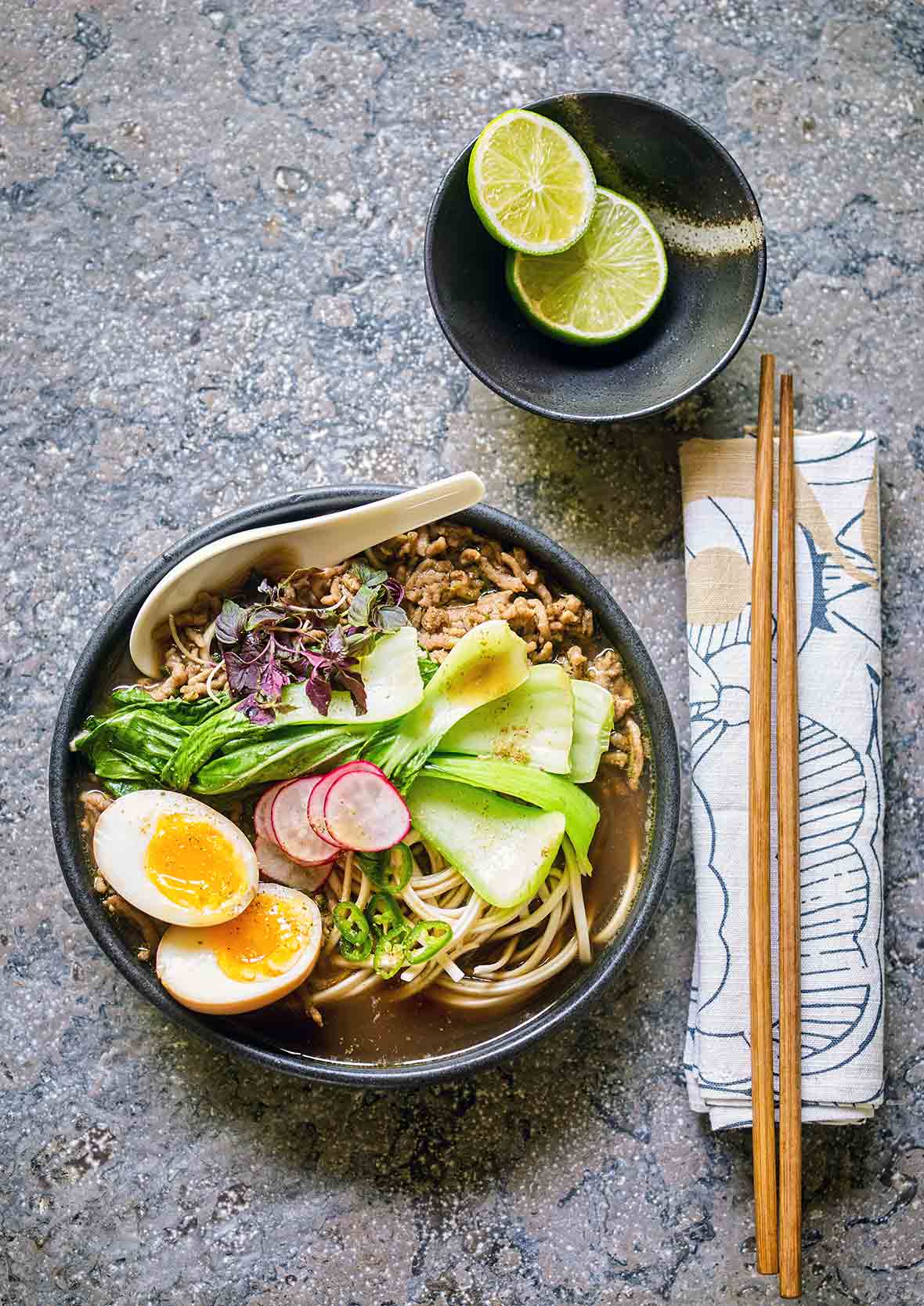 Curried Pork Ramen
Quick Glance
1 H, 15 M
9 H, 25 M

Serves 4
Ingredients
Email Grocery List
For the soy sauce eggs

4 large eggs

Water

2/3 cup dark soy sauce*

2 tablespoons sake

1 tablespoon granulated sugar

1 tablespoon mirin*

For the curried pork

1 1/2 teaspoons toasted or untoasted sesame oil

1 garlic clove, peeled and finely chopped

1 fresh red chile pepper, such as serrano, seeded and finely chopped

1 pound ground pork

Pinch salt

Freshly ground black pepper to taste

1 tablespoon Thai red curry paste

For the tare (this is what lends the ramen its characteristic flavor)

One (2-inch | 5-cm) piece of fresh root ginger, peeled and roughly chopped

1 scallions, roughly chopped

1 tablespoon mirin*

1 tablespoon white miso

1 tablespoon red miso

2 teaspoons tahini

For the bowls of ramen

7 1/2 cups store-bought or homemade chicken stock*

Sea salt

Water

2 baby bok choy or pak choy (10 oz), trimmed and leaves separated

14 ounces fresh ramen noodles, or four (3-ounce | 85-g) packages dried ramen noodles

4 radishes, trimmed and thinly sliced

1 fresh red chile pepper, such as serrano, seeded and thinly sliced

Handful Thai basil or purple shiso* (optional)

Pinch Japanese pepper (shanso*) (optional)
Directions
Make the soy sauce eggs

1. In a small saucepan, bring the eggs and enough water to cover to a simmer. Once it simmers, cook the eggs to the desired doneness, about 3 minutes for slightly runny yolks or a little longer if you prefer less runny yolks.

2. While the eggs are cooking, fill a medium bowl halfway with cold water.

3. Drain the eggs and immediately plunge them in the cold water. When the eggs are just barely warm to the touch, drain and gently roll them on a countertop to smash the shell. Carefully peel the eggs.

☞ TESTER TIP: It's easier to peel hard-cooked eggs when they're still slightly warm as opposed to completely cool.

4. In a measuring cup, combine the soy sauce, sake, sugar, and mirin and whisk until the sugar dissolves.

5. Pour into a resealable plastic bag, add the eggs, squeeze out any excess air, and seal. Place it in a narrowish bowl or container so the liquid submerges the eggs.

6. Stash the bowl in the fridge for at least 8 hours and preferably overnight.

7. Remove the eggs from the marinade and let them come to room temperature while preparing the ramen. If desired, reserve the marinade and use it to flavor the ramen broth.

Make the curried pork

8. In a large skillet over medium-high heat, warm the oil. Add the garlic and chile and cook for 1 minute. Add the pork, season with salt and pepper, and stir to break up any clumps.

9. Stir in the curry paste and cook, stirring frequently, until no trace of pink remains, about 5 minutes. Reduce heat to very low and keep warm, stirring occasionally, as you finish the ramen.

Make the tare

10. In a food processor, blitz all the ingredients until smooth. Transfer the mixture to a small skillet over low heat and simmer for a few minutes, stirring occasionally. Remove from the heat.

Assemble the bowls of ramen

11. In a large saucepan over medium-high heat, combine the stock and tare and bring to a boil. Reduce the heat to low and gently simmer for 5 minutes. Taste and add more of any ingredient or, if desired, some of the reserved egg marinade.

12. Fill a bowl halfway with cold water. Bring a large saucepan of salted water over high heat to a boil. Add the bok or pak choi and cook until tender, 2 to 4 minutes.

13. Use a slotted spoon to transfer the bok or pak choy to the cold water. Keep the pan of water boiling.

14. Add the noodles to the boiling water and cook until softened, 2 to 3 minutes if using fresh ramen or according to the package instructions if using dried ramen.

15. Use a slotted spoon, tongs, or chopsticks to transfer the noodles to serving bowls.

16. Divide the pork and bok or pak choy among the bowls and ladle the hot stock over the top. Arrange the eggs, radish, and chile on top. If desired, sprinkle with the shiso and Japanese pepper. Serve with chopsticks. (Or if you're like David and need a little help, use a spoon.)
*What You Need To Know About The Ingredients For This Recipe
If you're going to bother to make homemade pork ramen, you definitely want to rely on ingredients that will ensure the most spectacular results. Here, a cheat sheet…



Mirin is a low-alcohol, high-sugar cooking wine used in Japanese cuisine. It's readily available at Asian markets and most grocery stores although in a pinch you can substitute 1 tablespoon sake or white wine mixed with 1 teaspoon granulated or superfine sugar.
Shiso is a stunningly vibrant purple-hued Asian herb that tastes a little like basil with a tinge of licorice with a hint of mint.
Shansho (sometimes spelled sansyo) pepper, has a tongue-tingling and slightly citrusy lilt to its heat. It's of referred to as the Japanese version of Chinese Sichuan (Szechuan) peppercorns although both are actually unrelated to black peppercorns.
Dark soy sauce, available at Asian markets, lends its rich color and flavor to the eggs. If all you have on hand is regular or light soy sauce, either will work, the color and taste will just be slightly less intense.
Homemade chicken stock may take a touch longer than opening a box or can from the store but not much more effort. The depth of flavor you'll derive from it makes ALL the difference. Use your own fave stash of homemade stock or combine a whole chicken or chicken carcass, 3 carrots, 2 leeks, a roughly chopped bunch of scallions, and a pinch of peppercorns in a large pot and add enough water to cover the chicken. Simmer, partially covered, for 2 to 3 hours, then strain the broth.
Recipe Testers Reviews
This is a very delicious and complex version of classic miso ramen. The flavor of the bowl is layered and keeps evolving until you get to the bottom of it.
I love miso in the tare for ramen and frequently add some fermented chili sauce to it to make it hot and spicy. I love the saltiness, richness, and savoriness that miso adds to the ramen broth.
This variation has all that and then some due to the interesting addition of curry paste! I never would have thought of adding that but it works very well. It does not make the broth taste Thai as had feared. The curry flavor is all the way in the background, adding some spice, heat, and funk.
The tahini (sesame paste) is also lovely. When I got down to the bottom of the bowl where the flavor is more concentrated, the noodles in the spicy tahini and miso sauce reminded me of dan dan noodles. And that's a good thing.
It's always a bit tricky to boil that many fresh skinny noodles and then attempt to untangle and divide them up. For ramen, I usually boil 1 or 2 portions at a time. Each takes about 3 minutes so it isn't too time-consuming.
The eggs were difficult to peel and ended up a little more cooked than I prefer (with no liquidy center). A cool tip I learned from the book Ivan Ramen is to gently prick the rounded bottom of the egg with a pin to make a very tiny hole and boil the eggs for about 6 minutes. Perfect texture and peeling them is a cinch. Making the tiny hole in the egg is much easier than you think.
There's so much going on in this fun and photogenic one-bowl dinner. (Instagram-ers, be ready!) I love all the flavors and textures and colors, but I have to admit that I didn't find it as spicy as I'd expected and wished the broth had a little bit more punch. This could have been a result of the curry paste I used, which perhaps wasn't as fiery as what the author envisioned.
On the other hand, I loved the unique flavor of the tare. Next time I'd probably double this part of the recipe so that it would really amp up the broth when mixed in.
Instead of dirtying another skillet, I pushed the pork off to the side of the large frying pan and sautéed the tare in the same pan for a couple of minutes, until heated through and slightly dried out. Then I set this all aside while bringing the stock to a boil.
Ultimately I stirred about half the egg marinade into the broth to give it depth of flavor and I added some Sriracha for the kick I was craving.
Despite the many building blocks and the overnight periods for the stock and eggs, there was nothing at all difficult in the recipe and it comes together nicely if the sub-recipes are prepared the day before.
With a little tweaking for heat by adding more chopped chiles and use a hotter curry sauce, this would be even more welcome in our regular noodle night rotation.
I used dried ramen noodles as that was all I could find. Mine looked curlier than the noodles in the photo. I used baby bok choy, serranos, and regular basil. I did not use shanso.
Curried Pork Ramen Recipe © 2019 Heather Whinney. Photo © 2019 William Shaw. All rights reserved. All materials used with permission.
If you make this recipe, snap a photo and hashtag it #LeitesCulinaria. We'd love to see your creations on Instagram, Facebook, and Twitter.