Grilling tools and equipment to take your grilling to the next level, whether at home or on a camping trip, a quick weeknight fix or a more indulgent weekend bash.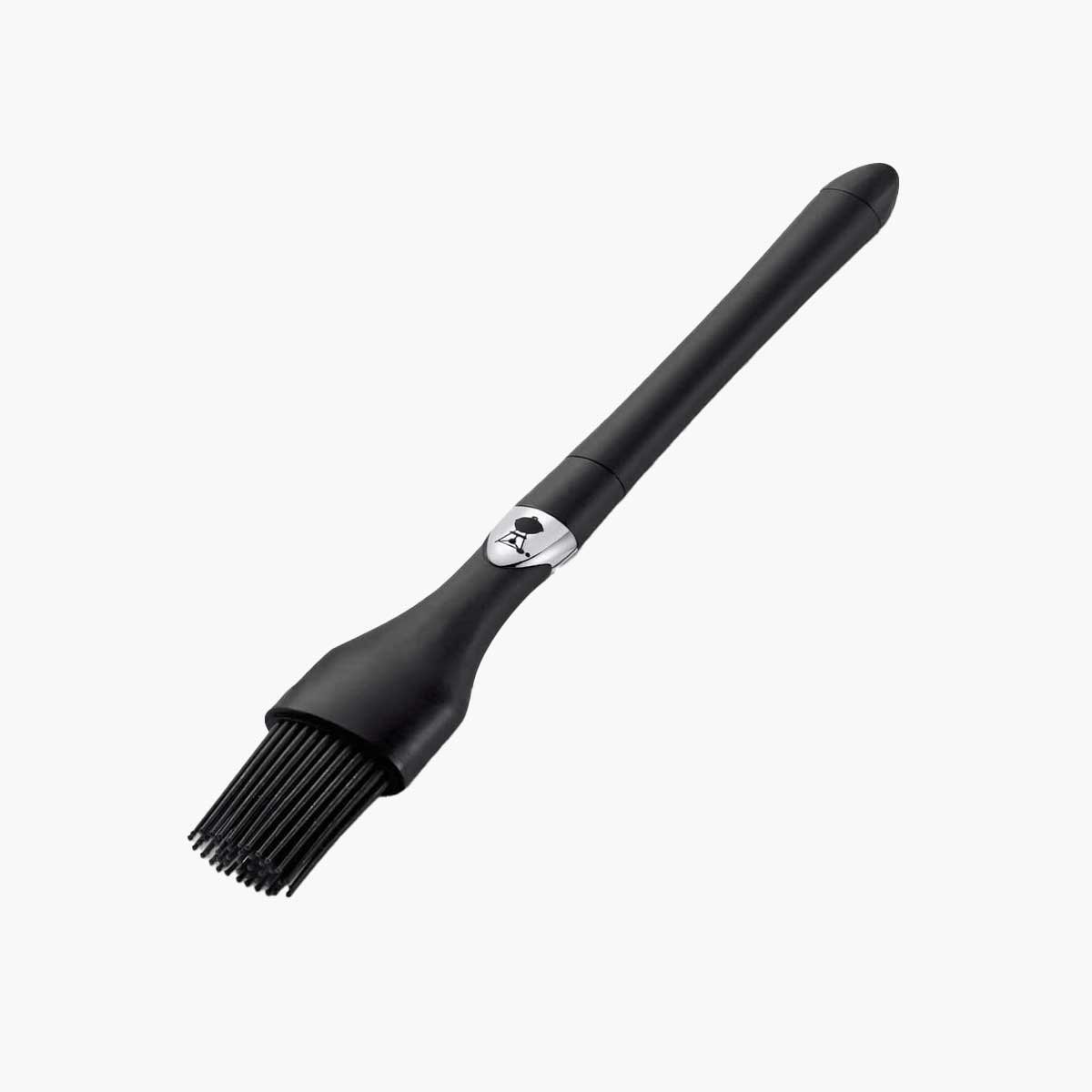 This is the baste
Talk about a grilling essential. A basting brush is designed to spread an even glaze, sauce, or marinade onto your cooked foods—and not just grilled or savory foods, this brush will work wonders on your buttered or oiled baked goods as well. The bristles on the Weber Silicone Basting Brush are designed to hold the maximum amount of sauce, while its soft touch handle offers a comfortable, non-slip grip. Even better, the brush is both dishwasher-safe and easy to clean.
Weber Original Silicone Basting Brush, $13 on Amazon.com
These are simply a-maize-ing
Grilled corn on the cob and butter. A match made in culinary heaven. And to serve everyone's favorite grilled side, you will need a set of perfectly shaped corn on the cob dishes. These dishes feature kernel impressions on bottom of dish and ribbed sides to help contain your ear of corn, so the corn doesn't roll or slip off your tray when slathered with butter. Some unique ideas for your next barbecue? How about a spicy Corn with Curried Yogurt Sauce, or cheesy Mexican-Style Street Corn.
Set of Corn on the Cob Dishes, $8 on Amazon.com
When skewers vacation in the Southwest
Nobody wants to spend all afternoon flipping kebabs. Thankfully, these cactus-shaped tools are essentially three skewers in one and are easier to handle for quick turning. The flat prongs keep food from turning until you're ready, which comes in especially handy for grilling shrimp.
Stainless Steel Cactus Kabob, $14 on Riverbendhome.com
Because he doesn't want another tie…
Looking for that perfect thing for your dear old gadget collector for Father's Day? This grilling fork doubles as a thermometer, alerting you when it reaches the pre-programmed temperature for your desired doneness. An onboard flashlight helps keep an eye on the grill after the sun goes down.
Maverick RediFork Pro Rapid Read LCD Matrix Thermometer, $25 on Amazon.com
The pan that makes the grill your oyster
This grill pan is no one-trick pony. It's just as capable of carrying grilled oysters to the table as it is making drop biscuits, shrimp, cornbread, even individual portions of mac and cheese! It being made of cast iron also makes it ideal for pulling it right out of the freezer to use for oysters served raw in the half shell.
Cast Iron Oyster Grill Pan, $40 on Amazon.com
If it ain't broke, don't change it
Similar to a good suit, this charcoal grill is a classic that's never gone out of style. It's largely unchanged from what you grew up with, though we appreciate the addition of the one-touch cleaning system, which makes removing the ash from the bottom a cinch. It'll cook amply for four or so folks.
Weber Original 22-inch Kettle Charcoal Grill, $219 on Bbqgalore.com
The only gaslighting we tolerate
This grill checks all our boxes. As one of Weber's most popular models, it comes in both propane and natural gas versions to accommodate any backyard setup. The porcelain-enameled grill grates clean easily, the auto light feature means no fiddling with matches, and it handles food for up to seven people at a time.
Weber Spirit S-315 Natural Gas Grill, $569 on Amazon.com
Where there's smoke, there's flavor
Nothing beats the convenience of a gas grill. But nothing makes us go wobbly in the knees like the flavor of smoke. Load this smoker box up with wood chips (hickory, apple, oak, cherry, whatever you fancy) and you can, indeed, have the best of both worlds.
Barbeques Galore Smoker Box, $13 on Bbqgalore.com
A travel grill as good as the real deal
This diminutive red wonder delivers in spades. Its upper limit of 750° F enables you to put a perfect sear on a steak or even grill pizza to perfection. And it's an ideal size for tailgating, days at the beach, or camping, which means no sacrificing quality on the go.
Kamado Joe Joe Junior Ceramic Grill on Stand, $399 on Bbqgalore.com
Foolproof fish on the grill
Though the shape suggests whimsy, you'll be seriously grateful for this fish dish when it keeps your delicate fillets from falling through the grill grates. Made of cast iron, it keeps your food warm when you bring it to the table and is marvie for vegetables and shrimp.
Outset Fish Cast Iron Grill and Serving Pan, $24 on Amazon.com
A box you'll be stoked to open
Time to donate those old mismatched tools. This handsome tool collection has everything you could want—spatula, tongs, chef's fork, skewers, and grill brush. Bonus: everything fits snuggly back in the case for camping or storing come winter. Pakkawood handles offer a classic appearance without warping or splitting.
Cuisinart Premium 10-Piece Grilling Tool Set, $90 on Bbqgalore.com
A chimney so good you'll dance on the roof
Waiting for the charcoal to reach optimal temperature is our least favorite part of grilling. This chimney starter helps get dinner on the table faster than ever before. The interior conical shape allows for better vertical airflow, decreasing the amount of time it takes to get your briquettes hot.
Charcoal Chimney Starter, $19 on Bbqgalore.com
A French solution to grilled pizza
Want a soul-achingly crisp crust on your grilled pizza? This pizza stone can handle temperatures up to 900°F (!) for exactly that. The Burgundian clay makes it lighter to lift than most other pizza stones. And it performs just as well in cooler months in the oven, whether for pizza making or bread baking.
Emile Henry Flame Top 14.5-inch Pizza Stone, $55 on Amazon.com
A plank we'd (happily) volunteer to walk
We'd be lying if we said we weren't occasionally guilty of an overcooked or mangled fillet of fish from the grill. These cedar planks help fish retain moisture on the grill while sparing you from having to flip anything. The smoke imbues your dinner with flavor while it cooks. Bonus: smoking chips you can use another night.
Grilling Gift Set, $28 on Amazon.com
© 2020 LC Editors. All rights reserved. All materials used with permission.