I have to confess something. Pork carnitas—Mexican braised and fried pork chunks with their addictively crisp edges—were unfamiliar to me until I tried this recipe. Which is weird, because I love pork and I love Mexican food, but never the twain had met in the gloriousness that is carnitas. But that's all ancient history seeing as I've been making this dish for years now.
This recipe is the classic—with one exception. Instead of being cooked entirely on the stovetop, the pot is slid into the oven so you don't have to tirelessly attend to the burner to make sure the pork is cooking at just the right temperature.
The One and I devour these tucked into soft, warm tortillas as tacos as well as heaped atop rice and beans. We add an entire orange to the pot, as we like that hint of citrus in the background. And, yes, we do use lard—qué sorpresa.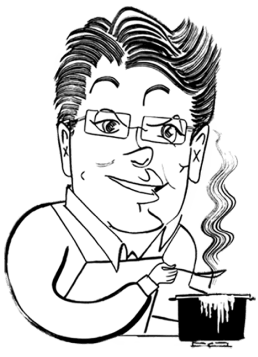 Why Our Testers Loved This
Our testers were truly smitten with this Mexican fried pork recipe. Natalie Reebel loved that "this recipe worked exactly as written and produced an incredibly great-tasting, authentic pork carnitas," while Sofia Reino was delighted that "the meat came out juicy and fork-tender with a slight crispness," which had her family begging for the recipe on repeat.
Notes on Ingredients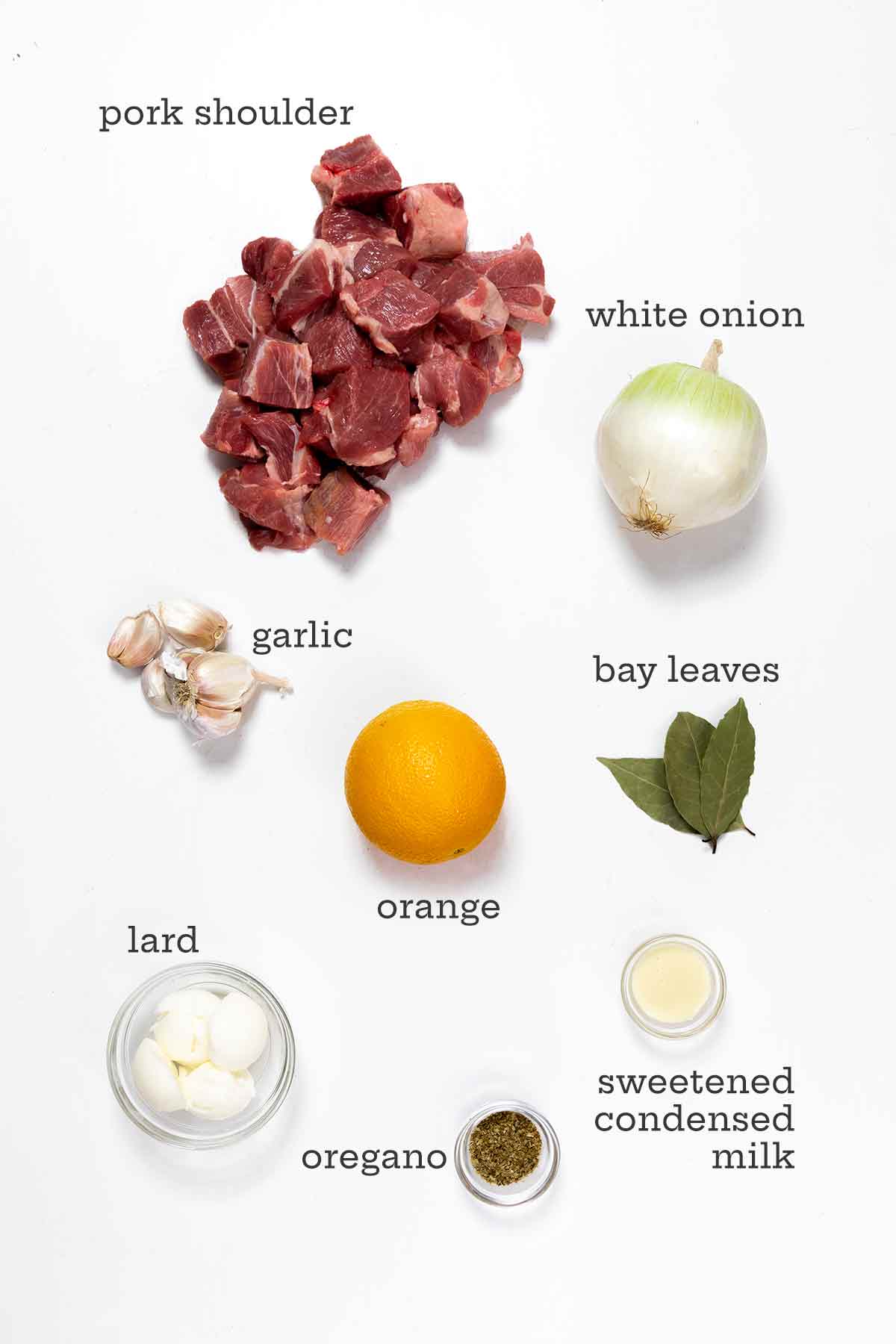 Pork shoulder–You can also use pork butt for this recipe. Choose a pork roast that is well-marbled with fat. If it comes with skin on, remove and discard it before cooking.
Lard–This makes for truly authentic pork carnitas. You can substitute vegetable oil, if you prefer.
Sweetened condensed milk–Use the extra milk from the can to make condensed milk cookies.
How to Make This Recipe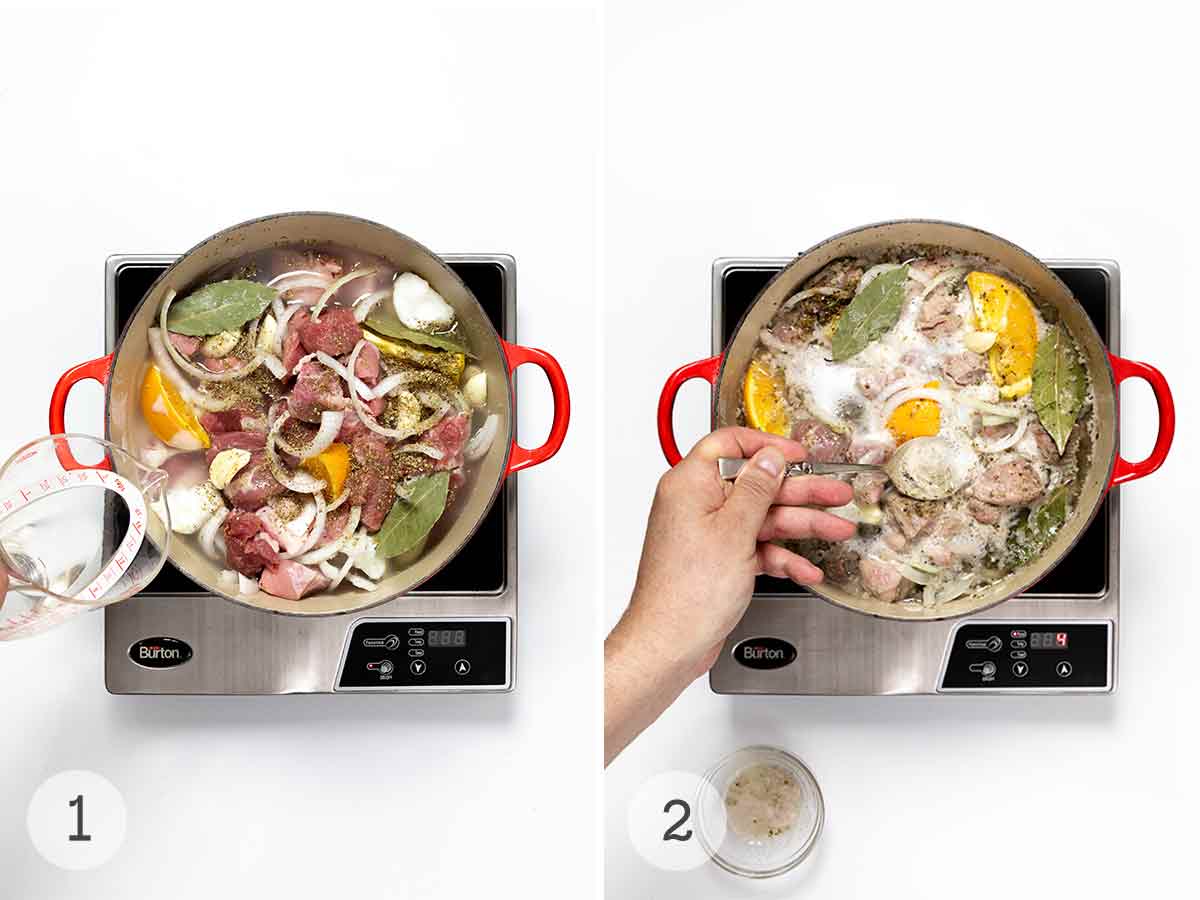 Combine all of the ingredients in a large Dutch oven. Set over high heat.

Bring to a boil and skim off any scum that rises to the surface.

Reduce the heat to medium-low and simmer until the liquid evaporates.

Heat the oven to 450°F. Slide the pork into the oven and cook until the pork is browned.
SLOW COOKER CARNITAS
Just toss everything in the slow cooker, reducing the amount of water by at least 1 cup, and cook on low, covered the entire time, for 8 to 10 hours or on high for 6 to 8 hours, or until the pork is tender and falls apart. Using tongs or a slotted spoon, place the chunks of pork in a large skillet, leaving the cooking liquid in the cooker. If desired, shred the pork using two forks (or your fingertips if you like things messy).
Heat the pork in the skillet over medium to medium-high heat until crisp at the edges but still knee-weakeningly tender within. If desired, dribble a little of the strained cooking liquid over the pork before serving to moisten and flavor it. (If the cooking liquid is quite watery, pour it into a saucepan and simmer until it reduces to the desired consistency.)
Curious to hear more about working magic with your slow cooker? Check out what our testers had to say in the TC comments below, and then peruse our entire selection of slow cooker recipes.
INSTANT POT CARNITAS
Season the pork with the salt and, working in batches, sear the pork in a large skillet in the lard or olive oil until very, very brown. (The Instant Pot's insert is too narrow and high-sided to sear effectively. It takes too long, and the meat ends up steamed rather than seared. Trust me, the skillet is infinitely better and faster.)
Meanwhile, juice 1 or 2 oranges to yield 1/2 cup of orange juice. Layer the onions, garlic, juiced orange halves, orange wedges, and bay leaf on the bottom of the Instant Pot insert. Dump in the pork and sprinkle with oregano as you go. Drizzle over the condensed milk and orange juice.
Secure the lid and push the pressure release valve to "sealing." Select "manual" and set the cooking time to 30 minutes at high pressure.
When finished, carefully quick release the pot by moving the pressure release to "venting." Once the steam is fully released, open the pot and scoop the pork with a slotted spoon onto a foil-lined baking sheet. Discard the orange halves and bay leaf. Cook the pork in the oven at 450°F (232°C) until crisped, 10 to 15 minutes.
Recipe FAQs
How do you properly cut this recipe in half?
This authentic carnitas recipe makes what some would consider A LOT of pork. Hardly a problem in our minds, seeing as we can't imagine not being able to pack away a batch of this subtly infused Mexican pulled pork in a single sitting.

That said, should you wish to make just half a batch, the author advises that you cut the amount of pork, salt, and oregano in the recipe below in half, but that you rely on the same amount of water, onion, orange, garlic, bay, sweetened condensed milk, and lard (mmmm, lard).

You'll also want to rely on a slightly smaller pot than the recipe suggests. Consider your baby batch the diminutive–though not at all diminished–form of this classic. Carnitas-ito, anyone?
What's the difference between pulled pork and carnitas?
Pulled pork and carnitas are often prepared the same way, by slowly roasting or simmering until the meat is tender enough to be shredded. Carnitas are typically fried or roasted again after shredding, in order to crisp up the meat.
Why is milk added to carnitas?
It acts as a tenderizer, helping to break down the pork into those tender bites that we all crave.
How do you serve carnitas?
They are most commonly served as carnitas tacos, with the meat piled into corn tortillas and topped with salsa, lime juice, and onion. However, the meat is equally divine in burritos, atop chilaquiles, or in a Mexican-inspired rice bowl.
Helpful Tips
Leftover pork carnitas can be stored in an airtight container in the fridge for up to 3 days, or frozen for up to 3 months.
If frozen, thaw overnight in the refrigerator. Reheat on the stovetop or in the oven with a little additional lard until warmed through and crisped on the edges.
This pork carnitas recipe is suitable for gluten-free diets.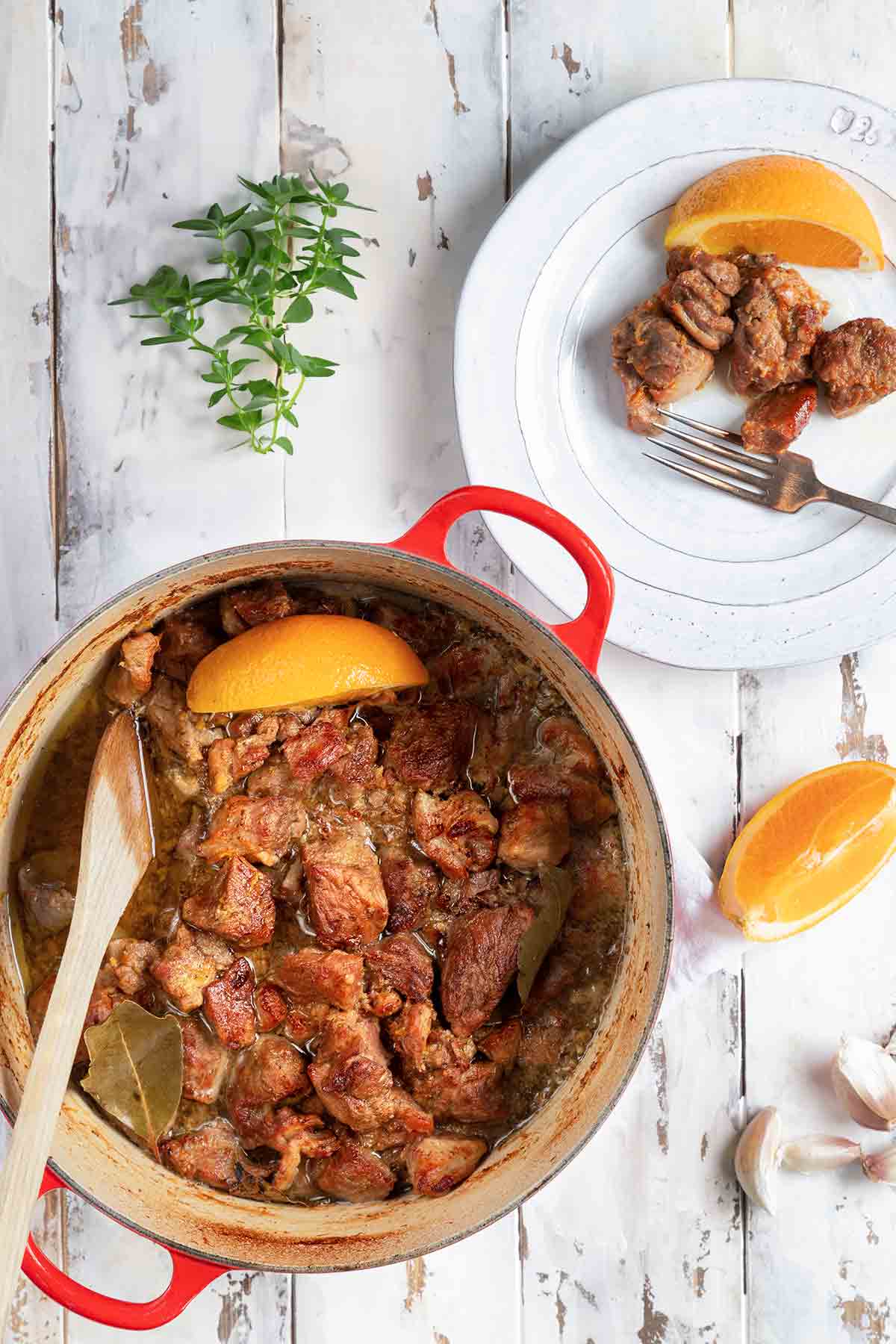 Write a Review
If you make this recipe, or any dish on LC, consider leaving a review, a star rating, and your best photo in the comments below. I love hearing from you.–David
This is better than restaurant carnitas. My one go-to dish at any Mexican restaurant is pork carnitas to see how good the restaurant is. Amazingly, every place is completely different, but this is honestly the best carnitas I have ever had…and I made it.

josh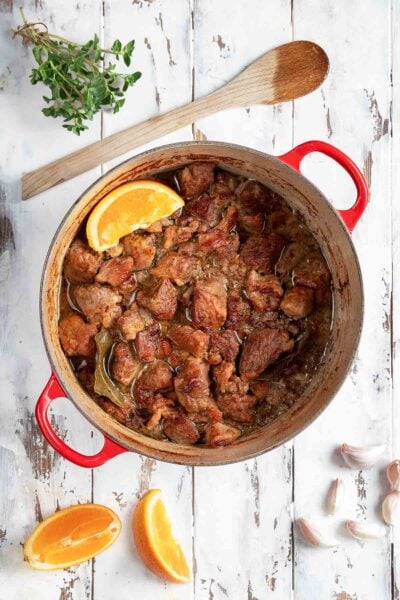 Carnitas ~ Mexican Braised Pork
This old-school carnitas–pork shoulder simmered with onion, garlic, bay leaf, and orange until falling-apart tender and crispy–is excellent in burritos, tacos, or on its own. And it can be made in an Instant Pot or slow cooker.
Ingredients
4

pounds

fatty pork shoulder, cut into 2-inch pieces

3

cups

cold water

1

medium

white onion, thinly sliced

1/2

orange, preferably seedless, cut into 2 wedges

,

(or 1 to 2 oranges if using the Instant Pot Variation)

1/4

cup

lard, (or, for the lard averse, vegetable oil)

8

garlic cloves, peeled

1

tablespoon

sweetened condensed milk

2

teaspoons

dried oregano, preferably Mexican, crumbled

1 1/2 to 2

teaspoons

fine salt, or 3 to 4 teaspoons kosher salt
Instructions
Place all of the ingredients in a wide 6- to 7-quart heavy pot. (Don't worry if everything isn't completely submerged.) Bring to a boil, skimming any scum that collects on the surface as necessary.

Reduce the heat to medium-lowish and simmer vigorously, stirring occasionally, until the pork is fork-tender and the liquid has completely evaporated, 1 1/2 to 2 hours. Discard the orange pieces and bay leaves.

☞ TESTER TIP: If the liquid hasn't completely evaporated, transfer the pork to a bowl and continue to simmer the liquid, stirring often, until it is reduced and only a glossy layer of oil remains.

Preheat the oven to 450°F (232°C)

If your pot isn't ovenproof, transfer the pork and fat to a dish of some sort that's ovenproof. Slide the pork into the oven, uncovered, and let it fry in its own fat until it's browned, 20 to 30 minutes. There's no need to stir. Serve it straight from the pot.
Notes
Storage–Leftover pork carnitas can be stored in an airtight container in the fridge for up to 3 days, or frozen for up to 3 months.
Reheating–If frozen, thaw overnight in the refrigerator. Reheat on the stovetop or in the oven with a little additional lard until warmed through and crisped on the edges.
Dietary–This pork carnitas recipe is suitable for gluten-free diets.
Nutrition
Serving:
1
portion
Calories:
291
kcal
Carbohydrates:
6
g
Protein:
28
g
Fat:
17
g
Saturated Fat:
5
g
Polyunsaturated Fat:
5
g
Monounsaturated Fat:
6
g
Trans Fat:
1
g
Cholesterol:
94
mg
Sodium:
550
mg
Potassium:
542
mg
Fiber:
1
g
Sugar:
3
g
Vitamin A:
73
IU
Vitamin C:
9
mg
Calcium:
54
mg
Iron:
2
mg
Nutrition information is automatically calculated, so should only be used as an approximation.
Recipe © 2011 Roberto Santibañez. Photo © 2011 Romulo Yanes. All rights reserved.
---