Watermelon is intoxicatingly perfect on its own, just sliced and eaten out of hand. But sometimes…you crave something more. It works beautifully when served in more savory ways. Or juiced. Or frozen. Here are some of our favorite ways to eat more of that wonderful melon.
Watermelon Lemonade
This watermelon lemonade is a refreshing drink made with puréed watermelon, lemon juice, and simple syrup. We can't think of a better remedy for a hot summer afternoon.
Recipe
Watermelon Salad with Aleppo Pepper
This watermelon salad with Aleppo pepper is a simple side dish that is made with fruity Aleppo pepper, watermelon cubes, black olives, and fresh mint. It's easy to make and is ready in just 15 minutes.
Recipe
Tomato Watermelon Feta Salad
This tomato watermelon feta salad combines a couple of your summer musts in a single and simple format that's portable enough for lunch on the go or picnics when made in a jar or can simply be tossed together in a bowl and reveled in it at home.
Recipe
Watermelon and Ginger
This watermelon and ginger is an inspired upgrade on simple sliced watermelon. Slice watermelon, rub with ginger, devour, repeat. Sweet heat. Not that we have anything against watermelon straight up. This is just…better.
Recipe
Pickled Watermelon Rind
Pickled watermelon rinds are a Southern classic that are crisp and sweet and tangy and oh so enticing. Tasting is believing. Here's how to make them.
Recipe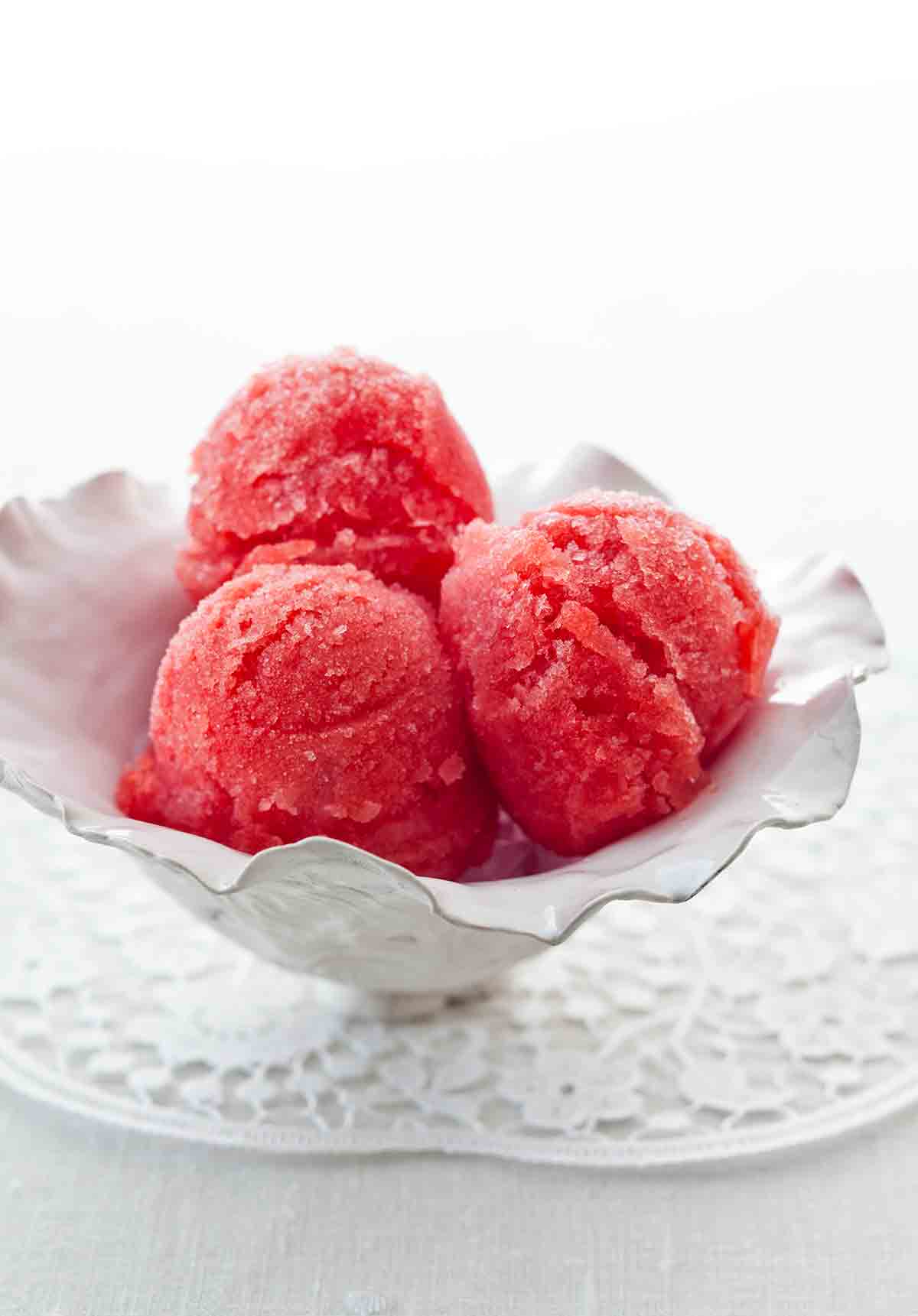 Watermelon Sorbet
This watermelon sorbet requires no ice cream maker. Just watermelon, lemon, sugar, mint, and surprisingly little time in the freezer. (Doesn't just looking at it make you feel cooler?!)
Recipe
Watermelon, Halloumi and Za'atar Salad
This watermelon, halloumi, and za'atar salad is a marvelous Middle Eastern concoction with watermelon, cheese, cucumber, olives, grapes, za'atar, and sumac. As refreshing as a dip in the Mediterranean.
Recipe
Watermelon Limeade
This watermelon limeade requires only five ingredients and 10 minutes of effort for a refreshing summer sipper.
Recipe
Watermelon with Fleur de Sel
This watermelon with fleur de sel is the easiest summer dessert I've ever made. Simply sprinkle watermelon slices with coarse salt and devour.
Recipe