Pickled watermelon rinds. They're a Southern classic that are crisp and sweet and tangy and oh so enticing. Tasting is believing. Here's how to make them.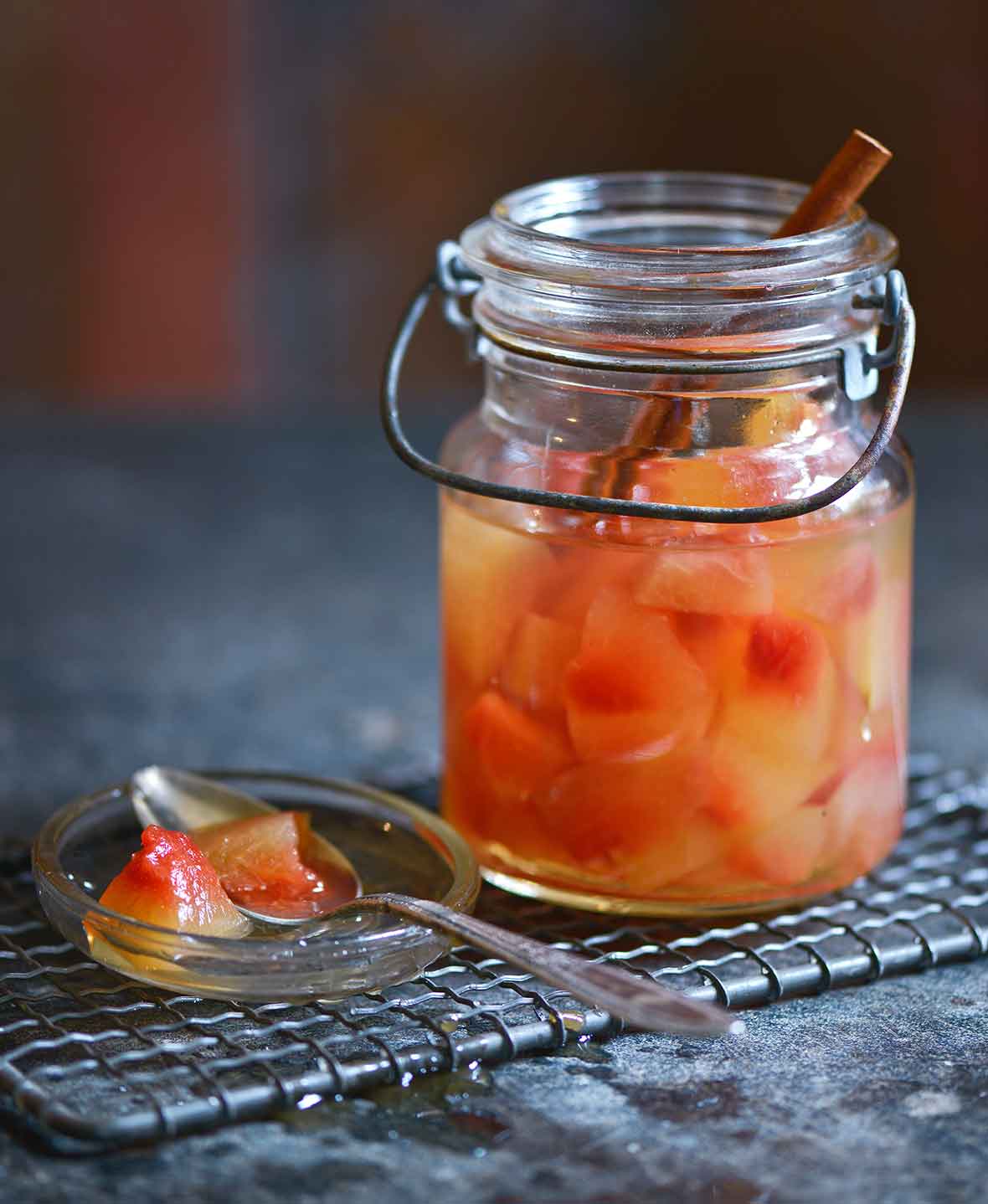 This watermelon pickle recipe makes a sweet and tangy treat that'll remind you long after the season is gone. It's also a nifty way to ensure zero food waste solution, so you can feel even better this summer and beyond while enjoying the, er, fruits of your labor.–Angie Zoobkoff
How to Make A Smaller or Larger Batch of Pickled Watermelon Rind
Feeling a little daunted by the thought of pickling 14 jars of watermelon rind? Or maybe you want to pickle a mountain of rind to gift at the holidays? This recipe can easily be scaled up or down.  Follow the recipe below, and for every pound of rind, simply use 1 1/4 cups granulated sugar, 1 cup apple cider vinegar, 3/4 teaspoon cloves, and 1/2 teaspoon allspice. You'll also want to add 1/2 cinnamon stick to each 1/2 pint jar.
Pickled Watermelon Rind
Quick Glance
1 H, 30 M
12 H

Makes 10 to 14 half-pint (250-ml) jars
Special Equipment: 10 to 14 half-pint (250-ml) jars and lids
Print Recipe
Ingredients
1/2 watermelon rind (4 pounds or 1.8 kg)

5 cups granulated sugar (990 grams)

4 cups apple cider vinegar (946 ml)

1 tablespoon whole cloves (7 grams)

2 teaspoons whole allspice

7 cinnamon sticks, broken in half
Directions
1. Using a vegetable peeler or a sharp paring knife, remove the green skin from the watermelon rind and discard. Cut the white rind into 1 1/2-inch (4-cm) strips or cubes, leaving a little pink flesh attached to each piece for color, if desired. Toss the rinds in a large stainless-steel bowl and add enough cold water to cover. Let soak overnight, preferably in the refrigerator.

2. In a colander set over the sink, drain the rind and transfer it to a 6-quart (5.7-liter) or larger stockpot. Add enough water to cover and bring to a slow simmer over medium heat. Cook until tender but not soft, 15 to 20 minutes. Drain in the same colander and rinse with cold water.

3. Take a small piece of cheesecloth, gather the cloves and allspice in its center, and tie to secure. In the large stockpot set over medium heat, combine the sugar, vinegar, spice pouch, and watermelon rind and bring to a simmer. Cook slowly until the rind is transparent, about 10 minutes. Don't overcook it as the rind will cook again in the hot-water bath. Remove and discard the spices from the pot.

4. Place a piece of cinnamon stick in each of 14 sterilized half-pint jars. Using a wide-mouth funnel, ladle the watermelon rind into the jars. Evenly distribute the rind and the brine, leaving 1/4-inch (6-mm) headroom. Wipe the rims clean with hot water and place rubber lids and screw tops to seal. Process in a hot water bath for 10 minutes. [EDITOR'S NOTE: For more information, please see the Canning 101 section in this recipe.}

5. Store the pickled watermelon rind a cool, dark place for at least 3 months before using.
Pickled Watermelon Rind Recipe © 2015 Ellen Ecker Ogden | Andrea Diehl. Photo © 2015 Matthew Benson. All rights reserved. All recipes and photos used with permission of the publisher.
If you make this recipe, snap a photo and hashtag it #LeitesCulinaria. We'd love to see your creations on Instagram, Facebook, and Twitter.