I'm ashamed to admit it, but these sheet pan dinners are what I call our "lazy-man dinners." Kind of how I call my brioche french toast casserole "lazy-man brunch." They're all set-it-and-forget meals.
The concept is brilliant and whittles prep time down to mere minutes. You chop ingredients–usually some protein and veggies. Toss them in a marinade, liquid, sauce, or what have you. Scatter them on a baking sheet. Roast away.
Often, cheese is implicated. (At least at our house–even if the recipe doesn't call for it–there's cheese.)
In no time, you've got your main course and side dishes all on one tray. That means tons of flavor. Deep, caramelized flavor.
And if we're going full-on mascara-running-down-your-face confessions, here it is: I've even slapped the sheet pan on the table in front of The One and served from it.
Told you I was lazy.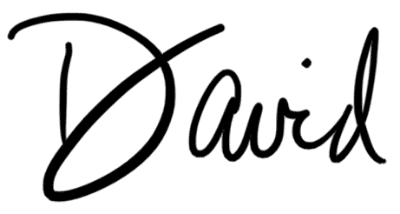 Sheet Pan Chicken with Rosemary and Grapes
"What's my main veg?" That's the first thing I ask myself when I'm thinking about dinner. If I'm making chicken, for instance, and it's late summer or fall, I think about red onions and grapes. Then I rub the legs and thigh pieces with smoky chile powder and roast everything together on the same sheet pan, tossing in some rosemary, or whatever herb I've got.
Recipe
This sheet pan chicken was so easy to make and was super delicious. I used bone-in, skin-on thighs. I served it over mashed yams. A winner.

Lene P.
Sheet Pan Taco Bake
This sheet pan taco bake has seasoned ground beef, onions, tomatoes, cilantro, and Cheddar and Monterey Jack cheeses enveloped in tortillas and baked until crunchy and golden. Great party food for feeding a crowd.
Recipe
Sheet Pan Zucchini Pizza Bake
Going keto doesn't mean that you have to give up American traditional dishes—with a little creativity most of your favorite foods can be adapted. A base of sliced zucchini and tomatoes, topped with lots of melted cheese and marinara makes a suitable sub for pizza.
Recipe
I made this sheet pan zucchini bake last night, and everyone loved it! It was easy and tasted so good. Thanks for sharing this recipe!

Cathy T.
Sheet Pan Steak Fajitas
This is the perfect busy weeknight meal: It relies on hands-off cooking in the oven, it's on the table in 30 minutes, and it has minimal cleanup. It doesn't get any easier than this! We've packed these fajitas with extra bell peppers but kept the spices mild to make it family friendly.
Recipe
Sheet Pan Chickpea Curry
This sheet pan chickpea curry is a weeknight wonder. Full of flavors and healthy ingredients like garbanzo beans, cauliflower, eggplant, and tomatoes, it's a hearty vegetarian dinner.
Recipe
This was excellent! I omitted the cauliflower and instead made whole roasted cauliflower as a side dish. It was delicious!

Amy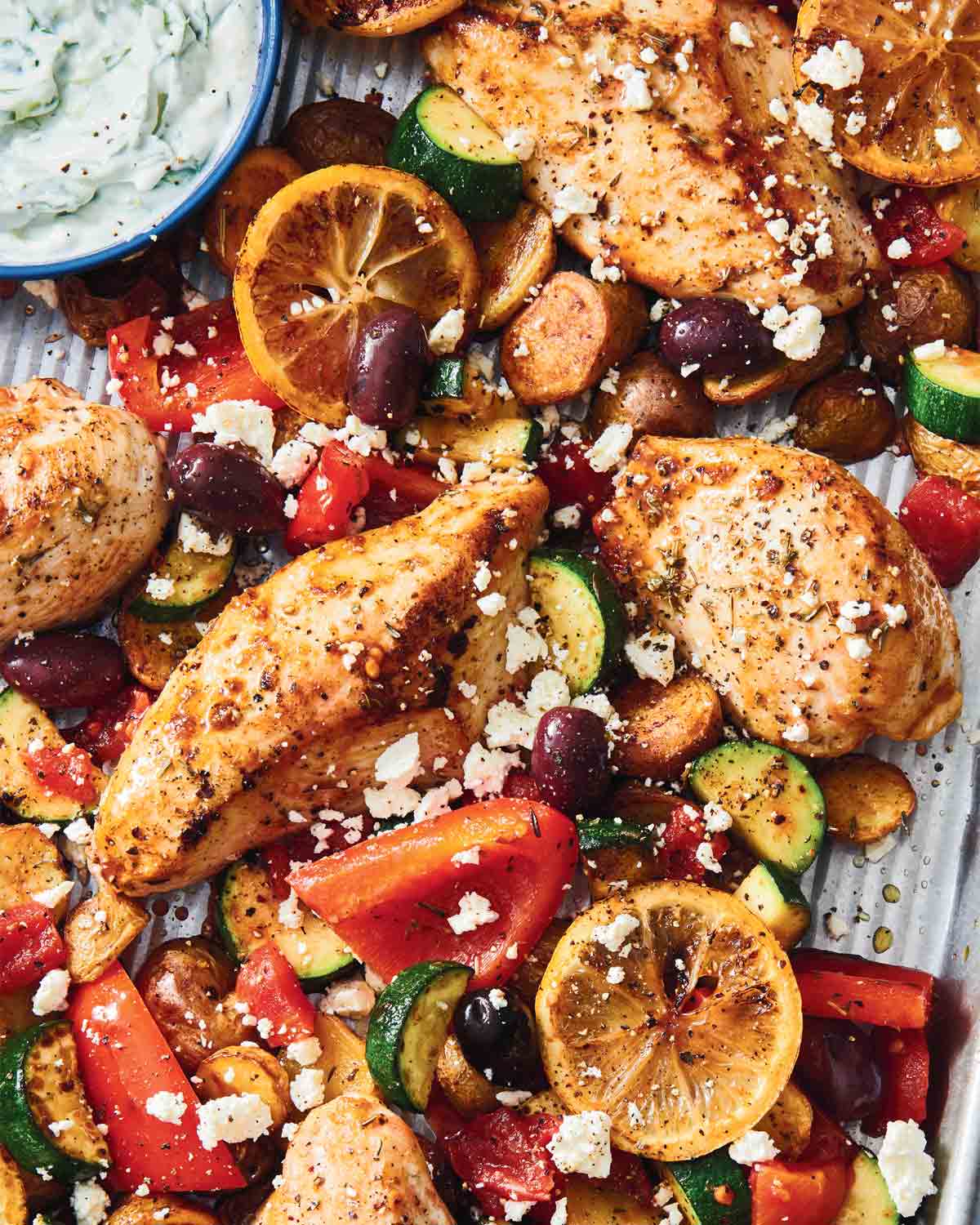 Greek-Style Sheet Pan Chicken
This Greek-style sheet pan chicken is an easy, healthy meal of spice-rubbed roasted vegetables and boneless chicken breasts served alongside a cooling homemade tzatziki sauce.
Recipe
Pepperoni Pan Pizza
This pepperoni pan pizza is made with a simple yet superlative from-scratch tomato sauce, two types of mozzarella, Parmesan cheese, pepperoni, and either store-bought or homemade dough. Lavished with everyone's favorite topping and three types of cheese, this thick-crusted beauty means you can delete your closest pizza delivery place from your contacts and forget you ever craved anything else.
Recipe
This is a terrific sheet pan pizza recipe! I made it this week, substituting Italian sausage for the pepperoni and adding sautéed mushrooms.

It was just as good the next day, reheated for lunch. I know it will become a regular on the pizza-night menu in this house.

donna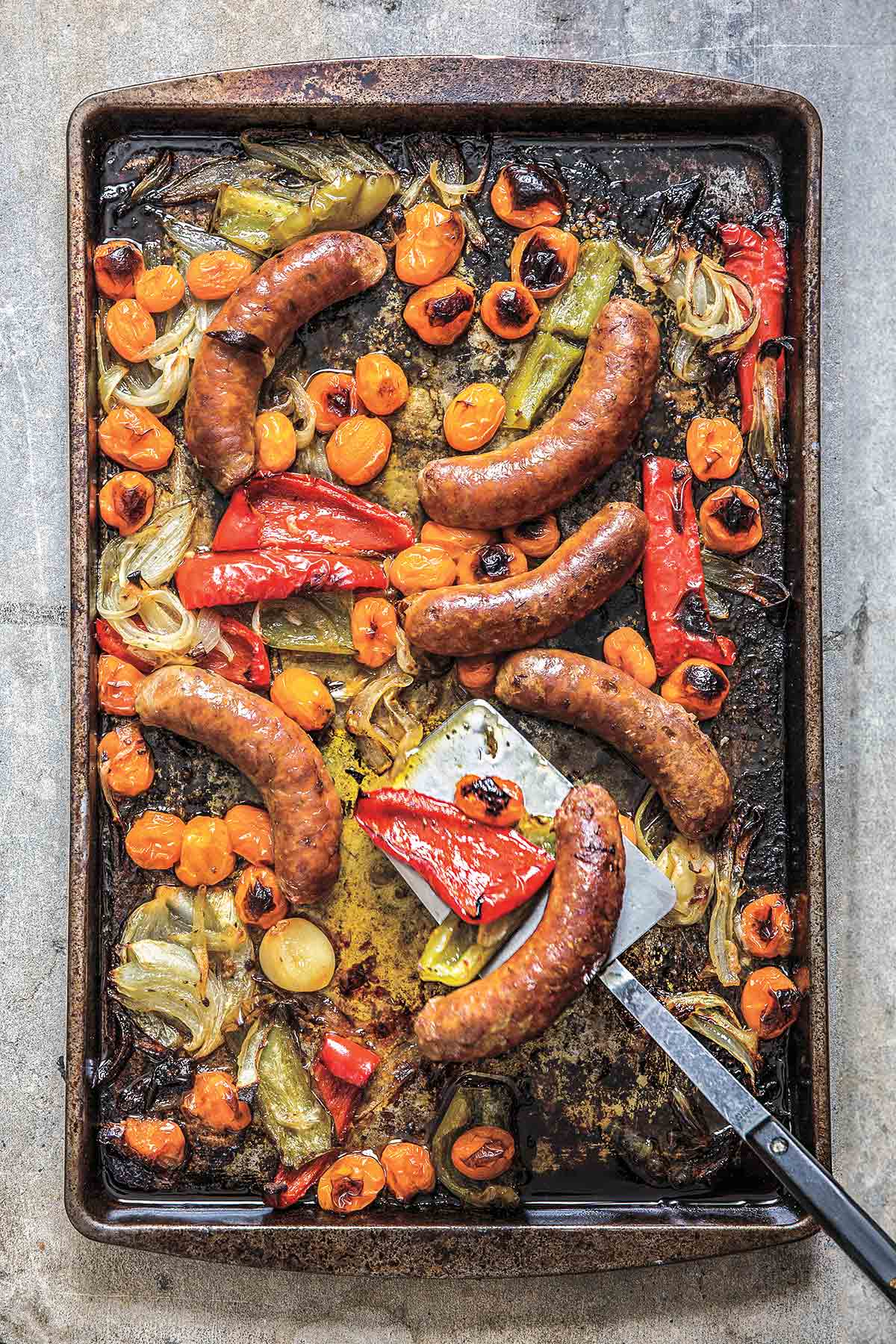 Sheet Pan Sausage and Peppers
Sheet pan dinners, in this case sausage and peppers (plus tomatoes, garlic, and onions) demands just one thing of you: Toss everything together on a single pan and shove it in the oven. Dinner: done.
Recipe
Sheet Pan Meal FAQs
What is a sheet pan meal?
The concept behind a sheet pan supper is simple. The entire meal, usually consisting of protein and vegetables, is roasted on a baking sheet. And it's got lots of benefits. 1.) It's a quick and easy way to create a satisfying meal with just one pan. 2.) It's usually ready in less than an hour. 3.) And it's generally pretty healthy, making it perfect for busy weeknights.
How do I stop my food from sticking to the sheet pan?
Be sure to line your sheet pan with aluminum foil or parchment paper. If you're broiling the meal at any point, stick with aluminum, as parchment can burn. If you choose to use aluminum foil, make sure the food is tossed with oil, or coat the foil generously with nonstick cooking spray before roasting.
What are important tips for making sheet pan dinners?
Here are my best tips based on our testers' experience:

☞ Don't crowd your pan. You want your food to be evenly spread in a single layer on the sheet pan, with a little room between pieces so they can brown and not steam. If in doubt, use two pans.

☞ Make sure the different foods take the same amount of time to cook. (For example, you don't want half a chicken and a handful of asparagus on the same sheet pan.) You can do this by cutting foods into similar-size pieces or choosing ingredients with similar roasting time, such as carrots and potatoes or peppers and onions.

☞ If you are cooking foods with significantly different cooking times (the ole half chicken and asparagus above), divide them between two pans so you can remove each from the oven when it's finished cooking.
Oh, and sheet pans aren't just for dinner. Try sheet pan eggs or baked bacon for breakfast, or whip up a coconut sheet cake for dessert. Let me know your favorite sheet pan recipe in the comments below.