These Portuguese clams and sausage are slowly cooked with chouriço, onions, garlic, tomatoes, and spices in a cataplana, the Portuguese precursor to the wok.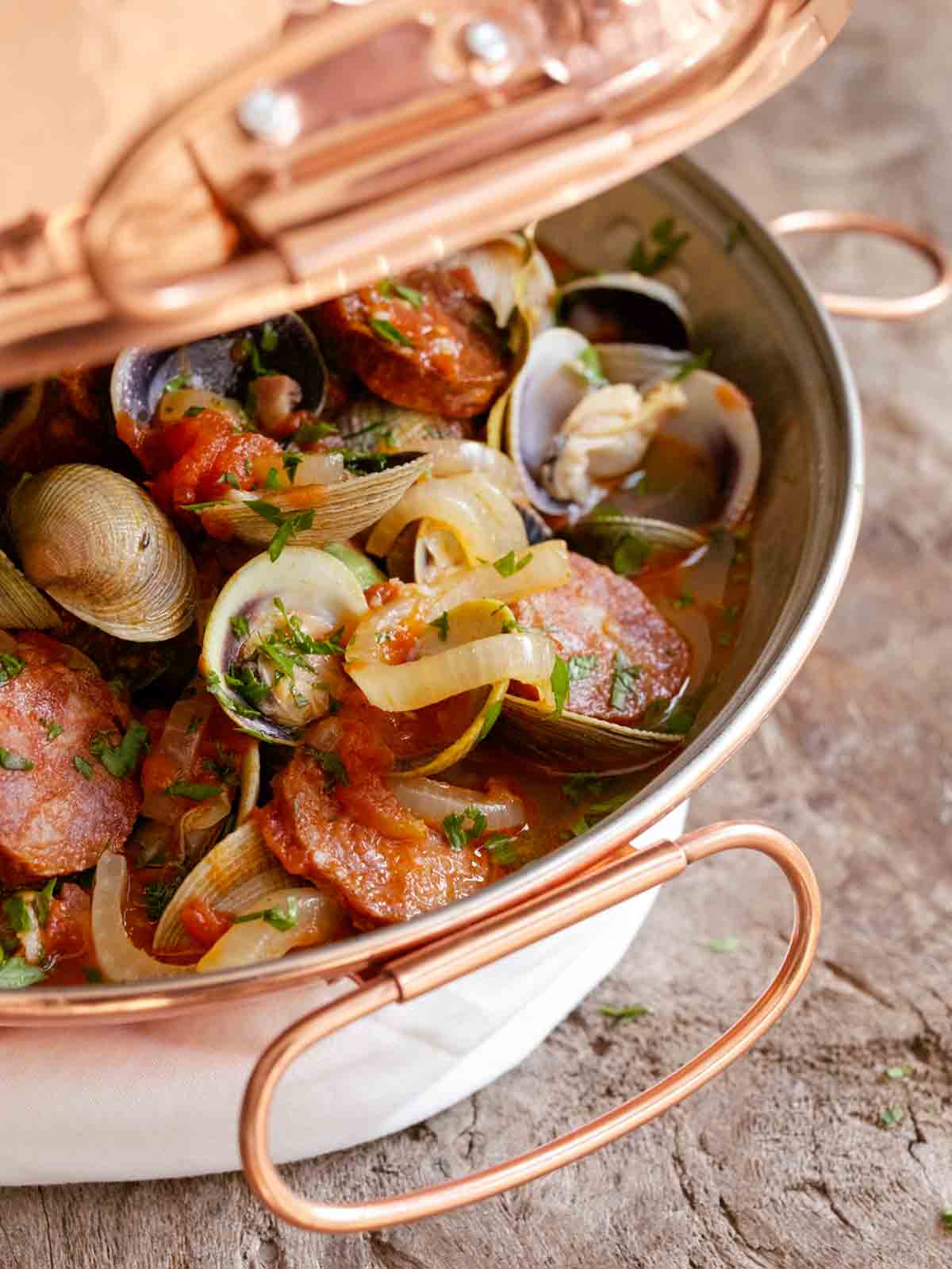 A cataplana, a fixture in the Algarve, is kind of a spiritual cousin to the pressure cooker. Shaped like a giant clam, the hinged pan clamps down during cooking, locking in the juices of its contents. When carried to the table and popped open, it fills the room with steam redolent of the sea. If you're bereft of a cataplana, a Dutch oven with a tight-fitting lid works perfectly, if less attractively.
I first had this meaty cataplana 12 years ago in Bridgewater, Connecticut, of all places, at the home of my friends Manny Almeida and Kevin Bagley. Manny, who's from the same Azorean island as my family, just whipped it up one summer evening. I've since had it many times in Portugal, most memorably at an ocean-side joint in the town of Sagres, just east of the vertiginous promontory where Henry the Navigator supposedly built a school and shipyard for his sailors.–David Leite
Portuguese Clams and Sausage
Quick Glance

(2)

25 M
35 M

Serves 4
Print Recipe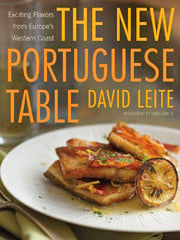 Special Equipment: Cataplana (optional)
Ingredients
Email Grocery List
Directions
Heat the oil in a large cataplana or a pot with a tight-fitting lid over medium-high heat until it shimmers. Dump in the chouriço and presunto and cook, stirring occasionally, until touched with brown, 6 to 8 minutes.
Lower the heat to medium, add the onions and bay leaf, and cook, stirring occasionally, until the onions are soft, 5 to 7 minutes.
Add the garlic and cook for 1 minute more.
Stir in the tomatoes and any accumulated juice, the wine, and paprika. Discard any clams that feel heavy (which means they're full of sand), have broken shells, or don't close when tapped. Plonk the clams in the pot and turn the heat to high. If using a cataplana, lock it and cook 5 to 10 minutes, shaking occasionally, until the clams open, 5 to 10 minutes. If using a Dutch oven, cook, covered, stirring occasionally, until the clams open, 5 to 10 minutes.
Carry the cataplana or Dutch oven triumphantly to the table, making sure everyone's watching, and then release the lid (being careful of any steam). Bask in the applause. Toss out the bay leaf and any clams that refused to open. Season with a few grinds of pepper, shower with parsley, and ladle the stew into wide shallow bowls. Oh, and have a big bowl on hand for the shells. Originally published March 23, 2010.
Print Recipe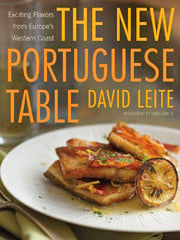 Cook your clams in style
The Cobres de Azemeis Cataplana #24 is approximately 9 inches wide and is traditionally used to make Portuguese seafood dishes, popular on the country's Algarve region. The most famous dish made in a cataplana is amêijoas na cataplana (clams in cataplana). The cataplana is traditionally made of copper and shaped like two clamshells hinged at one end and able to be sealed using a clamp on either side of the assembly. Made in Portugal.

Portuguese Clams and Sausage Recipe © 2009 David Leite. Photo © 2009 Nuno Correia. All rights reserved. All materials used with permission.

If you make this recipe, snap a photo and hashtag it #LeitesCulinaria. We'd love to see your creations on Instagram, Facebook, and Twitter.