The funny thing about fulfilling a lifelong wish is that you never think about the After Happily Ever After. As I've said before, I've been dreaming about being on The Today Show's sets since I was a teenager, long before I was a food writer, associate creative director, advertising copy writer, past life regressionist (don't ask), waiter (read: actor), college student. Don't get me wrong—it was more than I ever imagined it to be.
Ah, but what bedlam these three and a half minutes hath wrought. (Thirty seconds were shaved from my initial four minutes, hence the change in the post's title. But, hey, who's counting? I made the most of every single one of those 210 seconds.)
So, the breakdown: Renee, Cindi, The One, and I were met precisely at 7:30 a.m. by a Lexus limo that whisked us to the side door of the Today Show. Adrienne, one of NBCs pages, escorted us into the green room, where my entourage hung out while I went upstairs to the studio kitchen to prep for the segment, with Bianca Henry (food stylist extraordinaire) and Lish, her assistant. Not long after, Adrienne ushered Renee, Cindi, and The One into the studio, where we proceeded to take far too many pictures.
Now, time for a public apology to Bianca: I know I was supposed to prep, but I was so confoundedly awestruck by the whole experience, all I could do was stand there with an idiotic grin on my face and nod every time you asked questions like, "Is this the right dice for the presunto?" or whenever Lish chimed in with "This thin enough for the onion slices?" All I could think was: These women are prepping my recipes for a national TV show.
Mark Traub, Today Show stage manager and new commenter to this blog, came in to say hello at some point. We chatted a bit about the segment, then off he went to attend to, I think, Janet Jackson, who shared the guest roster with yours truly. Then in came Ms. Producer A. Finally, I was able to put a face to the folder of messages in my inbox. She was as friendly and warm as she was in her e-mails. And even though she was supposed to be in the control room, she hung out a bit talking to all of us, making me feel oh so welcome.
Then it was time for hair and makeup, which is where I made the first of my two gaffes for the day. Barbara Corcoran, one of the stars of Shark Tank, founder of the Corcoran Group Real Estate, and The One's former boss, was in a chair getting made up. I sidled up to her and said, "Barbara, you don't know me but my partner is [insert The One's name here], and he's with me upstairs because I'm doing a food segment. Would you mind terribly stopping by the kitchen and saying hi to him? I know he'll die." Before she could speak, a booming voice came from behind: "Excuse me! Could you please go get dressed and get out of the way?" It was the alpha dog of the glam squad. Gulp. Barbara grabbed my arms and nodded yes, and then I slunk away, like a puppy that had wet the carpet, to put on my spanking new (Spanx-less) blue sweater.
Then it was my time in the chair. "There's a thousand bucks in this if you can make me look 10 years younger and 50 pounds thinner," I said to one of the glam squadettes. "It'd cost a hell of a lot more than that if I could!" was her answer, which made us both laugh. Kind of my way of putting a Band-Aid on my earlier social snafu.
Back in the kitchen I was fitted with a microphone and taken through the blocking of the segment one last time. Then in a matter of seconds three huge cameras rolled into place, a brigade of crew members crowded the studio, and Al Roker breezed into the kitchen. He was utterly gracious, extending his hand and talking knowledgeably about my book. (Clearly, he had looked at it.) The next thing I knew Bianca, Lish, and the entire kitchen crew had evacuated the set.
We were on the air. Live. In front of millions of people.
I wasn't the least bit nervous. In fact, I was unconstitutionally calm. The only thing that threw me was that under each camera was a monitor showing Al and me—Al and me, I like the sound of that—just as if I were watching at home. Although I was tempted to sneak a peek to see if the NBC brass had gone out and bought that slimming camera lens I had demanded, I ignored the monitors and focused on Al.
The segment flew by, with the "wok on top" line that cracked up the crew. (You can hear them laughing in the background.) But then the second gaffe: the clams. I forgot the clams! And, no, it wasn't staged. I really, truly forgot them. Someone had placed them to the left of one of the gorgeous cataplanas (made by Silampos. All the other ingredients were to the right, which is where I've placed them for the past two weeks while rehearsing at home. Still, though, Imagine forgetting clams in a dish called "Clams in a Cataplana." On national TV.
A few seconds later Al and Natalie Morales, who joined us during the final moments of the segment, were eating on camera. The moment it was over, the crew descended upon—and I do mean descended upon—the food. (This always happens whenever I do TV, and it's immensely gratifying. After all, they don't have to eat it and say they like it—they're not on TV.) But they did. And in a matter of 10 minutes four cataplanas full of seafood were devoured. Even Al and Natalie hung around a bit to finish their share.
Because there weren't any other food segments that day, we were able to stay in the kitchen while the crew cleaned up. Ms. Producer A. came down again from the control room to congratulate me. The smile in her eyes was enough for me to know that, despite all my craziness these past few weeks, I done good.
But here, dear reader, is the crux of the story. TV is vampiric. Once bitten, you're hooked. It's broadcast heroin, and you're always jonesing for more. It's an insistent itch that—without a show of your own—you can't scratch. I woke up yesterday morning with a dozen or so treatments for TV shows dancing in my head. I scrolled through my address book to see where I could score another hit…er…I mean, segment. I was able to book Connecticut Style, the first show I was ever on. Bereft of any other TV shows, I started my way down the list of radio programs. On which show could I snag a dime bag's worth of air time? I looked in the mirror and began pulling up my forehead, deciding if a brow lift is right for me. Maybe a few nip tucks? That afternoon, unable to concentrate on work, I conducted an episode of "The David Show" in the kitchen, taking our utterly disinterested cats, Chloe and Raja, through the process of making rugalach.
Dr. Drew Pinsky needs a new show (and I, of course, could be on it): "TV Addiction House," because this madness doesn't stop. For example, I'm writing this on the train to my parents' home, in Massachusetts, where tonight I'll be the guest of honor at a Cook the Book event at Al Forno Restaurant, in nearby Providence. For at least the past 20 miles I've wondered which is my good side, trying to catch my reflection in the computer screen. I'm dismayed that my fellow passengers aren't sheepishly leaning in to ask, "Aren't you that guy who was just on The Today show? You know the 'wok on top' guy?" But, alas, there are no cameras around. My life isn't a reality show.
See what you have created, oh mighty NBC? See? SEE!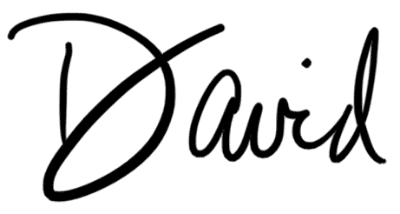 Recipe
Clams in a Cataplana