In Portuguese, this dish is called peixinhos da horta, or "little fish from the garden." The name comes from the fact that once the beans are cooked, they resemble a tangle of slender fried fish that are popular in Portugal. Serve them as a side dish, a starter, or even a snack.–David Leite
Peixinhos da Horta FAQs
Can I make Portuguese deep-fried green beans in an air fryer?
Alas, no. But we get it—frying anything in a big ole vat of boiling oil can be both messy. However, for something with a wet batter like this, you can't put it into an air fryer unless it's been pre-fried and frozen. A wet batter needs to be "set" by being dropped into the super-hot oil. In an air fryer, the batter will just drip off and you'll end up with fried, but naked, green beans. A countertop deep fryer or a pot of oil on the stove is really the only way to go here.
Portuguese Deep-Fried Green Beans ~ Peixinhos da Horta
Portuguese deep-fried green beans are lightly battered and fried until crisp. The beans are par-boiled so they're cooked to perfection by the time the coating is golden brown. They disappear as fast as you can serve 'em.
Equipment
Deep-fry or candy or instant-read thermometer
Ingredients
1

pound

green beans

,

trimmed

About 4

cups

peanut oil

,

for frying

3/4

cup

all-purpose flour

3/4

cup

water

2

large

eggs

1

teaspoon

baking powder

3/4

teaspoon

salt

1/4

teaspoon

ground black pepper
Instructions
Heat the oven to the lowest setting possible. [Editor's Note: On some ovens this is the "warm" setting, while on others it's a temperature of 135°F (57°C).] Place a wire rack on a rimmed baking sheet and slide it in the oven.

Bring a large pot of salted water to a boil. Fill a large bowl halfway with ice water. Add the beans to the pot of boiling water and cook until almost tender but still slightly crisp, about 2 minutes. Using a slotted spoon, drain the beans and drop them into the ice water to stop the cooking. Drain the beans again, move them to paper towel-lined plates, and pat them completely dry.

Heat the oil in a deep fryer or a large saucepan over medium-high heat to 350°F (175°C).

Combine the flour, water, eggs, baking powder, salt and pepper in a large bowl and whisk until a smooth batter forms. Dip about a dozen beans at a time into the batter and them remove them, using tongs or your fingertips, and shaking off any excess batter. Add the beans to the hot oil and fry until golden brown, about 4 minutes.

Using a slotted spoon, transfer the beans to paper towels to drain for a few moments. Sprinkle the deep-fried green beans with salt and then carefully strew the greens beans on the wire rack in the oven to keep warm. Repeat the dipping and frying with the remaining green beans and batter. Serve whatever beans haven't been snatched up by spouses, kids, in-laws, or neighbors with good noses immediately.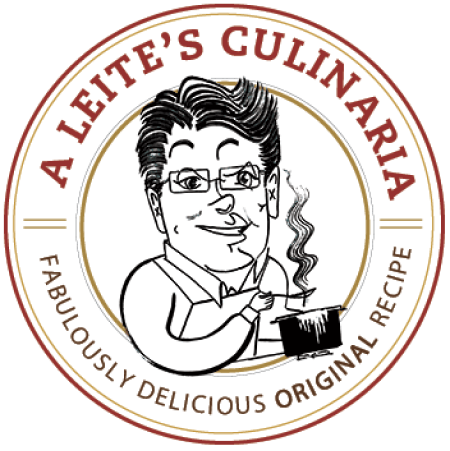 Nutrition
Serving:
1
serving
Calories:
140
kcal
Carbohydrates:
13
g
Protein:
4
g
Fat:
8
g
Saturated Fat:
2
g
Trans Fat:
1
g
Cholesterol:
47
mg
Sodium:
294
mg
Potassium:
150
mg
Fiber:
2
g
Sugar:
2
g
Vitamin A:
459
IU
Vitamin C:
7
mg
Calcium:
60
mg
Iron:
1
mg
Nutrition information is automatically calculated, so should only be used as an approximation.
Recipe © 2004 David Leite. Photo © 2004 Nuno Correia. Photo © 2021 Jenny Latreille. All rights reserved.
---
Recipe Testers' Reviews
These beans were easy to make and the end result was fantastic. I used my deep fryer, and everyone was coming up and eating the beans as I pulled them out. Our one-year-old granddaughter couldn't get enough of these. All of the young ones just kept eating and eating. Some of them dipped them in ranch dressing, but most ate them plain. This recipe is a keeper.
These deep-fried green beans are a great little treat, much like a tempura green bean. They're casual enough to serve as an everyday treat or elegant enough to serve at a dinner party. I served these as an appetizer at a small dinner party and they were gone in no time. The green beans retained their crunch and with the addition of the batter were brought to a lovely new level.
Let me start by stating that green beans are my favorite vegetable. That might be a little boring to some but I could seriously eat them every day. So I may be a little biased in my love for this recipe. I'd never made deep-fried green beans before but have ordered them in restaurants. They usually come with some sort of a dipping sauce at a restaurant but I didn't miss having that with these green beans at all. If I was serving these to guests, I would probably have taken the time to make some sort of sauce. But trust me, it's the green beans that will impress any guests….not a dipping sauce. They're that good.
These do take a little bit of time to make because you can't crowd them when cooking or they'll stick together. I tried to sneak in a few more but quickly found out why you only do a dozen or so at a time. After each batch finished cooking and had drained for a few minutes on a paper towel, I moved them to a rack and placed them in my warming drawer. They stayed warm and didn't lose their crunch while waiting for all of the beans to be cooked.
I did experiment with a few of the green beans and didn't precook them. I coated the raw beans with the batter and continued cooking as normal. After tasting the beans cooked both ways, my personal preference was precooking and then plunging into an ice bath prior to deep frying as stated in the recipe.