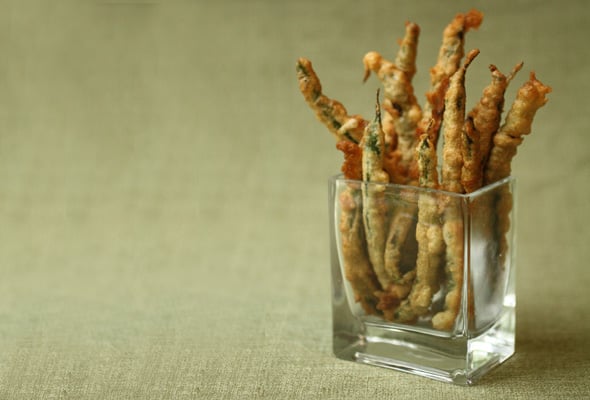 In Portuguese, this dish is called peixinhos da horta, or "little fish from the garden." The name comes from the fact that once the beans are cooked, they resemble a tangle of slender fried fish that are popular in Portugal. Serve them as a side dish, a starter, or even a snack.–David Leite
Portuguese Deep-Fried Green Beans
Quick Glance
30 M
45 M

Makes 6 to 8 servings
Special Equipment: Deep-fry or candy or instant-read thermometer
Print Recipe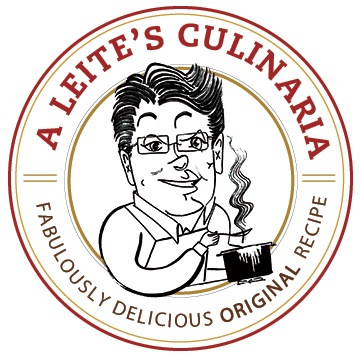 Ingredients
1 pound green beans, trimmed

About 4 cups peanut oil, for frying

3/4 cup all-purpose flour

3/4 cup water

2 large eggs

1 teaspoon baking powder

3/4 teaspoon salt

1/4 teaspoon ground black pepper
Directions
1. Heat the oven to the lowest setting possible. [Editor's Note: On some ovens this is the "warm" setting, while on others it's a temperature of 135°F (57°C).] Place a wire rack on a rimmed baking sheet and slide it in the oven.

2. Bring a large pot of salted water to a boil. Fill a large bowl halfway with ice water. Add the beans to the pot of boiling water and cook until almost tender but still slightly crisp, about 2 minutes. Using a slotted spoon, drain the beans and transfer them to the ice water to stop the cooking. Drain the beans again, transfer them to paper towel-lined plates, and pat them completely dry.

3. Heat the oil in a deep fryer or a large saucepan over medium-high heat to 350°F (175°C).

4. Combine the flour, water, eggs, baking powder, salt and pepper in a large bowl and whisk until a smooth batter forms. Dip about a dozen beans at a time into the batter and them remove them, using tongs or your fingertips, and shaking off any excess batter. Add the beans to the hot oil and fry until golden brown, about 4 minutes. Using a slotted spoon, transfer the beans to paper towels to drain for a few moments. Sprinkle the deep-fried green beans with salt and then carefully strew the greens beans on the wire rack in the oven to keep warm. Repeat the dipping and frying with the remaining green beans and batter. Serve whatever beans haven't been snatched up by spouses, kids, in-laws, or neighbors with good noses immediately.
Portuguese Deep-Fried Green Beans Recipe © 2004 David Leite. Photo © 2004 David Leite. All rights reserved. All recipes and photos used with permission of the publisher.
If you make this recipe, snap a photo and hashtag it #LeitesCulinaria. We'd love to see your creations on Instagram, Facebook, and Twitter.