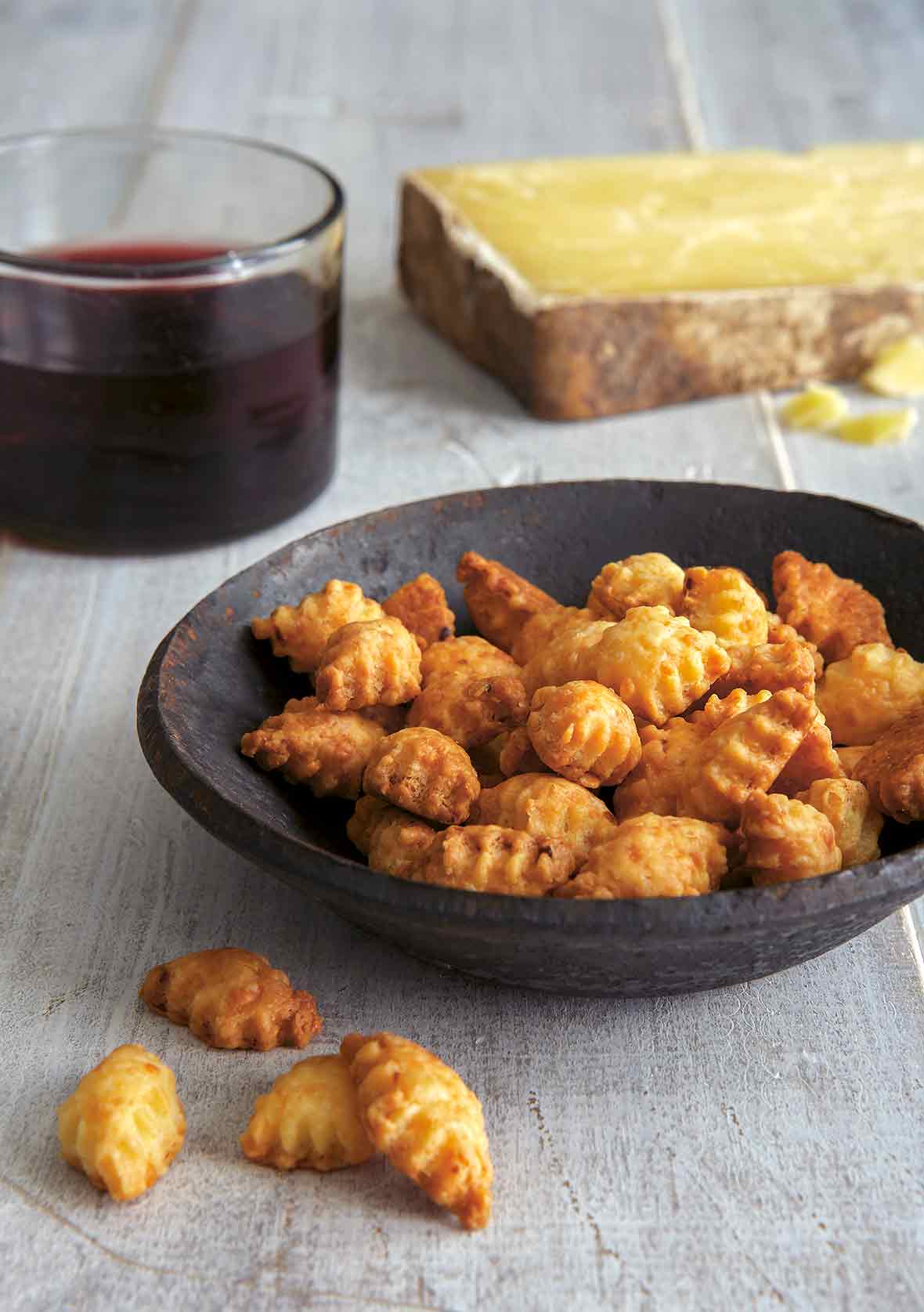 The spicy kick in these little bites is perfectly balanced with a deep, rich Cheddar flavor. The key to these diamonds is to use the very best aged Cheddar possible. My dear friend Dean insists on calling them "Jeez-its" because, he says, "Christ, they're good!"–Chester Hastings
LC Jeez-Its Note
Doesn't really matter what faith you are–or aren't. You can still appreciate the sentiment expressed above regarding Jeez-Its' addictive nature. And you thought a box of Cheez-Its was hard to put down.
Red Chili and Cheddar Crackers
Think of these red chili and Cheddar crackers as Cheez-Its on steroids. Rich aged Cheddar cheese gives the crackers depth while the chili flakes give heat and a kick. They're addictively, in-your-face delicious.
Ingredients
1

cup

all-purpose flour

,

plus more for the work surface

3/4

teaspoon

salt

1

teaspoon

crushed red chile pepper flakes

4

tablespoons

unsalted butter

,

chilled and diced

8

ounces

best-quality aged Cheddar cheese

,

grated

3 to 4

tablespoons

cold water
Instructions
In a bowl, whisk together the flour, salt, and chiles. Transfer to the bowl of a food processor fitted with the blade attachment. Add the butter and pulse until the mixture resembles coarse meal. Add the cheese and pulse to combine.

Add 3 tablespoons of the water, 1 tablespoon at a time, pulsing until the mixture comes together in a ball. Pulse in an additional tablespoon of water if needed to get the dough to hold together. Wrap the dough in plastic wrap and refrigerate for at least an hour.

Preheat the oven to 350°F (176°C).

Roll the dough out to a 1/8-inch thickness directly onto a baking sheet. (If the dough seems sticky, sprinkle the surface ever so lightly with flour.) Try to be as accurate as you can about the thickness of the dough, as the crackers won't puff up nicely if the dough is too thin, nor will they be crispy enough if the dough is too thick. Using a cookie or biscuit cutter, a sharp knife, or a fluted pasta cutter, trim the dough into ½-inch diamonds (or any shape you prefer).

Line 3 baking sheets with parchment paper. (If you, like us, don't have 3 baking sheets—well, 4, actually, counting the one you're already using–simply line 1 or 2 or however many baking sheets you have and bake the crackers in batches, allowing the sheets to cool between uses.) Place the dough on the parchment-lined sheets, giving them just enough room so that they are not touching. Bake until the crackers are deep golden brown and crunchy, 20 to 30 minutes, depending on the size of your crackers. Watch the crackers carefully as they go from almost done to a little too done quite quickly. Transfer the crackers to wire rack and let cool completely before serving. (The crackers can stored in an airtight container for up to 1 week, although they are best the first couple of days.)
Nutrition
Serving:
10
cracker
Calories:
178
kcal
Carbohydrates:
10
g
Protein:
7
g
Fat:
12
g
Saturated Fat:
8
g
Polyunsaturated Fat:
1
g
Monounsaturated Fat:
3
g
Trans Fat:
1
g
Cholesterol:
36
mg
Sodium:
320
mg
Potassium:
41
mg
Fiber:
1
g
Sugar:
1
g
Vitamin A:
426
IU
Vitamin C:
1
mg
Calcium:
168
mg
Iron:
1
mg
Nutrition information is automatically calculated, so should only be used as an approximation.
Recipe © 2011 Chester Hastings. Photo © 2011 Joseph De Leo. All rights reserved.
---
Recipe Testers' Reviews
These are spicy, cheesy, buttery, crunchy, delicious and addictive! You may want to make two batches if you plan on sharing. My daughter and I couldn't stop eating them when the first batch came out of the oven. They're a breeze to make in the food processor. For the first half of the dough, I cut them with a 2 1/2-inch fluted round cutter and then cut them in half to make crescents instead of diamonds. These baked on my silpat in about 29 minutes to a perfect crunchy golden brown. The second batch, my daughter rolled out and cut into diamonds with a knife. These were smaller than my crescents, and they baked much faster. In fact, I got them a little too browned. (I thought they still had a nice flavor, although my sister said they tasted burnt to her.) So be careful and watch them near the end. I ended up with 100 crackers.
Yum, yum, and yum! These crackers are as delicious as they are easy to make. Crispy, cheesy, and just spicy enough to keep things interesting, they're frighteningly easy to eat by the fistful, straight out of the oven. I ended up halving the recipe and got 38 one-inch crackers out of it. The crackers were well done after 30 minutes in the oven. I found that I didn't need to bake them on parchment paper — they came out fine without it.
These red chili and Cheddar crackers come together easily and produce a delicious cracker that's light, flaky, and spicy. Not only did I cut them into the diamond shapes, but I also used some small cookie cutters for fun cracker shapes. The crackers puffed beautifully and turned a lovely golden brown during the baking, and the wonderful aroma of the cheese crackers filled the kitchen. These crackers would be a fabulous topping for salad, soup, or chili. Watch the baking time carefully. Regardless of the size of my crackers, the baking time was no longer than 22 minutes. Begin checking them after about 15 minutes. They are spicy, so adjust your red chile amount to suit your taste.