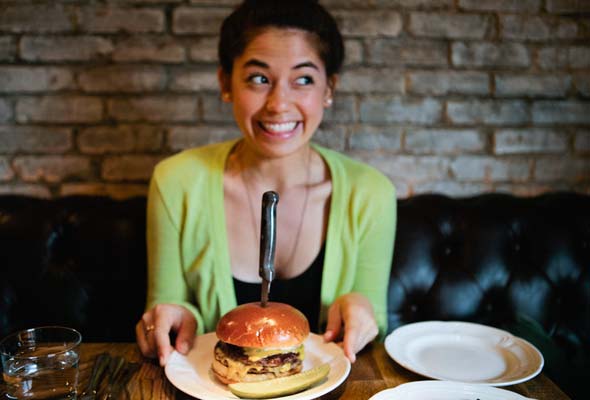 I consider myself young. Okay, maybe young at heart. To any judgy, stick-firmly-planted-you-know-where folks who dare to think I'm nothing more than a foolish old coot, #%&*@ you! (I know, mature, right?) But when I'm within a 500-yard radius of our most recent podcast guest, Molly Yeh, I feel flat-out ancient. At a mere 24 years of age, Molly is a recent Juilliard graduate, accomplished percussionist, fantastic blogger, intrepid world traveler, inspired home cook, and superb host.
But not just any kind of host. Most of us can whip up dinner for six on the weekend without so much as breaking a sweat. Molly, on the other hand, throws ginormous salons for 50 or more guests in her Brooklyn apartment. Yes, salons, complete with musical performances, declamatory readings, fashion shows, and, it goes without saying, homemade eats whipped up by none other than herself. I'm sure if one of her hipster friends (and I say that in a truly unironic way) owned a boa constrictor, both friend and writhing death gripper would be in attendance. She's just that kind of gal.
In our debut "Small Bites" segment–a shorter-than-usual episode of our podcast, "Talking With My Mouth Full" with just one guest, one topic, one take–Molly divulges her most bawdy moments from recent salons, her secret dumpling recipe inspired by an alehouse, and, should you be interested in throwing your own salon, her requisite rules for hostessing, including the right kind of people to invite (in her case, no one over 30).
When I attempted to charm her for an invitation [Editor's Note: Uh, actually, he sorta invited himself…], Molly made it very clear that if I were invited (there's that age thing again), I would need to participate in some sort of performance art. I suggested a dance of veils to a hip-hop-Indian-arrhythmic-percussive accompaniment of hers. Of course, I had to explain that I'd need more than seven veils to cover me. Fifty or so would probably do—a veil for every one of my very young-at-heart years. [Editor's Note: 52, to be exact.]