These barbecue beef ribs come out tender and enticing whether tossed in the oven or on a charcoal or gas grill. Though they take minimal effort, they taste like they were slowly tended on the pit all day. Here's how to cook them.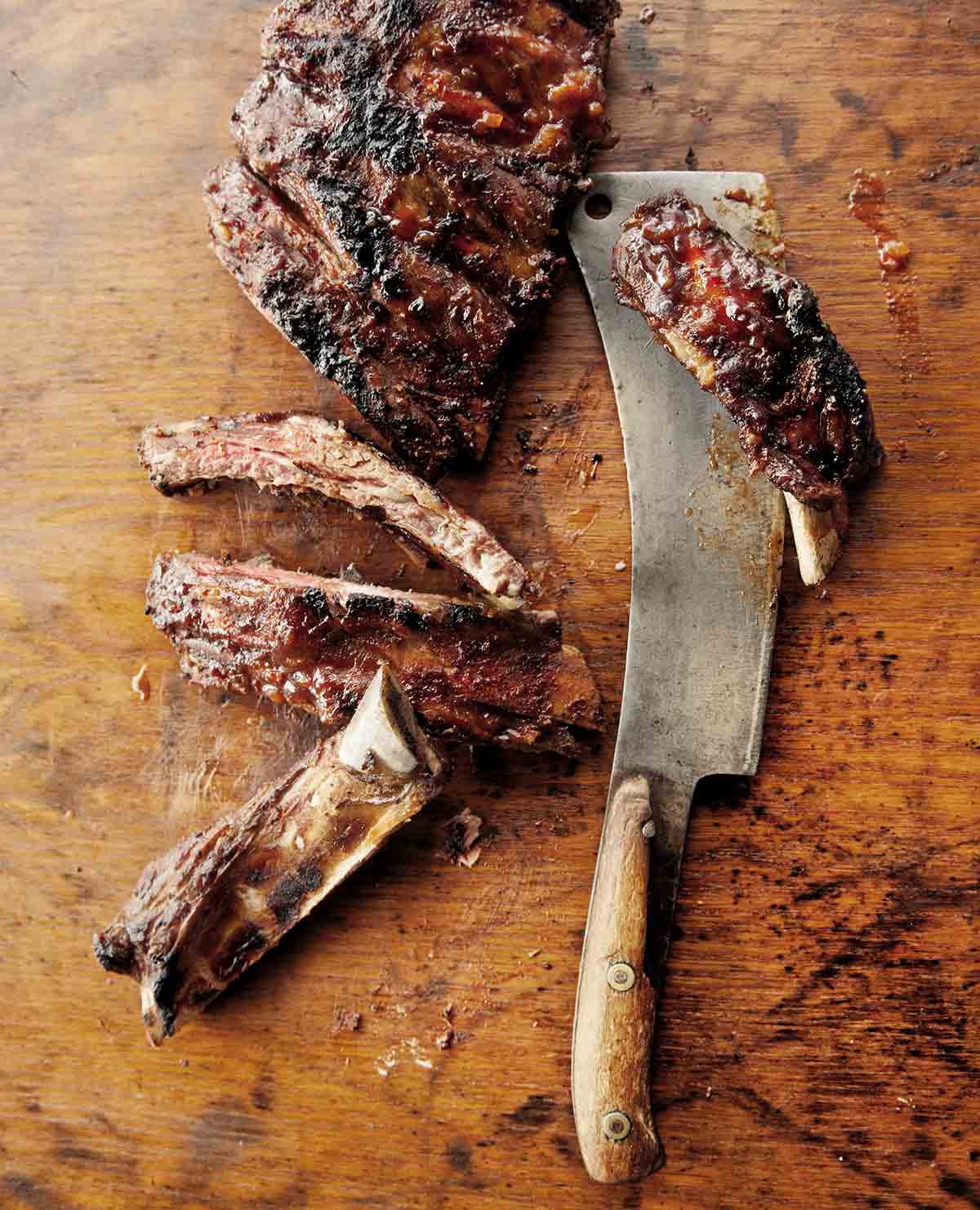 Barbecue beef ribs such as these tend to be infallibly rich and exceptionally tender. The masterfully mellifluous barbecue sauce that you want to slather on these barbecue beef ribs melds sweet brown sugar with spicy cayenne with smooth bourbon. The ribs themselves are easy as can be, taking minimal effort yet tasting as if they were slowly tended all day on the pit.–David Leite
Barbecue Beef Ribs FAQs
What are the differences between beef ribs and pork ribs?
Aside from the obvious source of the ribs, there are differences in size, ratios of fat to meat, and cooking times.
Pork ribs are reasonably lean, at least when compared to beef ribs. The upper portions of the pig's ribs are meatier, and the fat content increases as you go lower.
With beef ribs, you'll see more even portions of meat vs. fat throughout the slab. Beef will be fattier than pork, but you'll also get more meat per bone.
Size-wise, beef ribs can be 8-12 inches long, whereas pork ribs are usually 3-6 inches long. And the larger the slab, the longer they'll need to cook.
Can I make this barbeque sauce without alcohol?
Apple or orange juices will stand in nicely for the bourbon called for here.
Barbecue Beef Ribs
Just like a country ham that's dry-cured with salt and sugar and aged to perfection, a good beef rib sauce must balance sweet (in this case brown sugar) with spicy (cayenne and dry mustard). And, as with baby back pork ribs, beef ribs benefit from the added depth and complexity of a rich sauce because they don't have that much flavor to begin with.
Ingredients
For the barbecue beef ribs
For the barbecue sauce
4

tablespoons (2 ounces)

unsalted butter

1/2

yellow onion

finely chopped (1/3 to 1/2 cup)

1/4

cup

bourbon

1

cup

store-bought or homemade barbecue sauce of your choice

1/2

cup

cider vinegar

1/2

cup

packed light or dark brown sugar

1

tablespoon

honey

1

tablespoon

dry mustard

1

teaspoon

cayenne pepper
Directions
Prepare the barbecue beef ribs
Mix all the seasonings in a small bowl. Rub the mixture over both sides of the beef ribs. Place the ribs in a roasting pan, cover with foil, and stash in the fridge overnight.

Preheat the oven to 325°F (163°C).

Take the pan of ribs out of the fridge, uncover, and add enough water to the roasting pan to cover the ribs. Tightly cover the pan with the foil again and slide the pan back in the oven. Cook the ribs for 1 1/2 hours.

Uncover the ribs and spoon the liquid in the roasting pan over the ribs. Cover the pan with the foil again, put the ribs back in the oven, cover, and cook for 1 to 2 more hours, depending on just how tender you like your ribs.
Make the barbecue sauce
Melt the butter in a small saucepan over medium heat. Add the onion and cook until softened but not browned, 3 to 4 minutes. Pour in the bourbon and simmer until the liquid has almost completely evaporated, 2 to 5 minutes.

Stir in the barbecue sauce, vinegar, brown sugar, honey, mustard, and cayenne and gently simmer, uncovered and stirring occasionally, for 30 minutes.
Finish the barbecue beef ribs
If using the grill, preheat it to medium and lightly oil the grill grates. Remove the ribs from the oven and pour off the liquid. Baste the ribs with 2 cups barbecue sauce. Using tongs, transfer the ribs to the grill (working in batches, if necessary) and cook for 10 minutes, turning once. This will ensure that the ribs have a nice crust and smoke-infused flavor.If using the oven, crank it up to 400°F (204°C). Remove the ribs from the oven, pour off the liquid, and return the ribs to the pan. Baste the ribs with 2 cups barbecue sauce. Slide the pan in the oven for 10 minutes, turning the ribs once.

Pile the ribs on a platter and dump the remaining barbecue sauce in a bowl and pass it on the side.
Show Nutrition
Serving:
1
serving
Calories:
1211
kcal
(61%)
Carbohydrates:
123
g
(41%)
Protein:
80
g
(160%)
Fat:
42
g
(65%)
Saturated Fat:
20
g
(125%)
Polyunsaturated Fat:
3
g
Monounsaturated Fat:
19
g
Trans Fat:
2
g
Cholesterol:
279
mg
(93%)
Sodium:
4159
mg
(181%)
Potassium:
1473
mg
(42%)
Fiber:
4
g
(17%)
Sugar:
86
g
(96%)
Vitamin A:
2000
IU
(40%)
Vitamin C:
2
mg
(2%)
Calcium:
167
mg
(17%)
Iron:
12
mg
(67%)
If you make this recipe, snap a photo and hashtag it #LeitesCulinaria. We'd love to see your creations on Instagram, Facebook, and Twitter.
Recipe Testers' Reviews
We really enjoyed these barbecue beef ribs. The barbecue sauce is really delicious—just the right balance of sweetness and spice.
I used dark brown sugar in both the spice rub and the barbecue sauce. It added a nice element of richness, although I believe light brown sugar would work just as well. For the barbecue sauce, I used Jack Daniels Hickory Brown Sugar Barbecue sauce, which is what I had in my pantry.
My only regret is that the portions were a little small. More realistically, this recipe will serve 6 very nicely.
I really enjoyed making this barbecue beef ribs recipe. When one thinks of preparing ribs, it usually entails a long process that can takes hours and hours. I was pleasantly surprised with this recipe because it required minimal effort and yielded ribs that tasted like they were cooked slowly all day on a barbecue pit.
The meat was so tender that it was falling off the bones. The spice was just right and provided a nice flavor. And not to mention this spice blend is easy enough to commit to to memory for when you want to impress your friends!
The barbecue sauce was also very good with just enough heat. It was just the right consistency, just sweet enough, just sticky enough, and made a little extra for dipping. I kept my ribs in for approximately another hour. For the rub I used light brown sugar and for the sauce I used dark brown.
The weather didn't permit me to use the grill so I had to finish the ribs in a 400°F oven. Still came out perfect!
We loved almost everything about these barbecue beef ribs. The rub was delicious and made enough to rub down 4 pounds beef back ribs generously, with enough left over to rub down a 3-pound pork roast as well. The barbecue sauce was easy enough to pull together as the ribs were slow cooking. They were tender, moist, and full of flavor. A big hit all around.
I allowed the ribs to marinate overnight with the rub. I checked the ribs after 1 1/2 hours in the oven and pulled them out, as they were tender to the point of falling off the bone. I saw no point in basting them, as they were covered in the pan with foil and were quite moist, although I did turn them over in the juices. I used a dark brown sugar and a plain barbecue sauce. I found that it took closer to 5 minutes to cook off the alcohol for the sauce. As it was -30°F outside, I chose (wisely) to finish these in a 400°F oven.
The only thing I didn't like was my choice of rib. They were somewhat awkward to eat. Next time I'll choose an English-style short rib or side rib that'll be easier to eat. I bet the barbecue sauce would be tasty on a flank or skirt steak too. I think a new name for it could be Super Yummy Bourbon Barbecue Sauce.
By the way, the rub was delicious on the pork roast, too.
Originally published August 12, 2015
Recipe © 2014 Nolan Ryan. Photo © 2014
Geno Loro
. All rights reserved. All materials used with permission.
If you make this recipe, snap a photo and hashtag it #LeitesCulinaria. We'd love to see your creations on Instagram, Facebook, and Twitter.