This batter-fried chicken calls for the pieces to be quickly brined and then dipped in a seasoned batter for a crisp Southern-style crust. Simple as can be. This is the real deal.
With its crisp, nubbly crust and insanely tender meat, this batter fried chicken recipe is fried chicken perfection. Those of you who are geeks for cooking technique wizardry, pay attention. The clever folks at America's Test Kitchen carefully devised this Southern fried chicken recipe such that:
The batter contains equal parts cornstarch and flour to ensure a shatteringly crisp crust;
The batter also calls for baking powder to create a crust that's ethereally airy without a trace of doughiness or gloppiness;
The batter relies on black pepper, paprika, and cayenne for a "simple but unambiguous flavor" (just be forewarned, the amount of black pepper is intentionally heavy-handed);
The batter contains no dairy. They replaced the milk in the batter with plain old water. The logic behind this? "When wet batter hits hot oil, the moisture in the batter vaporizes, leaving behind the solids that adhere to the chicken. With milk, the sugars in the milk solids browned too fast and produced a soft crust."
And, perhaps most critically, the batter-dunked chicken is then deep-fried in several inches of oil (a regular pot works just fine; no need to have a fancy deep-fryer) to ensure that the carefully constructed batter doesn't scorch on the bottom as is often the case when you attempt to shallow-fry it in a skillet.
Brilliant, yes? And wait'll you taste it. Originally published October 17, 2013.–Renee Schettler Rossi
Batter-Fried Chicken
Quick Glance
45 M
1 H, 30 M

Serves 4 to 6
Special Equipment: Deep-fry or candy or instant-read thermometer
Print Recipe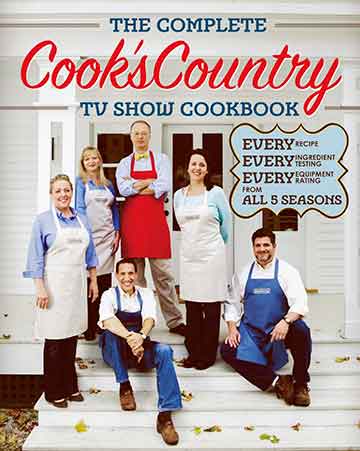 Ingredients
Email Grocery List
For the fried chicken brine

1 quart (4 cups) cold water

1/4 cup kosher salt

1/4 cup granulated sugar

4 pounds bone-in, skin-on chicken pieces (halve each breast crosswise and separate leg quarters into thighs and drumsticks)

For the fried chicken batter

1 cup all-purpose flour

1 cup cornstarch

2 to 5 teaspoons freshly ground black pepper

1 teaspoon paprika

1/2 teaspoon cayenne pepper

2 teaspoons baking powder

1 teaspoon kosher salt, plus more to taste

1 3/4 cups cold water

3 quarts (12 cups) peanut or vegetable oil, for frying
Directions
Make the fried chicken brine

1. In a large bowl, whisk or stir together the water, salt, and sugar until the sugar and salt dissolve. Add the chicken and refrigerate for 30 to 60 minutes.

Make the fried chicken batter

2. While the chicken is brining, in a large bowl, whisk or stir together the flour, cornstarch, black pepper, paprika, cayenne, baking powder, salt, and water until smooth. Cover and refrigerate the batter while the chicken is brining.

Make the fried chicken

3. Heat the oil in a large Dutch oven or other deep-sided pot over medium-high heat until it reaches 350°F (176°C). Place a wire rack on a rimmed baking sheet.

4. Pour the brine from the chicken down the sink and pat the chicken pieces completely dry with paper towels. Whisk the batter to recombine. (If the batter seems too thick, add some cold water, no more than 1 tablespoon at a time, until the batter becomes the consistency of pancake batter.) Place half the chicken pieces in the batter and turn to coat. Remove the chicken from the batter, allowing any excess to drip back into the bowl, and carefully place it in the oil. Fry the chicken and keep your attention on the oil temperature, adjusting the heat as necessary to maintain the oil between 300°F and 325°F (149°C and 163°C). Cook the fried chicken until deep golden brown and the white meat registers 160°F (71°C) or 175°F (79°C) for dark meat, 12 to 25 minutes, depending on the size of the chicken pieces and the exact temperature of your oil. Place the fried chicken on the wire rack to drain. Bring the oil back to 350°F (176°C) and repeat with the remaining chicken. Serve the fried chicken hot, warm, at room temperature, even cold if there are any leftovers (hah!).
Recipe Testers Reviews
I'm someone who loves fried chicken as a midnight snack, pulling it from the icebox and eating it cold. Although this batter-fried chicken was alright straight from the fridge for a late-night snack, where it really shines is straight out of the fryer. The batter comes out super crunchy and crisp, the interior is juicy and moist, and there's just the right amount of seasoning to give it a nice, memorable kick.
Momofuku fried chicken, I DO love you, but I've found a new love! And I feel so very guilty for saying this. We all agreed that this is going to be our No. 1 choice for fried chicken. None of us could believe the taste and juiciness of each piece of chicken.
I must say that the chicken thighs I used ended up being in the brine overnight as we had to run to the ER just as I was about to start cooking. So both the brined chicken and the batter were in the fridge for more than 10 hours, and I was worried the batter fried chicken would end up being too salty. When I removed the batter from the fridge, it was overly thick. I tried mixing it, but ended up adding 1 more tablespoon water to thin it a bit, and that did the trick. I used gluten-free all-purpose flour. When tasting the batter alone, I was a tad worried it was a bit too peppery for my 4-year-old. I heated the oil, dried the chicken, and started to fry it.
I was able to fry 4 at a time, so as we were eating the first batch, the second was being fried. The final result was an EXTREMELY moist and juicy Southern fried chicken with a gorgeous, golden crust that had a nice little kick to it but nothing too strong that a kid wouldn't enjoy it. I actually love cold fried chicken and this recipe also works well this way. After a few hours I decided to place one in a hot oven (under broil high), and not only did it warm up in 5 minutes but the crispness came back to life.
You know what this batter-fried chicken reminded me of? Childhood. While my mother would make amazing fried chicken, some evenings it was easier for her to break out a box of frozen Banquet-brand fried chicken. Its thick, overly peppered crust wasn't exactly a favorite, but you wouldn't hear any complaints from us. So yeah, this recipe—at least for me—reminded me of that chicken in a serious way.
The batter came out way too thick after resting in the fridge for an hour. Even after beating it with a whisk for a bit, I ended up adding an additional 1/4 cup water to loosen it up a bit. The batter was still quite thick after the additional water was added and clung to the chicken easily. The cook times varied considerably from the recipe. I'd recommend checking your internal temperature after about 12 minutes in, then gauge the timing from there.
Next time I'd change the seasonings in the batter for personal preference. I'd remove all but 2 teaspoons black pepper as 5 teaspoons was way too much for me, and I'd add 1 more teaspoon salt for a total of 2 teaspoons. We also used some of the remaining batter to deep-fry some artichoke hearts we had from the garden. I'm looking forward to trying this one again.
Batter-Fried Chicken Recipe © 2012 The Editors of Cook's Country. Photo © 2012 Keller + Keller. All rights reserved. All materials used with permission.
If you make this recipe, snap a photo and hashtag it #LeitesCulinaria. We'd love to see your creations on Instagram, Facebook, and Twitter.