It took me months of trial and error to develop this gluten-free all-purpose flour mix (above right). Since then, I've tested a bunch of store-bought flour mixes, and mine still outperforms them in terms of flavor and texture.
Now I'm going to get technical for a minute. When making your own, in my experience, the classic ratio that mimics regular unbleached all-purpose flour is 60 percent grain flour (white rice, brown rice) and 40 percent starch (tapioca flour, potato starch). If you decide to use a gum, which I recommend, since it helps with overall texture, add about 1/2 teaspoon xanthan gum or guar gum per 1 cup flour blend. My flour blend is an old-school mix of white starches, but if you want to add more fiber, replace the 6 cups white rice flour with half white rice flour and half brown rice flour.–Silvana Nardone
LC Gluten-Free All-Purpose Flour Note
Yo. This gluten-free all-purpose flour works in place of all-purpose flour in just about any recipe. Cakes. Breads. Coatings for fried chicken or fish. Cookies—including the author's ridiculously addictive Thin Mints recipe. Go on, try it. Surprise yourself with how spectacularly all-purpose it truly is. And then let us know how you used it in a comment below.
Gluten-Free All-Purpose Flour
I spent a number of years trying to develop a gluten-free flour mixture and this is it–it always outperforms anything I can buy. It's suitable for use in most of the ways you use your regular flour.
Ingredients
6

cups

white rice flour

3

cups

tapioca flour

1 1/2

cups

potato starch

1

tablespoon

sea salt

2

tablespoons

xanthan gum
Instructions
In a large resealable container, whisk together all the ingredients. Use when all-purpose flour or gluten-free all-purpose flour is called for in any recipe. The flour will keep, covered, in a cool, dry place or in the fridge for up to 6 months.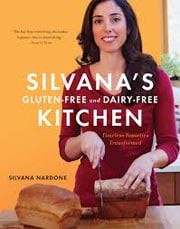 Adapted From
Silvana's Gluten-Free and Dairy-Free Kitchen: Timeless Favorites Transformed
Buy On Amazon
Nutrition
Serving:
1
serving
Calories:
282
kcal
Carbohydrates:
65
g
Protein:
4
g
Fat:
1
g
Saturated Fat:
0.2
g
Polyunsaturated Fat:
0.2
g
Monounsaturated Fat:
0.2
g
Sodium:
384
mg
Potassium:
163
mg
Fiber:
3
g
Sugar:
0.5
g
Vitamin C:
0.5
mg
Calcium:
13
mg
Iron:
1
mg
Nutrition information is automatically calculated, so should only be used as an approximation.
Recipe © 2014 Silvana Nardone. Photo © 2014 John Kernick. All rights reserved.
---
Recipe Testers' Reviews
This was so simple to mix together. I purchased the ingredients in the amounts indicated from the bulk store and mixed ot all together. Simple. I can now use it anytime I need it and won't need to pay the grocery store prices for this ingredient. I had just under 10 cups by the time I finished.
I actually knew of this gluten-free all-purpose flour recipe prior to testing it and have used it often in various recipes. It's better than store-bought mixes, as it does not use any bean or darker flours, so the end taste and texture is lighter and fluffier. What I like most about this recipe is that it doesn't require a whole host of gluten-free ingredients that I or someone with celiac disease usually wouldn't have at home, but instead only calls for a few easier-to-find ingredients. This is a great recipe for cookies and cakes. I have used it for LC recipes such as the Homemade Pancakes as well as David's Chocolate Chip Cookies and the Basic White Cake.
I only prepared half the gluten-free all-purpose flour recipe as it makes a lot. I keep extra in resealable bags in the freezer for other uses. It's a good substitute for wheat flour and works well in various recipes.